BlackBull
Staff
Moderator
The sexier bull around

Join Date:

1/27/2007

Posts:

4,380

Banner by Lizard2033
Artistic Journey Keeps Rollin'!
Fourth stop: Media restriction
During the first steps of this journey, we challenged contestants to alter cards in some particullar styles, allowing them to use any media they wanted (paints; exacto knifes and glue; etc.) In April, went through free style, except there was a tinny restriction:
NO ACRYLICS
. Contestants still being able to use them just for the basecoat.
The original task readed as follows:
"Your challenge:

Take any card and alter it in any physical way (painted alters, 3D, etc.), except for using acrylics as the media. The only thing you could do with acrylics is a basecoat on wich you would be able to work with other media (as markers; ball-point pens; exacto knife & glue (3D alters); watercolor; colored pencils; collage; ink; etc.)

- This time, the style is up to you. What you're limited to is to avoid acrylic paints (in any form: Solid, fluid, etc.)
- When submitting your entry, make clear which media (or mix of them) you've used.
- Please, send your pic or scan of your entry in good quality and big enough size to allow us to determine if you've used acrylics on your piece or not, beside the basecoat. In case we determine you made use of them, your piece could be subject to a DQ.
- Please, don't try to fool us regarding the media. The idea of this round is to do something different from the usual, and have fun (not to probe you're smart enough -or we a bunch of dumbs- to use acrylics and dodge our validity control.) :-)"


And here are the entries we have got so far: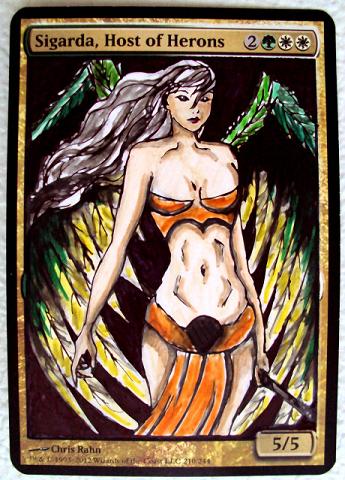 A couple of words from the artist:


"I did use the warhammer sorceress in this link:
http://www.gamekult.com/jeux/image-w...20916308i.html
As a "body model" for my image.

I used acetone to remove the image from the card then I drew it with a fine tip pen, then did pen detail. Used a paintbrush to wet the ink and get some shadow by dragging the ink. Then i let it dry and used watercolor to fill in some faint color for pop. Used a sharpie to fill in the background, and did a little touch up in paintshop to heighten the contrast and attempt to make the photo a little better.

Thanks!

K.E.R."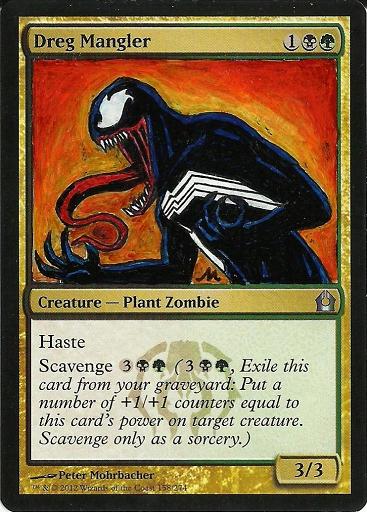 The artist said:
"Here is my entry for the contest. The scan is 300 dpi and the medium was Prismacolor markers with Micron fine point pens for the lining. The white is the base coat showing through, which is the only thing that was acrylic. Thanks!

-b00m3r1987"
And here is the short comment of the artist:
"Markers and Pens. That work?"
Yes, they do, buddy.

So, we have our three non-traditional media entries ready for this hard race along a fifteen days poll. It's your time now to decide wich alter deserves the cup!

So...
Ready, steady,
go!!!

MTGS Art Contests are in recess until further notice.


DCC July 2013