STOP That!

An Article by Will Farrington


The Basics

In the beginning, there was Blue/White control. No matter what form it's taken, it's always been prevalent in Magic's history. Many of the greatest cards in Magic history were featured in Blue/White control variants, and that hasn't changed today.

Planeshift, a classic "middle set," didn't bring a lot of playable cards to the table. It did bring a few, and in my mind, none stands out more than Orim's Chant - a powerful white utility spell easily capable of swinging games in favor of its caster, or letting a player stay alive long enough to find an answer.




Stopping things in Extended

With all the recent Extended PTQs making headway for the big Pro Tour season, I think it's almost mandatory that I do the number crunching on Scepter-Chant and compare it to the other decks, to help you decide what you want to play this season. But first, I think it's better if I take you through some of the potential choices for the deck and give you a basic skeleton. However, the skeleton only applies to actual Scepter-Chant, and not UW Control (Don't worry, I'll provide a decklist later! ;))

The Combo Pieces


Here we have the very heart of the deck. While the numbers of any of those cards can vary in this type of deck, they are all staples that are must-runs for any Scepter-Chant deck. With Isochron Scepter and Orim's Chant being the namesakes of the deck, it only makes sense they'd be here, right? They are the most important combo of the deck, which allows the Scepter-Chant player to lock down combo, control, and creature decks alike... All with those two cards. I know how you feel after hearing that: it's better than sliced bread.

Of course, following closely behind Orim's Chant is Fire // Ice, the longtime staple of red and blue decks alike since it was printed. The power to tap down a threat and draw a card or burn multiple critters out of the way is good in its own right. Put that power on an Isochron Scepter to be used every turn and you have yourself a suitable answer to most threats you will face.


Counters
Counterspell

AND



OR



Counterspell, being the original of a long and proud blue tradition, is of course an almost automatic 4 of in any blue-based deck, including this one. Strict blue and white builds of Scepter-Chant prefer to couple it with Force Spike and Mana Leak in order to have more cards to abuse Isochron Scepter with and have the power to win crucial counter wars in addition to stopping the early threats. However, builds splashing red prefer to use Daze for early-game "free counter" so that they can safely tap out to get an Isochron Scepter up and running as soon as possible. They also run Miscalculation which allows for a Mana Leak-like counter, but also has the addition of cycling should the UWr player need to draw a card.

The Draw and Tutors


Most of the deck lists seem to agree on running Brainstorm and Cunning Wish in addition to Accumulated knowledge because they are, in fact, the best weapons available to blue right now. Brainstorm of course couples well with the Flooded Strands. The Cunning Wishes allow for the Wish sideboard, putting less strain on the main deck. Both versions of the deck run Accumulated Knowledge, which can sometimes make them rely on the Isochron Scepter to try and play the catch up game after you've stabilized, but it also allows for some hard-cast draw outside of Brainstorm in the first couple of turns.


Creatures


Both Scepter-Chant lists agree on running the same amounts of each of these cards as they are powerful tools that help win games. Meddling Mage gives you the edge against any deck running a key spell while Exalted Angel not only keeps you alive against aggro decks, but also tends to kill the opponent pretty efficiently.

The manabase also varies greatly on which build you use, but expect to be using some amount of Flooded Strands as a rule of thumb, as well as Chrome Mox.

The Decklists

Sadly, Scepter-Chant has diversified somewhat. Below, I'll list the traditional Scepter-Chant deck, and follow up with two of the more prominent variations on the deck - straight-up UW Control and UWr Scepter-Chant.

First, though, here's the deck that brought Scepter-Chant to the mainstream, Nick West's build from Pro Tour Columbus!



Since Pro Tour Columbus, this deck has evolved into 3 decks that have much in common, but differ in slight ways. I'll show you a sample list of each of the three "evolutionary" decks below:




As you can see, it stays true to Nick's first ideas by playing the exact same maindeck, however it has a rehashed sideboard more prepared to take on the big decks of the format.

Advantages and Disadvantages - This specific build is suited better for a control and combo metagame than either of the other two builds by having a sideboard dedicated purely to wishing (except the oh, so obvious solution to RDW). However, lack of burn outside of throwing Fire // Ice on a Stick really makes this deck suffer in an aggro-heavy metagame.



I would first like to give Saheen my congratulations! Having seen his decklist on the SCG forums and tested it somewhat, I am excited to see the results of Saheen's work. Top 8'ing in 3 of his last 4 PTQ's this season, one of them to a first place slot, with this list is just the beginning. His decklist was also recently featured on MagictheGathering.com! Way to go!

Advantages and Disadvantages - This deck is the farthest away from the mainstream of Nick's original list, however, it has the best matchups against aggro and control you'll find out of any of these three decks. It runs great board-sweeping spells instead of the Isochron Scepter combo, giving it a resilience against artifact hate as well. The downside, however, is that this deck will roll over to combo decks nearly every time.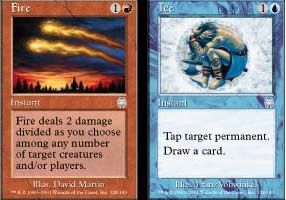 Advantages and Disadvantages - This deck is suited purely for a control and creature-heavy metagame. Having the big beaters, especially the Exalted Angels in the sideboard allows it to quickly kill other control players. Against creatures, the cheap, and often free list of counterspells used in this list allows the Scepter-Chant player to tap out in the early game without fearing dangerous plays from the opposing side. However, this list has one huge shortfall, and that is cutting the number of maindeck Orim's Chants down to two, greatly weakening the combo matchup.

For more information on this deck, check out this article by Adrian Sullivan.


The Testing



The Pure Aggro Decks


RDW

Scepter-Chant decks fear RDW above all other decks in the format because it has so many answers to each of your control elements. Builds splashing red will have more success in this matchup however, thanks to a wishable Starstorm. Builds running Sphere of Law in the sideboard will generally have more success, but if you run Wrath of God in the sideboard you'll still do fine. Game 1 is generally an uphill battle unless you can get a first turn Scepter and protect it.


Affinity

The other big aggro deck causes plenty of issues for any deck, Scepter-Chant not the least of them. Game 1 is difficult territory, relying on keeping opposing Meddling Mages, Disciples, and Aether Vials off of the board at all costs. Post-boarding games go somewhat better if you are running Energy Flux, or even Wrath of God in the sideboard. However, don't even think that it will be easy; it's still a fight the whole way through.

Goblins

Follow the same strategy you'd use against RDW and you'll do fine. Generally, it's far easier than RDW as they don't have the mana denial that hurts Scepter-Chant.



The Combo Decks



I'm not going into the detailed workings of every single combo deck in the format, as Scepter-Chant uses pretty much the same tools to neutralize each of them. Just remember that if you have an opportunity for a turn 1 Isochron Scepter with an Orim's Chant on it, go for it. Nearly every single combo deck in this format relies heavily on playing mutliple spells per turn, not the least of which are Aluren and Mind's Desire decks. Having an extra Stifle or two in the sideboard also helps to improve your chances against many decks. Against decks sporting Sundering Titan, be very careful to keep them from getting it in play or you WILL lose.



The Slightly More Controlling Decks


Scepter-Chant

Against the mirror-match, establishing control as soon as possible is key. Generally, getting a Fire // Ice on a stick is somewhat better than Orim's Chant as burning opposing Meddling Mages out of the way can often save you games, but if they are on the play and can play a Meddling Mage first, it's usually better to wait and see what they name, and then remove the Mage. Otherwise, you could end up with a useless Isochron Scepter. If you run the extra Angels in the sideboard, bringing them in can make the post-boarding games go smoother as you can establish yourself as the beatdown player fairly reliably. Making mistakes in this type of matchup decides games more than it does in any other matchup. It's very skill intensive for both players.

The Rock

Hand destruction is public enemy number one. Avoid it all costs. Need I say more? I do? Well fine. Builds splashing red for Flametongue Kavu generally do worse against you, but Recurring Nightmare can be quite true to its name. Meddling Mage is your best friend in this matchup.

UG Madness

Although it isn't a traditional control deck, UG Madness fits in this section as it tends to play out more like a control deck against the many combo and aggro decks in the format. Builds running Stifle in the main deck (or even the sideboard) can give you plenty of trouble in the first two turns by denying you reusable Orim's Chants and Fire // Ices by countering the imprint ability of Isochron Scepter. However, your tools, superior counter magic, and superior card draw generally makes the match lean in favor of you.

It's Time to Go...

So, with the results in, I would definitely play Scepter-Chant this Extended season as it has all the tools you need to handle the scariest of enemies, whether it be Teen Titans or RDW. Just make sure you choose the right build for your metagame!

-ButteBlues18

If you have questions or comments, feel free to email me at butte.blues.18 -at- gmail -dot- com, or move on to our fine forums and leave a post.

Props to:

Senori
Tawnos
Goblinboy
HKKID
Belgareth
Qwerty

For their help in editting, images, and insight when writing the article.