By Gavin Verhey



Ah, Spring. The time of year where a young man's fancy turns to love, the flowers start to bloom, and the world encounters May pre-releases!

Yes, pre-releases. The day when a entirely new format exists for a single day, and people will be seen playing the worst card in the set and calling mediocre cards amazing.

Seattle is lucky enough to have two pre-releases, spread over two days. Each pre-release has flights of 64 people each, with some of the later ones having 32 people. There are also side event drafts as well. Day two is usually a smaller pre-release with 1-2 flights and is more focused on drafts. Players are also allowed to change our deck inbetween rounds to whatever we want using the cards that we have, not just while sideboarding.

Anyways, after judging day one I play on day two. I sit down at my seat, and after a few opening announcements, I open up my Champions of Kamigawa tournament pack and 3 Saviors of Kamigawa boosters. This is my cardpool:



Got a good look at the cardpool? Good. Now I want you to write down what your colours would be from just glancing at the cardpool, and then post them when you reply to this article.

Done writing your colours down? Let's continue.

At first glance, my card pool looks bombtastic. When I first opened my product I couldn't believe some of my rares; Kagemaro, First to Suffer! Uyo, Silent Prophet! Sakashima the Imposter! You could easily be thinking right now "I'm going to scroll down to the end. I already know how this works. He plays all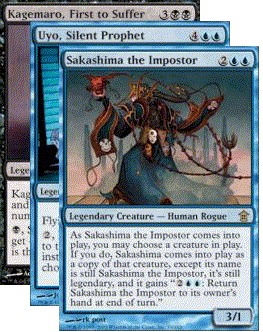 Bombtastic

of the bombs and wins the tournament." However, if you thought that, you would be incorrect. While I'm not going to lie that I was undefeated, smashed almost everybody I played quickly, didn't lose a single game and placed first, the deck that got me there isn't so obvious. Thus I'm going to spend the majority of this article talking about how to evaluate the new cards and the processes I went through to make my sealed deck.

The first step I take when I start building my sealed deck is to take all of the cards that are almost always unplayable except for special situations and put them in a pile. Doing this eliminated the following cards:



Now that the near-unplayable cards are out of the way, I look at the colors' strengths and weaknesses. This is what I got:

Black:
Strengths:
Has a bomb in the form of Kagemaro, some destruction in the form of Befoul and Kagemaro's Clutch
Weaknesses:
Almost no good creatures. Besides Kagemaro, the only other playable creatures are Nezumi Ronin, Villianous Ogre and possibly Deathknell Kami, Gnat Miser and Cursed Ronin, a card that I personally dislike. Out of those cards, they are all pretty weak with the only ones that I would like to play being a Villianous Ogre with no demons and a Nezumi Ronin.

Blue:
Strengths:
Has two great bombs and some nice ways to cycle through your deck faster. It also has some nice evasion and a way to pseudo-destroy a creature using Freed from the Real.
Weaknesses:
Somewhat low creature quality and the card drawing it has isn't really worth playing.

Green:
Strengths:
Has some pretty good creatures and some nice ways to get through those final few points of damage. It also has a nice trick in Serpent Skin.
Weaknesses:
Besides good creatures and a Serpent Skin, green has nothing, especially in the very important "combat trick" area.

Red:
Strengths:
Destruction everywhere. Between a Barrel Down Sokenzan, a Spiraling Embers, an Ember-Fist Zubera, a remarkable 2 Yamabushi's Flame, a Pain Kami and even a Hearth Kami for artifacts and a Yamabushi's Storm in from the sideboard against Red/Black, creatures won't be surviving long for your opponent. It also has some nice finishers in the form of Feral Lightning and Path of Anger's Flame.
Weaknesses:
Red's creature quality is extremely low. It doesn't matter if you can destroy all of your opponents creatures if you can't play your own to win the game with.

White:
Strengths:
Mothrider Samurai, Kabuto Moth AND Kitsune Blademaster? Where do I sign up? Besides those, White has some solid creatures like 2 Shinen of Stars' Light, and a few other OK ones with flying. Plus, it has a good finisher in Charge Across the Araba.
Weaknesses:
White has very little in the way of non-creature spells. No Cage of Hands here, or even temporary removal/creature-saving tricks like Otherworldly Journey. The only cards that aren't creatures that I would play are Charge Across the Araba, Spiritual Visit if I have enough arcane spells, Reciprocate, Ghostly Prison and Ethereal Haze, with the last 3 being cards that I'm not a big fan of.

Now that I've looked over the colours, I try and pair them up to figure out what works and what doesn't. After a few minutes, I notice that I really can't play Black. My lack of a Sakura-Tribe Elder or a Kodama's Reach means I can't really splash a colour, and Kagemaro isn't really splashable. Most of the black cards are weak and the only reason I can see playing black over red is because of Kagemaro. Red has the superior destruction by far, and better creatures as well, so despairingly I take a last look at Kagemaro and set Black aside. I look at my Blue and consider setting it aside, but I can't bring myself to set aside Uyo and Sakashima, not to mention the solid fliers and card draw.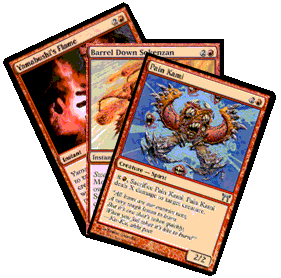 Creatures? What creatures?

At this point I begin to look over my cardpool that remains, and Red is the only remaining colour with removal, and luckily it has an abundance of it. As far as I'm concerned, Red will make it into the final build of the deck now.

Next I look over what colour or colours will go with Red best. Green and White both have solid creatures, while Blue seems kind of subpar in that regard. As much as it pains me, Blue has to go. If i'm simply looking at evasion, White has some fliers and first strikers, which makes Blue not as needed. Also, the simple fact of the matter is that this deck won't be able to win without creatures, and it needs a creature-heavy colour to support the very creature-lacking Red, and Blue doesn't really provide me with this. I take a look at both Uyo and Sakashima, and hoping that I'm making the right decision, I set them aside along with the rest of the Blue.

After that elimination only Red, Green, and White stand. Red is going to be in my deck, so now it's just choosing between the Green or White. This deck can't play 3 colours because it has no mana fixing in Green and the Barrel Down Sokenzan needs plenty of mountains to be as effective as possible. Plus, Feral Lightning, a card that many people have said is horrible but I think is OK as a 1-of finisher, needs triple-Red, which could be quite a feat in three colours.



Usually when I'm down to three or less colours, the next step I take is sorting out my mana curve. In Magic, especially Limited, it's very important to "hit the curve," especially the 1-3 and usually 4 drops. A good way to learn the value of a curve is to play VS. System, a game which I highly recommend.

(Editor's Note: The Vs. System games allows any one card in hand to be played per turn as a resource for playing characters. Since there is no chance of missing a resource drop, the game is highly focused on playing a 1-cost character on turn 1, a 2-cost on turn 2, and so on. Missing a character drop in the early game will often translate into a game loss later on. )


Luckily for us, we already have decided on one colour so we can see how Green and White match up with Red's mana curve. Here is what the curve looks like as a Red/Green deck. (Note that I'm putting all cards that I might play in the mana curve slots, so it will look like way too many cards. I'm also not counting artifacts.)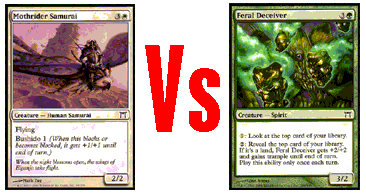 1CC: Akki Avalanchers, Hana Kami
2CC: Hearth Kami, Shinen of Life's Roar, Ember-Fist Zubera
3CC: Serpent Skin, Matsu-Tribe Decoy, Akki Drillmaster, Path of Anger's Flame, Barrel Down Sokenzan, Pain Kami, 2 Yamabushi's Flame
4CC: Spirialing Embers, Feral Deciever
5CC: Okina Nightwatch, Kumano's Pupils
6CC: Feral Lightning, 2 Nightsoil Kami

That curve doesn't look too bad. Remember that you can't really count removal or combat pumps on a curve, so you really have to take a look at it without Path of Anger's Flame, Serpent Skin, Yamabushi's Flame and Barrel Down Sokenzan. It looks pretty light on turn 4 and somewhat light on turn 3, but otherwise it's fine.

Let's take a look at Red/White:

1CC: Akki Avalanchers, Kitsune Diviner, Reciprocate
2CC: Hearth Kami, Araba Mothrider, Hand of Honor, Ember-Fist Zubera
3CC: Kabuto Moth, Kitsune Blademaster, Moonwing Moth, Ghostly Prison Akki Drillmaster, Path of Angers Flame, Barrel Down Sokenzan, Pain Kami, 2 Yamabushi's Flame, 2 Shinen of Stars Light
4CC: Spirialing Embers, Mothrider Samurai
5CC: Kitsune Dawnblade, Kumano's Pupils, Charge Across the Araba, Kiyomaro, First to Stand,
6CC: Feral Lightning

That looks much better then red/green. It gives the deck a ton of evasion, a much stronger supply of 3-drops that can be played on turn 4 if need be, and a finisher in Charge Across the Araba. So I set Green aside and begin to evaluate the cards I have left.

The first thing I do now is solidify the cards that I know will be in the deck without question. That list consists of the following cards:

Hearth Kami
Mothrider Samurai
Barrel Down Sokenzan
Kabuto Moth
Kitsune Blademaster
2 Yamabushi's Flame
Pain Kami

This deck, even with its very low curve, looks like it wants 17 lands, so, I pull out all the cards I would consider playing and just add 17 lands to the mix. It ends up looking something like this:



That equals 48 cards. Since your almost always want your limited decks to be 40 cards, that means we have to cut 7 cards. The first card to go is Feral Lightning. Charge Across the Araba already provides our finisher and I really don't want Feral Lightning stuck in my hand if I can't produce the triple Red, especially because this deck needs to be fast.

The next card to go is Spiritual Visit. At this point we only have three other arcane spells and I only imagine this card being playable if it gets spliced at least twice, which isn't going to happen here. After that, I eliminated Kitsune Dawnblade and Kumano's Pupils. This deck just wants to race with small guys while burning out with removal. Playing 2/3's and 3/3's for 5 mana doesn't help that strategy, especially if they are just dead cards for the first several turns.

Four more cards to go. The next three are Reciprocate, Nine-Ringed Bo, and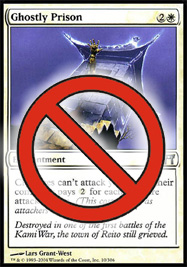 You will rarely see me playing this card.

Ghostly Prison. While I like removal, I'm not a big fan of removal that still lets the creature damage you, and in this deck I have enough real removal to make a subpar removal spell not worth playing. Nine-Ringed Bo was cut for the same reason: it was more removal but still situational. Against a deck with lots of spirits I could always just sideboard it in.

I'm sure one of the more controversial cuts in this deck is Ghostly Prison, but I'm not a big fan of the card. I rarely play it and if I open it up in draft I usually end up passing it. Whenever I play Ghostly Prison it never seems to do anything important and whenever my opponent plays Ghostly Prison it never seems to do anything important. Plus, this deck is an aggro deck and it wants to be playing creatures on turn 3, not a enchantment that doesn't help, and Ghostly Prison is really only optimal in the early game.


The last card to be taken out is Kitsune Diviner. After debating if I want it or Akki Avalanchers in the maindeck, I decided on the Avalanchers because the deck is a quick swarm aggro deck, and I want to be able to attack for damage. Besides, taking out blockers is what the burn is for.

The only issue now is what lands to play. I'm going to certainly go for the 9/8 ratio of lands and it's a tough decision between having enough to cast cards like Hand of Honor and Moonwing Moth early or being able to use Barrel Down Sokenzan to its full extent. In the end, it seemed like I needed the early white more then the early red, so I played 9 plains and 8 mountains making my final deck look like this:




There we go, 40 cards exactly. Before I get into the matches, let me do a card-for-card breakdown of the deck and what I thought of all of the new cards and some of the old ones that I might get argued on after playing with them.

Kiyomaro, First to Stand: This was the only card that I was disappointed with. Somehow I imagined that it would get huge as I kept my extra lands in my hand and that my Barrel Down Sokenzan would help make him huge. Well, most of the time he was a 2/2 or a 3/3 for 5 mana, and his Vigilance only became active a handful of times. He might be good in a deck that holds lots of cards, but in a quick aggressive deck he doesn't work very well.

Shinen of Stars' Light: This card is amazing. Draft these guys high, because anyone who has played with or against them knows how potent these guys are. It takes out most 3 or below drops in this block, and if you have a way to make him bigger, he gets even better.

Akki Drillmaster: I only used his ability once or twice, but a Grey Ogre isn't bad in this format, and the fact that he has a minor ability that may be useful tacked on is a plus.

Araba Mothrider: I like this creature. He is a 1/1 flier for 2 that also can take out all of the 1/1 blue fliers and can trade with 2/2 blue fliers. While not spectacular, this guy is part of the meat and bones of any deck, the part that makes the deck work.



Path of Anger's Flame: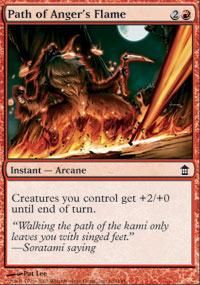 Game....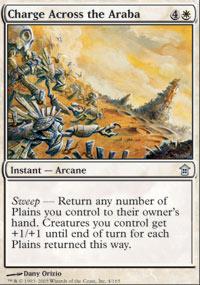 ....Over

This card is spectacular. It's a combat trick for all of your creatures, it's a finisher, and it's arcane for only a measly 3 mana. Pick this card high, as this is a very playable card that would almost always make my deck.

Charge Across the Araba: This card is very, very powerful. I thought it would be a great finisher, but it also is a great combat trick to keep your creatures alive while killing all of your opponents' creatures. Sometimes you have to set your tempo back a lot to do it, but most of the time it's worth it.





Barrel Down Sokenzan: Just as good as most people expected it to be. Great removal, and the disadvantage is not only minor, even unnoticeable at times, and it's actually not a disadvantage sometimes.

Moonring Mirror: Some people dislike this card. I'm here to tell you that it is an absolute bomb and to draft it when you can. Unless your opponent can destroy it, which is unlikely, it allows you to some really crazy stuff. Some people will tell you it's only good in control decks, but I say it's just as good in aggressive ones. When your hand runs out of threats to play you just swap it out for a few new cards, and then can go back to your other hand for the finisher you didn't need later.

Spiraling Embers: It's a shame that this card is a sorcery, because it would be much better if it was an instant. In any case, this card is fine in aggressive decks, just so long as you play it early. Burn whatever of your opponents you can, even if it's not too big of a threat, with this early. In an aggressive deck, once you get down to 1-2 cards, you're pretty much stuck there unless you want to stop playing threats which is usually a bad idea.

Soratami Cloud Chariot: This is one of those cards that seems clunky, but once it gets going is a game winner. It allows your creatures to block your opponent's creatures without dying and it allows you to kill your opponent with fliers once you have enough mana. You never want more than one of these kind of cards in a deck, but if you have one, play it.

Hand of Honor: a 2/2 Bushido 1 creature is very nice. The fact that he has protection from one of the most played colours in the block makes him even better and more valuable in the late game.

Moonwing Moth: This creature is quite solid. He is a 2/1 flier for 3, but his ability to pump his toughness makes him very worthwhile. Not only does it allow him to block big creatures and live, but it allows him to kill other X/2's and live to tell the tale.

Manriki-Gusari: This card is actually not bad. It doesn't give the best boost for 3 mana, but the fact that you can shuffle it around for 1 mana makes it playable. Plus, it's really good protection against that very nasty uncommon equipment O-Naginata or even against an opponent who has Umezawa's Jitte.

Now onto the five matches and what happened in each match. Note that I opted to draw instead of play whenever I got the chance:

Match #1:
Truthfully, I don't really remember much of this match. My opponent was playing Red/Green and he had a huge bomb in the form of Homura, Human Ascendant as well. The good news is he sat right across from me in deckbuilding so I knew his deck well. Game one I played some early quick creatures and then followed it up with a Kiyomaro on turn 5, which managed to be a 5/6 Vigilance on the next turn due to Manriki-Gusari. He only played two or three creatures the entire game so I just continued to run right over him. Game two he plays a few creatures and I play a lot of creatures. On turn 6 or so I destroy a few of his untapped creatures at end of turn and then on my turn I swing with everything, and thanks to a large number of plains, Charge Across the Araba wins me the game.

Match #2:
I play against Ty Scandora, a somewhat well-known player from around here. Game one I lead off early with an Akki Avalanchers and I follow it up with a Araba Mothrider while he just plays a plains and an island. Turn 3 he summons a Kabuto Moth and I untap, Yamabushi's Flame it, and keep the pressure coming. Within the next few turns he plays a Innocence Kami and a Kitsune Diviner but I keep the pressure up with creatures and burn, and on turn 6 I Charge Across the Araba for the win. I side in Kitsune Diviner for Akki Avalanchers because U/W decks usually have a lot of spirits. Game two I lead off with a Hand of Honor and a Kitsune Blademaster. Then he plays Nagao, Bound by Honor on turn 4, and I untap and Spiraling Embers his Nagao, and he doesn't play a single creature the rest of the game.

Match #3:
I was happy to see a woman against me at the top table this match, because so often the females that play at Magic tournaments are just the wife of a husband who dragged her along and then the wife barely wins any games, so it was nice to see one who was pretty good. She (Jennifer I think was her name) gave me the closest game I ended up playing all day. She's playing W/B and she leads off with an early Nezumi Cuttthroat while I play my Araba Mothrider. Turn 3 she plays a Wicked Akuba and attacks, while I play a Moonwing Moth on my turn. Then she untaps, attacks me with her creatures and the Mothrider trades with the Akuba and I take another two from the Cutthroat. Then she plays the huge Razorjaw Oni. Normally that would be very bad for me, but I untap, attack for two, and play a Hand of Honor and a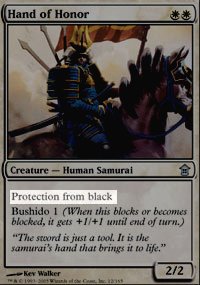 Ember-Fist Zubera. Luckily for me the Hand of Honor has Protection from black, so her Razorjaw Oni is useless for a while. She attacks a few times, but most of them prove to be bad for her as a channeled Shinen of Stars' Light along with a resolved one equipped with Manriki-Gusari kill off her creatures.

The game proceeds with both of us playing a lot of creatures while she attacks me for two with the Cutthroat each turn while I don't deal damage because she Rend Fleshes my Moonwing Moth. Then she plays the card that causes her to lose the game: Michiko Konda, Truth Seeker. Why is this? Because with me at a low life total, I play Ember-Fist Zubera, the first damage-dealing spell I've drawn all game. No matter what happens, her Cutthroat that's been winning her the game will be destroyed next turn because if I attack, the Zubera is going to die even if it deals damage, because I will just sacrifice it. She gets me down to 6 with the Cutthroat, then I attack with the Zubera next turn, destroying her Cutthroat. The game continues for a few more turns until I draw Soratami Cloud Chariot. Then I block her alpha strike, let all of my creatures survive using the Chariot, and attack for the win next turn.

Game two was fairly quick as she gets stuck on 3 mana and I just burn the few creatures I see while applying the pressure with my creatures.

Match #4:
I play a local JSSer, Martin Kirst. He is playing U/B, but I know he has Meloku, and I know if he untaps with Meloku out it's going to be an uphill battle.

Game one I get lucky and he stalls out on 3 mana, playing only a few meager threats like a Deathknell Kami. By the time he hits his next few mana it's too late, and even a few more creatures he casts serves futile.

Game two is a much longer affair. I hit him with a few Araba Mothrider and Mothrider Samurai points in the early game, but after a while it turns into a creature stall. The problem is, I know that in a creature stall if I just wait he will probally win because he has Meloku, the Clouded Mirror. Luckily for me, I draw and play a Moonring Mirror on turn 5. I let two cards go under Moonring Mirror, then in my next upkeep I switch out my hand, and my hand with no cards in it turns into a hand with a Barrel Down Sokenzan and Path of Anger's Flame. At end of turn I Barrel a big creature. I draw a Yamabushi's Flame and pass the turn. Next turn I let the Mirror get another card and draw a Soratami Cloud Chariot. I play the Chariot and pass the turn. He draws a land and I Flame one of his creatures a tend of turn. In my upkeep I cast Path of Anger's Flame, swap my hand out with the Mirror, give all of my creatures flying, and win.

Match 5:
I drew this match. It was against my brother, Tanner Verhey, and I'd rather just take the extra time to trade then play for cards that we will end up sharing anyways. In a way, it was even better then a win against somebody else as because we got 30 packs which we will share. And good packs they were too. I only opened a single pack because I wanted to trade most of the packs off, but luckily, the pack I opened contained a foil Pithing Needle!

I had a good time at my pre-release and I hope you did too. Hopefully this article helped you out, and I hope my card evaluations will help you in booster drafts in a few weeks. Thanks for reading!

-Gavin Verhey

Credits:
Writer: Lesurgo
Images: Iloveatogs, Gatherer and Lesurgo
Editor: Binary
Head Judge of the Flight: Tony Mayer
Tournament Coordinator of the Pre-Release: Tim Shields