Aah, drafting Magic, there's nothing quite like it. Eight players sizing each other up with narrowed eyes across the heat haze rising from the table. Three boosters each, no more, no less. Card evaluation, deckbuilding and playing skill all pushed to the limits. The smack of leather on willow (no, that isn't a Buffy reference). It really is my favourite pastime.


What is Booster Draft?
Booster draft is a Magic format in which players build decks by opening new booster packs and taking turns to select cards from them. Eight players sit in a circle and each player opens one booster. Each takes one card, then passes the rest of the pack one seat to the left. This is repeated until all the cards have been taken. The process is repeated with a second set of boosters, but this time passing to the right. Finally a third set of booster packs is opened and again cards are passed left. At the end of each process each player has a card pool of the 45 cards they have drafted plus as much basic land as they choose with which to build a 40 card deck.

If you've read many Internet Magic sites you'll be familiar with the concept of a draft walkthrough. The idea is simple enough: the writer of the article talks you through his pick from each pack and if you're really lucky says a word or two about the games. It can make for interesting reading, if only because you almost certainly disagree with whoever the writer is and you end up wondering how on earth they manage to first pick an Orochi Sustainer and still win PTQs, drive a Ferrari, and get all the hot chicks.

But this is MTGSalvation (epic-sounding orchestral music fades in)! We're not content to merely provide a draft walkthrough. Ladies and gentlemen, I proudly present the world's first interactive draft walkthrough. Well OK, slightly interactive. And it may not be the first, I honestly don't know. I'm also not 100% sure there are ladies in the audience, that might just have been Meloku I caught sight of on the way in.

My secret tech for today is the spoiler tag. This is how it's going to work:

1) I show you the cards from a pack.
2) You think about the choice of card. Don't just note the card you'd pick - you should also note the other cards you think are viable picks, what signals you think you're sending and that kind of thing.
3) Then click on the spoiler button and gaze in awe at the brilliance of my own observations and choices. Or maybe disagree violently and rush to the forums to flame me for my crass stupidity.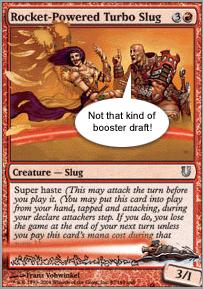 Joking apart, additions and corrections to my view of things are very welcome. I'm looking to improve my draft game as well and that's hard to do without new perspectives. So... let's go!

The draft in question is a Magic Online 4-3-2-2 draft. What does that mean? It means it's a single elimination 8-man booster draft with a very flat prize payout. 2 packs for winning even a single round means that 4-3-2-2 drafts attract weaker players (by which I mean average rating a little below 1700 instead of 1850, not genuinely weak players). You might think this makes them easier - and it does in most ways - but it also adds a great deal of complexity since weak players screw up in such exciting and different ways.

One last point before we start. You might ask "Why talk about CCB draft now that Saviours is out?" Simple - it's a format people know. CBS will be unknown territory for some time and this is not an article about pick orders.

Here's the first pack:

Pack 1 Pick 1
C Venerable Kumo
C Gibbering Kami
C Kami of the Painted Road
C Akki Avalanchers
C Hisoka's Defiance
C Sakura Tribe Elder
C Ashen-Skin Zubera
C Quiet Purity
C Brutal Deceiver
C Consuming Vortex
C Order of the Sacred Bell
U Pinecrest Ridge
U Bushi Tenderfoot
U Kami of Lunacy
R Kitsune Mystic




What a terrible pack. I knew this would happen of course. I carefully record a draft and then end up with an awful deck and get knocked out in the first round. Just my luck.

Kitsune Mystic is cute, but useless, so out it goes. Kami of Lunacy is too vulnerable and the Tenderfoot never flips, so they're out. I don't know my colors, so I'm not picking the land. Therefore I'm taking a Common from this pack.

Gibbering Kami, Order of the Sacred Bell, Brutal Deceiver and Ashen-Skin Zubera, Sakura Tribe Elder and Consuming Vortex are all quite playable. Of these, the Elder is the best card but there is one good reason not to pick it: Green is not powerful in CCB draft, so you don't want to be in Green if you have a choice.

Of the remaining cards, I am particularly drawn to Consuming Vortex. This is because it is the only decent Blue card, which helps with the signal we send. It's always good to signal early if you can (look at the help box over on the side if you haven't heard of signalling before).

My pick: Consuming Vortex


What is "signalling"?
Although talking during a draft is not permitted there is a way you can communicate quite legitimately, albeit in a very restricted way. This is via the cards which you leave in each booster after your choice. For example, if you take the last White card from a booster, the player you pass it to might guess you are drafting White. This gives them a chance to avoid drafting the same color themselves.

Pack 1 Pick 2
C Kami of the Waning Moon
C Call to Glory
C Lava Spike
C Floating-Dream Zubera
C Kashi Tribe Warriors
C Cursed Ronin
C Unnatural Speed
C Kami of Twisted Reflection
C Wear Away
C Kodama's Reach
C Rend Spirit
U (card taken)
U Nine-Ringed Bo
U Squelch
R Reweave




Not pretty, is it? Looking at the Blue first we see Floating-Dream Zubera and Kami of Twisted Reflection. Definitely not second pick material in either case. Had we taken the Elder from the previous pack we'd happily take the Kodama's Reach here, but as it is that idea is a lot less appealing. To start with, who wants to be U/G? Second, we've just passed an Elder, which will have hinted that we don't want Green.

Given that Blue has no removal, we really want our second color to be Black or Red given a choice. Rend Spirit is a fine piece of removal and also easy enough to splash here. Cursed Ronin is certainly a strong card, but isn't exciting at all unless we're heavy black (and we aren't - at least not yet). Kami of the Waning Moon is also good to have in a U/B deck.

Nine-Ringed Bo is a controversial card, but certainly is at least playable. It also has the great advantage in our present situation of not requiring color commitment.

In the end my decision is made for me by the three black cards. The player to my right should realise they have sent a clear Black signal. I opt for the removal both to minimise by color commitment and to discourage the player to my left from taking a Black card from this pack.

My pick: Rend Spirit


Pack 1 Pick 3
C Hearth Kami
C Reach Through Mists
C Serpent Skin
C Vicious Ogre
C Kitsune Diviner
C Jukai Messenger
C Midnight Covenant
C Ethereal Haze
C Pull Under
C Kami of Ancient Law
C (card taken)
U Cloudcrest Lake
U Numai Outcast
U Soilshaper
R (card taken)




This one's tricky. At least that's my excuse, since I probably got it wrong.

What threw me was that again there's nothing in Blue, so I start to think about moving away from my first pick and looking for other colors. There's a rare and a common missing from this pack. The rare tells me very little, but the common might provide clues.

Also, I note that it's possible Reach Through Mists will make it round the table.

What I'm doing here is making the classic mistake of overthinking the pick. Either Pull Under or Vicious Ogre would be fine for my deck. Sure, the former is pricey and the latter is a bit janky but they're both playables in my colors.

Instead, I note that the missing common is almost certainly not White and decide to interpret Kami of Ancient Law as a signal that White is open to my right (which is debateable anyway). Oops.

My pick: Kami of Ancient Law


Pack 1 Pick 4
C Brutal Deceiver
C Reach Through Mists
C Kami of the Hunt
C Gibbering Kami
C Soul of Magma
C Pious Kitsune
C Lifted by Clouds
C Kitsune Riftwalker
C Frostwielder
C (card taken)
C (card taken)
U Tranquil Garden
U Initiate of Blood
U (card taken)
R Akki Lavarunner




This pack confused me. Having seen no Red to speak of until now there are three playable Red cards in this pack. Still, none of them are great so it's far from impossible. It also makes our pick easier, since we have no interest in Red.

I note with mild concern the presence of Kami of the Hunt, hinting that Green might have been a good plan after all. Ah well.

Reach Through Mists always goes late and Kitsune Riftwalker is both fragile and overcosted. Gibbering Kami is therefore the clear pick.

My pick: Gibbering Kami


Pack 1 Pick 5
C Harsh Deceiver
C Unearthly Blizzard
C River Kaijin
C Commune with Nature
C Kitsune Healer
C Jukai Messenger
C Deathcurse Ogre
C Silent-Chant Zubera
C (card taken)
C (card taken)
C (card taken)
U Student of Elements
U Rootrunner
U Hinder
R (card taken)




Oh good grief! Just as I get used to the idea that Blue is not for me it reappears.

The Rootrunner is a very bad sign here. It says "Green!" quite loudly. I should possibly have left my lone Consuming Vortex behind and made a late switch into Green on the basis that there weren't many Green drafters to my right. I thought about it until my timer started beeping, then settled for the River Kaijin on the basis that I should get really good Blue in pack 2 (due to the very strong signals sent).

My pick: River Kaijin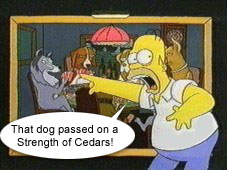 Pack 1 Pick 6
C Hundred-Talon Kami
C Uncontrollable Anger
C Thoughtbind
C Burr Grafter
C Ember-Fist Zubera
C Lifted by Clouds
C Dripping-Tongue Zubera
C Kodama's Might
C (card taken)
C (card taken)
C (card taken)
U Strength of Cedars
U Honor-Worn Shaku
U (card taken)
R (card taken)




Oh. My. God. A long debate could be had on the subject of whether someone must have screwed up in order for a Strength of Cedars to still be in a pack at fourth pick. This is sixth pick, so I can say without a shadow of a doubt that someone screwed up.

Also, I'd hazard a guess that Green is open to my right. I try hard not to think about how good my deck would be right now if I'd gone with Green from pick 1. Oh look, there's a Kodama's Might in this pack too. I managed not to cry.

My pick: Thoughtbind... No, wait, Strength of Cedars.


Pack 1 Pick 7
C Lava Spike
C Eye of Nowhere
C Orochi Ranger
C Call to Glory
C Devouring Rage
C Vigilance
C Desperate Ritual
C Wandering Ones
C Graceful Adept




OK, so I now have some Blue, some Black, a Green card and a White card. This sounds bad, but really it's worse. Why? Because I'm expecting good Blue in pack 2 and good Green in pack 3, so I'm heading for U/G - the worst draft colors of all!

Only Orochi Ranger and Eye of Nowhere are playable here. I'm thinking that pretty much my only chance for a good deck is to develop some kind of splice theme, so I go for the Eye.

My pick: Eye of Nowhere



Pack 1 Pick 8
C Orochi Sustainer
C Distress
C Soul of Magma
C Hisoka's Defiance
C Peer Through Depths (bad!)
C Dripping Tongue Zubera
C Deathcurse Ogre
U Reito Lantern




The correct pick here is Dripping-Tongue Zubera. This is a fine card for U/G since it holds the ground well while your flyers do all the hard work. Not that I actually picked it, of course.

Orochi Sustainer provides a fine source of mana acceleration. Not as good as Elder by a long way, but still a worthwhile card.

Peer Through Depths may be Arcane and on-color, but clearly isn't much good. To be honest I was still thinking about that whole Strength of Cedars thing and was checking the ratings of the players to my right. You can do that mid-draft online... which is a really good way to distract yourself.

My pick: Peer Through Depths


Pack 1 Pick 9
C Venerable Kumo
C Kami of the Painted Road
C Akki Avalanchers
C Hisoka's Defiance
C Quiet Purity
U Pinecrest Ridge
U Bushi Tenderfoot




I always much prefer to pick a solid sideboard card over a weak maindeck card. Consequently, I'm not at all interested in the Kumo here.

My pick: Hisoka's Defiance


Pack 1 Pick 10
C Lava Spike
C Kashi Tribe Warriors
C Unnatural Speed
C Kami of Twisted Reflection
C Wear Away
U Squelch




Ooh, a playable in my colors!

My pick: Kami of Twisted Reflection


Pack 1 Pick 11
C Reach Through Mists
C Serpent Skin
C Jukai Messenger
U Cloudcrest Lake
U Numai Outcast




As I suspected, the card I wanted is still here.

My pick: Reach Through Mists


Pack 1 Pick 12
C Reach Through Mists
C Pious Kitsune
C Lifted by Clouds
U Tranquil Garden




...and the other one.

The important thing to notice here is the different factors involved in my decision to stick with Blue. You don't have to see first-pick cards in a color for it to look promising, you just need clues that it's sufficiently open. The two Reach Through Mists tabling successfully suggests we've chosen our color well.

My pick: Reach Through Mists


Pack 1 Pick 13
C Commune with Nature
C Deathcurse Ogre
U Student of Elements




One nice thing about Green: you still see playables late.

My pick:Commune With Nature


Pack 1 Pick 14
C Thoughtbind
C Lifted by Clouds




My pick: Lifted by Clouds


Pack 1 Pick 15
C Wandering Ones




My pick: Rorix Bladewing

---


Time for the second set of packs...

Pack 2 Pick 1
C Venerable Kumo
C Cruel Deceiver
C Kitsune Healer
C Yamabushi's Storm
C Sift Through Sands
C Kashi Tribe Warriors
C Midnight Covenant
C Terashi's Cry
C Unnatural Speed
C Mystic Restraints
C Feral Deceiver
U Hana Kami
U No Dachi
U Candle's Glow
R Dosan the Falling Leaf




OK, so by this point unless we see a seriously broken bomb we're in some combination of Blue, Green and Black. This pick is therefore between Cruel Deceiver, Feral deceiver, Mystic Restraints, Hana Kami and No Dachi.

I rule out the Cruel Deceiver quickly. No Dachi is good in some decks, but really doesn't help much with the sort of thing I'm building. I'm expecting to fly over for the win and gum up the ground with big stuff. I shouldn't need a sword to win combats. Mystic Restraints is a card I personally dislike. It's removal of a sort, but I object to paying 4 mana for the kind of unreliable solution it offers.

So that leaves the two Green cards. On the one hand I'm short of solid creatures, but on the other hand the Hana Kami could work well with my deck - I already have three definite maindeck Arcane spells and am hoping for several more. Also, a simple rule applies here: if in doubt take the card with the lower mana cost.

My pick: Hana Kami


Pack 2 Pick 2
C Floating-Dream Zubera
C Vine Kami
C Waking Nightmare
C Devoted Retainer
C Devouring Rage
C Callous Deceiver
C Psychic Puppetry
C Joyous Respite
C Ashen-Skin Zubera
C Frostwielder
C Teller of Tales
U Cleanfall
U Sideswipe
U Sachi, Daughter of Seshiro
R (card taken)




If you think back to pick 1, pack 1, you may recall disagreeing with my pick of Consuming Vortex. Here's where I collect on my investment. I'm a bit happier now.

My pick: Teller of Tales


Pack 2 Pick 3
C Kitsune Diviner
C Sokenzan Bruiser
C Counsel of the Soratami
C Kami of the Hunt
C Scuttling Death
C Blessed Breath
C Orochi Leafcaller
C Ragged Veins
C Terashi's Cry
C Nezumi Cutthroat
C (card taken)
U Kami of Old Stone
U Dampen Thought
U Orochi Eggwatcher
R (card taken)




There's a common missing from this pack and that's good news for us. Why? Because with Nezumi Cutthroat still in the pack, the common was very likely Kabuto Moth or Glacial Ray. Both are outside our colors, so it's looking good for our deck.

This is a critical point in the draft, though. Right now, we're not fully committed to a plan. But here in this pack we see two strong Black cards. We must decide now: are we in Black?

Remembering the insane Green in pack 1 I make the hard choice. I am not in Black. U/G, that most awful of color mixes, shall be mine.

My pick: Kami of the Hunt


Pack 2 Pick 4
C Cursed Ronin
C Harsh Deceiver
C Stone Rain
C Sift Through Sands
C Vine Kami
C Cruel Deceiver
C Ember-Fist Zubera
C Lifted by Clouds
C Dripping-Tongue Zubera
C (card taken)
C (card taken)
U Hankyu
U Orbweaver Kumo
U (card taken)
R Journeyer's Kite




Ouch. What an awful pack.

With no bombs in the pack, we're looking only at our colors now. Of course, we could still run the Kite or Hankyu if we wanted to. Both deserve a couple of words. First the kite: it's very, very slow. If you have a deck that both needs mana fixing and is really good on defence then it might be playable (if weak). Personally, I almost always prefer to add a land. Remember, if you want it to do more than a land does you'll need to invest at least 8 mana! Hankyu is a bit better. You again need a very defensive deck and it's only worth it in colors that lack removal. My colors do lack removal, but I shouldn't be short on finishers. Besides, I'm not a fan of the card at all.

Orbweaver Kumo I consider painfully overcosted. Dripping-Tongue Zubera I actually quite like, though. It's two chump blockers and can be soulshifted back to act as two more chump blockers. I wouldn't normally pick it this high, but there's nothing good for me in this pack.

My pick: Dripping-Tongue Zubera


Pack 2 Pick 5
C Sokenzan Bruiser
C Hisoka's Guard
C Serpent Skin
C Nezumi Ronin
C Akki Rockspeaker
C Psychic Puppetry
C Orochi Leafcaller
C Kodama's Reach
C (card taken)
C (card taken)
C (card taken)
U Aura of Dominion
U Blood Speaker
U (card taken)
R Shinka the Bloodsoaked Keep




Green from my left?! Well... I'm not complaining!

My pick: Kodama's Reach


Pack 2 Pick 6
C Unearthly Blizzard
C Callous Deceiver
C Commune with Nature
C Devoted Retainer
C Yamabushi's Storm
C Ethereal Haze
C Akki Rockspeaker
C Hisoka's Guard
U Strange Inversion
U Honden of Life's Web




Up until this point I was still a bit nervous of my decision to go into Green. This is because I am a fool. Clearly there is only one other Green drafter at the table... at most!

My pick: Honden of Life's Web


Pack 2 Pick 7
C Thoughtbind
C Wicked Akuba
C Indomitable Will
C Hisoka's Guard
C Wandering Ones
C Wear Away
C Ragged Veins
C Soratami Rainshaper
U Struggle for Sanity




Again only one viable card in my colors. Actually, these shouldn't go so late despite clear signalling. With Indomitable Will also left in this pack I suspect it may have started off unusually strong!

My pick: Soratami Rainshaper


Pack 2 Pick 8
C Burr Grafter
C Indomitable Will
C Uncontrollable Anger
C Soratami Cloudskater
C Humble Budoka
C Silent-Chant Zubera
U Ore Gorger
R The Unspeakable




This is a really interesting pick, so I want to talk about this one quite a bit. There are four cards in contention, so we'll look at them one at a time.

The Unspeakable: Big, very powerful, but insanely expensive to cast. Never draft a card like this. I don't care how much mana you think your deck might generate. If you're reliably hitting 9 mana you should consider rebuilding your deck.

Soratami Cloudskater: Fragile and a bit slow as a threat, but good with ninja and with a very useful late game ability.

Humble Budoka: A very respectable beatdown option in the early game. The ability is both a bonus and a drawback, making the Budoka quite defensive in the mid and late games.

Burr Grafter: Frequently underrated, this in one of the central pillars of a good soulshift deck. We don't have many good 3-mana soulshift targets at the moment, but it's still very playable.

I rule out the Budoka without too much thought since I don't plan to rely on my early game today. The other two give me more trouble, but I eventually settle for the Cloudskater on the basis that I'm not yet confident of my deck's win conditions but I am expecting ground stalls.

My pick: Soratami Cloudskater


Pack 2 Pick 9
C Yamabushi's Storm
C Sift Through Sands
C Kashi Tribe Warriors
C Midnight Covenant
C Terashi's Cry
C Unnatural Speed
R Dosan the Falling Leaf




A quick note on raredrafting (the practice of picking a card because you want to own it, not because it will help you win the draft). Normally, raredrafting is a terrible plan and you should never do it. That said, this kind of pack is the one time that it's a good idea. Neither Sift Through Sands nor Dosan are likely to make my main deck, so I might as well pick the one that will sell for more. Then I'll look around guiltily to see if anyone noticed my secret capitalist streak. Erm... I picked it for the card art. Really.

My pick: Dosan, the One Dollar Bill


Pack 2 Pick 10
C Vine Kami
C Callous Deceiver
C Psychic Puppetry
C Joyous Respite
U Cleanfall
U Sachi, Daughter of Seshiro




Sachi shouldn't still be in the pack this late. But then we've already noted there are few Green drafters at this table, so we'll just consider it our reward for switching into Green.

My pick: Lisa, Daughter of Homer


Pack 2 Pick 11
C Counsel of the Soratami
C Orochi Leafcaller
C Ragged Veins
C Terashi's Cry
U Dampen Thought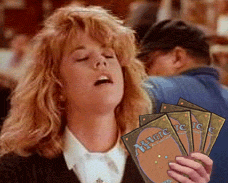 Meg Ryan thinks

damp thoughts

.

(from the movie "When Harry Met Sally")

This pick's going to require a bit of explaining. There's a really weird type of deck which used to be possible to draft in triple-Champions. This involved Dampen Thought, loads of copies of

Ethereal Haze

and any other splice cards you could lay your hands on. It worked by stalling massively and then decking the opponent! That deck became much weaker with the introduction of Betrayers, but it can still work on occasion.

Now I haven't been drafting that deck, but that isn't the point. The way to

stop

the deck is to watch out for late copies of Dampen Thought, Eerie Procession and Ethereal Haze and draft them if you have nothing better to do just to keep them out of the hands of the player who needs them.

Odds are 100:1 that someone's actually drafting that deck at this table. However, I'm pretty sure I don't want to run Counsel of the Soratami (which I hate anyway, even though I recognise it's sometimes playable).

My pick: Dampen Thought


Pack 2 Pick 12
C Harsh Deceiver
C Stone Rain
C Vine Kami
C Lifted by Clouds




The two cards in my colors are too awful to contemplate. I pick the Deceiver on the basis that I might side it in against a sufficiently fast aggressive deck. But probably not.

My pick: Harsh Deceiver




---


Between packs again, it's time to take stock. We've got the basics of a U/G deck now. The main problems we have are a shortage of solid creatures and a shortage of 4-drops.

Pack 3 Pick 1
C Shinka Gatekeeper
C Shimmering Glasskite
C Child of Thorns
C Okiba-Gang Shinobi
C Kami of the Tattered Shoji
C Frostling
C Stir the Grave
C Mending Hands
C Ire of Kaminari
C Phantom Wings
C Petalmane Baku
U Callow Jushi
U Budoka Pupil
U Overblaze
R Hokori, the Dust Drinker




With this kind of pack I never know whether to be happy or sad. Callow Jushi and Budoka Pupil are two of the very best cards for my deck. I also very much like the idea of Shimmering Glasskite. Unfortunately, I can't have all three.

Jushi or Budoka is a question I'd find difficult to answer in terms of power level, but that isn't the right way to look at it. With no removal in my colors, I'm really short of ways to disrupt the opponent's plans. Consequently, the Jushi is a much better choice for my deck than the Budoka.

My pick: Callow Jushi


Pack 3 Pick 2
C Roar of Jukai
C Okiba-Gang Shinobi
C Split-Tail Miko
C Blademane Baku
C Mistblade Shinobi
C Gnarled Mass
C Blessing of Leeches
C Heart of Light
C Akki Blizzard Herder
C Veil of Secrecy
C Vital Surge
U Ward of Piety
U Nezumi Shadow Watcher
U (card taken)
R Neko-Te




Not much in our colors here. Neko-Te is a card I've not played with before and looks like it could be interesting... But remember we're short on creatures. There may only be one card we want in the pack, but that's fine since we only have one pick anyway.

My pick: Gnarled Mass


Pack 3 Pick 3
C Skullmane Baku
C Hundred Talon Strike
C Goblin Cohort
C Shimmering Glasskite
C Sakura-Tribe Springcaller
C Silverstorm Samurai
C Kumano's Blessing
C Toils of Night and Day
C Matsu Tribe Sniper
C (card taken)
C (card taken)
U Lifespinner
U Stream of Consciousness
U Shuko
R In the Web of War




Although we don't have a good use for Lifespinner's ability in this deck, it's still quite playable. However, the Shimmering Glasskite is a much better fit with our plans so I'm happy to grab it.

My pick: Shimmering Glasskite


Pack 3 Pick 4
C Psychic Spear
C Goblin Cohort
C Teardrop Kami
C Harbinger of Spring
C Bile Urchin
C Mending Hands
C First Volley
C Takeno's Cavalry
C Uproot
U Minamo Sightbender
U Ward of Piety
R Sakiko, Mother of Summer




Very tough pick. In raw power terms the Minamo Sightbender seems like the way to go. I came very close to picking it, but then paused. A card like Sightbender doesn't create stalls, it breaks them. That isn't my plan at all.

Decks need focus. I settle on the less powerful but probably wiser option of improving my early game and adding fuel for the Teller of Tales.

My pick: Teardrop Kami


Pack 3 Pick 5
C Kami of False Hope
C Quillmane Baku
C Roar of Jukai
C Split-Tail Miko
C Bile Urchin
C Heart of Light
C Crack the Earth
C Minamo's Meddling
C Traproot Kami
U Kitsune Palliator
U Body of Jukai




Here's where I run into the problem of my own ignorance (cue cries of "What, not until here?!" from the back of the audience). I actually don't know how good Traproot Kami will be in my deck. Having a slight shortage of combat tricks anyway I chicken out and go for the Roar instead.

My pick: Roar of Jukai


Pack 3 Pick 6
C Kami of False Hope
C Quillmane Baku
C Scaled Hulk
C Call for Blood
C Takeno's Cavalry
C Kumano's Blessing
C Veil of Secrecy
C Matsu Tribe Sniper
U Walker of Secret Ways
U Three Tragedies




This really irritates me. I'd love a MatsuTribe Sniper. So why does it have to turn up in the same pack as the Scaled Hulk I also want? Why couldn't one of them have been in the previous pack, eh?

The Hulk is more important for me here, since I have nothing above 5 on my mana curve at the moment and need some heavy hitters for the late game.

My pick: Scaled Hulk


Pack 3 Pick 7
C Floodbringer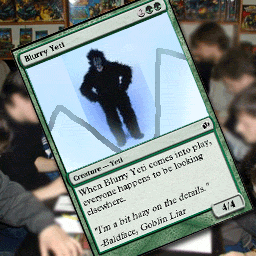 They're not first pick quality, because they

don't really exist.

Once on one of my school reports one of my teachers wrote "Dominic is not nearly so clever as he thinks he is." Being something of a troublemaker at the time, I annotated this with the witty comeback "How clever do you think I think I am?". Only now, years later, does it become apparent how right she was. You see, when recording a draft like this, there is the question of how to actually get all the pack information down. The established method used by most writers is to use the "Print Screen" function of Windows, or some piece of software that does broadly the same thing. I thought I had a much better plan: just take a shot of each draft pack with my digital camera.

On the plus side, this was indeed much faster and easier than using screen grabs. On this minus side, I discovered after the draft that I had treated myself to a forty-five round game of "Guess the blurry card art". Reading the text was right out. Oops.

This particular pack was in a league of its own. It was so blurry that instead of using it to work out which cards were in the pack I just emailed it to Fortean Times, claiming it was a photo of a yeti.

I know there was a Floodbringer in it, though. That's because it ended up in my deck.

Floodbringers are underrated in general. Set them off in your opponent's upkeep to manascrew or colorscrew them in a really annoying way! Also, they fly. Did I mention I love flyers?




My pick: Blurry Yeti


Pack 3 Pick 8
C Shinka Gatekeeper
C Scaled Hulk
C Crawling Filth
C Terashi's Grasp
C Akki Blizzard Herder
C Minamo's Meddling
C Uproot
U Mark of Sakiko




See earlier comments about the lack of Green drafters. I am now very happy.

My pick: Scaled Hulk


Pack 3 Pick 9
C Shinka Gatekeeper
C Child of Thorns
C Mending Hands
C Ire of Kaminari
C Phantom Wings
C Petalmane Baku
U Overblaze




Petalmane Baku makes me very sad when I have to run it. Fortunately, I don't need mana fixing since I have plenty already for my probably 2 color deck. Besides, as I implied earlier the Child of Thorns works nicely for keeping the ground stalled.

My pick: Child of Thorns


Pack 3 Pick 10
C Roar of Jukai
C Blessing of Leeches
C Akki Blizard Herder
C Veil of Secrecy
C Vital Surge
U Ward of Piety




A second Roar, the Veil or a bad splice card?

I don't think the Veil's good in my deck. I have nothing I particularly need to push through. One Roar is enough for anyone. Surge is bad, certainly, but with two Reach Through Mists I might well be able to splice it. My late game looks solid, so it's a possible sideboard card.
My pick: Vital Surge


Pack 3 Pick 11
C Skullmane Baku
C Sakura-Tribe Springcaller
C Kumano's Blessing
C Toils of Night and Day
U Stream of Consciousness




Ooh, that's a nice surprise!

My pick: Sakura-Tribe Springcaller


The dregs of a Betrayers pack are a truly pitiful sight. I mean really, what is Kumano's Blessing for, eh?


---


Deckbuilding

Next step is to build the deck. In case you want to try this for yourself, I've put the decklist inside another spoiler tag.



I want to have plenty of mana since the deck seems like it will be fairly mana hungry. With a Kodama's Reach available I think I'll want 17 lands. Sorting out my good cards I find myself with exactly one more than I need. There are two cards I'm not too sure about: Roar of Jukai and Teardrop Kami. My deck is rather lacking in combat tricks, so I decide to drop the little Kami. That leaves my deck looking like this: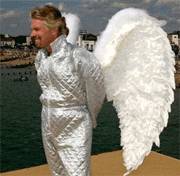 Like Sir Richard, we plan to fly
over for the win.
---


The Games

Now on to the games. Again I'm going to use spoiler tags, this time to hide the events of each round. That leaves you free to guess in which round the deck finally met its match.

Round 1


Game 1:

My opponent had a W/B deck, but seemed not to have any exciting cards. His

Konda's Hatamoto

and

Cruel Deceiver

weren't able to achieve much, but I didn't want to attack my Kami of the Hunt into them either. I eventually topdecked my Rainshaper and started to damage him. Unfortunately, two turns later he dropped a Hundred Talon Kami. My board consisted of the Kami of the Hunt, a Child of Thorns and Rainshaper to his three creatures. Both of us had been doing relatively little, but in his case I suspected a land shortage of being the problem whereas I had a hand of three land.

This presented a tricky problem. If he continued to play in the same style and held his flyer back then I was just going to lose as he played his hand out. I needed to turn this into a damage race as soon as possible so that I could exploit my life lead.

So... bluff time! I attacked with my Rainshaper. If he blocked I could take out his

Hundred-Talon Kami

, but only by saccing the Child of Thorns, which would be a two-for-one in his favour. However, had I held some kind of pump in hand he didn't want to trade his flyer for it if he was lacking ways to stop the Rainshaper.

He thought. Then he thought some more. Then he thought some more. All this was fine by me since he was on a timer. He finished up by typing something sufficiently profane that the automatic censor took exception to it and it just came out as "You [blank] !!". He then quit.

Game 2:

After sideboarding, it turned out that my opponent had quit not just the game but the entire match. Wow. I've never actually seen anyone do that before. Why pay to play if you don't actually want to play? I did consider faking up a game two for purposes of this report, but I didn't want to compromise my journalistic integrity. Either that or I'm too lazy.


Round 2


Game 1:

He led off with

Goblin Cohort

. This briefly terrified me because I had kept a weak two land hand, but I soon discovered he didn't mean it as the goblin sat around doing nothing for a few turns. I spent the time casting both my copies of Reach Through Mists to dig for a third land (which I found, mercifully). His turn five was quite exciting as he dropped his bomb and left the board with his Goblin Cohort,

Soul of Magma

and

Seizan, Perverter of Truth

facing off against my River Kaijin, Kami of the Hunt, and Kami of Twisted Reflection.

This looked pretty good for him. Still, Seizan found me a fourth land to drop my Glasskite, so I started to chip away at him. My opponent then made a rather questionable play: he decided to hold back with Seizan. Having played with Seizan before I understand why. If he attacked now and I blocked with all three of my ground creatures, Seizan would die at the cost of two of my creatures... but he felt he could do better than that, probably by pushing Seizan through unblocked somehow for the kill.

I dropped a Honden of Life's Web. The following turn, my opponent tapped out to drop three creatures including a

Kami of the Waning Moon

. I was going to be dead in one turn... unless my plan worked.

I attacked with the Glasskite again. Wanting the Kami of the Waning Moon alive for his attack, he let the Glasskite through. Big mistake! I used my own Kami of Twisted Reflection to bounce the Glasskite. This was countered by the Glasskite's ability. I then cast Strength of Cedars on the Glasskite and my opponent died during his upkeep.

Game 2:

I sided in a Black splash for Rend Spirit, siding out Kami of Twisted Reflection due to my reduced island count. The idea was simple enough: if I Rended Seizan during my turn that would effectively be a free

Night's Whisper

for me.

The start of the game was quite busy with my Child of Thorns followed by

Ember-Fist Zubera

from my opponent, Dripping-Tongue Zubera from me,

Brutal Deceiver

from my opponent, then Cloudskater from me. I got out Sachi, which in turn enabled me to bring out Scaled Hulk. My first attack with it was quite eventful. My opponent blocked with his Deceiver, then played

Devouring Rage

on the Deceiver, sacrificing his Zubera to shoot down my Cloudskater. In response, I Rend Spirited his Deceiver.

My opponent complained about my "three colour pile". I didn't bother to correct his misconceptions, since he was doing a good job of keeping me amused while my Scaled Hulk was beating him to a pulp. He chump blocked a bit, which made the game longer than it might have been.


Round 3


Game 1:

The game began with both of us building up a solid board presence. I cast Floodbringer, Gnarled Mass and finally Teller of Tales to face off against his

Nezumi Ronin

,

Nezumi Cutthroat

and finally

Kabuto Moth

. Given my deck, the Cutthroat was a huge problem for me. I was forced to race, which is never easy with an enemy Moth in play.

Fortunately I was already ahead on life thanks to his unwillingness to trade my Gnarled Mass for his Nezumi Ronin initially. Presumably he feared a combat trick.

The decisive turn came quickly. I tapped his sole untapped Plains with my Floodbringer at the start of my turn. He had plenty of Swamps up, but White and Green are the colors to fear in combat. He played

Blessed Breath

on his Moth in response, naming Blue. That's the move I was hoping for. I cast Consuming Vortex in response, tapping down his Ronin with the Teller and bouncing the Moth.

He conceded, knowing he could not recover in time.

I thought a bit about what my best chances were against Cutthroat and Moth and decided to side in my Veil of Secrecy, swapping out Dripping-Tongue Zubera.

Game 2:

He started with

Bile Urchin

then

Shuriken

. I played River Kaijin then Shimmering Glasskite. My opponent never drew any air defence... He cast a

Skullsnatcher

, then the following turn he attacked with Bile Urchin into River Kaijin and my freshly cast Sakura Tribe Springcaller. I was expecting a second ninja, but this had to be a trap so I blocked with

both

. My opponent thought for a while (evidently not pleased with my blocks), then played

Indomitable Will

anyway. He shot with the Skullcatcher/Shuriken and killed Springcaller, but it was still a two-for-one plus lots of tempo to me.

However, my opponent was no fool. He ended his turn by playing a

Nezumi Graverobber

. Next turn he used the Graverobber on the lone card in my Graveyard. With the activation on the stack I thought for a long time and eventually cast Veil of Secrecy on my Gnarled Mass. Why? Just to waste his tempo. My deck was really underpowered compared to his - I had to keep him under pressure to have any chance. He activated again and the Graverobber flipped, but that was all for his turn.

I cast a Gnarled Mass and he responded with

Scuttling Death

. I attacked with the Mass and we traded. Cloudskater and Floodbringer had both been stuck in my hand because of the Shuriken but that turn I had drawn Rainshaper and decided to bait a Shuriken activation in order to keep him off reanimation mana if he failed to draw a sixth land. I played out Cloudskater, then Floodbringer. To my surprise, he shot neither of them and instead reanimated my Gnarled Mass.

On my following turn I played out Rainshaper with activation mana open and despite holding

Dance of Shadows

in hand he had no winning play against my now four strong airforce.

This time, my opponent was a gentleman and congratulated me on my victory.



---


Summary

What can be learned from this draft?

The most important message is that even the worst color combination can be strong if nobody else is drafting it around you. Learning to signal is good, but learning to listen to signals is even better. Also, it's really important to understand how your deck wins. I'm sure you've all read and memorized my article on Sealed Deck Sideboarding. Similar principles apply in draft.

Also, something needs to be said about luck and skill. I started the draft by being quite unlucky both in terms of pack contents and the colors I was left with. However, the way the actual matches played out the game was kind to me. It works the other way too - some days you draft an incredible deck and get horrible draws while your opponent beats the stuffing out of you. Where skill is concerned, I made at least a couple of bad picks and maybe more I didn't notice. However, I made enough good decisions too that I got away with it... this time. That's the way Magic works. My rating's a pretty good reflection of how often I screw up. It's all about averages.

And one final tip: Don't quit the game because your opponent seems to have a combat trick that will wreck you. First, make the play as though they don't. One day, you'll catch someone bluffing!