by Dr. Tom


Recently, the DCI announced several bannings and restrictions to its tournament formats. The most relevant of these actions was taken on the Extended format, with several decks affected adversely by the bannings, and others which have received CPR by those same bans. Legacy saw a card banned, one which will make people who bought it at its absurdly inflated price cry into their beers if they didn't know the ban was coming. Vintage saw an unnecessary card taken off the restricted list, and two powerful tutors put onto it. Even less formal formats like Two-Headed Giant and MTGO Prismatic were not immune from the DCI's ban hammer.

(Note: R&D's Aaron Forsythe comments on the bannings in his latest MTG.com column.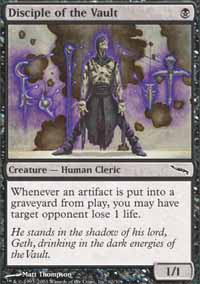 We'll start with Extended, since that season is fast approaching. Even before the bans, Extended was going to look a lot different this season, with 6th Edition, Tempest Block, Urza Block, and Masques Block all leaving. Speculation has been raging for months about what to play in the new format. Affinity, now unopposed by hate like the departing Energy Flux and Pulverize, was positioned strongly, as was Goblins, still a contender because its speed and power were untouched by the rotation. Goblins has been doing well in MTGO Extended events, even better than Affinity.

However, the recent bans will send Affinity and Goblins deckbuilders back to their binders. Disciple of the Vault and Aether Vial have been given the axe in Extended. Goblins used the Vial to great effect, playing its creatures as instants (including Goblin Matron and Goblin Ringleader, which find other Goblins) and allowing them to come out unchallenged by countermagic. Affinity used both, with the Vial serving as a rapid-delivery system for its creatures, and Disciple of the Vault serving as a Fireball for

in conjunction with Arcbound Ravager. Disciple is also banned in Standard, where a more harsh set of bannings completely gutted Affinity as we knew it.

Expect both Goblins and Affinity to remain viable in Extended, though with obvious alterations. Affinity can't Fireball you out anymore, but it can still use Arcbound Ravager to pile up counters on an animated Blinkmoth Nexus. The deck could also run Shrapnel Blast in the maindeck again, replacing some of the damage Disciple would have done over the course of the game. Opposing decks will no longer have to worry about a topdecked Disciple ending the game, and the Affinity mirror will be less draw-dependent.

In late February 2005, Grand Prix Eindhoven attracted 1011 players trying to break the Extended format. Here is Rogier Maaten's Affinity deck, which he piloted all the way to the finals, where he lost to Sebastien Roux's Psychatog deck.


(* denotes a card that is banned and/or rotating out of the format)

The deck loses 10 cards from its maindeck to either the bannings or the set rotations. None of them are replaceable by anything similar, but there are still decent substitutions to be made. In the days of Standard Affinity, we had good success locally running Pyrite Spellbomb in the maindeck. It was great in the mirror (less so with Disciple banned, admittedly), and also very good against Goblins. If you're matched up against a control deck, it cycles. Shrapnel Blast is another consideration, and serves as a very good finisher. Somber Hoverguard slides back into the creature slot, with the added bonus of being difficult to kill via Pernicious Deed. Pithing Needle, with a lot of saucy cards to name, is a logical inclusion. Another Standard standby, Cranial Plating, could round out the list if there's room.

Sans sideboard, it could look something like this:





The major decision in the sideboard would be whether to play Green for Oxidize and maybe Viridian Shaman. If you're going Green out of the board, you probably want 2-3 copies of Tree of Tales maindeck, and the remaining 1-2 in your sideboard. The lack of Aether Vial makes Viridian Shaman less likely. Obviously, the Meddling Mage plan that Pierre Canali used to win Pro Tour Columbus is dead without the Vial, barring a huge shift in the deck's focus and mana base.

There was a Goblins deck in the Top 8 of the same event which influenced PTQs for the remainder of the season. Bas Postema distilled the deck down to its core: 23 mana sources, 4 Aether Vials, and a whole lot of red men. Later PTQ decks would add a Green splash for Naturalize, since Engineered Plague was the nut low for a Goblins deck. Here is Postema's list:


(* denotes a card that is banned and/or rotating out of the format)

The loss of Aether Vial puts Goblins decks at a crossroads. They can continue to just be straight-ahead aggro, but they lose the ability to play creatures for free. They also lose a potent beater in Mogg Flunkies, and eight lands which allowed the Goblins player to control the opponent's mana. The other option is to go back to the Goblin Bidding decks that were popular in Standard a couple of years ago. In addition to Patriarch's Bidding, the deck would gain Cabal Therapy, giving it disruption against the control and combo decks of the format. It could also Flashback the Therapy easily, since the Bidding version of the deck would still play a lot of creatures.

This list will presume the Bidding version.



In the past, some Goblins decks have run Burning Wish, but I think that is putting too many non-creature cards in the deck. You want to maximize Goblin Ringleader, even if you can't put him or someone he finds into play for free. This list has 31 goblins in its 60 cards, meaning the average Ringleader will hit for just over two goblins. With the 33 goblins Postema ran, his rate isn't significantly higher (55% vs. a nick under 52%). Adding a set of Burning Wishes to the deck, while increasing the versatility, means your rate is down to 45% – almost 7% lower than this build and a full 10% below Postema's. To get the most out of Ringleader, you need to be at 50% or above. There are concerns that the Bidding version will not be fast enough, and that a straight Red version with Chrome Mox would be better. That is something that playtesting will have to determine.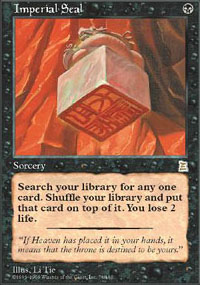 Look closely: it says "+B"

Let's move on to Legacy. Earlier this year, the DCI made a long-expected announcement: that cards from the Portal sets would be legal for tournament play. All of them had already received updated Oracle wordings, so the announcement was a formality. Prices of many of the better cards from the Portal sets surged, especially the Tutors. Imperial Seal and Personal Tutor saw their prices explode, with some e-tailers selling the Seal for $175 or more.

It's my hope that none of you bought them at that price, since their banning in Legacy was expected. In the last Floor Rules to be released before the September 1 bannings, it says in black and white, "When these sets become legal for tournament play on October 20, 2005, the cards Imperial Seal will be added to the Legacy Banned List." I don't play enough Legacy to know if a sorcery-speed Vampiric Tutor would have been bad for the format. This looks like another price-conscious ban. Cards like Mishra's Workshop and Mana Drain are banned in Legacy not only because of their power level, but because their legality would present a steep barrier of entry to the format. Having dual lands shooting up in price is bad enough, but needing a set of tutors for over $100 each would have been beyond the means of many Legacy players.

Seeing Imperial Seal restricted in Vintage was also no surprise. With cards like Demonic Tutor and Vampiric Tutor already restricted, Imperial Seal was a logical addition. And again, it's something that we knew about in advance, since the August Floor Rules tell us, "When these sets become legal for tournament play on October 20, 2005, the cards Personal Tutor and Imperial Seal will be added to the Vintage Restricted List."

This was definitely a case of caveat emptor with respect to buying Imperial Seal or Personal Tutor. If you bought in when the Portal announcement caused the ridiculous price spike, you've now seen the price of your cards drop. If you waited until the September bans to buy, then you'll obviously be getting better prices.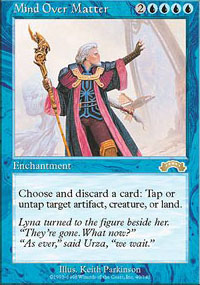 Look kids, a Blue card came

off

the Restricted list!

One card came off the Vintage restricted list: Mind Over Matter. This is something that was safe to unrestrict, and has been for a while. The days of Academy.dec blowing everything out of the water are long gone. The last deck I know of that played cards like Time Spiral was DeathLong. Combo decks were killing people by playing a lot of cheap spells and broken cards, then winning via Tendrils of Agony or Brain Freeze. Mind Over Matter does not enable these strategies, and its prohibitive mana cost meant it wasn't likely to find a home in another combo deck.

Recently, Wizards announced that the popular casual format 2-Headed Giant would become a sanctioned format. The Comprehensive Rules have been updated with multiplayer support, including rules specific for 2-Headed Giant. While the format is a lot of fun and is popular among casual players, offering sanctioning caused people to take a harsh critical eye to the format, seeing if any cards could be broken. The first one many people came up with was Erayo, Soratami Ascendant.

Because both players on a team take their turn simultaneously in 2-Headed Giant, playing four spells in a turn is simple. And because players get a free mulligan, throwing a hand away to draw into your combo doesn't cost you a card (the first time, at least). If Player A on a 2-Headed Giant team plays a land, a Chrome Mox, and Erayo, and his teammate plays a land, an Ornithopter, and a Serum Visions, then the team has flipped Erayo before their opponents have taken a turn. This puts the opponents at an obvious and large disadvantage. After flipping Erayo, it was easy for a team to then drop Rule of Law, locking their opponents out of the game as early as the second turn.

Banning Erayo was definitely the right move. Completely locking your opponents on the second turn is ridiculous. Also, remember that multiplayer formats – including Team Limited, which isn't really multiplayer but was the closest thing we had for a long time – encourage people to have fun and play with their friends. Who wants to go to a tournament with a buddy and not be able to play any spells starting on turn two? Multiplayer formats encourage casual players to try Organized Play, and it's not in the interests of WOTC to discourage them; removing Erayo from 2-Headed Giant Constructed helps immensely in that respect.

Prismatic has become a very popular format on Magic Online since its inception. Based on the popular 5-Color format, Prismatic is 5-Color without the broken cards. A lot of cards have been banned in Prismatic to keep the format fun. Adding Upheaval and Rude Awakening to the list help keep it fun for everyone. Because Prismatic lacks dual lands (something that won't be true after Ravnica hits, even if those lands aren't as good as the original duals), early turns are often spent developing mana. Having an Upheaval or Rude Awakening played on you because your opponent got the mana advantage is crippling, and, in the case of Rude Awakening, usually ends the game. Very swingy effects like that are not good in a format like Prismatic, which is designed to be more casual than competitive. I don't own either card on MTGO, but if they were distorting the format, then they should have been axed.

The bans were straightforward this time. The only thing that surprised me is that the DCI didn't wait until PT LA to act on Extended. It makes sense that they didn't, though, since if an unchanged Extended had proven degenerate at LA, the next chance to ban anything wouldn't have come until December 1st, effective December 20th. That would have left a broken format out there for almost two months. We don't want another Tinker season, and I'm glad we're not getting one. While the timing of the Extended bans was unexpected, I think doing them at this time was the right call.

Overall, the DCI got it all right this time. We should have healthy formats across the board, at least until the Japanese break something else in the next few months . . .

Edited and banner by Goblinboy