Only a single Survival deck made top 128 in Lille (out of how many total we don't know) but that one made it all the way to the Semifinals. Could this mean a new beginning for Survival of the Fittest decks?

It just might. Well-designed Survival decks can shred an unprepared meta in a way that few other decks can. This was a big reason why ATS was dominant for so long in Legacy. Up until recently, Legacy tournaments were commonly populated by a lot of rogue decks. You see, the best preparation for Lille was a study of the top decks from the Grand Prix in Philadelphia the month before. But that was not a complete preparation. Survival did not fare well in Philadelphia, and so not surprisingly it did not make a significant showing when it came to the Grand Prix in Lille - it being deemed outclassed and all. But powerful archetypes are not easily beaten. The stage was set for a comeback. We just needed someone to take the bait. Enter Luca Verdiani. He was the only amateur in the top 4, the only non-Threshold player, and it was his Rec-Sur deck that got him there. This was his build:



To an experienced Legacy player, this deck screams "What the?" with a lot of apparently suboptimal card choices. There are, in fact, so many peculiarities about this successful build that it could be an article on its own. So let's get to the positive. He went with black, ostensibly to help force through a Survival with all the discard effects. This was an excellent idea, and no doubt helped him hugely against the Threshold matchup. Whether or not he intended it that way, this was a metagame innovation - and it worked. Why? Because well-designed Survival decks can shred an unprepared meta...

Hold on, now. Back up. What makes this archetype so special?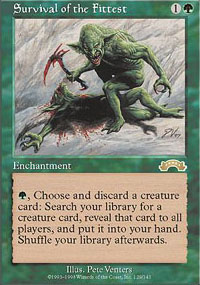 I'm glad I asked. I love Survival of the Fittest. Let me say that right up front. It was out of my desire to abuse this card that I first began to take an interest in tournament level Legacy some time ago. As a result I may be prone to gush about it. There are so many tier 1.5 Survival of the Fittest decks floating around in Legacy that it can be a little bewildering. There are several reasons for that.


The card is clearly broken right on the label. It doesn't take a genius to figure out the value of it. Only a year ago, folks were still clamoring for Wizards to ban the sucker.
The ability to fetch any creature in the deck for
is an ability with so many possibilities that the mind of a deckbuilder can't help but wander through them, coming up with a multitude of strategies immediately.
The "cost" associated with Survival of the Fittest can also be a gain. I'm not talking about the expenditure of green mana, I mean the discarded creature. Back in the time of Exodus, the graveyard was not a particularly handy place to have your goodies. But these days, it is commonly as accessible as a player's hand.
It was well undercosted even at the time. And even without the benefit of filling the graveyard, Survival should have been in the realm of 5 mana for its utility.

With so many possibilities, what are the very best sleazes?

Well, the classic uses for Survival of the Fittest were present in Extended before folks got fed up with the card and it was banned. Of those, Tradewind Survival, Rec-Sur and Full English Breakfast were probably the best. The decks worked quite distinctly from each other, but all had one thing in common. They broke Survival of the Fittest in half. The world didn't know it then, but these decks continued to flourish in secret – underground - unfettered by bannings due to a warped metagame. They were going on in the world of type 1.5, what we now call Legacy.

A fanatically devoted few have always played Legacy. Wizards may not have supported it like it does now, but some good decks have been designed by the faithful over the years. Tradewind Survival in particular went on existing, only gaining in power with the addition of key cards that its Extended heyday could not have imagined. These are cards that could increase its power level sufficiently so that it could compete with the best 1.5 decks of the time. Here is a recent build from Belgareth's ATS in Legacy article:



With the introduction of Anger and Genesis (as well as selected other cards through the years), Tradewind Survival became Angry Tradewind Survival or ATS. The ability to perform all the classic tasks of a good Survival build with haste gave this toolbox-driven archetype a lot of gas. But it wasn't until the massive changes announced in September 2004 that the deck's real boost came into play. That brought the tutor that allowed for consistent opening draws. That's where I come in. More on this in a bit.

OK, so it has all this going for it. What's the problem?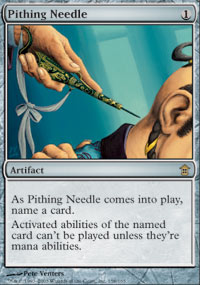 In a word - Pithing Needle. OK, that's two. But you know what I mean. When I saw the spoiler for Saviors of Kamigawa, my heart sank. How could Wizards make such a good hoser? What were they thinking? Well they did. And it's here to stay. Pithing Needle is one of the most effective hosers of everything from Withered Wretch to Wasteland to Æther Vial to Decree of Justice. Its myriad uses have garnered it a 3 or 4-of in most Legacy sideboards. And why not? This thing does more than a Ginsu. Did I mention that it completely incapacitates Survival of the Fittest?

Just as Legacy players were beginning to see the value of Pithing Needle as a panacea, the world started to tune in for the first time. Naturally the decks showing up at tournaments big and small slowly began to improve. And the disembowelment of Survival of the Fittest began to occur. The first signs of this were less top 8 appearances by the card's frontrunner archetype, good old ATS.

With Goblin decks steadily improving, the lumbering ATS began having trouble setting up in time to stem the tide of little green men, to say nothing of its tenuous mana supply falling victim to Wasteland. With its inability to adapt far enough, ATS has had to resign its status as top deck of the format and let the pure control build Landstill keep the goblin hordes in check. But Landstill is even slower than ATS. The only reason it has been around so long has been to beat ATS. So with no properly equipped deck around to handle it, Goblins began to rise to the top leaving the competition behind.

But Survival of the Fittest is a malleable enchantment, and out of necessity came Red-Green-Survival-Advantage or RGSA. It could play control versus Goblins and aggro against Landstill. And while it would lose to ATS, that deck's bad matchups and difficulty to play has made it much less common. Here is a recent build from the Legacy DTB thread, here on MTGS:



As you can see, it is not reliant on Survival of the Fittest to win. And while ATS is slow and has an awful mess of a mana base, this deck is faster and its mana base is quite solid. RGSA turns out to be a pretty good metagame choice. It loses pretty squarely to most of today's combo decks, however, so its viability may still be in question.

You may be wondering about Full English Breakfast, the old Extended archetype that I mentioned. It has been having some problems with the translation into Legacy mostly due to the presence of Fire/Ice, Mogg Fanatic, and Lightning Bolt all over the place. Just the same, let me post you this build by fearphage and associates from the thread here on MTGS:




Originally designed by Paul Barclay, it is the craziest of the Survival decks. It uses Survival of the Fittest to turn Volrath's Shapeshifter into whatever you want. The toolbox is typically smaller than other Survival builds, but the combo is more disruptible. Warning: do not try out this deck until you are comfortable with all the pertinent rules concerning combat tricks and timing with the Shapeshifter. However, it is a lot of fun, and still has room for improvement. Perhaps we will see more from this deck.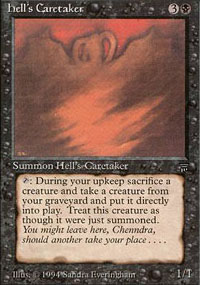 Fine, so where exactly do you fit in?

Ahh - another good question. Let me see. Oh yes. A local card shop was giving away a Mox Sapphire for a one-shot 1.5 tournament. My best mate, Travis wanted me to make the best 1.5 deck I possibly could out of my various pet decks (which were designed for 1.5 anyway). It had been my favorite format for years, but there was never anyone to compete with. But now, I had a mission, and as luck would have it, Wizards announced the big changes to Legacy at that time. So I set to work. But to get the whole story we have to back up much further. Let's try 1995.

It was a dark and stormy night…really it was, but that is wholly immaterial. The fact is that I was at a table in Rob's house with Adam and Travis. We were playing some friendly games of Magic but mostly talking about the game itself and where it was headed. I felt privileged to be sitting at the table since these were the best players I knew. Adam had mopped the floor with me that afternoon in the finals at a local tournament. This was before organized play so that's all there was back then. Adam Maysonet's deck was the reason Wizards restricted Balance (scroll down to the bottom for his deck). He would perform a bewildering act of deck manipulation with Bazaar of Baghdad and Library of Leng, always searching for Balances and always keeping them on the top of his deck before casting it with The Rack in play and no cards or creatures, as well as only 2 or 3 lands. It was brilliant and oh, so broken. Balance was anything but balanced.

There were other important things going on that night as well. Travis had begun toying with a Titania's Song deck that made noises two years later in the second pro tour, but was drowned out by the deafening silence of The Skull. I was tooling around with an early form of what is today called Enchantress or Solitaire. Back then it was an aggro build using Rabid Wombat as the alpha striker, but the engine remains the same. Yet it's Rob's deck that I am interested in talking about. He pulled out this combo using Hells' Caretaker to swap Tetravites or Priests of Yawgmoth for Triskelions granting him major card advantage and board control. It was an unforgettable synergy. But at that time that's all it was; synergy.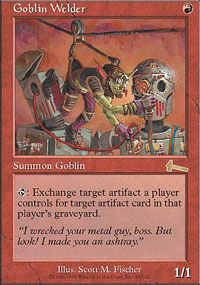 It wasn't until the prerelease of Urza's Legacy in early 1999 that I would think of that deck again. I opened up one of my packs and had to read the card several times. I couldn't believe they would print it. I'm talking about the ridiculously undercosted Goblin Welder. Rob's deck would live again! Unfortunately it would only be a pet deck since the best cards to use it with were, well, also the best cards. Swapping a Mana Vault for a Memory Jar is really good. But the cards were just sick, and they got banned before I could get the deck off the ground.

Could you get to the part where any of this matters?

Sure - back to late 2004, and Travis challenges me to convert one of my pet decks into a winner. With the unbanning of Enlightened Tutor in Legacy I knew what I had to do. You see the biggest problem with breaking Goblin Welder is getting the fat in the graveyard in the first place. In the past, Bazaar of Baghdad would have helped, but in addition to the disadvantage in cards, it is no guarantee. It's so sweet that putting fatties in the graveyard is actually a COST to activate one of the most degenerate engines ever to see print. Oh, and by the way, that cost you paid fetches up the Welder. I could finally make a real stab at turning Rob's combo into a legitimate contender.

So I posted the first version on the net. It was terribly unrefined (it had Myr Retriever, Brawn, and Mindslaver), but attracted some attention and some helpful hints from the folks over at TheSource. But I realized that the archetype was not entirely new. Isn't that just always the way in Magic these days? The Vintage crowd had tried to make it work in a deck called Tools n' Tubbies that focused on using the mana from swapping out a Su-Chi to force in Juggernauts and Sundering Titans. The deck had some brief success, but suffered from the strains put on a Vintage deck because the toolbox needs so many slots devoted to it. Do you take out the Time Twister or the Mox Monkey?

The combo was blisteringly fast - much faster than ATS, and with a much more manageable mana base. And it had a better toolbox than RGSA (which was in its infancy at the time). I had some success with the deck in a few local tournaments (didn't win the Mox, though), but there just wasn't much going on for 1.5 in South Florida. Shortly after, someone began work on a version based on my deck that went with Blue over White for access to counterspells instead of Enlightened Tutor. In time, that version gained popularity and mine was relegated to my local meta.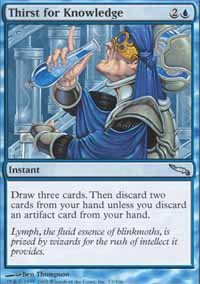 To understand why that happened, you have to remember that Legacy went international this year, but the format has still not spread its wings completely. The folks at Lille looked to the results from Philadelphia, who looked to the results from Indianapolis, who had only the non-sanctioned results to turn to. These tournaments, as well as the discussions that produced the decks, were spearheaded by only a few dozen people. Since only Chris Pikula's Homebrew, of all the original decks designed by pros has been able to crack the top 8 you have the decks seeing play at these major events created and tested by an extremely small number of people. And these folks have come to realize that if you can avoid basing a deck around a single card, do avoid it. It would be too easy to disrupt in Legacy. So they turned my pet deck Blue. I hate Blue.

With the inclusion of Force of Will and Mana Leak, the deck had some ability to force through a Survival as well as Intuition and especially Thirst for Knowledge for search and pitch capabilities. That didn't work out so well for them, as you need too many slots open for the toolbox, so they dropped the counterspells and went for a design that had blue solely as a backup for a Survival-less opening hand. And that's what you saw in Qwerty's "Decks of Legacy" thread right up until it was discontinued. But that deck has some serious problems. It still has to resolve either a Blue spell for or a Survival to win, but the two effects are different. While Survival of the Fittest allows the run of the castle with regards to creatures, and nearly unlimited backup plans, Thirst and Intuition do not. This creates a situation where the opponent simply killing the 1/1 Goblin Welder will end your game. It's similar to the Bazaar of Baghdad dilemma. But since I just don't have the following that certain other folks do the archetype has been stuck in the wrong color - Blue.
Here it is:



Notice the extra slots devoted to such things as Sharpshooter, Spore Frog, and a second Sundering Titan. Those are side effects of not being able to consistently land Survival on turn two. The deck's developers needed to increase the likelihood of ripping the correct fattie off the top of the deck or some other hard-castable solution, so they simply added more. With Threshold decks looking like the king for the moment, you need a more reliable strategy than that. Every card must be a means to that same goal, so the opponent must counter everything. There should be no Birds of Paradise - the deck can be fast enough to beat aggro without them. There should be no duplicate solutions. Once Survival is online, the draw for the turn should be almost entirely inconsequential. You simply follow the formula. Anger and the appropriate fattie in the graveyard, Welder and cheap artifact in play. Process them. Everything else should just be there to make that happen every game or you are giving up valuable slots. This very predictable process is what keeps it ahead of even the retarded Goblin opening hands. Very few decks can claim that.

So without further ado, this is my latest build, and (naturally) what I recommend:



While they look similar, the strategies are not the same. This has been a big problem, as I can't get good information from people who only have experience with the blue variant.

There are several real keys to making this deck work. They are:

Against aggro you have to resolve Survival of the Fittest by turn 2 every game. The deck can beat Goblins just about every time when this happens, but closer to 40% when you have to wait until turn 3. Your beaters are Triskelion and Duplicant.
Against control you need as many cards as possible to be a threat, especially in games two and three. This is to fish out all the counterspells so you can force through a Survival. Your beaters are Nullstone Gargoyle and Sundering Titan.
Against combo, you simply have to be faster. It is a combo deck, after all. Your beaters are Nullstone Gargoyle and Platinum Angel.
You need a backup plan once Survival is up and running. Luckily this is easy with Survival of the Fittest, just keep a Green mana open and fetch the solution.

Sure. Gotcha. Why now?

I would not have written this article a month ago. Survival of the Fittest has become a metagame deck, I am afraid. There are increasingly more playable maindeck answers to this once dominant enchantment. But the success of Threshold has opened a window for Survival decks. Threshold has a pretty good matchup against Goblins as well as most of the combo decks floating around. The irony is that while Threshold also has a good matchup against Survival builds its very presence in the meta should help them out. Threshold commonly runs Pithing Needles in the main (and certainly in the sideboard), and that card is a big contributor to the difficulties of Survival decks, but Threshold itself does not have any good needle targets. As a result, most other decks will have to reconsider keeping them in the sideboard. Already, players have begun using fewer Pithing Needles (however, splash damage from Tormod's Crypt, a popular speedbump used against Threshold, may be a differenent story). Even still, it is more manageable than those damned Needles. So while Survival has a tough go of Threshold (even RGSA) it will likely have an easier time with the field at large.

Content by Finn
Banner by iloveatogs
Edited by Goblinboy