Every Magic: the Gathering player owns at least one budget deck. What is a budget deck? Well, it's a deck that on paper doesn't cost a arm and a leg to trade and buy for. Different people have different theories on what is a budget deck. I've heard people say it's $20, others it's $100. I say it's $50 give or take 5 dollars each way to make a fun and some what competitive budget deck. Rarely do Budget decks ever win Grand Prix or Pro Tours, but they can win FNM which is the most common Magic outing and where most of us play.

Wizards.com for a couple of years now has had a building on a budget article run weekly. I, for a long time read the articles and enjoyed them as they were decks I could afford on my $50 a mouth allowance my parents gave me as a boy. They're decks I could take to FNM and win with. Some time ago I stopped reading for one reason: Nate Heiss left and was replaced by Jay Moldenhauer-Salazar. With Nate leaving the decks and articles became lame and lackluster. Decks went from using cards in any format to using cards from new set in an attempt for Wizards to make more money on the newer expansions. JMS is a great writer and I hope none of you think otherwise, but Nate was to BoaB as Tom Brokaw was to NBC Nightly news.

Enough about that, this is MTGS, not Wizards. My name is Sam Grahn, and I hope to become your weekly Middle Class Magic writer. MCM is all about decks you can take to FNM and compete with, and sometimes going a little over and making one that can compete at a PTQ and sometimes (sometimes) even a GP and PT.

April 7 was my birthday, and as always I got in the mail that day. It was $50 bill for my grandmother. I smiled and thought of the things I could buy with it. The first thought was to by some beer for later that night, but I didn't want to drive 250 miles to Canada as I had school, work and others things to do. Strike one. So the second thought was to spend it on my lady, but I don't have one so that was strike two. For the rest of the day I didn't put much thought into it, after all I had all day to spend it.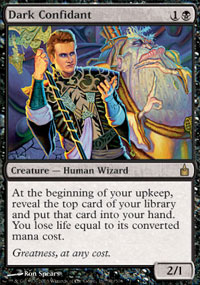 After a long day at school and work, and having until 10:00 for my birthday party, I had 4 hours to kill, and I wanted to go to FNM, but didn't have the time to go home, grab my decks, and go. I just remembered that my grandma gave me the birthday cash, so I knew I could just buy something from the common box and try to make it good. I also just happened to look at my gas tank, 1/16 full. With $20 in the tank, I knew I had a tough task in front of me. I got to the store and soon hit the shop boxes and binders. I didn't have to pay the $5 fee for FNM as it was my birthday :). Finally a positive on what is a useless 19th birthday. Digging and clawing my way through the card shop boxes, I had a deck idea. Could Black do some good? How would I deal with Zoo and Owl? Why are Dark Confidants only $4 a piece?

I bought 4 Dark Confidants even though I had two at home. I wanted to abuse them, but how? I thought about U/B control, but many of the cards needed were not in the binders and the ones that were were overpriced. I had $14 left and was running out of time as it was only 10 minutes till FNM began.

Other players came over as they were surprised to see me digging for a deck. Some ideas wore thrown out there only get to thrown away in the trash. I found weird little cards that could work like Consume Spirit and Rend Flesh. I keep finding little gems and finally I ended up with this:



The total cost in all was $28.50 [your Confidant prices may vary -Ed]. So, I also bought two bags of candy because, well, I like candy. An even $30.

Match 1:U/B Legend control
Game 1
I first faced a deck that was more random than mine was: some U/B Legend control deck. I won the toss and wanted to go first. My opening hand made me smile a bit as it was 2 Swamps, 1 Dark Confidant, 3 Blackmail. I used the first two turns to empty his hand and put Confidant into play on turn 3. A few turns later and my board was 7 Swamps, 1 Bob and two Ravenous Rats. I drew back to back Consume Spirit and the game was mine.

Game 2
On the draw my hand of eight was 4 swamps, 2 Ravenous rats, 1 Dark Confidant, 1 Rend Flesh. A turn two Confidant let me keep on drawing and drawing. It took 4 turns with bob before I drew something that wasn't a land, Disembowel. He had a just played a Yosei. The dragon soon was gone and so was my next turn. A few turns later he died.
Match: 2-0 me
Overall: 1-0

I found that the deck lacks major speed and might have some problems with some of the faster decks, but with control decks the large amount of discard would be a great thing to have.

Match 2: Zoo
I feared playing Zoo because of the speed. I took a small breath when I won the toss and got to go first. Opening hand of 2 Swamp, 2 Last Grasp, 1 Blackmail, 1 Nekrataal, 1 Ravenous Rat looked good, and it was. Second turn Watchwolf and third turn Burning-Tree Shaman got shot down, as did my Nekrataal. Every time he would play a creature I had something in my hand. I was getting the removal but not the discard to rid him of his burn.

Game 2
After losing game one the way I did, I decided to change one thing: 4 Dark Confidant for 4 Bottle Gnomes. I was so/so about it, but thought maybe it could help with the burn. My hand was 3 Swamp, 2 Bottle Gnomes, 2 Cry of Contrition. I was very very happy. I took some second and third turn damage from Kird ape, he wasn't playing many creatures so that was good news for me. I cast Gnomes on turn 3. Turn 4 Cry of Contrition, haunt Gnomes, get 2 Lightning Helix. Lucky for me he had only 2 [card]Stomping Grounds[card] in play. I played another Gnomes. Next turn I drew Nekrataal and his Ape was gone. After taking in damage for the next 2 turns, he played Shock on my Nekrataal. This was going to be a long game. Another Gnomes joined the battle and 7 turns later it was over.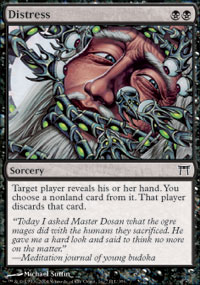 Game 3
my hand was unlike any I had or would get that night. 2 Swamp, 3 Distress, 2 Cry of Contrition. All he could play in the turns before his hand was gone was a Stomping Ground and Birds of Paradise. I soon would draw into a Bottle Gnomes, and I started my assault. A pair of Consume Spirits late into the game, turns 15/16 I think, with 9 land in play gave me the game and the match
Match: 2-1
Overall 2-0

Match 3: Zoo
Game 1
Having to go to 6 cards hurt, but with 2 Swamp, 2 Dark Confidant, 2 Last Grasp it was an okay hand for the matchup, or at least I thought. He had a hand of 3 Kird Ape and 1 Watchwolf. The game was over soon.
Game 2
Knowing that the player I was playing against would play Giant Solifuge, I added 3 Hideous Laughter over 3 Disembowel. This game didn't last much longer. I was right in that he would play Giant Solifuge, but Boros Swiftblade with a Jitte was game fast.
Match: 0-2
Overall: 2-1

Match 4: B/G aggro
Game 1
This is one matchup I was looking forward to because it was a slower aggro deck than zoo and with the discard and removal amounts high, I thought I could control him. I did. He was only packing four Putrefy for removal in the whole deck. The game was mine from the beginning as he started with six cards in hand. With 2 Swamps, 2 Rend Flesh, 2 Consume Spirit, 1 Blackmail in hand, I could knock off anything he would put on the board. It took until turn 5 to get a Bob on the table. Soon Rats followed and the game was over.

Game 2
This was over from the start. 3 Swamp, 2 Nekrataal, 1 Bob, 1 Disembowel was a great hand for the game as he was manly playing Green in his deck. He played a turn three Iwamori of the Open Fist, it was faced with a turn four Nekrataal after taking five damage. A turn five 'Tal on a Birds of Paradise gave me creature advantage and I was starting to turn the corner. The game was over 3 turns later when I drew a Consume Spirit for six.
Match: 2-0
Overall: 3-1

Overall I placed 3rd with $12 in store credit. The deck did a little better then I thought it would and beating Zoo was a big deal. If the right player plays with this, it is capable of winning. If I had more money I would have made some more changes like Seize the Soul, Sengir Vampire, and Gravepact.

If I were to play the deck again which I may, I would change it something more like this.



I do think that MBC can be a good deck in Standard because it has the effect to both deal with control and aggro decks. At the very least, it's a cheap deck that can do well at an FNM, and beat some top-tier decks while it's at it. That, of course, is the purpose of Middle Class Magic. See you next time!