Every Magic: the Gathering player knows that every not-so-tournament-serious Magic player owns at least one budget, or peasant deck. Having stated this, you may consider "What is a budget deck"? To me and many others, especially our dear friend Antonio, it's a deck that doesn't cost you a pound of flesh.

Seldom do these decks ever win major tournaments, but nonetheless they can win Friday Night Magic, which is probably the most common Magic event, which most of the Magic community play at.

Middle-Class Magic is a column that focuses primarily on Standard, one of the four Magic: the Gathering formats, currently consisting of the Kamigawa block (Champions of Kamigawa, Betrayers of Kamigawa, and Saviors of Kamigawa), the core set 9th Edition, and the Ravnica block (so far Ravnica: City of Guilds, and Guildpact).

This week's focus deck is the almighty Owling Mine, which has caused a stir at the Standard tournament scene, with its mighty cards, such as Keiga, the Tide Star, and Meloku, the Clouded Mirror.
Here's an excellent example of a successful, but expensive, Owling Mine deck, which was piloted by Tiago Chan at Pro-Tour Honolulu 2006:


Here's another example of a deck belonging to this awesomely fun archetype, played by none other than Antoine Ruel at 2006 Pro-Tour Honolulu:


Sure these decks may win, but, as we can see Owling Mine often costs well over the budget player's budget, which is the reason I have chosen this deck to budgetize. In this article, monetary values have not been added to decks and cards, due to responses from the previous article, but we can assume that no budget player can afford a Keiga while it is still in Standard.

The following deck is my budget version of Owling Mine.





Island - Island was once considered too powerful, as Blue decks were not only abundant, but also powerful, that Wizards was thought to have considered to ban it. If you want to see how powerful the Island became, see one of Jon Finkel's decks and search around Wizards. Here's the proof: "The May 1996 issue of The Duelist announced that the card Island was being banned from Magic for being too good. Though intended as an April Fools joke, the announcement caused a minor uproar (and months of calls to Customer Service)." from "

http://www.wizards.com/default.asp?x=mtgcom/cotd/1004

".

Mikokoro, Center of the Sea - This can increase all players' hand sizes. Best used at end of turn.

Azami, Lady of Scrolls - This Legendary Wizard keeps your hand chock-full with cards.

Here's a tip: You can tap Wizards with Azami, including Azami herself, even if they are "summoning-sick", because the Wizard card that you can tap doesn't have a in its cost, and neither does Azami.

Dimir Guildmage - Dimir Guildmage is a "two-sided knife". The Blue ability is good for you, and good for your opponents; the Black ability is bad for you, and bad for your opponents. The blue ability helps you keep up the number of cards in both players hands. Also the blue ability now can be used to counter

Hellbent

, the Rakdos guild's awesome keyword ability.

Graceful Adept - Graceful Adept is essentially a 1/3 Human Wizard creature with a

Spellbook

in one small package. It can prevent you from discarding to the normal seven cards during the cleanup phase, which can help in your quest to flip the awesome Jushi Apprentice.

Jushi Apprentice - While this card may seem expensive, I picked up these up relatively cheaply. This can be used, again, as a "two-sided knife" when it's flipped. Tomaya can be used to deck people, or simply double your hand-size, or increase the number of cards in another player's hand.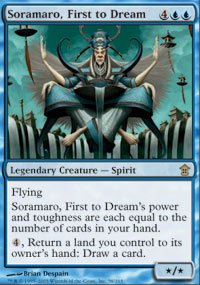 This? Oh, it just one of the cards that I rely
on to win. It's also excellent for the budget player,
and...it comes inside Soratami's Wisdom,
a pre-constructed theme deck!

Soramaro, First to Dream - One of the main kill conditions in the deck. Although it may seem slow, it is a good card for Budget players, and it really isn't that bad.

Temporal Adept - Temporal Adept helps keep you alive for longer, as it can essentially remove a permanent from the board (even better if the opponent is about to discard to seven!). It also can be used to increase hand-size.

Ebony Owl Netsuke - This is one of the win conditions in this deck. It is particularly relevant as Standard is either quite slow with legendary dragons roaming around, or the board is often cluttered with creatures.

Howling Mine - This helps draw cards, for you and opponents, which in effect helps with your Netsukes. Howling Mine is one of the more expensive cards in this deck. If you don't have them, or can't find any, just add in cheaper recursive drawing cards, such as Dissension's Skyscribing (with it's Azorius mechanic,

Forecast

).

Ivory Crane Netsuke - This card helps you nullify the damage that this deck may take while setting up its cards.


This deck has been playtested, and it runs quite smoothly. Again, I won't say how much this deck cost me, but it does fit in the price range for Budget.

The Deck's Performance

I have played ten games (and won four times), and they have been quite an experience for me, as I have never played with Mono-Blue Owling Mine. The play-tests have also showed me the strengths and weaknesses that this deck has.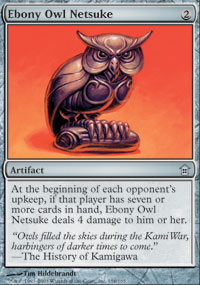 This? Oh, it's just one of the cards in this deck...
which I rely on... a lot...to win.

This deck relies heavily on Ebony Owl Netsuke to win games; though it occasionally wins through a fatally huge Soramaro, or by "milling" opponents with cards like Dimir Guildmage (Blue ability), and Tomaya the Revealer.

My Mono-Blue Owling Mine deck has one huge weakness: Boiling Seas. Other minor weaknesses include land destruction, horde decks, especially Selesnya and Gruul, creature destruction, and more serious decks.

One major strength that this deck has is that it can recover from discard decks, even against Orzhov discard, and mono-Black "Rats". However, the more aggressive Ghost Dad, which features several powerful cards, including the "Evil Fork of Doom" and Ghost Council of Orzhova, probably will annihilate this.

While there are other strengths, I won't name them. If you want to find out more, build an Owling Mine deck and see for yourself.

Suggestions

1) If you want to keep this deck mono-Blue, I have one main suggestion: The addition of "counterspells" can help this deck to defend against powerful cards, and Boiling Seas.

2) If you want to splash in another colour, namely Red, I can suggest expensive cards, but I won't. Pyroclasm is more or less a definite addition if you want to survive against fast creature-based decks.
Dual lands and pain lands are also great additions... buy I'm not supposed to say that; this is a budget deck; and those are fifteen to twenty dollars each! Sorry readers, ignore that.

Other excellent yet affordable cards that I suggest include: Blood Moon - to hose decks that run primarily on nonbasic lands; Gaze of Adamaro, Sudden Impact, and Adamaro - to utilize Howling Mine's two-sided effect, and to help with your quest to knock the opponent's life total to 0; Spiralling Embers - to utilize the card-draw you'll be doing during a game; and Niv-Mizzet, parun and guild leader of the Izzet, awesome flaming dragon wizard dude, and killer tech in this deck - Niv-Mizzet can simply win a game in Owling Mine, as it functions as a Underworld Dreams that triggers when you draw cards, not when your opponents draw. Again, additions will generally up the cost of the deck.

3) With the addition of Dissension, I also suggest that you can add in Azorius Guildmage (best if sideboarded), Spell Snare (sideboard option against Jittes, Sakura-Tribe Elders, Cruel Edicts, Lightning Helixes, Last Gasps, etc.), and Skyscribing among many number of valid candidates.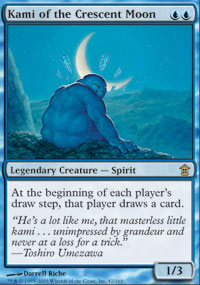 If I had another $10 or so dollars, I might add another two Howling Mines, or possibly trade out a few creatures for more spells, in particular, "counterspells" and more control, such as Remand, Hinder, and Boomerang. I pondered over adding Remand, again and again, but I remembered that the card remained in hand, so it could help with the Ebony Owl Netsukes. While I'm suggesting cards, I think that Vision Skeins is interesting as it is a two-edged sword that helps counter Hellbent (but aids Dredge), and helps all players get the required cards for the Netsukes, and you, especially, for the Jushi Apprentice flip, or a lethal Soramaro.

Another suggestion that I have is to trade out the Wizards in favor for more traditional Owl elements, such as Keiga, and the

Legendary

(both famous and in-game Legendary) Kami of the Crescent Moon.

These are just suggestions, not guidelines, and you should really make your own decisions, as it is your deck, based on what you like, and what you think works.

This deck can certainly be improved and you shouldn't expect to win every game with it, but this deck can win Friday Night Magic tourneys, so go out there and beat down!

Good luck with your Budget Owling Mine decks!
Thanks for reading my article. I hope to see you soon