This is the start of a several part series that is going to show my progression of a Selesnya aggro deck for Regionals 06' and the play testing that I do for it. I guess the best way to do this is to start off with where the Selenysa deck came from. It goes back to Worlds 2005 where Katsuhiro Mori won with this Ghazi Glare deck.



This was the first time this deck type had been seen on a large scale. Tearing through the Standard portion and causing a shockwave through the tournament, the Japanese came prepared and it showed.

The next big Standard event we fast forward to is Pro Tour Honolulu. Let's see how Selesnya managed. We find a version of Ghazi Glare similar to Katsuhiro Mori's played by Adam Chambers. He finished in a very respectable 25th place. The biggest change Adam made was replacing Sakura-Tribe Elder with 2 Naturalize, 1 Viridian Shaman and 1 more powerhouse Yosei. However, the deck to take note of was the Selesnya Greater Good deck played by Masaki Yokoi to 14th place.



The next evolution of the Selesnya guild was here. Masaki figured out that using Greater Good and Yosei not only kept your opponent tapped out like Glare does, but it also draws you five cards. With the Viridian Shaman in the sideboard and the Nikko-onna main deck it also gave him searchable outs against any troublesome artifacts and enchantments.

With these two decks as starting points it is time to make a Selesnya deck with Dissension for Regionals. This is what I started out with.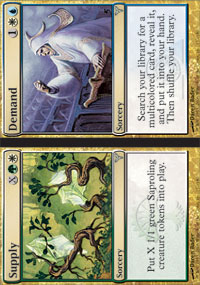 Gotta <3 split cards



Supply // Demand seems like the easiest inclusion from Dissension. It alone can negate the need for Selesnya Guildmage. Between Sakura-Tribe Elder, Llanowar Elves and Wood Elves you could generate upwards of seven or eight tokens as early as turn six. This plus a Glare from the board will make short work of any aggro strategy. As you can see, I changed the deck's aggro sideboard game. Instead of playing a slower game using Wrath of God to put the kibosh on aggro and then bashing face with a big creature, I am using Glare of Subdual to tap down any annoying creatures and Supply/Demand is going to…well, supply the guys to do it. Man do I heart me some puns!

Anyway, I know you want some playtesting results. The first deck I decided to try out was Gruul. Being that this was an anti-aggro deck, why not make sure it does at the very least what it is supposed to? The Gruul deck is an exact card for card copy of the deck Mark Herberholz won Pro Tour Honolulu with. For playtesting purposes I play 20 games, ten with sideboard and ten without, swapping who goes first each game instead of who lost. So, off to the races…

Game 1:
Gruul went first and had a strong start with turn one Kird Ape. His Ape got me for two on turn two and came down a thirsty Scab-Clan Mauler. This was followed up with a turn three Burning-Tree Shaman and turn four Flames of the Blood Hand back up. My turn two saw Tribe Elder come down and take one for the team against the Mauler all the while fetching me a Forest like the good man he is. Turn three down came a religious elephant that was going to hold the ground and put me back to an even twenty. Turn four came with a Watchwolf and Wood Elf to hold off the Gruul bad guys. The next couple turns were him throwing a few burns spells at me and playing out some guys while I played a Greater Good and a few more creatures including a Kodama of the North Tree. On my turn ten I drew Yosei and that was all she wrote. I played out my Yosei and sacrificed it for the Greater Good of the team tapping out his critters and swinging mine in for enough to kill him with some help from Chars and Stomping Grounds.

1-0

Game 2, Gruul mulligan to six:
Gruul was never in it. He had the turn one Kird Ape but only had a Rusalka on turn two. I came out the gates rolling. In a game that Watchwolf, Hierarch and Yosei had all made their appearance by turn five.

2-0

Game 3, Selesnya mulligan to six: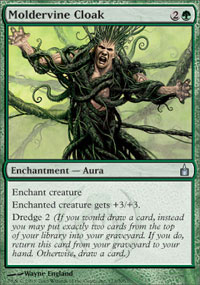 +3/+3 to face smashing seems good

The opposite happened this game: Selesnya had a strong mana hand but very little to go with it. While my turn two Watchwolf held the ground for a turn or two he just wasn't enough against the turn two Dryad Sophisticate, which on turn five found a cloak of face smashing +3/+3.

2-1

Game 4, Selesnya mulligan to six:
My opponent and I broke our habits this time and I didn't have a turn two Watchwolf because he failed to have a turn one Kird Ape, for shame both of us. The game was uneventful the first four or five turns with him hitting me with a Dryad Sophisticate for two each turn while I built up my mana. I got down to 12 and figured it was time to start doing something. I dropped Hierarch and he had the Flames, ouch sucks. Next turn I drop another Hierarch, what's that, Flames number two? Yeah, sucks.

2-2

For the sake of not reading about five more games I cut out the rest of the games before sideboarding. The match ended 6-4 in Selesnya's favor before sideboarding. Nothing special happened, just your normal parry and riposte of the aggro and aggro-control match ups. At this point I was starting to notice that Chord of the Calling wasn't doing what I wanted it to do and that when I was losing a lot of the time it was by a few life points. Also Kodama of the North Tree was just letting me down. This creature was the one I never really understood in this deck. I always thought he was added just because it needed a bit more beef and it was starting to show just how much this was true. Time for sideboards, here's how it went down.

Selesnya: -1 Nikko-onna, -1 Arashi, the Sky Asunder, -2 Kodama of the North Tree, -2 Greater Good, +3 Supply / Demand, +3 Glare of Subdual.

Gruul: -3 Frenzied Goblin, -4 Burning Tree Shaman, +4 Umezawa's Jitte, +2 Naturalize, +1 Flames of the Blood Hand.

I know I just said that Chord wasn't really working for me the way I wanted it to, but I still feel it was better at this point then some of my other cards. Knowing that Gruul probably shouldn't side in Rumbling Slum against me I thought removing the Arashi and Kodama's was the right plan. This way if Gruul had a large burn hand I could still hope to draw a Chord and find Hierarch with it.

Game 11:
The game started out like normal, Kird Ape into Scab-Clan Mauler to my Llanowar Elf into Wood Elves on turn two. Turn three he slammed down a Jitte along with a Rusalka. How lucky my turn three saw a Glare of Subdual with two untapped creatures! There went your Jitte activations, sorry. The game continued with him throwing some burn at me and me playing out some more creatures. Eventually I got down a Greater Good and Yosei and overwhelmed him with card advantage again.

7-4

Game 12, Selesnya and Gruul mulligan to six:
Turn two STE, turn three Wood Elves, turn four Wood Elves and Watchwolf. Turn five Supply for six 1/1 Green tokens. Turn six Yosei, turn seven Glare of Subdual. He didn't have the Naturalize so a few turns later it was over.

8-4

Game 13:
This was a long game. He got some beats in from an early Kird Ape and Scab-Clan Mauler, but I held him off with a Hierarch on turn four. He played a Jitte to which I responded with a legendary disenchant on my turn (I played my own Jitte). He played another but luckily I had the Chord to go get Viridian Shaman. I played out a Yosei but had to stay back on defense due to the fact that I had already taken three burn spells to the face but was hanging on thanks to Hierarch. I was able to draw into a Greater Good which found me a Glare, but he had the Naturalize for it. I was also able to find another Yosei and a Supply/Demand so I was able to make enough blockers to be able to swing with Yosei and did to the win.

9-4

The rest is just more of the same. Selesnya had a strong advantage against Gruul after sideboarding. The only time when Selesnya had trouble was when Gruul had a Jitte and Selesnya didn't, but you could say that for just about any aggro matchup. The matchup before sideboarding was a even 6-4. Sideboarding finished up at 13-7, this means that Selesnya won seven of the ten sideboard matchups.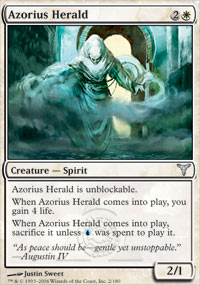 Am I worth it?

Even with these results I still wanted something more if possible while freeing up some of the more worthless cards. Two cards that were far from impressive were Chord of Calling and Kodama of the North Tree. Chord I want to leave alone because I think it will be much stronger in the control match ups due to speed. Kodama, though, could probably be better. I also started to think about the games I lost by a few life points, how could I make those match ups better? Azorius Herald looks like a good choice. This presents a new problem in mana though. If I would be able to play out the Herald and keep him in play then not only would he serve as another life gaining outlet but he is an unblockable creature, which with Jitte can just be devastating. Adding Blue into the mixture also gives us a new choice to replace Kodama. Enter Keiga, the Tide Star. Not only is Keiga a bigger threat and useful with Greater Good but he also frees up the mana a bit because he only takes one Blue instead of three Green. Adding Blue also gives me access to the Demand side of Supply/Demand. With these thoughts in mind I went out and made this deck list. Notice Black was released from the team.



This will be the jumping point of the next playtest games. Next article will have several different deck match ups and changes that could be made to the deck.