OK, I admit: this title is horrible. Legacy naming conventions aren't really my thing. Anyway, as many of you who've read my prolonged ramblings on mana know, I consider the mana base of RDW from old Extended to be just about the most perfect thing ever. At least as far as aggro mana bases go.

MWS, the Great Legacy Enabler

As someone who recently downloaded MWS, I decided I'd give the only format which that mana base was competitive and legal in a try. I figured, with the greater card pool available in Legacy, you could probably improve on some of the deck's card choices. I'd always thought that Bob's true home should be a Black/Red aggro hybrid, so in he came. With the addition of Black, I figured, why run one Jackal Pup when you can run eight? So Sarcomancy and Carnophage replaced the rest of the critters. Next up, I realized I wanted more card drawing, so Skeletal Scrying came into the deck. After that I added Lightning Bolt, Seal of Fire, and Fireblast, under the theory that the late game against control could be won with a Scrying into free Fireblast burns (Of course, this ignores the fact that control doesn't exist in Legacy). Finally Sinkhole rounded out the LD package. I also figured I'd keep the mono-coloredness of the deck by running four Blood Crypts alongside the Badlands. This is what version one looked like.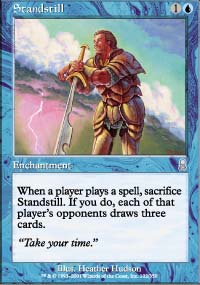 I'm not here right now, but if you leave a message, I still won't be in a relevant deck.



Obviously, there are some issues with this deck. Like namely, it sucks. After poking around some Legacy forums for a bit, I got a quick education on exactly why it sucks. Sucky reason #1: Skeletal Scrying sucks. It requires a Graveyard, mana, and life. And you're already spending two of those three resources pretty rapidly as is. Sucky reason #2: Four Blood Crypts suck. Blood Moon completely shuts off the Black half of your deck. They hurt, a lot. Sucky reason #3: Fireblast sucks. If Confidant flips it over, that's probably a scoop right there, and you don't have enough burn to put them into lethal range very quickly. Fireblast belongs in decks that can use it to finish someone off after hitting them with a Ball Lightning on turn three. Sucky reason #4: Seal of Fire sucks. If you're not even using Chain Lightning as bolts #5-8 yet, you don't need to be running Seal. Sucky reson #5: Not enough creatures. The dudes in this deck aren't exactly of the quality that twelve of them is going to run anyone over. At all.

New Version, New Way to Suck

Ok, so the deck sucked. Hey, that's fine; it was a rough draft. Everyone makes mistakes. So, I went back to the drawing board, made some changes, and came up with this.



This deck also sucks, but a lot more deceptively so. I tested about 20 games each against Homebrew, Threshold, and Vial Goblins. I lost a total of one game to Homebrew. Their curve starts at two and runs into three. Yours starts and pretty much stops at one. You play more early game spells than they do, and can cast a higher percentage of your deck through mana disruption. Tempo carries the day here easily.

Threshold seemed to be a better match than it actually was, at least initially, which I think was mostly due to poor play by the Thresh player. Its not a bad matchup by any means, as Daze is essentially useless for doing anything other than pulling an Island out of the way of a Sinkhole, and they've only got four Forces and four Swords. The early game belongs to you, since until they hit Threshold, your guys are bigger. Once they reach Threshold, that situation switches. By that point, your burn can hopefully finish them off, along with an alpha strike.

Goblins was just horrific. I literally couldn't win game one, and after that, things didn't get much better unless I drew double Plague. Shattering Spree is huge against Goblins, stopping all of their really problem cards, namely Jitte and Vial.

I also ran a few games against Burn during this period, and that was mainly an exercise in goldfishing for them.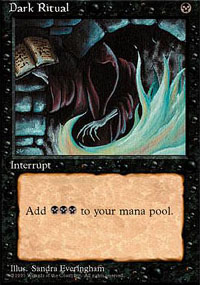 Since when am I worse than Mountain?

I realized a few things at this point. Even though the deck had some good matchups, it still sucked, and Jackal Pup was the worst card in it. By far. Replacing the Pup with Grim Lavamancer helped things. But the deck was still experiencing problems, mainly in the form of mana flood. I ran the numbers and realized that the addition of Dark Ritual had screwed up the decks' otherwise almost perfect mana base, and given it a mana density of 7. I concluded (incorrectly) that the new worst card in the deck was basic Mountain. Actually, Mountain is pretty bad in this deck, but Ritual was far, far worse. Cutting Ritual from any aggressive Black deck is tough. It flat out wins games. But, much like cutting Exalted Angel made Slide a better deck, even though it took away some free wins, cutting Ritual makes this a better deck, even though it does take away some free wins. Actually, given that you need at least two other cards in conjunction with Ritual on the first turn makes it much, much worse than it is in a deck like Homebrew where Ritual has a lot of different combos or single cards to power out.

Cursed Scroll and Terminate have both been suggested for the deck, and while they look good on the surface, I'll explain why they both suck in reality. Terminate doesn't kill your opponent. The only creature Terminate kills that Bolts don't is Werebear. Everything else too big for Bolt has protection from Red or Black. The problem with Scroll is more subtle. You can't run four of them because they all get killed by a single Pithing Needle, and because to utilize two of them at once (a pretty common occurance if you run four) requires six mana, which you don't have that often. Also, unlike many decks that run Scrolls, you have card drawing, which means it's harder to get down to the one card in hand you need to make the Scroll truly effective. If you really love the card, I can definitely see it as a two-of, but I would advise against more than that, and definitely, under no circumstances ever, more than three.

I'm the King! No wait, I still suck.

All of these changes and conclusions have led to this deck which, unfortunately, still sucks.



While the deck is greatly improved -- and even occasionally beats Goblins game one now, as well as having a very favorable matchup against Homebrew, and a better than 50/50 shot vs. Threshold -- it still sucks. Why?

First, take a look at the creatures. They consist exclusively of Zombies and Wizards. And all of the Wizards only have one toughness. Now think about what card is in nearly every single sideboard in Legacy. Yep, Engineered Plague. If the Homebrew player actually figures out to sideboard this in, the matchup gets a lot, lot worse for you. Of course, most Homebrew players will then think "Wait, I've got Wizards and Zombies in my deck too!" Not realizing that since their wizards and zombies are better quality than yours, that making both worse leaves them more ahead. You can still burn them out, but it's a lot harder when your Zombies don't trade 1 for 1 with their entire deck.

Now take a look at the spells, what do Night's Whisper, Withered Wretch, Dark Confidant, and Sinkhole all have in common? They all cost two mana. That's nearly half your spells. That sucks. You want to be playing multiple spells every turn. The more spells that cost more than one mana, the harder that is to do. Withered Wretch could be replaced by Jackal Pup, or Mogg Fanatic, but then you're giving up your graveyard hate, and losing the ability to beat stuff like Solitary Confinement. You could run Cursed Scroll and something else, but Scroll costs three mana, which is even more than two.

You can bring in Hymn and Duress for combo, but taking out the burn to do it means you have to rely on the combat phase to win. That sucks.

So in short, even though this deck has even or better matchups with the three best/most popular decks in Legacy, I wouldn't recommend playing it. Mainly because it sucks. And it still has Mountains in it.

Bonus Section! Survival Sucks too!

So, in ending this article about my attempts to build sucky Legacy decks, I'd like to share a Survival list I've been working on that's adapted from the Survival Rock deck created by Sean McKeown. One thing that really bugged me about his list was the fact that he didn't run Aether Vial or Umezawa's Jitte in a deck built around creatures. While this deck does suck, it is pretty fun, and at least moderately competitive. Besides, it totally overloads their Needle targets.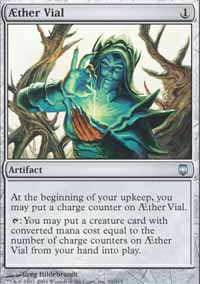 Gaea's Cradle, the Wasteland magnet, over me, the Needle magnet? Seriously? Nice call.



First, Oversold Cemetery? All it does is turn all your creatures into Squee as soon as you get four in the yard, which will happen right away once you get this and Survival out. With Vial, Cemetery, and a Baloth, you can gain four life plus a blocker every turn for NO MANA! Of course, if you've got Survival or Cemetery active, you should be winning anyway. And three-card combos are a bit on the unhappy side of the tracks. And this basically has "win more" written all over it. But on the upside, no one plays enchantment removal in Legacy, and this will provide an endless stream of chump blockers and Cabal Therapy food for you, even if it is just endless Elves of Deep Shadow. Note that you can stack the abilities of Cemetery, Genesis, and Squee to return three out of four creatures in your yard to your hand.

Next, Land Grant? This isn't nine-land Stompy or two-land Belcher. Land Grant is the best fetchland ever printed, at least for Green. Say your opening hand has Land Grant and a Forest in it. Drop the Forest, flash the Grant, grab a Forest or Bayou, cast Elves or something, and pass the turn. About the only thing that doesn't suck about this deck is its mana base. You've got a mana density of one, a potential of twelve, and a percentage of 28/47. Those are pretty solid numbers, and should be pretty immune to Wasteland/Sinkhole disruption. Well, that and the fact that your deck runs on two or three mana.

There's no graveyard hate because, unlike most decks, your guys are just as big or bigger than Threshold's dudes, even if said dudes have the Barry Bonds workout bonus going for them. Of course, against something like Iggy Pop, or Confinement, this will come back and bite you in the patootie, but hey, that's life. So the board probably needs to be modified to add room for Loaming Shaman and Withered Wretch. McKeown's list ran Hailstorm as the Goblin hoser of choice. I have to say I really don't like it. For three mana you kill all their attacking guys. You don't kill any dudes who didn't attack, there is absolutely nothing stopping them from rebuilding, you kill a bunch of your dudes, and you hurt yourself. Or for three mana you can cast Engineered Plague and watch all their dudes wither on the vine while your bigger dudes pound the snot out of them. Just some thoughts about Hailstorm.

Overall, I have to say Legacy is a really fun format, and encourage everyone to at least try dabbling in it. Goblins, Threshold, Homebrew, Rifter, and Burn are the closest thing to Tier 1 archetypes in that format, but its honestly so wide open and there is so much undeveloped/unused design space that pretty much any well designed, well built deck has a pretty good shot at winning. Plus there are some truly wacky plays available in the massive card pool. Enjoy exploring it.