I had finals for my summer semester classes next week. So like every other college student, I was bored out of my mind trying to think of something to do. One of my hard core Spike friends happened to be online at the time, so we had an interesting conversation to pass the time.

DarkRitual: So, is there anything I can break in Coldsnap?

Spike: I dunno

DarkRitual: Ok, I'm looking at cards, and the only cool ones that are the most breakable I found are Counterbalance, Braid of Fire, and Thrumming Stone.

Spike: Counterbalance is crap.

DarkRitual: It has possibilities. I was thinking throw him in a deck with the obvious stuff like Sensei's Divining Top, but then also play random stuff like Call of the Wild, and I would load my deck with with huge creatures and pump them out with SDT and Call of the Wild, while at the same time locking them down with Counterbalance.

Spike: A deck that counts on winning by getting two bad enchantments out can never be good.

DarkRitual: I guess. So then what about Braid of Fire? Vedalken Orrery comes to mind. Maybe use the mana to pay other cumulative upkeep costs?

Spike: Whats Vedalken Orrery?

DarkRitual: Says any non-land can be played as an Instant. So you can play Demonfire during your upkeep using mana from Braid of Fire.

Spike: But why would you want to play Sorceries as Instants? I mean, of course I would want to, but its not worth the extra artifact that does nothing else on its own. You are better off playing Tron, you get a lot of mana and you Demonfire for a bunch of damage and win that way.

DarkRitual: But thats not fun.

Spike: But the deck is better, and winning is fun.

DarkRitual: You don't get it. If you just make the same deck everyone else makes, whats the point? I mean, sure, you win more games, but what do you really get out of it?

Spike: A higher DCI rating?

DarkRitual: (rolls eyes) Ok fine. That leaves Thrumming Stone. I bet that sucks as well doesn't it.

Spike: Thrumming Stone is actually pretty good. I'm trying to break it with Relentless Rats right now in extended. I just need---

DarkRitual: --everyone and their mother has made a deck with Thrumming Stone and Relentless Rats.

Spike: Well, it wins games. And pumping out a bunch of rats can be fun. Although I usually stop at 5 just in case they play Wrath.

DarkRitual: While you were saying that, I quickly made a Relentless Rats/Thrumming Stone deck just to show how easy it is to make one. Here, I'll show you.



DarkRitual: Basically play Thrumming Stone, then Relentless Rats, then Surge of Zeal. Then win the game. Nothing much to see here.

Spike: My deck is better though.

DarkRitual: Does it really matter?

Spike: Yes.

DarkRitual: Arg, you are no help. I'm going to go and find a better way to break the card.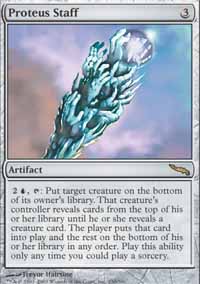 So I went and tried to think of a way to break the card that had never been done before. Fortunately, I had a place to start. Remember my Coldsnap Casual Review? I talk about Thrumming Stone and the possibility of it being broken with Proteus Staff. The basic idea is to have no creatures in your deck, so when you activate Proteus Staff. It will go through your entire deck without finding a creature, so that means you can re-order your library anyway you want to. So you can re-order your library to start with Thrumming Stone and four Beacon of Destructions. So let's see what we have to start with:



Not much, and there are still unfinished issues that need to be dealt with. Like, how do you get creatures into play without playing creatures? The immediate thought is to play token producing spells like Raise the Alarm. But it forces you to play three colors, and its only a one shot effect that will limit the amount of times you can use Proteus Staff. So I decided to go with artifacts that put creatures into play:



Nuisance Engine is straight-forward. 3 mana for a token every turn. Lets you activate Proteus Staff once a turn unless you have any other tokens lying around. Vedalken Shackles is a lot more fun. With Proteus Staff out it lets you shuffle a creature of theirs into their library once per turn, assuming you have enough islands in play. But even with these new additions, the deck isn't complete. You need to be able to get these combo pieces out reasonably fast. So with that in mind, we changed the deck a little bit:



I added 3 new cards: Telling Time, Long Term Plans, and Sensei's Divining Top. Long Term Plans is an excellent tutor card, and combined with Telling Time or Sensei's Divining Top, its an instant Tutor. But the cards by themselves are also great. Telling Time will dig into your deck. And we all know how fun SDT can be. But we are still missing some cards. This is where we drive Spike nuts. Usually in combo decks, speed is also a factor. So they throw in mana acceleration to get your combo out faster. But we are going to throw that out the window just to have fun, and to break another card in the process. So here we go, lets reveal the completed deck: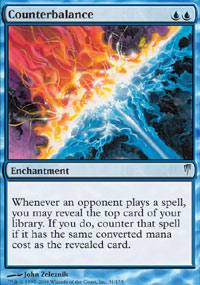 That's right, I found a way to break Counterbalance as well. And there are a bunch of ways to keep your opponent locked down. The trio of Long Term Plans, Telling Time and Sensei's Divining Top do a good job of putting the right card on top of your library. But my favorite doing it is to simply use Proteus Staff and reorder my library so that the top card has the same casting cost of the spell your opponent just played, and we have at least one card of every casting cost up to 8 to make sure that you will be able to counter virtually any spell.

Spike: Counterbalance sucks. Take that crap out and put in mana acceleration! Why bother using Proteus Staff when you can go ahead and stack your deck and get your Thrumming Stone combo out faster?

DarkRitual: Its all about having fun. Not every day you get to break two cards at once in the same deck.

Spike: But come on!! You are never going to win with that crap!

DarkRitual: Ok ok ok, I'll make another deck. You might actually like this one. What I did was search the gatherer database on www.magicthegathering.com for "on top of your library", because you can break Thrumming Stone by putting cards on top of your library, then playing the same spell in your hand, netting you a two for one. I decided to go black, because that lets you play Kokusho, Evening Star. Two of them in play means -10 life to your opponent and +10 for you because of the Legendary Rule. The results of the gatherer search gave me a couple of cards that will help. Namely Volrath's Stronghold and Golgari Thug. Any creature in your graveyard has the potential to be cast for free thanks to Thrumming Stone. So that means you are restricted to abusing creatures only with Thrumming Stone. No problem, since Kokusho is a creature:



DarkRitual: So how do you like that?

Spike: Not bad for a casual deck. Impressive mana curve you got there, so you got atleast some spike in ya. But wait a second, only 56 cards, you are missing four cards.

DarkRitual: Oh, I forgot the best part! Here's the entire deck:



Spike: Doomsday? You had a good thing there, but then you had to go and Johnny it up!

DarkRitual: But Doomsday is fun! You get to pick 5 cards and thats your library for the rest of the game. So most of the time you are looking at one Thrumming Stone followed by four Kokusho's, which will end the game most of the time. If you don't win with Doomsday, you can still win by playing Thrumming Stone and powering out two creatures at a time with Volrath's Stronghold

Spike: But at what price? Sure you have fun, but you won't win as many games as I do.

DarkRitual: As long as we both have found a way to enjoy the game, does it really matter?

Spike: I suppose

And with that, I'm off. I hope you enjoyed the article. Remember, sometimes its not about winning, its about having fun and being creative with your deck ideas. If you take any lesson away from this it should be that almost any card is breakable if you work at it. You might not have the best possible deck there can be, but you will have the most original one. Thank you and good night.

-Dark Ritual