By Gavin Verhey


Culture is a large part of Magic. Some people may write Magic cuture off as simply the metagame. The truth is, while the metagame is a part of any given Magic culture, there is much more to it than that. Local groups and well-known Magic experts, popular formats and player skill, along with the metagame, are all parts of an area's Magic culture.

In this article I'm going to talk about a part of my local Magic culture, a popular format in the California-Arizona region named "Dangray." This format was created during the summer of 2001 to give the staff and dealers at Costa Mesa Women's Club events something to do during particularly slow times, and was formalized by Dan Gray as a fun tournament format. Ever since, it has grown to outside the Costa Mesa Women's Club, and mainly into Arizona and throughout California.

How is the format played? First of all, the decks use "Highlander" rules, which mean that you cannot play more then one of any given card. Furthermore, you can play no more then 3 of each basic land (Snow-Covered lands count as their basic counterparts). Decks must also use at least 100 cards, and no more then 125. Any set/card is legal (Including gold bordered cards from things like World Championship decks, or white-backed "Artist Proof" cards. Some people dislike using Unhinged/Unglued, so make sure to ask your opponent if it's okay to use them if your deck contains Unhinged/Unglued cards).

An average sized Dangray deck

Now heres where things get tricky: You must play at least 7 cards of each color, 7 multicoloured cards, and 5 Artifacts that don't produce mana (split cards count towards multicoloured cards). Luckily, you are allowed to proxy all of the original dual lands (Tundra, Underground Sea ETC.) as well as 5 cards of your choosing. There is a ban list for standard two-player games and a ban list for Two-Headed Giant gameplay that is on the website, located a handful of words down. There are a few other minor rules that I haven't listed here that aren't really critical to Dangray play, such as special rulings on Chaos Orb and Test of Endurance in Two-Headed Giant play. To see these rules, along with all of the official rules, go to http://www.aztlan-promotions.com/typedangray.html.

The exact rules of the format may vary depending on which area you play in. Some areas only use the standard banned list, and some areas only use the Two-Headed Giant banned list. Likewise, some areas always allow one free mulligan, or if you haven't played a land this turn and you have 3 or less lands in play, you can discard a card at random to search your deck for a land and put it into your hand. Before you start a Dangray game with someone not from your area, always clarify beforehand what rules they may be using.

Building a Dangray deck sounds like a formidable task, but in the end you'll probally have more then enough cards to make a deck from... so many that you'll probably have to cut some. Dangray decks (like most "large deck" formats) tend to be control decks that counter until the late game and then follow up with a large threat (although a quick aggressive deck is perfectly viable).

Usually in this format, each colour is good for 1-2 different uses. Green is usually used for mana acceleration, Blue is usually used for countermagic and other various control cards like bounce, Red is usually used for artifact destruction and burn, White is usually used for board sweepers and Black is usually used for destruction and tutors.

Dangray also has several unwritten rules. Foil, foreign or signed cards are always better then their normal counterparts. A combination of those 3 is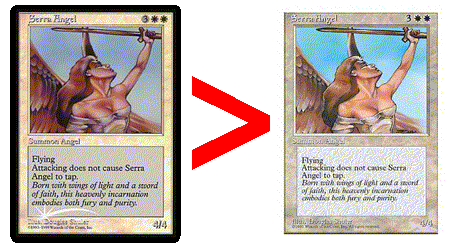 even better. While it doesn't change what the card does, it certainly makes your Dangray deck a lot cooler then the others guy's.

Another unwritten rule is how the Wishes or Ring of Ma'Ruf work in Dangray. When these effects resolve, you get to choose any card that the card would normally allow you to pick (i.e. no getting sorceries with Cunning Wish), and then put the Wish or Ring back into your hand as the chosen card.

A very important unwritten rule is that you shouldn't abuse the proxy rule. If you need a Panoptic Mirror proxy for your Dangray deck based on it, fine. If you need a Demonic Tutor proxy, fine, but you might get some lighthearted complaints. If you use an Ancestral Recall proxy, many people simply won't play with you. Dangray is a fun, casual format. When you start making your deck with proxies of power or other broken old cards, it simply just isn't fun anymore.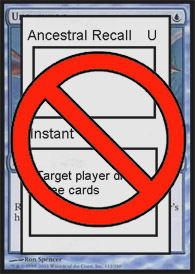 Kids, don't do power proxies.

A card shop in Arizona used to run unsanctioned Dangray tournaments. The result? After the first few weeks, nobody came. People played Dangray because it was something fun you could do between rounds or when you had some extra time. When something was actually at stake, the decks were cutthroat and everyone was rules-lawyering, while in a normal game most opponents will let you take back moves as long as you haven't done anything else since you cast it.

Moving on, there are also a lot of good cards in Dangray that you probally haven't seen elsewhere. Here are several good cards that are maybe a bit more obscure. Please keep in mind, that while these cards are good, not every deck needs them.

Tainted Pact: In a normal format, you risk running into the same card often and losing several other cards for nothing. In Dangray, the only card that can make it stop is two of the same basic land, which doesn't happen very often.

Amnesia: In most formats, by turn 6 a lot of players have emptied their hand or have an assured counterspell. Not so in Dangray. If you can get this to resolve, you've just increased your chances of winning by a lot.

Last Stand: This card is amazing in this format. Let's say you control 3 of each basic land type when you cast this card. Having your opponent lose 6 life, you gaining 6 life, dealing 3 damage to a creature, drawing and discarding 3 cards, and getting 3 1/1 tokens is pretty good for a measly 5 mana. Keep in mind, however, that a creature must be in play to play this card, because you have to choose a legal target for the damage ability.

Skyshroud Claim: This card is one of the best mana accelerators in the format. Not only do you get 2 untapped lands for 4 mana, but you can get Tropical Island, Bayou, Savannah, and Taiga with it too!

Reclaim: What to do when Regrowth and Eternal Witness are banned? Go to the next best thing, of course! Reclaim is basically a tutor, but for your graveyard instead of your library. It is very important because there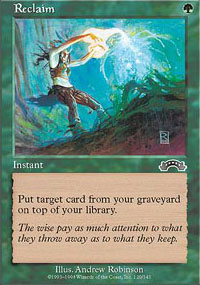 The next best thing

are only a handful of legal ways to reuse cards that you've played in Dangray, and this is one of them.

The Bringers: These guys are played in almost every Dangray deck whose owner owns one. They are 5/5 tramplers for 5 with amazing abilities to boot. While the White one rarely ever sees play, and the Green and Red ones are usually good, the Black and Blue one are played in most decks. Vampiric Tutor every turn is especially good in this format, because your deck should always have answers. Have good board position? Get counterspells every turn. Need to get rid of a big creature or annoying Artifact? Go get destruction.

Vedalken Orrery: In a format where you're almost always playing against control, this card is crucial. It lets you tap out to play your game-winning threat without worrying about your opponent playing a larger threat next turn.

Lim-Dul's Vault: This card is amazing in this format. Not only does it let you get what you want for a handful of life in a format where the right threats and answers are everything and dead draws can cause you to lose, but it lets you set up your draws for the next few turns as well.

Recoup. This card is fantastic. It allows you to reuse everything from sorcery destruction to sorcery mana acceleration to sorcery speed tutors. Once again, in Dangray finding ways to get around the 1-of rule is very important, and this is no exception.

Now let's take a look at two Dangray decklists. The first is from Mark Rosewater (the forum member).



The first thing you may notice when looking at this decklist is a lack of counterspells. At first this seems absurd, but when you take a closer look at the deck you see that instead of counterspells, Mark opted for more answers. This is a risky move, because your opponent is most likely going to have counterspells and you're not, plus you can't deal with opposing instants or sorceries. What this deck gains is the ability to destroy threats that could normally sneak past counterspells and play more threats because it doesn't need to hold onto mana to counter spells. As you can see, it has several game-winning threats, and a early Sneak Attack could easily be doom for your opponent. If the deck goes into the late game, an entwined Tooth and Nail should be enough to seal the deal.

Now lets take a look at my Dangray combo deck:


What does this deck do? It tries to set up one of three combos that should win you the game or at least stall out until you can get something that wins you the game. What are the combos, you may ask?

Well, the first and most obvious one, as well as the deck's main idea, is to put either Time Warp[/card or Beacon of Tomorrows on a Panoptic Mirror and then, barring any destruction or counterspells from your opponent, take infinite turns and win the game.

The second combo is a variation of the first. It costs a lot of mana to work, but it only requires a single card instead of two. The card is Bringer of the Black Dawn. What you do is you play Bringer of the Black Dawn, and then next turn tutor up Beacon of Tomorrows with its ability. Since Beacon goes back into your deck when it resolves, you can tutor it up next turn as well. You don't get infinite turns in this way, since it does cost 2 life an activation, but the game shouldn't last long with a 5/5 trampler on your side anyways. An alternate way to do this is to get an Isochron Scepter with a Mysticial Tutor imprinted on it, in which case, it is infinite turns.

The third combo is a soft lock, and usually your opponent has an answer within a few turns, but it does allow you to stall until you draw one of your other combos. The combo is Isochron Scepter with Orim's Chant.

The deck basically uses its tutors to get a piece for a combo that hopefully you already have the other half for in your hand. It uses card drawing to get to combo pieces, tutors, and answers for opposing threats as well. Counterspells are critical in this deck so you can counter threats and counter anything that would disrupt your combo.

You might be asking yourself right now, "Why should I play this format instead of a more well known one like 5-colour?" Well, I play Dangray over 5-colour because the large deck and single copies of each card make games random, but not too random for my tastes. The Banned and Restricted list keeps the game fun by getting rid of cards that aren't really fun to play against, while making sure that most of the cards you desire for your deck in someone else's trade binder aren't banned.

Try it out, build a deck, and talk to people in your local area about the format, and maybe Dangray can become popular in your area too. Even if just two people play it between rounds, you will get people asking about it, and after telling them about it, maybe they will play too. Many formats can get large this way, and I encourage you to write an article about your local casual format.

-Gavin Verhey, AKA, Lesurgo