Welcome to Scrubland, your source for everything you need to know about becoming *not* terrible at Magic!

I'm your host, Jameson. You can call me Jim, if that sort of thing tickles your fancy.

This is the first of what I hope will eventually become a series (and possibly a column) dedicated to all the scrubs out there. Yes, I know you exist, you know you exist, and you most certainly know who you are. If you know I know you know who you are (and are humble enough to admit it), this is a good article for you. If your name begins with "M-" and ends with "-ike Flores" this is probably not a good article for you.

All jokes aside, it sucks to be a scrub. If you don't know what a scrub is, let me lay it down for you: a scrub is someone who, despite seemingly endless attempts, fails to do consistently well at Magic tournaments. It's not just someone who's bad at Magic. It's someone who enters Friday Night Magic every week, trying to win a match or two - mainly because he didn't win any matches the week before. It's someone who dumps money on singles because he's got time on his hands after going 0-2 drop. And though it's not always true, it's usually someone whose DCI rating is below 1600 (the value everyone starts at).

Though I'm hard-pressed to admit it, I'm an insufferable scrub. I don't usually go 0-2 drop anymore, and it's been a little while since I've gone a whole tournament without a single match to my name. It's the end of these things happening that comforts me, because in truth I'd been doing them for about four years straight.

My rating is below 1600 - I believe at this point it's at 1577 in Constructed. Every week at FNM, I lose as many or more matches than I win. But I come back for more, because it's my quest to figure it all out. That's my addiction - working on the solution to the puzzle, not the puzzle itself.

The First Step Is Admitting You Have a Problem

Probably the most important part of learning to not be a scrub is to stop looking at the stars and focus on the road ahead. Yes, I'm aware of that cute phrase, "Shoot for the moon; if you miss, you'll fall among the stars." But there isn't anything wrong with saying, "I want to be good at Magic; so good, in fact, that the ladies will get all excited when I tell them I'm the State Regional World Champion!" Okay, so maybe that won't happen; but it's good to have a goal. Now, while you're saying that, don't forget to stop at the stop-sign of winning.

You have to realize and ultimately accept that you aren't any good at Magic. If you've read this far, you've probably already done that.

The best I can offer you is an account of my adventure to fix my rating. So that's exactly what I'm going to do.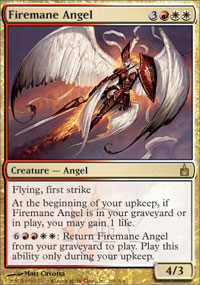 I'm too sexy for my armor,
too sexy for my armor,
too sexy yeah...


I Like My Firemane Like I Like My Coffee

My Standard weapon of choice is the black version of Firemane control. I picked it because, originally, I went for the Black and White Fader deck, then fell in love with Firemane Angel and Lightning Helix and realized I had to go into red. It's not really a metagame call, or a conscious choice. I naturally gravitated towards a deck (which, in truth, is the purist's approach to deck choice).

On Friday, December 8, 2006, I went to the local game shop to play me some cards. I brought along two of my friends just because I'm the only one with a driver's license in the group.

What follows is my deck, as I played it that night.



I know, the hotness, right? There are a bunch of awkward decisions in there that I'm not unhappy with at all. I'm running a lot of Sorceries, not a whole lot of spot removal, maindeck Nightmare Void over Persecute, and Searing Meditation. But you can't argue with results, and the deck performed admirably (albeit unspectacularly) as compared to my previous versions, which were more orthodox builds.

Let's get right down to it. In the first round, I was paired up against Carl, a kid I've played before. I knew he was armed with Blink Snake.

In the first game, my deck works properly. I got the right mana, resolved Arena through Remand and Mystic Snake shields, got a Firemane Angel in the graveyard, and ultimately got him into Demonfire range.


Thief FTWGGLOL!

I brought in 2 Fortune Thief from the sideboard and took out the Searing Meditations. The Searing Med is usually used when it can dominate a game and be essentially a perpetual removal spell. Here, they're only really good in this matchup for shooting Birds of Paradise and Mystic Snake, and the latter may as well have countered the Searing Meditation. On the other hand, I'm fairly sure he doesn't have an out for the Thief, and that's why you bring her in.

In game two, he disrupted me all over the place. I couldn't resolve Wrath of God through Mystic Snake (he somehow drew three, stopping all my relevant removal). I died to multiple copies of 'Snake and Loxodon Hierarch visiting the free buffet at my life dice several times.

In game three, I never drew my second white mana. Thus, I never got to even attempt to play Wrath of God. My spot removal didn't help either, as that just kept getting 'Snaked and Remanded, and eventually I died to the same thing as last game, only a tad slower.

I could complain that my deck drew badly, but sometimes you just get bad luck. One loss isn't the end of the world, and I'm confident in my deck.

In the second round, I was paired against Kurt. Not only does he have the name, this kid has the look of the late, great Kurt Cobain. Except this Kurt is 14 and sporting an ECW t-shirt & crutches (and he plays Magic). Speaking of which, I found out he was playing UG aggro without Spectral Force, without Psionic Blast, without Call of the Herd, without even Scryb Ranger (who, ironically, would fit really well into his nonstandard game plan).

In game one, I learned what he was playing in a big way. Silhana Ledgewalker suited up with multiple Moldervine Cloaks and got in there a lot to clinch it.

I sideboard in the three Condemn and my two Fortune Thief. I never saw a Psionic Blast, and assumed such a trend would continue, so if he didn't have any outs, the Fortune Thief would win the game. I sideboarded out Searing Meditations again, not valuing the power of two damage that requires a target to a 'Cloaked Ledgewalker or genetically mutated Flying Men.

In game two, I drew properly. I had Wrath of God when I needed it, Firemane Angel when I wanted her, Phyrexian Arena to draw more, and Demonfire for the win. He never drew anything to hit me for anything relevant. I had a Fortune Thief in my hand, but decided to just win instead.

In game three, I got a mediocre draw. Nonetheless, I stabilized, and at that point it was a question of who drew what, and I'm at an advantage in such a situation (compare Dryad Sophisticate to Angel of Despair). Eventually I just got him into topdeck mode, let a guy stick, then killed it when he skipped his draw to suit it up with Moldervine Cloak. That bought me time to get lethal swing damage.

I can't say I'm unhappy with that! A win came, though the last two games weren't really all that difficult. It's nice when The Plan works.

In round three, I was paired with Chris. He was playing Boros. I was actually none too concerned, because I was (up to that point) undefeated against Boros decks in practice. I was anxious to see how it played out.

...But as it turns out, there's not much you can do when they just draw burn. And that's what he does in game one. By the time I got my Wrath of God online, he had burn to toss down my gullet for the win. It's nice when The Plan works, I guess.

I sideboard in two Temporal Isolation and three Condemn. More removal for more guys. The fact that they're white and don't destroy the creature makes them super against Knight of the Holy Nimbus and Paladin en-Vec.
Most people bring in Circle of Protection: Red for this deck, but I think that's a mistake since they proactively play Ronom Unicorn for such shenanigans.

In game two, The Plan works just fine. I stabilized, got two Angels in the graveyard and an Arena in play. I started to draw way more than him, put him in topdeck mode, and then I just cruised to victory.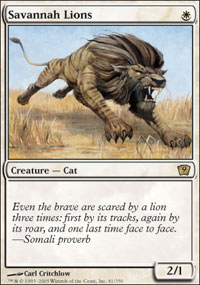 Bad kitty.

In game three, I keep an admittedly average hand for the Boros matchup. My plan (on the draw) was to draw, and discard a Firemane on my end step. This plan beats aggro consistently so long as they don't get the nuts. What I had failed to consider was just how easy it is for them to get the nuts. He opened with a Savannah Lions, and I followed The Plan. He followed the first Lions with a second Lions, and suspended a Rift Bolt. Then he attacked for two. It just went downhill from there, as my cunning Plan delayed the Wrath long enough to let him attack for a lot and burn for the win.

I didn't draw the nuts and he did. He got the win through drawing properly, and I lost the match because I wasn't fast enough. The Plan worked for him. That must be why Boros is top dog in Standard and Extended right now.

In the fourth round, I was paired against Steven paying Dragonstorm. I breathe the biggest sigh of relief anyone has ever breathed before engaging Dragonstorm.

Believe it or not, my matchup here is almost an automatic win. I have six discard effects in my maindeck, three of which recur every turn (should I feel the need). I have Wrath of God and lifegain, the best plan to defeat the deck. Out of the sideboard, I get Temporal Isolation and Hide/Seek, the latter of which is the best answer to the deck, period.
I know, I'm a scrub. I shouldn't say such absolutes. At the same time, I haven't lost to Dragonstorm with this deck.

In the first game, the Plan worked. He realized my capability to withstand the quadruple-Dragonstorm plan and Wrath his Hellkites, and resorted to playing the Dragons one at a time, which meant easy pickings for Mortify and company.

I sideboard out Searing Mediation and some Mortifies for the sideboard cards (Temporal Isolation and Hide/Seek). Mortify doesn't seem like the right choice to take out, but in truth it's overkill on the spot removal. Besides, I'm up a game, and if it doesn't work I have another chance to sideboard (of course, that's terrible reasoning, but I do still have that fantastic matchup win percentage).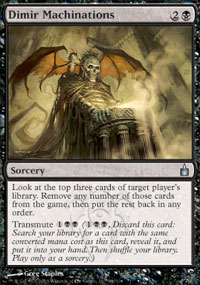 Transmute FTW. Hardcast FTL.

In game two, it goes down to the wire. He goes for the Dragon-at-a-time, but this time I get to Seek out a Bogardan Hellkite first, putting me at Way-Too-Much life. This is usually a winning position, but I falter a bit on the draws, spend too much mana killing stuff (Demonfire for the dead Dragon?), and ultimately he squeaks lethal by with a Hunted Dragon.

In game three, it really isn't even close. I wind up casting Dimir Machinations, and when I play Dimir Machinations, it's bad. It usually means I have plenty of Arenas or Mortifies already and feel confident messing with your next few turns. Also, Angel of Despair likes to eat Bogardan Hellkites, and I kill his last creature (a Hunted Dragon) for the win.

Time Flies When You're Playing Magic

The tournament only lasted four rounds. I batted .500, which isn't great, but I feel that should have been a 3-2 record with five rounds.

If I were to take a step back and stare at my decklist, I might decrease the number of sorceries and maintain a higher level of instant removal. I might.

But if I took a step forward again, and looked at my results, I'd realize that the Sorcery-thick, removal-light plan really didn't turn out so bad. A few bad draws here and there cost me a match or two, but the only choice I was unhappy with at all was Searing Meditation (I never got it active).

For the next week of competition, I decided that while I wasn't unhappy with my deck, settling into a habit of "just" trying to get a winning record each week was unacceptable. So I made a few radical changes to the main.

I made one change to the land count: I removed a Plains in favor of a third Flagstones of Trokair. I still haven't seen any decks packing Blood Moon and I think the Flagstones would be overall more useful.

In the removal department, I cut Mortify entirely. In its place, I put four maindeck Condemn, as I see this card eternally more useful than Mortify in the current environment (there's been less emphasis on Enchantments of late). This may be seen as a very controversial change, but I believe it to be the right decision.
I also cut the two Searing Meditation in favor of two Demonic Collusion. It's not a conventional choice by any means (most people would play Moonlight Bargain before Collusion); however, I do see the usefulness of a tutor effect, and the Buyback cost's synergy with Firemane Angel herself cannot be denied.

As for the sideboard, I finally received my Fortune Thief playset in the mail, so I decided to run a full complement. I added the fourth Hide/Seek, put in three Peace of Minds to give me a repeating source of lifegain that wasn't Firemane (mainly for aggro matchups), put in three Sudden Death for the odd Momentary Blink/Mystic Snake deck, and added a singleton Muse Vessel for the mirror match.

Here's the list as it stands: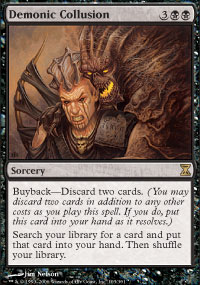 I'm "non-conformist."




I'm very happy with these changes, and I plan to earn a shiny FNM promo for my efforts as soon as I can.

Thanks very much for reading.
Cheers and good health!