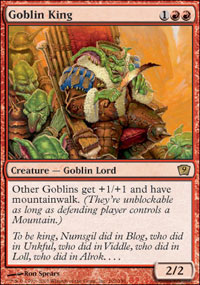 Ah, Magic. Game of kings. Game of intense decision making. Game of taking up way too much space and requiring an opponent with a deck.

Things change and needs change. I have recently become a Mobile AmericanTM. Darting back and forth between school and home every time there's a week off, putting everything into one tiny backpack because I'll be driving back in five days, and forgetting the stupid toothbrush (dammit) have become second nature to me.

The first time I came home I tried to bring my usual two-trade-binders-and-an-800ct-box-of-decks Magic bundle with me. Not a fun proposition, but I squeezed it in and was willing to break my spine with a convex backing in order to play the game I love.

There weren't any tournaments that first fateful week home, but I didn't get much Casual action either. I went to a friend's house to eat pizza, drink... uh... cola (
), and play cards. I brought my deckbox and despite our best efforts, we were unable to play. I only had one completed deck per format and he had nothing constructed at all. We ended up watching a crappy awards show on television.

I watched an awards show.

Something needed to change.

The week ended and I drove back up to Portland, determined to find my Magic Plan B, my new paradigm (hehe buzzzz) of deckbuilding, my deck for all occasions, THE ONE DECK. Here's what I needed:


Small travel size.
Two people are able to play.
Playable in multiplayer should the need arise.
It's your only deck, so it better not get boring.

Hey, it's the way Magic was designed to be played, right? Everyone buys two starter packs and a few boosters and plays all their games with that one deck? This should be a piece of cake.

Of course, things aren't quite as simple as they were twelve years ago.

There are specialized variant formats, about a kajillion more cards, and extremely varied attitudes about what's acceptable at the casual table and what isn't.

So I added a few more bullet points onto my list:

Fits as many commonly-played formats as possible.
Not too good/too bad/too annoying/too "cheap."

There they were, the six rules for making THE ONE DECK. Anybody who decides to build a ONE DECK should follow the above six rules, although the specifics of how you follow them will certainly vary.

The very first thing I needed to do was decide what format my deck was going to be in. I ended up choosing 250-card 5-Color Highlander. Here's why:

A Highlander deck of reasonable size will generally not play the same way twice, erasing the possibility of boredom. As it's both 5-Color legal and Highlander legal, it can be played without modification with decks designed to play only in those formats. If a friend doesn't have a deck, it's large enough to split into two or play shared-deck (Type 4-style). The fact that the cards aren't reliant on eachother for use encourages this. It's certainly playable in multiplayer.

Finally, a 250-ct box fits very neatly in the small front pocket of my backpack. That's a more personal reason, of course.

For your THE ONE DECKs at home, it's certainly legal to choose a different format (call your local police; they'll back me up on that one). Not everybody's idea of "small travel size" is 250 cards. However, if you're choosing an entirely different format, you might want to start skimming at this point; there's only a little bit left for you in this article. Build your ONE DECKs and have fun.

For the rest of you, I've got precious, precious pointers.


Since the format of choice almost by definition eliminates our "small travel size," "playable in multiplayer," "playable by two players," "not get boring," and "fit into commonly-played Casual formats" worries, we can focus on making the deck just the right power level, not too annoying, and in general fun enough to use. If you start preferring your ONE DECK over your other casual decks sometimes rather than grudging having to use it, y'dun good.

These are the mantras to follow while building:

Don't sit there and do nothing.
Don't explode and do everything.
Don't suck.
DO COOL STUFF (with your THE ONE DECK)

The first thing to remember when building is to make sure you've got the mana right. If you can't draw mana you're going to end up sitting there, doing nothing, and sucking. Remember to include as many multilands as possible; nonbasic hate tends to be at a relatively low level in Casual, so you should be safe. Mana-producing creatures and artifacts are also good ideas; they let you do things rather than being boring. The last thing this deck wants to do is be boring. Don't forget you're playing five colors, and the rules that go for building this manabase are the same as those that go for building most 5-Color (the format) decks. Check out a primer on that for more info.

In the spoiler is my land/mana source list. You probably don't need to look at it; it's specific to my color balance. But take a look if you're at a loss for good multilands or just want to see my mix. Also take a look if you're an absolutely pathetic individual who plans on copying a 250 card Casual deck card-for-card.



(if you think I'm going to alphabetize this you're nuts)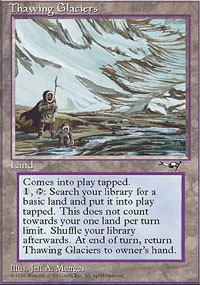 If you can afford them, fetchlands and duals are excellent here, as a single Fetchland can end up grabbing whatever color you need at the moment.

Some notables from the list include Thawing Glaciers which is absolutely perfect for THE ONE DECK. It's not broken, but it will get you what colors you need to make your deck run. Also R and D's Secret Lair. Remember, DO COOL STUFF.

With the boring part out of the way, we can focus on the good part: the spells. This is also where we remember the DO COOL STUFF mantra. We remember it over and over. And over. Remember that the goal with this deck is not to be the most efficient killing machine. The easiest way to do this without sucking is to make sure that you do a lot of stuff, but it's COOL STUFF (being DOne) rather than "swing for two your turn." Some tips:

Mass destruction is cool as long as it doesn't hit lands. No Armageddon.
Don't lock the game! Tame that shame! It makes the game lame, turn after turn the same! (badumbumchh)
Make the function of your small creatures to ramp to/stall until your larger creatures hit the board. Weenie rushes aren't COOL STUFF.
Make your large creatures interesting rather than just beef. Force of Nature isn't COOL STUFF, but Sol-Kanar the Swamp King sure is.
Choose cards that people haven't seen in a while. The Sol-Kanar example still applies, and so do Bloated Toad, Shield Dancer, and Backlash. Your deck has a natural inconsistency; take advantage of that by making every single card count as a new or refreshing experience. Sometimes a card like Meloku is okay, but only if you feel people aren't tired of it.

Also make sure not to choose annoying cards. Why play Choke when you could play Snake Pit? Choke is certainly more powerful against a Blue deck, but Snake Pit won't piss them off. Lots of groups don't care, but remember, we want to play this deck everywhere.

Past that point it's mostly personal preference. Remember that since a weenie rush deck wouldn't be DOING COOL STUFF, you'll likely be in a controlling mode. Lots of removal is good, and don't skimp on the Disenchant effects; allowing the game to go late (which you probably will be doing) can end up disastrous if that one guy decides to bring his Squandered Resources deck and you can't deal. Lots of lifegain is good too. Slow decks can usually improve by becoming faster, but if you risk defeating the purpose by becoming faster, stalling well with lifegain (especially repeatable) is good too.

Below is my list. Like I said for the lands list, it's probably not worth looking at since I dearly hope you don't copy me card for card. However, if you're looking for some cards that DO COOL STUFF or want a quick reminder of cards that were totally not significant enough to remember, open-that-spoiler away!



(not alphabetizing because I am sane)

If a card has an (X) next to it, that means that it is listed in two categories and don't mistake it for being added twice.

* Not all playgroups allow Unhinged cards, and so the inclusion of the Lair could contradict the point of the deck. However, in the rare, rare case that I meet one of those groups, I simply switch this out for a Forest.


A while later, I took my second trip home, THE ONE DECK in tow. The size of the thing was not a hassle, I played with it at a friend's house, both of us drawing from the same deck, and when I went to the local pizza parlor on Wednesday for a larger playgroup, the deck won its fair share and lost its fair share, with nobody too annoyed. Best of all, everyone involved had fun playing with and against the thing. That smells to me like a success. The deck's been constantly evolving since, with the most recent change the addition of a bunch of Ravnica.

So what do you need to remember if you're building your own THE ONE DECK?

Small travel size.
Two people are able to play.
Playable in multiplayer should the need arise.
It's your only deck, so it better not get boring.
Fits as many commonly-played formats as possible.
Not too good/too bad/too annoying/too "cheap."
Mass destruction is cool as long as it doesn't hit lands. No Armageddon.
Don't lock the game.
Make the function of your small creatures to ramp to/stall until your larger creatures hit the board.
Make your large creatures interesting rather than just beef.
DO COOL STUFF

People short for space, opposing decks, or acceptance at the local Casual tables rejoice! Or, rather, REJOICE! THE ONE DECK IS HERE!



Credits:
Goblinboy wrote the article, edited, and made the banner in two and a half hours :kewl: