After the unrestriction of Gush on June 1st, 2007, decks based around it immediately moved to the front of the minds of the Vintage metagame. Gush succeeded at the local level with loads of top eights and tournament wins. In major events, Gush placed six decks in the T16 at the TMD Open, took the top two spots at the Vintage World Championships and finally placed seven in the T8 of SCG Indianapolis. In addition to tournament success, serious discussion has begun over whether Gush or Merchant Scroll, another key component of Gush based decks, should be restricted. Gush decks still have weaknesses, however, and can be beaten. To discover these weaknesses, we must first understand Gush and how decks based around it function.

The two main variants of Gush decks dominating Vintage are GAT and Gush Storm. To begin, let's take a look at GAT. Here is the list Stephen Mendendian won the Vintage World Championships with.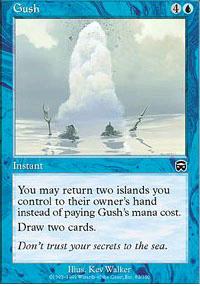 Who thought free draw could be so good?


GAT has two main game plans, aggro control and combo. The aggro control method involves getting Quirion Dryad on the board, growing it with draw spells, and controlling the game long enough to achieve a win. The combo game plan usually requires Fastbond giving you a huge amount of mana as well as a large number of cards. These plans can often converge or change depending on your opening hand and what you draw in your first few turns. It is also worth noting that GAT runs no maindeck bounce, relying on Cunning Wish to find answers pre board.

The second variant of the Gush archetype is Gush Storm. Here is the list that Chris Nighbor piloted to third at SCG Indianapolis.



The card differences between Gush Storm and GAT are quite small. The win conditions they use are the only major differences. GAT runs 4 Quirion Dryad and 1 Pyschatog while Gush Storm runs Tinker->Darksteel Colossus, Empty the Warrens and Meloku, the Clouded Mirror. This small difference does cause them to play different game roles. Unlike GAT, Gush Storm cannot easily play an aggro control role and ride a single Quiron Dryad backed up by draw and counters to victory. It is possible to play an aggro control role with Empty the Warrens, but this happens much less frequently then it does in GAT. Instead, Gush Storm must play a combo/control role preventing the opponent from winning until it can go broken. Gush Storm's different win condition makes it less vulnerable to the creature hate that hits GAT. Gush Storm also forgoes cantrips, which are relatively ineffective without Quiron Dryad. With these extra slots, the deck runs a slightly more robust draw and counter engine.

---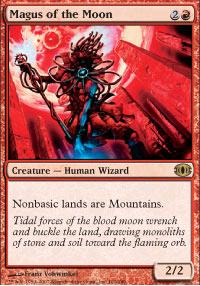 Blood Moon's little brother.


Gush decks run a low number of mana sources, GAT runs 19 and Gush Storm 20, compared to old Control decks like Control Slaver or Gifts, which ran 26. Of these 19 mana sources, 5 are artifact mana, 12 are non-basic lands and only 1 is a basic land. Gush decks require so many non-basics because they are usually four color decks, and because it can answer the most common form of non-basic land hate, Wasteland, by simply Gushing in response. GAT can support so few mana sources because of its low mana curve and cantrips like Brainstorm and Opt, which let it draw into more lands. Running so few lands also makes it more likely Gush decks will hit more business spells and be able to overpower their opponents. The exact same concept is true for Gush Storm, except it cuts Opt in favor of an extra mana source.

So how do we attack the manabase of Gush decks? Our hate needs to significantly disrupt and be cheap to keep up with their fast game plan. It is also preferable that hate costing more than one mana not be foiled by casting Gush in response. The cheapest solution is Wasteland/Strip Mine; both are amazing with a single land in play but lose effectiveness when Gush gets online. Blue gives us Stifle and Trickbind, both cheap answers to Flooded Strand and Polluted Delta. In the Eye of Chaos is a pseudo mana base attacker because the deck plays a huge volume of instants and few mana sources. It prevents dumb top decks from winning by establishing a hard lock alongside non-basic land hate. Red has Blood Moon and Magus of the Moon, both slow but incredibly powerful. Two other possible red land destruction cards are Crack the Earth and Raze, the drawback forces you to run a heavy manabase yourself but they are cheap and effective early game answers. Black has a very powerful discard spell, Encroach, which is amazing early but is useless once your opponent has obtained a significant number of mana sources. Hymn to Tourach and Sinkhole are also strong, but their mana cost is unplayable outside of mono black decks. In green, Root Maze is excellent, stopping normal lands for a turn and fetches for two, as well as hurting lands replayed after Gush. Life from the Loam allows repetitive recursion of Wasteland/Strip Mine although it can be quite slow and clunky. White has no good direct land hate, but it does have Weathered Wayfarer to tutor for Wasteland, Strip Mine or a toolbox of other lands.


---


The draw engine is what makes Gush decks unusually powerful. An average opening play is Brainstorm followed by a Fetchland, or in GAT's case, Opt as well to sculpt it's opening hand. Merchant Scroll into Ancestral Recall is one of the key early to midgame plans after that for the archetype. Being able to stop Scroll->Gush significantly slows Gush's development. After Ancestral, no other good early game Scroll targets exist. Admittedly, Gush is not terrible during the second or third turn, but being back two land drops hurts the deck's development. In Gush Storm, Gush can be played earlier because they have a more combo oriented game plan. GAT, on the other hand, needs the mana to grow and protect Dryad. Later in the game, Gush becomes much more powerful because the tempo loss is no longer significant, especially given the deck's low mana curve. Ancestral being strong early, and Gush's strength later curves out the draw engine beautifully.

The draw and counter engine is also the area most frequently attacked. This is the most conventional way to attack any deck, countering or removing their spells. Both of the above lists run the most popular disruption in Vintage nowadays: Force of Will, Duress, Red Elemental Blast/Pyroblast, Mana Drain and Misdirection.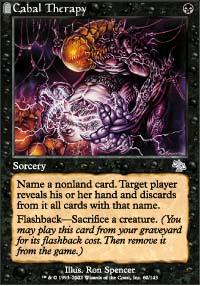 You don't want this guy as your therapist.

All of these are great disruption pieces against the entire field, but more specialized and even more powerful ones exist to combat Gush decks. In addition to the counter magic already run, we have Spell Snare, a diverse answer hitting a number of spells, Merchant Scroll, Quiron Dryad as well as some broken singletons. In the same vein as Spell Snare is Nix, which can be used as an answer to Gush, Force of Will and Misdirection. Disrupt is another very strong early game tempo spell. At the very least, it is a less good Opt, but if you can manage to counter an early game Brainstorm, Merchant Scroll, or use it to win a counter war, it can be game breaking. Disrupt does become much weaker as a counter late game, but it still cycles for cheap.

Beyond the normal counterspells, we have Extract, which attacks spells in a very bizarre manner. Gush decks are very reliant on two restricted cards: Ancestral Recall and Fastbond. Removing either shuts down one of their methods to get ahead in the game. Extract is still pretty weak, however; you lose one card in your hand and only gain a theoretical advantage. Jester's Cap is another way to accomplish this, specifically for Stax decks, which can activate it early. Once activated, Jester's Cap has a drastically larger effect then Extract. It can remove all methods of winning in most Gush Storm decks and against GAT you can remove something like Ancestral Recall, Fastbond, or Yawgmoth's Will, forcing them to play a slower aggro control role. Meddling Mage is another excellent proactive answer. It can harm the opponent at all stages of the game and is extremely versatile. The drawback is the huge skill requirement, and Gush decks are able to play around it by switching gears into a different game role. Finally, we have Cabal Therapy. This card is doomed to be fundamentally underplayed because it requires a sizeable number of creatures and play skill. The only deck that can accommodate it is Fish, but in there it is capable of wiping out an opponents whole hand. The key to gaining an advantage with Therapy is hitting with the first try; and to do this you need to be familiar with your opponent's game plan and deck.


---


As stated earlier, the largest difference between Gush Storm and GAT is the win conditions. Gush Storm uses two less slots with Empty the Warrens, Tinker->Darksteel Colossus and Meloku, the Clouded Mirror, GAT Opts (pun intended) for Quirion Dryad and Pyschatog. It is necessary to attack the win conditions of Gush decks to an extent. Against Gush Storm, little can or should be done because they do not play an aggro control role. Once the deck has comboed out, you are finished no matter how they decide to kill you. GAT, on the other hand, is much more susceptible to win condition hate because of its aggro control role. Being able to answer GAT's creature plan shuts down one of their game roles and forces them to play as a combo deck instead. It also gives you more time to find answers or carry out your own plan without the pressure of a large Dryad.

The creature base of GAT and Gush Storm is still, however, very overvalued in terms of playing disruption to combat it. The creatures are only a threat if they can play enough spells to gain an advantage and use them to win. It is necessary to have a few tutorable answers in case you stop their draw engine but a creature slips through. The best and most versatile way to do this is with Echoing Truth. It hits any on-board threat (even Empty the Warrens), can be tutored for with Merchant Scroll, and costs just two mana. The bottom line is that you should not attack the win conditions; you just need a tutorable answer for them.


---


Having your own game plan is also very important to beating Gush. You can gain an advantage with the hate cards previously listed, but you need your own plan to capitalize on the advantage created and win. Control/Combo archetypes use their advantage to resolve broken spells that win the game instantly or establish a huge lead. Hate decks like Fish are forced to use their advantage to gain tempo and slow down their opponent enough to win in the attack step. This leaves them susceptible to an opponent topdecking a game breaking spell; in Vintage where many of them exist. Stax functions similarly to Fish, except it can establish a much harder lock on the opponent. Any of these game plans are strong, but you cannot just consider the number of hate cards you have against Gush, you must also consider your strategy.

We have plenty of ways to beat Gush now, but we must decide which hate to play. First, look at what hate your deck is already playing. Vintage Control decks already run tons of counter and hand disruption, so you should focus on enhancing that area. In Control, it would be sub par to run Stifle because you have no other mana base hate to back it up and create a relevant advantage. An exception to this is bombs like Blood Moon, which Gush cannot win through without answering first. Most of your hate is not so bomby though, and you will require several cards to be effective against Gush. Next you look at what kind of hate your deck can support; you probably should not be running Blood Moon if you run a Gush deck sporting tons of non-basics yourself. Instead, you should be considering Disrupt or Encroach, which you can easily support, and are capable of breaking the Gush mirror wide open.

By now, we have realized that Gush is a broken card; but just like every other broken spell, not unbeatable. I hope this article has educated you in how Gush decks function, and how to specifically combat them. In the end, how you decide to beat Gush depends hugely on your metagame, deck, and play, and is a decision only you can make.