An Analysis of the Rogue Archetype in Standard


So here we are, a mere handful of weeks after the Morningtide release. Everyone has been testing vigorously for the new metagame, and we're all wondering the same thing: what's the best deck in Standard?

The trouble with that question is that it is difficult to answer absolutely – the current format is heavily defined by such a plethora of cards (and exceedingly splashable ones, at that) that it is nearly impossible to peg one specific deck as "the best". However, I'm here today to ask an easier question: what is the best aggro deck in the format?
Well, there are plenty to choose from. We have the tempo-based Faerie builds, both UB and UG; we have the red-based BR Goblins and RG Sadin aggro; we have white-based aggro, like Kithkin and even UW Merfolk; and, lastly, we have the two new kids on the block: Rogues and Warriors.

Judging from the title of this article, one can likely assume that my pick is Rogues, and that'd be correct. I had the opportunity to speak with the deck's creator, Patrick Chapin, at the Morningtide Prerelease the night before his article on the deck went public, and he shared some insight with me. Furthermore, after playing against it, I saw firsthand the power and speed it was capable of.

Okay, so I think Rogues are the best aggro deck. Big deal, right? Well, because the deck has become so popular, I offered to write an article analyzing the deck and explaining key plays and sideboarding options…so here it is! A primer for the Rogue archetype!



The Deck



Before I get too ahead of myself, I'll share my tuned list with you all. It's been constantly adapted with each new turn in the tide of the new metagame, but I'm happy with its performance at the present. Take a look:



At first glance, this is just a typical aggro deck with some disruption thrown in good measure…right?

Well, not quite. First and foremost, keep in mind that this deck is built around the concept of the Prowl mechanic. Therefore, let's look at Prowl:

Prowl [Cost] (You may play this for its prowl cost if you dealt combat damage to a player this turn with a [Creature Type].)

Prowl's trigger is centered on the creature type associated with the creature or instant/sorcery it is printed on. For example, Stinkdrinker Bandit's Prowl will trigger if you dealt damage with a Goblin or a Rogue, while Noggin Whack's will only work off of a Rogue. It's an easy mechanic to understand, and an incredibly powerful one to boot. The basic idea is that it Prowl knocks two mana off of any spell when you play it for this alternative cost, which allows for some seriously powerful effects being played MUCH earlier in the game than they should be.

Now, let's take another look at the list I posted. If you take a good look, you can count twelve cards that have Prowl. Because of the nature of Prowl, playing any of those cards for their printed mana cost is not only sub-optimal, it's also almost pointless. That said, we need to ensure that we can always trigger Prowl. Triggering the Prowl cost reductions is an essential part of winning, so be sure to focus on it when playing and building the deck. It's so important, in fact, that you may even consider the process somewhat like that of a combo deck, where playing the Prowl cards is your "combo", and the creatures that deal the damage are your "enablers".

Speaking of "enablers", let's run through them. Prickly Boggart, besides being the best common in Morningtide, is also a fantastic card in this deck. Unless you're facing the mirror or a BR Goblin deck, this guy is most likely getting damage through. The other, Nightshade Stinger, is a better play on turn one, because it'll almost NEVER be blocked on turn 2 (the only played card that can block it is Birds of Paradise, and I doubt they'd block with it…if you get what I mean). Of course, later in the game, Prickly Boggart will typically become the more useful card, but that's why we run both!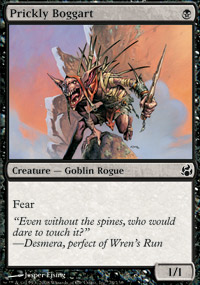 He may be small, but he's crucial.


"So," you're wondering, "how many of these do I really need?" I'll make this very clear: if you're playing a deck built around Prowl, you MUST play eight one-drop enablers to make sure that you can reliably cast your spells for their "proper cost". If you choose to remove some Prowl cards, refer to the following for help:

9-12 Prowl Cards: 8 Enablers
5-8 Prowl Cards: 6 Enablers
1-4 Prowl Cards: 4 Enablers

Now, of course these numbers can be adjusted depending on how your list looks and plays, but the above is a good rule of thumb when building your deck. Of course, the fact is, the best Prowl card doesn't require a one-drop to trigger: it just needs a two-drop. Earwig Squad is this deck's "bomb", and can really wreck an opponent if played correctly. A little later on I'll talk about the strategy behind this guy, which I think is desperately needed by many players right now.

Moving on, we come to the deck's two sets of two-drop creatures, Oona's Prowler and Oona's Blackguard. The Prowler is already a favorite in the metagame, and his power doesn't need to be explained: it's a 3-power creature for two mana, and it also happens to be a rogue. The Blackguard, however, is rather different. Shunned by the UB Faeries players (due to vying for the Prowler's spot in most lists), Oona's Blackguard is the equivalent to this deck's "lord". It serves as a mediocre enabler, but also as a constant source of creature pump and disruption. Oh, yeah, perhaps you missed that – it totally does make every rogue you cast after it hits the table an Abyssal Specter. Last I checked, that was a very good thing. Granted, often you'll find yourself wanting to play another creature before this, but 95% of the time, playing the Blackguard first is the right play.

Next, I'll talk about a card that is on everyone's mind: Bitterblossom. Lots of folks have expressed their concerns about the card's downsides (life loss, overall usefulness, lack of speed, etc), but I'm here to clarify: it's the best card in Mornignide. If you're playing black, you'd better be packing at least two of these things. Bitterblossom manages to do a few amazing things all for just two mana: it creatures tempo and card advantage at virtually no cost to you (you're playing aggro, remember – if that life loss ever becomes relevant, you weren't going to win anyway), it is incredibly hard to deal with (especially game one), and it allows aggro decks and control decks alike to race oncoming swarms. Most importantly, though, is that Bitterblossom remedies that which has plagued aggro players since the game was released: mass removal. If your opponent has this enchantment in play, when is it ever truly a good time to Wrath? The things this card allows you to do is just sick. It's an easy three-of, or even four.

But wait, there's more! Bitterblossom spits out Faeries for us each turn, but they're actually Faerie Rogues! What does this mean for us? A constant supply of enablers, a huge army, and amazing synergy with Bad Moon and Oona's Blackguard, that's what!

Speaking of Bad Moon, let's discuss the deck's Anthem effects. First is Bad Moon itself, which I hope is self-explanatory: it's a cheap way to deal an extra 3-5 damage per turn at a very small cost to you. The original list by Chapin played four, but the issue with this is that Rogues is a popular archetype – you're going to see it everywhere. In those instances, Bad Moon becomes significantly worse than one would like. To remedy this, I've included four copies of Stinkdrinker Bandit: this guy can be totally nuts if played correctly. He's an ideal turn two play off of an enabler, as he can allow for as much as eleven damage on turn three, but this isn't always necessary. In fact, Stinkdrinker Bandit is one of the deck's few Prowl cards that are actually better if you don't Prowl them – why Prowl it in for two when you can hardcast it and win immediately with the huge power boost to your board? Of course, this trick only works if it's turn four or later, but he happens to be the ideal fourth turn play to seal the game.

Typically cards like Stinkdrinker Bandit don't fit in aggro decks. After all, if you don't get an early enabler, he's just a 2/1 for four mana – not something an aggro deck likes to see in its opening hand. However, when we're packing so many cheap beaters, it's hard to ever find yourself unable to reliably cast it on turn three at the latest if you choose to just use him as a beater.

Now, of course it's not quite a Glorious Anthem; the boost only happens if your rogues get damage through. The reason we can get away with this in a deck like this is because we're playing so many evasion creatures. In fact, the only creatures in this deck without evasion in some shape or form (flying or fear) would be Earwig Squads, Marshflitter tokens, and the Stinkdrinker Bandits themselves.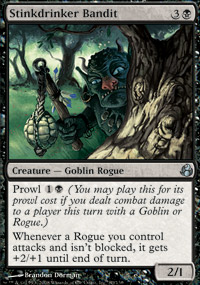 I doubt a turtle-flail would hurt that much...


I didn't play Stinkdrinkers at first, but testing proved them to be absolutely invaluable. Of all the cards in the deck, they are likely the ones that will win you the most games. Topdecking them when you're staring death in the face happens all the time; I've won a considerable amount of games that I had no business winning on the back of one. Bandits are likely the closest thing to "explosive" this deck has.

Next, we have Noggin Whack. Of all the card choices, I'd say this is typically the one that is the most actively-debated. Newcomers to the archetype never knew whether or not they should play it maindeck (or at all), and most veteran players are on the fence about it as well. Luckily, I'm here to tell you that I've found that it should not only never be absent from any list, but it also should be maindecked in all mono-black rogue lists, period. It's THAT good.

Why, you ask? Isn't Thoughtseize or something just better? Well, in short, no. Thoughtseize is a great card, but the life loss can really cost you games. Yes, yes, I know – I said that life loss with this deck is irrelevant. However, the difference here is that Bitterblossom has crazy synergy with this deck (therefore it needs to be here, and the life it steals is already accounted for – Bitterblossom itself can help beat the mirror and other aggro on its own, too), and Thoughtseize is kind of overkill. If you're up against aggro or the mirror (nearly 60-70% of your match-ups), it simply will prevent you from winning. What's worse, though, is that it clogs your one-drop slot, preventing you from getting in early damage and triggering Prowl effects.

Thoughtseize also fails to produce card advantage, which is something that this archetype needs desperately. Because 90% of your creature base is generally inferior to the typical Standard deck's, you're certainly going to need a way to keep your opponent's threats off the table and give your men a fighting chance. Noggin Whack, on the other hand, two-for-ones your opponent whilst not affecting your plays at all. In general, it's about as effective in this deck as Hymn to Tourach was in the mono-black aggro decks of old, and that is simply too powerful to pass up.

Looking over the list, the biggest "wtf!?" is likely Marshflitter, and I can understand the initial double-take. The fact is, however, that it's this deck's ace in the hole; it can win you so many games that it's just sick. When combo'd with Bad Moon, Oona's Blackguard, or Stinkdrinker Bandit, the power that the "little" guy is capable of becomes pretty clear. Sometimes it may feel a tad slow, but the idea of a late-game bomb like that is far too tempting to not give yourself access to; coincidently, it also happens to give rogues a fighting chance against other aggro decks should you lose the tempo advantage.

The manabase for this deck is exceedingly important, likely more so than most other decks in recent memory. "But wait," you mutter, "this deck is only one color." Well, sure it is, but that just means we have a ton of options for our little rogues. That said, let's look at what we're working with:

-Mutavault: As you'd probably guess, this is the style of deck that this card was designed for. Mutavault does so much for this deck that it's almost laughable: it enables Prowl after a Damnation/Sulfurous Blast, it beats for two (yeah, even that is pretty relevant), it blocks Chameleon Colossus (more on that guy later), and it allows the Stinkdrinker Bandit alpha strike to be MUCH more successful. Overall just a great card; it's certainly a must-include.

-Pendelhaven: This is just an awesome card in a deck like this. I'll be honest, each day I keep wanting to add back in a second and remove the Mouth of Ronom, but I've yet to do it. The reason that Pendelhaven is so efficient in this deck is because everything you have is an evasive beater, which means you will often be able to score extra damage with this little land. Furthermore, it helps keep Oona's Blackguard alive, and it can also save your first-turn enabler for later. It also happens to trump Desert, which is of course a good thing. The best use for it, though, is definitely saving your Oona's Prowler from a burn spell or Mogg Fanatic with it (discard a card to make him a 1/1, then targeting him with Pendelhaven).

-Mouth of Ronom: Alright, this one is basically a miser's trick. If you need it to, you can kill a Chameleon Colossus with it. Coincidently, you can totally win games because of this thing. It could theoretically be a Desert or two to help in the mirror and against faeries.

-Urborg, Tomb of Yawgmoth: Yay, Mutavault taps for black!


Now, let's look at some other options…

-Desert: Again, this is a great potential inclusion. I'd hate to waste sideboard slots on it, but I could certainly see this being maindecked in a metagame that was dominated by rogues and faeries.

-Llanowar Reborn: Recently suggested by a friend of mine, Llanowar Reborn has some good synergy with Oona's Blackguard. The problem with it, of course, is that it comes into play tapped. For a deck that prides itself on being blazingly fast, this idea may be better off shelved (like my friend in question found). Overall, though, it's largely untested. Give it a try, and discuss it on the rogues thread!

Alright, so now we're done looking at the deck. As you can tell, the pieces all fall into place very well. Regardless, though, a great list is only as great as its pilot, so now we'll get into some strategy.




The Persistence of Memory



The Rogue archetype (and the Goblin deck, too) has access to a powerful tool that gives it a serious advantage over the other decks in the metagame: Earwig Squad. Obviously, if you fail to Prowl it, it's basically a piece of crap. However, if you drop it on turn three, you've got yourself a huge and very cost-efficient beater. Of course, that's all just icing on the cake. If Earwig Squad was a 2/1 for 3cc Prowled, I'd still play it. Why? It ensures that you win game two.

When you Prowl Earwig Squad, you get the opportunity to Jester's Cap your opponent, which is huge for an aggro deck. Far too often, aggro decks can finish game one without seeing much of their opponent's deck, and thus are largely unaware of what threats they may be packing. Earwig Squad lets us avoid that setback and have the upper hand in sideboarding after game one.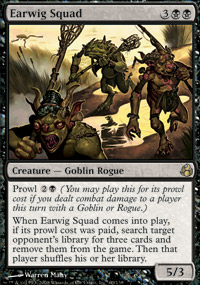 Those are HUGE earwigs...


But how exactly do you play Earwig Squad efficiently? I'll direct you towards the card Cabal Therapy for the answer. Long known as an Extended tournament staple, Cabal Therapy requires that you remember what is in your opponent's hand after you cast it the first time. Earwig Squad is the exact same way.

Consider this: you're about to win a match against a Rock deck, but he's hardly done much of anything other than pick off a few of your guys. In this situation, even if it's not the best play, you should play the Earwig Squad in your hand rather than the card that will undoubtedly be "win more" at that point. Why bother doing that when you can win immediately? Is it really worth taking the risk when you could just finish the game with that Stinkdrinker Bandit you just drew? Well, you'll certainly be thanking yourself for opting for the the Earwig Squad when you skim through his library and find Damnations and Cloudthreshers – this knowledge will help you to play smarter in game two, such as to be sure to not overextend. This strategy is also very effective in a metagame where you'll be expecting variations on mainstream decks, such as at a Grand Prix Trial, States competition, or events like the Star City Open (or at any tournament held in Japan). Because it'll allow you to see their random tech long before it can surprise you. This advantage extends even further when you enter game two and can see what they've sideboarded against you as well.

In order to keep this lead on your opponent, it might be a good idea to take notes during the match. This might not be as important at an FNM or something, but taking notes about potential threats in your opponent's deck might prove to be crucial in some games. Another useful trick is to jot down how many of a certain card you saw in your opponent's deck; for example, maybe you flipped through and only found three Wrath of God in the opposing Reveillark deck. That knowledge will tell you whether or not that Marshflitter you just drew is a good play or not. Of course, such an analysis will take a sizable amount of knowledge about the current "stock" lists for the best decks in the environment (so you could tell when you opponent was holding his last Wrath of God), but learning the ins and outs will certainly prove to be exceedingly helpful. The entire process of analyzing your opponent's deck to guess what's in his hand should not take more than a few moments if you're well-versed in the metagame, so you won't have to worry about being called for slow play.

Note: When taking notes, be sure to be quick about it, as you don't want to alert a judge. It's perfectly legal to take notes, but you must do it in as little time as possible. As a rule of thumb, just jot down first letters or short words.

Everything I've just discussed is all about how searching your opponent's library is incredibly useful, but that's only half of the ability. Earwig Squad actually does allow us to strip our opponent's deck of its threats, and that is just as powerful. Not only is such an ability very good against combo decks (since you can remove combo pieces), it can also help you topple control by removing board sweepers and removal. Heck, if you're playing a Teachings deck, you could theoretically just remove ALL their win conditions and just smash through to victory uncontested.




"Earwig Squad FTW?"



What I think will prove to be very useful to a lot of people is a list of cards to remove in various match-ups. These card choices are just general suggestions about what is typically a good idea to remove with Earwig Squad.



Mana Ramp Variants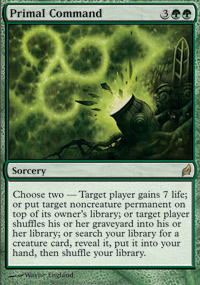 A VASTLY underrated card.

-Chameleon Colossus
-Sulfurous Blast
-Cloudthresher
-Pyroclasm
-Primal Command

Chameleon Colossus is hell to deal with, so that will most likely be your first target with Earwig Squad, as you basically have to scoop to it if it hits early. If you're sitting on a ton of fliers, removing the opponent's chances of a topdeck Cloudthresher is nice, as is picking out Sulfurous Blast. Primal Command, though, is a HORRIBLE, horrible card for us. Typically when I resolve a Squad in this match-up I'll get rid of as many copies of Chameleon Colossus as I can, and then move on to Primal Command. The worst thing a rogues player can hear on turn four is "I'll gain seven and tutor for a Chameleon Colossus…"




Doran Rock



-Chameleon Colossus
-Bitterblossom
-Doran the Siege Tower
-Damnation/Cloudtresher

Again, get those Colossi out of there as soon as you can. Bitterblossom really hurts us, too, so go after that next. No need to allow them to keep making blockers for your evasive guys every turn, right? Doran himself is a good target not only due to how large a threat he is, but because he's also the only thing that can block Prickly Boggart in their deck outside of Bitterblossom tokens. Cloudthresher and Damnation speak for themselves. I don't recommend removing Loxodon Warhammer, though, because you should have won before it ever becomes relevant.




G/x Warriors



-Chameleon Colossus
-Obsidian Battle-Axe
-Overrun/Garruk Wildspeaker

Gosh, this is beginning to get repetitive. Once again, get that Chameleon Colossus out of there! The next bullet is worthy of note, though – only take out the Obsidian Battle-Axe if they don't already have one. Ultimately, though, it's usually best to take out the "win condition" of either Overrun or Garruk (depends on the build), as you can hold out against the rest of the deck until you can win.




Project R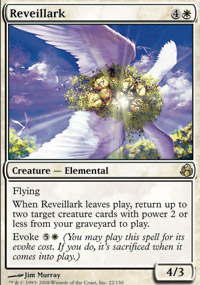 You do NOT want them to play this.

-Reveillark
-Wrath of God
-Momentary Blink

It's honestly that simple with this one. The most important thing to remember when facing this deck is to keep in mind that they do NOT need the combo to win. They do, however, need Reveillark. Without it, the deck becomes nothing more than a very subpar Blink deck that kind of trips over itself. Taking Wrath of God next will help you ensure an easy win, and also hitting Momentary Blink can cripple what's left of the deck's defenses. Of course, after game one it might be a good idea to search for Pull from Eternity in your opponent's deck; he may have boarded them in. If so, hit them after Reveillark. Also, keep in mind that this is an MU where Earwig Squad is especially amazing; unless they hit it with targeted removal (which is limited in that deck), they must bounce Earwig Squad or face five damage from it each turn. This is one of the few match-ups that will actually give you a chance to reuse your Jesters.




UB Faeries



-Cryptic Command
-Bitterblossom

I'll be honest on this one: these are the only two cards you need to fear in this match-up. Cryptic Command can unexpectedly ruin your day, and a resolved Bitterblossom can spell good game for us. This is an awkward match-up, but sadly, nothing you could remove other than these two cards would really affect the outcome. All things considered, just strip what you can and smash face.




UG Faeries



-Scion of Oona
-Mistbind Clique

Yeah…that's about it. Drastically easier than the UB match-up, this match usually comes down to just laying more threats. You can help this strategy by ripping Scion of Oona out of their deck and severing their late-game plan.




Kithkin



-Militia's Pride
-Wizened Cenn
-Mirror Entity
-Mutavault

It's a race with Kithkin, so just pull out the only cards that will help them win the race. Cards like Mirror Entity will be their best shot at racing you, so be sure to read their plays and make intelligent decisions. Easy as that.



Mono-Red Storm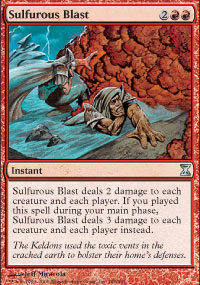 The best board-sweeper in Standard...

-Sulfurous Blast
-Pyroclasm
-Grapeshot
-Dragonstorm

The most important thing to remember when facing this deck is just to win as fast as you possibly can. In order to do this, you NEED to get rid of the board sweepers that they're likely maindecking at this point. From there, move onto the combo pieces to seal the deal. Also, if you're playing against the New Wave Storm deck, go after Siege-Gang Commander as well.




BR Goblins



-Bitterblossom
-Mad Auntie
-Earwig Squad

Bitterblossom has found its way into goblin decks now, too, so be sure to get rid of all copies immediately. Beyond that, it'll just be typical strategy versus aggro: remove the threats that will allow them to race you. Additionally, if it's game one, you might want to remove their Earwig Squads so they can't get a look at your deck.




Reanimater



-Dread Return
-Reanimation targets

Here's another easy one as far as Earwig Squading goes – just take out what allows them to win, basically. Nothing more to it, really.




Sadin RG



-Incinerate
-Tarfire
-Rift Bolt

Don't focus on removing threats like Tarmogoyf and Countryside Crusher; instead, just take out the cards that will allow them to slow you down and let their guys through. Remember, it's all about racing. Just race, race, race against aggro.




Mannequin



-Bitterblossom
-Damnation
-Makeshift Mannequin

The first bullet on this list is not a certainty: lots of new Mannequin decks don't play it, despite the fact that they should. If they are running it, get rid of it. Otherwise, go after what will impede your progress.




Sonic Boom



-Sower of Temptation
-Guile
-Teferi, Mage of Zhalfir
-Desert
-Damnation/Removal

Due to the nature of counter-based control decks, you'll never have many options when playing searching your opponent's library. Basically, just pull out his win conditions, typically starting with Guile. If they're playing the UB version, you should also consider Damnation and such as a target.




The Mirror



-Bitterblossom
-Stinkdrinker Bandit
-Marshflitter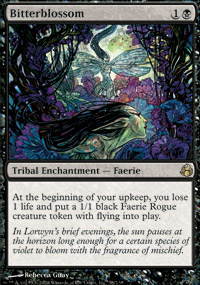 FYI, this card is NUTS.

This is always a tough choice, but…you don't always need to go for Bitterblossom in this match-up. The fact is, Bitterblossom is bad for us because it creates a ton of blockers that prevent our Prowling and the Stinkdrinker Bandit power boost, but that's less relevant in the mirror. Since every card can potentially stop Prowling, it might just be a good idea to remove the "bombs" in your opponent's deck. There's no need to take out Earwig Squad, as your lists should be very similar.

So that's it for the Earwig Squad tricks. The targets for other decks I didn't mention are pretty easy to figure out: if it's aggro, remove cards that will help them win faster than you. If it's control, go for win conditions and board-sweepers. If it's combo…well, just go for combo pieces.

If you take ANYTHING from this portion of the article, let it be this: when you resolve a Prowled Earwig Squad, carefully analyze the board position. Going for Chameleon Colossus is typically the right play, but if you have lethal on the board the next turn, go for Sulfurous Blast. Always, ALWAYS go for the cards on my lists that will hurt you the most in the current situation. If at any point one of those cards would give you a game loss, Jester's Cap it. Heck, sometimes the right play is removing three lands from your opponent's deck to weaken their chances of hitting Damnation mana.




Going Rogue



So, now that you know how to play Earwig Squad, it's time to get down to some strategy. Most aggro decks in recent years have been relatively easy to play, and that's certainly understandable – aggro has always been "play dudes, attack, don't overextend." Rogues, however, have managed to break that mold, and I feel that that alone is worth this next section.

Your ideal first-turn play is an enabler, like Prickly Boggart or Nightshade Stinger. In game two, Thoughtseize is great here as well. The enablers will set up your inevitable turn two plays, so they are crucial.

On turn two, you want to get Bitterblossom into play if at all possible. Getting that wonderful enchantment online as quickly as possible is a very important part of winning consistently with this deck. If you can't manage to get one, the next thing you'd prefer to see is an Oona's Blackguard, as she'll set up some powerful drops on turn three and beyond, whilst also giving you a future army of discarding machines.

Of course, if you're on the play, your ideal second-turn play is always Noggin Whack, under ANY circumstances. On turn two, it does nothing but provide crazy tempo and turn the early game in your favor, especially against control decks.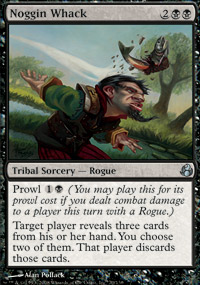 Hymn to Tourach, eat your heart out.


If you happened to have Stinkdrinker Bandit, try to avoid playing it right away. If you didn't have a Oona's Blackguard, Oona's Prowler, Noggin Whack, or Bitterblossom, then it's of course a fine play. Truthfully, though, it's much more efficiently played four its full mana cost to swing for a ton of unexpected damage on turn four. Bad Moon has a similar purpose.

So, the turn two hierarchy: Noggin Whack (if on the play) > Bitterblossom > Oona's Blackguard > Oona's Prowler > Stinkdrinkder Bandit.

On turn three, you're going to want to play Earwig Squad if you've got it, and especially if a) it's game one or b) you're expecting a ton of sideboard hate in games two and three. The only better play is an Oona's Blackguard to follow up a turn two Bitterblossom, but otherwise Earwig Squad is the right play (remember to use the tricks I showed you!). It's not only the best way to draw out a Wrath of God, but it can also take out a good chunk of your opponent's life if it goes unchecked.

Turn four is the turn you want to try to win. Obviously, this won't always happen, but it's generally what you want to shoot for. This can be accomplished by dropping a Stinkdrinker Bandit and alpha striking, or dropping Bad Moon(s) and doing the same. Conversely, should you notice that you can't win that turn, you can set up a win on turn five with Marshflitter.

Now, for the most part, you can play this deck like a typical aggro deck; don't overextend, and just smash face losing as few men as possible in the process. However, the difference with this deck is that you can literally ignore what your opponent is doing. Yes, once again, think like a combo player – just win, at any cost. Use Marshflitter to recover from a board-sweeper, and take advantage of your tools like Noggin Whack (hint: this gets much better when they have less cards in their hand).

Additionally, use your mana to your advantage. Pendelhaven can help your creatures survive burn and hosers like Peppersmoke, so use it efficiently. Mouth of Ronom is a late-game card, but it can really help clear a path to victory in the later turns. And lastly, remember: Mutavault is a rogue. It becomes a 4/3 with Stinkdrinker Bandit, and enables the 21-damage (and highly explosive) turn four "God play" (involving one-drops, Oona's Blackguard, and Stinkdrinker Bandit - do some math ).




David and Goliath



Every great warrior has his weaknesses – just look at Achilles. So, if the rogues archetype is the best aggro deck, what beats it? That's a pretty easy question, actually: Chameleon Colossus. Yes, Morningtide may have given birth to our amazing new aggro deck, but it also spawned the one thing that can literally make that same deck just concede.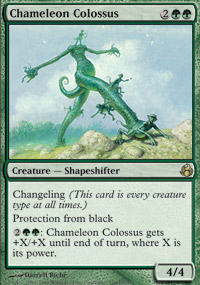 Why does this card even have Pro-Black?


How do we deal with such a huge threat? Well, honestly, there aren't many options. One way is to hope that Mouth of Ronom pulls through, and that they decide to tap out at some point. Our other options are all less-than-stellar in comparison: they're basically all just stall tactics.

Mutavault can be used to block the big guy and prevent your death long enough to pull off your own win, but that only goes so far. The best option is to use the sideboard technology found in Sudden Spoiling, which can do a few things for us. At worst, it's a Darkness, buying us some time. At best, it can be coupled with Nameless Inversion and Deathmark to shove some karma back in the Jolly Green Giant's face. Further, you can also just cast Sudden Spoiling and kill it with your Mutavault or Oona's Prowler, if you have to.

Ultimately, decks that play maindeck Colossi will almost assuredly win game one if they resolve one early enough. Your only hope then is to hope for a nice tech-filled opener in games two and three, as well as some nice disruption with Thoughtseize and Noggin Whack (especially if you're on the play).

Again, utilize Earwig Squad to save yourself the auto-loss. Keep in mind, though, that there's no shame in conceding if your opponent resolves two copies of Chameleon Colossus – it's just about impossible to win at that point unless you have lethal on the board and can swing in unchallenged.




Match-Ups and Sideboarding, Yay!





Mana Ramp Variants



MU Analysis: 20/80, 30/70 post-board

Playing against this match-up is the equivalent to punching yourself in the face – it's just painful and dumb. Their threat density isn't that high, but they're basically playing ScrewRoguesOver.dec. Between Chameleon Colossus, Primal Command, Sulfurous Blast, and Cloudthresher, it's almost impossible to win game one. They can hit your enablers with Incinerate, and can even pull it off if they went second with a Skred off a Snow-covered Mountain. Additionally, Siege-Gang Commander can pick off your remaining rogues and can even end the game if you haven't kept Garruk Wildspeaker in check. Worst of all, even when it looks like you might win, they can just play a Primal Command, gain seven, and fetch a win condition. Overall, this match-up is just a mess.

After some sideboarding, things begin to look a little better (though not much). Go after sweepers and Chameleon Colossus with Earwig Squad, Thoughtseize, and Noggin Whack. Play a little more like aggro-control in this match-up, and just don't overextend. Make turns one through three really count. Keep in mind, also, that targeting yourself with Sudden Spoiling in response to an opponent's Cloudthresher can save your whole team. I'll be honest: if anything is holding this deck back from being the break-out deck, it certainly is Mana Ramp.

NOTE: The RG Mana Ramp deck I'm referring to in this article is the "best" version. That is, with Chameleon Colossus, Sulfurous Blast, and Primal Command maindeck, as well as Pyroclasm in the sideboard.

Sideboarding:
-4 Nightshade Stinger
-4 Oona's Prowler
-1 Bitterblossom
-1 Stinkdrinker Bandit

+4 Thoughtseize
+4 Sudden Spoiling
+2 Deathmark




Doran Rock



MU Analysis: 50/50, 60/40 post-board

Doran Rock is a tricky match-up because they play a lot of the same annoying cards that the Mana Ramp decks do, but not all of them are maindecked. Chameleon Colossus is still around, crushing dreams and whatnot, but at least he's easier to handle in this deck due to the deck's overall threat density (he is actually outclassed by much of the deck, especially in the pilot's eyes). That said, a turn two Doran the Siege Tower sucks. If this happens, you're forced to race. Keep the pressure on, and keep back that now-useless Pickly Boggart to block. Bitterblossom is annoying, but just try to win before it becomes too relevant. After sideboarding you're looking much better, as Deathmark will really help. Discard like Noggin Whack has a much higher priority in this match-up.

Sideboarding:
-3 Bitterblosom
-3 Prickly Boggart
-1 Stinkdrinker Bandit

+4 Thoughtseize
+3 Deathmark




G/x Warriors



MU Analysis: 50/50, 60/40 post-board

This one can be difficult. Considering that Warriors is on of the few archetypes that can match us in terms of speed, it's no surprise that we're about 50/50 with them without help from our sideboard. Because they like to toss out mana elves and such early, Noggin Whack is especially good in this match-up, so use it as often and early as you can. As a general rule, also, keep in mind that each time your opponent mulligans, your Noggin Whacks get that much better.

Post-board, Deathmark and Nameless Inversion will help you control the early game, and Sudden Spoiling will help you fight Chameleon Colossus and the Overrun-induced alpha strike.

Sideboarding:
-3 Bitterblossom
-4 Earwig Squad (not too useful this time, despite our large friend)
-1 Marshflitter
-1 Pendelhaven (no need for Stone Rain when they have accel)
-1 Stinkdrinker Bandit
-1 Nightshade Stinger

+4 Sudden Spoiling
+3 Deathmark
+4 Nameless Inversion




Project R



MU Analysis: 40/60, 50/50 or better post-board

Yeah, this is another tough one. The sheer amount of life gain and tempo this deck has is very hard for us to deal with. Additionally, you need to avoid the combo at all costs. You can accomplish this by stripping them of their pieces via Earwig Squad, Noggin Whack, and Thoughtseize, and you can fight the combo with Sudden Spoiling if you time it right, though the latter is rarely worth it. Try to get rid of Body Doubles and Reveillarks with your discard, as that should net you the win. If you're having trouble with this match-up or are expected a lot of Lark decks, packing Extirpate or Withered Wretch in the sideboard is a good idea.

Sideboarding:
-4 Nightshade Stinger
+4 Thoughtseize




UB/UG Faeries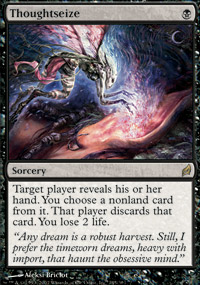 This is our out against bad MUs.

MU Analysis: 60/40, roughly the same post-board

This match-up is shaky because our decks play similarly, but the rogues deck actually has the advantage. The Bitterblossoms cancel each other out, and we have maindeck disruption. Additionally, our creatures are generally better than those in faeries (notice "generally"), so the match-up is not too bad. I would never say that this is an easy match-up, but it's very winnable, and little sideboarding is needed. Just play your Noggin Whacks correctly, watch out for counterspells, and be the aggro deck. Don't hold back, even if it feels like you should. Bitterblossom is exceptional here.

Sideboarding:
-3 Nightshade Stinger
-3 Bad Moon
-2 Earwig Squad
+4 Nameless Inversion
+4 Thoughtseize




Kithkin



MU Analysis: 60/40, 70/30 post-board

Ah, Kithkin. Likely still a tier two aggro deck, these little guys really ARE fast, and shouldn't be brushed aside. It is, however, an overall favorable match-up. Race them, and make good use of Noggin Whack (Mirror Entity can be a killer). Bring in removal after sideboarding and clean up.

Sideboarding:
-3 Bitterblossom
-4 Earwig Squad
+4 Nameless Inversion
+3 Deathmark




Mono-Red Storm



MU Analysis: 60/40, 70/30 post-board

This is a very favorable match-up. You can't overextend in game two (or sometimes game one, depending on the build) due to Sulfurous Blast, but you should generally be able to race the combo. After sideboarding, Thoughtseize makes it hard to lose. Earwig Squad is AMAZING in this match-up.

Sideboarding:
-3 Bitterblossom
-1 Oona's Blackguard
+4 Thoughtseize




BR Goblins



MU Analysis: 50/50, 60/40 post-board

Goblins are a tough match-up due simply to the fact that they too are playing fast, black aggro. Cards like Bad Moon are dead in this match, and Earwig Squad isn't that wonderful either. Basically, board in removal and race as always.

Sideboarding:
-3 Bad Moon
-1 Earwig Squad
+4 Nameless Inversion




Reanimater/Mannequin



MU Analysis: 60/40, 70/30 post-board

There are easy match-ups. I'm grouping them together merely because your strategy against them is identical. Disrupt their plans, and then just go crazy on them. You can overextend against Reanimater, but not Mannequin. Know that difference, and you'll be golden. Note: You can totally race Akroma, Angel of Wrath if you needed to.

Sideboarding:
-4 Nightshade Stinger
+4 Thoughtseize




Sadin RG



MU Analysis: 60/40, 60/40 post-board

The ONLY part about this match-up that could impede your progress would be their burn. The best thing to do is just to grin and bear it, and ignore their threats. Be more aggressive than they are, and…you guessed it…race. There's really no need to go more in-depth than that; if you're having trouble, Cloak and Dagger in the sideboard may help to lessen the blow from their burn spells.

Sideboarding:
NONE!
(If they're playing more green than usual, board in Deathmarks – Nameless Inversion isn't too good in this match-up)




Sonic Boom



MU Analysis: 60/40, 65/35 post-board

A lot of people have been complaining about this match-up, but it's actually pretty easy. Desert can cause problems early, but just play smart. If they use a turn one Desert to kill your Prickly Boggart, follow it up with an uncounterable Bitterblossom. The reason this is so crucial is that a resolved Bitterblossom against Sonic Boom is good enough to force a concession - they simply cannot keep up with that.

If the version you're playing against has Damnations, just play around them as usual and don't overextend. The lists I used for testing played maindecked Sower of Temptation, which isn't hard to deal with either; just ignore it and push through. Their life total drops quickly, so make as many sacrifices as are needed. Also, if you're expecting lots of Sonic Boom (for some reason), just play two maindeck Pendelhavens, board a third, and run a fourth Bitterblossom in the board as well.

NOTE: Remember that Desert does NOT stop you from Prowling. Use that to your advantage.

Sideboarding:
-4 Oona's Prowler
+4 Thoughtseize




The Mirror



Well, here it is. There isn't much to be said here. This match-up is reliant on who goes first. If you are on the play game two or three, KEEP NOGGIN WHACK IN! This will allow you to have the tempo advantage from the get-go. If you aren't going first, remove them. One of you will be the aggressive one, and the other will be he defensive one. This will be decided quickly, so true as hard as you can to be on the offensive.

Sideboarding:
-4 Nightshade Stinger (useless in this MU)
-3 Bad Moon
-1 Stinkdrinker Bandit
+4 Thoughtseize
+4 Nameless Inversion

If you're going second, keep the Nightshade Stingers in and board out the Noggin Whacks instead.




You're My Boy, Blue!



So, by now I'm sure you've all heard about the blue splash. The question is, is it really worth it? Well, that depends. First of all, here's my list:



The first thing you might notice is that adding blue gives the deck a way to deal with Chameleon Colossus in Psionic Blast, as well as a bit of reach. Additionally, we're getting the card-selection engine that is Looter il-Kor, which also happens to double as an unblockable Prowler. Latchkey Faerie is a nice beater, plus she gives us a card just for casting her at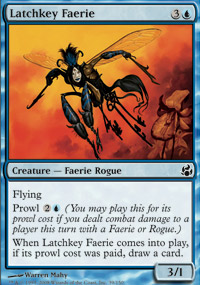 CA on a stick is awesome.

the efficient price of 2U. You might ask, though, "why no Notorious Throng?" It's just too slow, basically. It's also generally unneeded in just about every situation.

I don't like the blue splash as much as the mono-black version for a number of reasons:

Firstly, we have consistency. Yes, I know – we DO have twelve duals that produce blue AND black. The trouble is, however, that I've actually had trouble getting BLACK mana in my mono-black list on two separate occasions (I mulligan'd, of course). Imagine how often that would happen with TWO colors!

Next, we have Psionic Blast. Shocking yourself to play it as well as taking a point a turn from Bitterblossom can really add up quickly, especially in an aggro-heavy metagame like the one that Standard currently has. Furthermore, Underground River will only add to the damage, which leads us down a very painful road.

Lastly, we lost the access to Pendelhaven, and even Mutavault. Yes, you can keep a few copies it, but each one you add hurts consistency, and each one you remove affects the deck's speed.

Overall, the blue splash is far better in a more control-oriented metagame, since you can run blue-based disruption in the sideboard (like Rune Snag, Delay, and Negate). You also get creatures that can block Chameleon Colossus, and cards that can kill him (Psionic Blast). If you're expecting a TON of control and exceedingly large amounts of Mana Ramp, the blue version is likely a better choice.




Developments?



Morningtide gave us a ton of tools to work with for this deck, but not all of them make the cut. Let's have a look at some of the other options we have, both for the maindeck and the sideboard.


Frogtosser Banneret

This guy has been a hot topic of debate recently, but I must admit that I am not a fan. Initially, he can make you want to overextend in games where you don't know if your opponent is playing mass removal. He also doesn't have evasion himself, which makes him useless as an enabler. He can allow for some sick plays, but he overall doesn't add much speed or power to the deck. His best use is that he can sometimes be a burn spell for the win off the top. However, another card does that better…


Morsel Theft

Likely the "best card I'm not playing", Morsel Theft too has gotten a lot of attention. This little gem can turn the tide of the game, and also allows you to draw a card on top of the six-point life swing. Those comparing it to Lightning Helix are insane, and that very argument is why I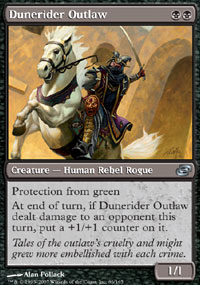 don't play it myself: it just isn't removal. Burn spells that only hit your opponent are almost never played, and that's because they typically are far too narrow to matter. Regardless, this card DOES give you life, so that makes it useful against aggro. Definitely sideboard though, at that point.


Dunerider Outlaw

Yeah, he's a rogue. This is basically the embodiment of "tech." If your meta sees a lot of Warriors, Tarmogoyfs, and Garruk tokens, this guy can be stellar in your sideboard. He can block all day, gets bigger when he slips through unblocked, and almost always triggers Prowl due to his protection. A superb sideboard option.


Cloak and Dagger

One of this deck's biggest weaknesses is removal, so naturally it's nice to have a card that can help combat that. Cloak and Dagger can save our men from targeted removal and help finish the game faster, which is always a good thing. It is a little slow, and it seriously dampens your explosive starts, but it's a powerful tool nonetheless. It's especially good if you've decided to play with Frogtosser Banneret.


Now, let's go another route...



If your meta is heavy aggro with a twist of Mana Ramp and control decks, this might actually be a viable option. The transformational sideboard allows you to actually totally change strategies after game one, which is a great option to have available to you in this metagame. Considering that each match-up can be drastically different, suddenly switching to a pseudo-MBC deck after they've boarded in all their anti-aggro card can be flooring.

Here's a general overview of how to convert it:

-3 Bad Moon
-3 Stinkdrinker Bandit
-4 Nightshade Stinger
-2 Earwig Squad
-2 Prickly Boggart
-1 Noggin Whack
+The Sideboard

It's a pretty odd idea, but I've had some success with it. It's mostly for the surprise factor, and you can play mind games going into game three (he'll never know if you actually switched the deck again unless he's watching you VERY closely). If you fumble around with your deck for a bit, he might think you're converting your deck back, but you can probably move quick enough to where he'll not notice that you're slipping the SAME cards back in.

I don't know how well it will do in an open meta, but I'd give it a shot. It might need some adjustments, too, but it's at least an interesting idea.




The Road Ahead



Gosh, that was long-winded. My apologies if I rambled too much, friends: it's easy to get excited about an archetype with this much potential. Rogues may not be seeing a ton of tournament play lately (I offer than one up to the lack of many large tournaments and also the dominance of RG Mana Ramp in Standard right now), but I feel that it will pick up as the year goes on, especially in Block.

I can't honestly say that taking this deck to a large tournament is a sound idea right now, solely because of Mana Ramp. Our list of positive match-ups is impressive, but our two bad ones are frighteningly popular (Lark and Mana Ramp). It's tough to design an aggro deck that can stack up to these decks, but there's no doubt that I'm trying, and will continue to try.

The rogues archetype certainly is the best aggro deck, though. After all, it takes the same speed that Kithkin and Warriors enjoy and adds an element that is much needed in an environment like this: discard. Only time will tell where the deck goes, but I strongly recommend giving the archetype a try, and also preparing your decks to beat it. It'll be a contender, like it or not.

Just keep in mind...if you're expecting a lot of RG Mana Ramp, DON'T PLAY THIS DECK. It's a very solid choice against the entire field, but that is one match-up that is just brutal. It's winnable, but it'll take a heck of a lot to take that match. Like I said earlier, every great warrior has his weaknesses...
This primer's purpose is to simply enhance the success that the average tournament-goer has while playing this archetype. It's a very fun and powerful deck, and I wish you all the best with it.

And remember…sometimes going rogue doesn't mean playing a Warp World deck.


-Chris Jobin