When you think of "Shinjutsei," you probably associate that name with Standard. After all, it's what I'm known for here on MTGSalvation, and it's what I spend most of my time playing. In truth, however, it's actually the Extended season that really gets my blood flowing. The winter months are my favorite months to play this game, and this year was no different. As soon as Christmas was over and the Kyoto qualifying season wrapped up, my focus was immediately shifted to the grim-looking Extended meta. Elves had not been neutered after Worlds, so I jumped right into the format piloting that deck. I quickly realized that it just wasn't the type of deck I wanted to play, so I fell prey to myself and picked up Faeries.

Now, usually my testing takes place on MWS, MTGO, and long nights of gauntlet runs against a single playtest partner. This year was a bit different, however, as my friend Ben "Hollywood" Davison had just moved in to my apartment with me. Having access to a competent playtest partner nearly 24/7 helped tremendously in preparing for the long season ahead. I also am part of the Grand Rapids team of players (GRinders), with players like 2008 States Top 8 competitor Ryan Wall and 2007 Nationals competitor Kasey Tanner. Coincidentally, it was actually these three friends that made the trip with me to Columbus for the Pro Tour Qualifier on the 24th, but lots more on that in a bit.

Ben had made the trip to Grand Prix: Los Angeles just a week or so ago (I didn't have the money to book a flight until it was too late, sadly), and he came bearing bad news: TEPS was back, and in full force. That being said, I was pretty confident that I needed to make some changes to my Faeries list before heading into the PTQ season. We had planned to attend at least five PTQs this season alone, though I'll likely make it to six or seven if I can wiggle my way into someone's car. If I was to take on round after round of mirrors and TEPS decks, I needed some sort of edge. I quickly arrived at maindeck Stifle, as that card is nearly never dead against any match-up and it has a slew of targets in the mirror. It also punishes players for using fetchlands, which is downright amazing. Oh, yeah, and it also helps against that TEPS deck. Imagine that. Before I explain how I fit these things in the main, you need to glance over and see the list I had been testing with since Worlds:



The first thing you might notice is that it's a pretty basic list, based almost entirely on the lists from Worlds and the subsequent articles from Luis Scott-Vargas. My team and I ran it through gauntlets, and it fared really well. Still, I eventually decided that the tempo advantage of Chrome Mox was not worth the loss of card advantage, and I cut them. That being said and done, I obviously could no longer make good use of Thirst for Knowledge, so I dropped two of those from the list as well and added four copies of Ancestral Vision. A lot of players had said that Ancestral Vision was too slow for the format, but I quickly realized that they were dead wrong. It was even more explosive than it had been in Standard Faeries. Within days of the change, I found my list getting more and more like the Japanese lists from Worlds - and I was okay with that.

Now, taking a look at the original list, it was clear that by cutting Chrome Mox I was forcing myself to just replace them with three lands (this deck needs at least 25 lands - some swear by 26). That being said, I needed to find room for the other cards I wanted to try in the maindeck. I felt that Vedalken Shackles was really clunky, not to mention that it had been somewhat hated out in mirror matches. I still think it's an insanely powerful card, but I decided that Sower of Temptation was a better card here. Not only did it add another body to the table, but it wasn't dead against decks like TEPS - and, really, that was one of my main goals for the upcoming weekend. I also relegated Threads of Disloyalty to the sideboard, as I was trying to focus on beating the mirror and combo, not aggressive decks like Zoo. I was still concerned about having a solid game against Zoo decks, however, so I opted to not play fetchlands in an attempt to conserve my life total as best I could.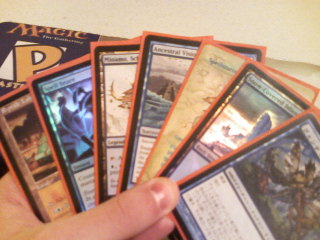 This is why I love this deck.

Next, I needed to fit Stifles into the maindeck. This was tricky, but I ended up just cutting the two leftover Thirsts, and that seemed to work out really well. Stifle is just never a dead card, and I can't rate it highly enough in this meta. Although I played it almost exclusively because of the resurgence of TEPS, I still think it would have been a solid maindeck choice anyway. The addition of the Stifles to my counter suite filled out the last bits of the deck, and I felt confident that I had a strong list.

But I apparently wasn't done, as I still made some changes the night before. Yes, yes, I know - I myself have preached not to do this unless you are positive it is correct or you saw something while scouting that needed immediate attention. Still, I altered both my maindeck and sideboard the night before the event. I added in a mainboard Azami because I felt she was utterly nuts. I cut a Venser for her, though I wasn't sure that was entirely correct. In the sideboard, I dropped two Negates and a Vedalken Shackles for three copies of Relic of Progenitus, mostly because I wanted to be sure I could tackle the Rock decks. I also dropped the Annuls for three copies of Hurkyl's Recall, as I felt that was better if all I wanted to do was have a shot in hell of beating Affinity. I still didn't feel good about it (and in hindsight, I should have just saved sideboard room and punted the match-up altogether), but I rolled with it anyway.

That leaves my final list looking like this:



With all that out of the way, it's time to jump into the meat and potatoes of the trip. But before I get to the tournament report proper, I have top give you some back story (please bear with me).

On Friday night, my roommate and I head over to Ryan Wall's pad and get some last-minute testing in before we crash at around 8pm. Well, actually, allow me to rephrase: we tried to crash. No, wait. Once more. I tried to crash. My roommate (Ben) seemed to have no trouble getting to sleep, but I just couldn't sleep with his snoring. "I only snore when I'm uncomfortable," he says. That may be all well and good, but that leaves our hero with very little rest.

But wait! Yes, it gets better. I finally freak out on him for being so loud, and he suggests that we go get some food from Mr. Burger down the road. Can you imagine eating at a restaurant called Mr. Burger? That just sounds like it would taste like lame with a side of tacky. At any rate, by about 11pm the two of us are trudging through the snow (keep in mind it's about five degrees out) to eat at Mr. Crappy Burger. When we finally get to this stupid place, it's closed. Anyone who knows me from the forums can probably guess how I reacted to this little ditch in the road. Next thing I know, we're at pizzeria just down the block. Not exactly the kind of late night snack I had originally expected, but at least my stomach was okay with actually attempting to digest whatever they served us. The food ended up being really good, and the girl making it looked strangely like Miley Cyrus. Still, I suppose that's just a story for another day...

After getting our food, we head back to Ryan's place and test a bit more (we're pretty awake at this stage). Ben was playing my TEPS deck the next day, so I played a few games with Faeries against it. We do this for a good half an hour, but eventually we decide to actually try and get some sleep. He goes back to the couch, and I go to the floor and attempt to fall asleep. Naturally, I have the same issue as the last time, and I end up just staring at the ceiling watching the hours pass away. A good hour or two later, I actually fall asleep at last... only to be woken up literally minutes later by Ryan. Apparently it was 1:30 am, which meant it was time to get on the road. Needless to say, I was displeased.

The three of us drive to get our friend Kasey, and we head off to Ohio. I quickly put my headphones in and attempt to sleep again, but to no avail. It occurred to me after the fourth time being shaken out of my "almost sleep" that I was just meant to play this event with no rest. That being said, I just gave up from there on out and instead just chatted with the guys as we stopped at a zillion gas stations and also to get our traditional McDonald's breakfast (Steak, Egg, and Cheese Bagel, natch). That particular restaurant must have placed some sort of foreign contaminant in the Hi-C, as it tasted like watered-down vomit. Well, at least what I would expect watered-down vomit to taste like. Not that this bothered Ben at all, as he had enough energy drinks to have forty-seven heart attacks. We all had Amps at some point, but Ben had those as well as three Five Hour Energy shots. Three. All of which he consumed within five hours. If I was a betting man, I'd say that that isn't the proper way to use those things. As you may well imagine, we were all a little worried about him.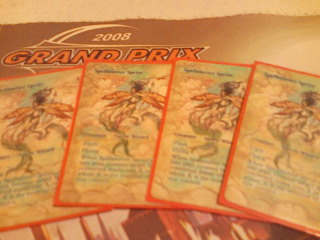 My most prized possessions.

By the time we made it to the Greater Columbus Convention Center (8am), Ben wasn't feeling too fantastic. He very quickly made his way to the bathroom to dispose of the unneeded energy drinks, much to our dismay. After cleaning himself up, he rejoined us in the lobby and we made our way to the tournament room. The vendors were all there already, though they were nowhere near being ready for customers. What was ready, however, was the mob of players that had been there since presumably the beginning of time. I really hate trading at PTQs, because usually terrible players ask you to trade them good cards but yet only have fourteen labeled binders full of awful cards in return. And the worst part? They make you look through them all. It's nothing short of awkward.

At any rate, you now know the story. The take-home message? I was tired. Very, very tired. Like, absolutely-no-sleep-at-all tired. The last time I played in an event on that little sleep (States), it was fairly obvious after the first round. Needless to say, I wasn't feeling too fantastic about the nine rounds of Swiss ahead of me. After chatting with Ari Lax and Dale DeWood a bit, I headed off to register and get the ball rolling. I went to get my Spellstutter Sprites checked out by the Head Judge, also, since there was no way I was going to tolerate not playing with those sexy pieces of cardboard.

Now, on to the tournament report. I didn't take down names or anything, so my apologies on that one. Without further adieu...



Round One - BG Rock (Michael Jacob's list)



So much better than Tormod's Crypt.

I won the die roll, and suspended Ancestral Vision. He laid a Barren Moor on his turn, and suddenly my decision to run Relic of Progenitus last-minute seemed like the best idea ever. The game was pretty unexciting, as I simply beat down with Vendilion Clique and Sowered his Kitchen Finks for the win. The only thing worth noting here was that Azami drew me a lot of cards.

-2 Stifle
-3 Engineered Explosives
+3 Relic of Progenitus
+2 Threads of Disloyalty

Game two was even less interesting. His first turn was Swamp into Raven's Crime, and mine was a land into Relic of Progenitus. He cursed, and then proceeded to play the game. He attempted Life from the Loam, and I had the Spell Snare. Relic of Progenitus obviously took care of it from there, and the clear look of frustration on his face was priceless. By the time he finally found the Putrefy for my Relic, I already had another in my hand as well as a Glen Elendra Archmage. As soon as she resolved, he conceded.

2-0 (1-0 overall)



Round Two - Martyr



As soon as he dropped a Plains, I groaned. The match-up here wasn't really that bad, but this is never a good deck to play against in a PTQ. I quickly got over it, as my hand was really good and I had answers to most of his stuff. He eventually got a Martyr of Sands resolved, and I conceded when I realized that I just couldn't reduce his life total to 0 fast enough.

-3 Engineered Explosives
-4 Spell Snare
+3 Relic of Progenitus
+1 Stifle
+3 Trickbind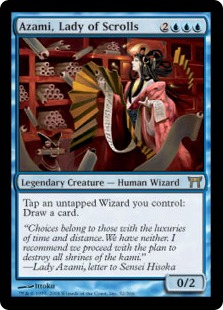 Tap: Draw 17 cards.

Game two was amazing. I wa forced to mulligan to five, but my opener was Mutavault, Venser, Shaper Savant, Relic of Progentius, and two Snow-covered Islands. I dropped the manland turn one and played the Relic of Progenitus. He frowned. For the next nine turns, he did next to nothing (and even when he did play Martyr of Sands, I had Stifle ready to stop it). Meanwhile, Mutavault reduced his life total to 2. I asked him if he'd concede to save time, but he instead decided to keep playing. He ripped the Crovax off the top, but my Sower of Temptation the following turn was pretty explosive. He moved his hand toward his guy, but I simply gestured towards the "2" written on my pad and he shifted control of Crovax to me. The rest is history.

The third game was depressing, for lack of a better word. He quickly got his life total to 40, and I set up my board position. He got Crovax into play, as well as a Chalice of the Void set to two. Azami came out the next turn, and with the help of Mutavault and Minamo I was able to draw into a Sower of Temptation to keep his legendary guy out of play during my combat steps (Riptide Laboratory, natch). I ended up drawing 17 cards with Azami that game, and that kind of card advantage is just nuts in Extended. After he resolved a Decree of Justice for two and an Eternal Dragon, I was feeling pretty crappy (we had gone to time at this point). I used Sower of Temptation to deal with two of his guys, but I needed the Umezawa's Jitte in my hand to stay alive until the fifth turn was up. I played it, and he made a big deal about how I had made a bad play. I showed him the Stifle in my hand, and then we drew the match.

1-1-1 (1-0-1 overall)



Round Three - The Mirror



It's been said that in eight rounds of Swiss at a PTQ this season, one should expect to tangle with Faeries at least three times. When my opponent led off with an Island and an Ancestral Vision, I figured this was just statistics at work. The game itself wasn't that exciting, although we did fight over Ancestral Vision three times that game. We both had Riptide Laboratory in play, and we took turns playing Sower of Temptations until I drew an Umezawa's Jitte and ended the game.

-3 Engineered Explosives
+1 Glen Elendra Archmage
+1 Stifle
+1 Trickbind

I spent my first turn of game two suspending Ancestral Vision, which later resolved to put me ahead in card advantage. Multiple Vendilion Cliques saw play this game, but it wasn't until I played Azami, Lady of Scrolls that things got really interesting. I had debated not using her in this match-up due to her being a creature, but I felt playing her smart was enough. I had a Sower of Temptation in hand, so I played her and passed. He indeed had a Sower of his own, and stole her from me. I took her back on my turn, and he drew a single card in response. Coincidentally, I drew two more Sowers off of her as well as an Umezawa's Jitte, so the rest of the game was pretty much a blow out.

2-0 (2-0-1 overall)



Round Four - Affinity



I lost the die roll, and wanted to cry as he played four cards and passed. I had heard murmurs of the deck being popular that day, but I had prayed I wouldn't have the misfortune of playing against it. At any rate, I was mortified when he spent his second turn playing two Thoughtcasts, neither of which I could do anything about. I spent his next turn puzzled as to why he didn't play anything, and drop to 16. I eventually Vendilion Cliqueed him, and found that his hand was all lands and a Soul's Fire. I chuckled to myself, and chose not to choose. He eventually got two Arcbound Ravagers into play along with his Frogmite and Ornithopter. He swung in with the team after playing the second Ravager (so he held that one back, obviously). I assigned a Spellstutter Sprite to block the Arcbound Ravager, and he proceeded to throw almost his entire board at the Ravager, then sacced it to itself. I smiled and said "Stifle modular?" and it became clear that he had lost. Best. Stifle. Ever.

-3 Engineered Explosives
+3 Hurkyl's Recall

In game two, he mulliganned to five. His hand was still pretty fast, but his only threat was a Blinkmoth Nexus (though it had a Cranial Plating). I eventually killed the flier with a Spellstutter Sprite, but he followed up with a 7/7 Master of Etherium. I played a Sower of Temptation on my next turn, and then spent the turn directly after playing and equipping Umezawa's Jitte. He conceded, and I breathed a heavy sigh of relief.

2-0 (3-0-1 overall)



Round Five - The Mirror



I watched this guy play after round three, and I knew he was good. He was actually playing Next Level Faeries (Tarmogoyf, etc.), but I still consider it a mirror match. On the other hand, his deck is very good against mine as it runs a full set of Cryptic Commands, but I still felt good about the whole ordeal. My opener was a little iffy, and it only became worse when he spent his first turn suspending you-know-what. I ripped one off the top on my turn (I had lost the die roll, naturally), and suspended it. I ripped another the following turn, and suddenly my hand looked invincible. And, as luck would have it, it definitely was. He did some fancy stuff, but I eventually buried him under card advantage and Sower of Temptations.

-3 Engineered Explosives
-3 Umezawa's Jitte
+1 Glen Elendra Archmage
+3 Threads of Disloyalty
+1 Stifle
+1 Trickbind

I knew he was going to bring in Ancient Grudge, so I boarded out all of the targets in my deck in an attempt to neutralize his sideboard cards. I also knew he had Tarmogoyf (even though I hadn't seen it the first game), so I brought in the Threads of Disloyalty. He led off with Ancestral Vision, which I tried very hard to counter. On his draw step on turn three I played Vendilion Clique and saw that he had Cryptic Command (I took Sower of Tempation out, though). I knew that he could prevent me from countering his draw spell with it, and that upset me slightly. Instead, though, he end-stepped the Cryptic Command to bounce my guy and draw a card. I was puzzled, but I allowed it. On his upkeep, I Stifled Ancestral Vision and proceeded to win the game with Vendilion Clique backed up by my nutty hand.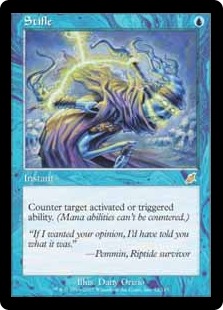 Crushing players' dreams for years now.


2-0 (4-0-1 overall)



Round Six - TEPS



In this round, I'm paired again Jon Swearingen. He told me he had little experience with his deck, and I couldn't help but agree with him after twiddling my thumbs while he took forever with his simple turns. I never drew into Stifle the first game, but I was able to keep him from going off for a good deal of time. When he finally went for it, he ramped his storm count to over ten (I can't recall the exact number), and I responded to his last spell with Vendilion Clique. I choose the Mind's Desire sitting in his hand, and then crossed my fingers. Like a true lucksack, he played the second Mind's Desire he drew off the Clique and crushed me.

-3 Engineered Explosives
-1 Azami, Lady of Scrolls
+3 Trickbind
+1 Stifle

In game two, I locked him out of the game and beat down with a Vendilion Clique armed with an Umezawa's Jitte. He tried to Brain Freeze me during my upkeep, but it was only for 28. I shrugged it off and swung for the win. Easy.

In game three, though, things got rough. I spent the first few turns countering Ponders and beating him down. Around turn seven (time was up, so this was the end of overtime turn three), he Gigadrowsed me, and I had no Stifle to stop it. His life total was 4, and I groaned as I passed the turn. He went off on his main phase, but a weak Mind's Desire only left him with enough mana to dig for another and play it. He eventually found it, but he only had five mana in his mana pool. He spent a good five minutes trying to see if he made a mistake, but he eventually saw what had happened and passed the turn after dumping spare mana into Dreadship Reef. I reduced his life to 2 on my turn, and then we drew.

1-1-1 (4-0-2 overall)



Round Seven - Naya Zoo



With my sights still set directly on the Top 8, I sat down for another match and lost yet another die roll. He led off with Kird Ape, and I played a land and passed. My Spell Snare did little against his Wild Nacatl, and I spent the rest of the game in an awkward position as he beat with those two men and a Treetop Village while I held a hand full of counterspells.

-2 Stifle
-1 Azami, Lady of Scrolls
-1 Venser, Shaper Savant
+3 Threads of Disloyalty
+1 Engineered Explosives

Game two looked to be going much better for me. He had a slow start, and I got a Vendilion Clique into play to ship away a Sulfuric Vortex (though he had another). He later played Countryside Crusher, and I frowned at the two Threads of Disloyalty in my hand. He played a second one the following turn, and I Sowered one of them to my side. Then he resolved Sulfuric Vortex on his turn, and a quick glance at the "5" written down by my name on my notepad forced the concession.

With my shot at Top 8 gone, I just decided to keep going for rating and prize.

0-2 (4-1-2 overall)



Round Eight - Elves



The first game of this match isn't worth talking about. I lost the die roll again and just suspended an Ancestral Vision on my turn. He clearly had the nuts and went off on his second turn, ending the game. At this point I was fairly apathetic, so I just shrugged and went to my sideboard.

-1 Stifle
+1 Engineered Explosives

Game two went a bit better. I got three Engineered Explosives in a row, and he just couldn't deal with it. Another simple game.

In game three, I popped off two Engineered Explosives and Sowered his Wirewood Hivemaster. He kept giving me men, and I kept staying alive. He eventually Choked me, but it was nearly irrelevant by that time. With us both at one life, I just had one more blocker than he did.

2-1 (5-1-2 overall)



Round Nine - Domain Zoo



Finally, I made it to the last round. With no sleep and no one else on my team left playing, I began to feel the wear of the day's events. I had not eaten more than a bag of chips since breakfast at McDonald's that morning (5am), and it was beginning to show. Either way, though, I had one more round to win.

Game one was pretty uneventful. I won the die roll and he had no first turn play (odd, I know). I had both Spell Snare and Spellstutter Sprite ready for his turn, and ended up stopping a Dark Confidant. From there I countered more guys and used an Engineered Explosives. By the time he had a board position, Sower of Temptation cleaned him out.

-2 Stifle
-1 Azami, Lady of Scrolls
-1 Venser, Shaper Savant
+3 Threads of Disloyalty
+1 Engineered Explosives

Game two was more of the same, except that I won with Umezawa's Jitte coming online on turn four. He couldn't deal with it (and by the time he did, I had another), and he eventually conceded.

2-0 (6-1-2 overall)

FINAL: 6-1-2, Top 16

For a guy who went into the event with no sleep, hadn't eaten a thing all day, and played the hardest deck to pilot through nine rounds of Swiss, I felt really good about how it had went. None of my losses or draws were due to my play errors or mistakes in my deck-building, so I didn't really feel that bad. I came seeking a plane ticket to Hawaii, but I suppose you win some and lose some. There are plenty more PTQs ahead of me this season, after all. Kevin Boddy eventually won the whole thing with Affinity, and my opponent in round six (Jon) ended up making the Top 8. My congratulations go to Mr. Ari Lax, as well, for making it into the Top 8 with Elves. The Top 8 decklists can be found here.

In playtesting, you run lots of gauntlets and play lots of decks. But you don't play the same deck for nine hours in a row against amazing players. That being said, you learn a lot about a deck when you take it to a PTQ. I learned quite a bit of valuable information, but chief among those things were these main points: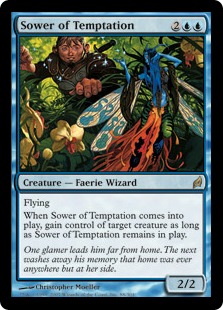 The best card in the deck?

1. Stifle is a great card in the maindeck. It is never not useful, and can sometimes even decide games on the first turn.

2. Sower of Temptation is the best card in the deck. Seriously. In every match-up aside from TEPS, it won me the match. It was nothing short of insane all day for me, and I can't stress enough how much I recommend this card. It was definitely my MVP.

3. Glen Elendra Archmage is still nuts. I don't feel as though four copies in the 75 are needed anymore, but I don't think I'd drop to fewer than three.

4. Relic of Progenitus is stupid. This card is beyond good in Extended. Play it.

5. Venser, Shaper Savant was dearly missed as a 2-of.

6. Vendilion Clique is good enough to be a 4-of. There were numerous times that I would play a second just to get a card from their hand, and having more in the deck to replace them would be optimal. It is also very fragile, so playing more is not a bad idea by any means.

There's more, but most of it goes with what I'm going to talk about next. Now, with as many PTQs coming up for me as there are, one might wonder what I would play if there was a PTQ tomorrow. To answer that, I would take this:



Yes, fetchlands. Ancient Grudge is hugely important right now, I think, and thus the deck needs to have access to it. Additionally, Firespout really helps to shore up some of our aggro match-ups while also being a decent one-of in the maindeck. It also helps offset the life loss from playing the lands in the first place. Fetchlands help against TEPS (you can keep it uncracked to give you an edge against Gigadrowse), too, and I find that to be invaluable.

This archetype remains the best, and I plan to play it throughout the rest of the season. I don't think that new cards like Volcanic Fallout give us any less of an incentive to play this strategy, so I'm pretty confident that Faeries is still the way to go. I'm still trying to decide if I like Future Sight in this deck or not (it's very good against the mirror and Rock decks), but I guess I'll find out as I get closer to the next PTQ. This event gave me some insight on how I want to play this archetype from here on out, and so I hope by reading this you got an idea of what makes the deck tick and what just doesn't work.

Although Affinity is picking up steam (since it's easily our worst match-up), I can't really stress enough how good this archetype is. It has the potential to crush Zoo decks, Elves, TEPS (if you play smart and sideboard well), Rock, and even Naya Zoo (again, with proper preparation). My newest list has a better shot at taking down Affinity, and with those changes in place I think it's safe to say that the deck has no match-ups that are unwinnable. My advice to those seeking to rock this deck at PTQs this season is to just playtest as much as you possibly can. With Faeries making up over thirty percent of PTQ Top 8s so far this season, you need to be ready to win the mirror as well as a host of Affinity decks in the early rounds. The only way to truly improve your chances at doing so would be to just test until it becomes mind-numbing.

Every other strategy in Extended right now has a kryptonite. For Elves, it's Faeries. For TEPS, it's mostly Affinity. For Faeries, however, there really isn't one. Affinity is a very tough match, and Naya Zoo as well as TEPS can often cause problems, but overall the deck has 50% or better win percentages across the format. If you want to pilot a deck that has a good statistical shot at making the Top 8 of an event, this is the one to play. After all, I ran it through nine rounds of Swiss with no sleep and managed to come out 6-1-2 - imagine what I (or you, in this case) could do with lots of sleep and a better list. I wish all of you heading out into the tournament circuit this season good luck!

Until next time,

Chris "Shinjutsei" Jobin