Hello, dear reader, and welcome to the first installment of Thirst for Knowledge, my weekly column dedicated to all things in Constructed Magic. Although I mostly play Standard and Extended, and you can expect many articles about those formats as a result, you can also expect Legacy articles once in a while as well. Each week I'll explore new ideas in the developing metagames as well as my personal insights into what strategies I feel are the best choices to play and why some strategies just don't work. I'll run through event preparations, discuss new sets, and talk about different card choices in new and existing archetypes. My hope is that I can fill each article with the same type of advice and consistent knowledge that I deliver on the MTGSalvation forums, and I feel that I am more than up to that task.

With that out of the way, I'd like to jump right into this week's topic: the new Standard metagame. Conflux hasn't been out long, but it is already quite clear the sheer amount of impact the set has had on the Standard format. Conflux is a small set, certainly, but within its 145 cards lie a lot of notable and powerful cards. I think this set literally has something for everyone, ranging from Nicol Bolas, Planeswalker for the casual players to Path to Exile for the Spikes. Obviously there is also a lot of hype surrounding a great deal of cards in the set, and I think I should address them each before I jump into decklists.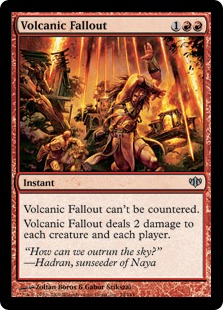 Great? Yes. End of the Fae? No.

First of all, let's get it out of the way: Volcanic Fallout is very good. This is probably the best card in Conflux, and will undoubtedly see play in every format save maybe Vintage. This should not surprise anyone, either, considering that we're talking about a cheaper Sulfurous Blast that cannot be countered by anything. Not by Cryptic Command, not by Counterbalance, not Spellstutter Sprite, nor even Force of Will. No matter how you slice it, this card just demands your attention. It's probably the best tool given to red since Boil was last in Standard, and I think this metagame can really take advantage of that. More importantly, though, is what decks will be packing this thing. The answer is as simple, though, as one would expect: decks with red mana. All of them. Literally. If your deck can support two red mana symbols in a card's casting cost, you should probably pack these things in your sideboard at the very least. The only exception really is RW Lark, as that deck might not need to utilize it. More on that later, though.

Next we have Path to Exile, which I think we can all agree has kind of stolen the spotlight with the release of Conflux. I don't think that's entirely unwarranted, either, as we're talking about what can only be known as Swords to Plowshares v2.0. Is it anywhere near as good as that card was? No, not at all. Is it the best removal spell in Standard? That's up for debate, honestly. I think the correct format for it is Extended, but it certainly has a place in Standard as well. Midrange decks can really benefit from the versatility of the card, and control decks can run it without fear as the drawback is nearly negligible in traditional-style control decks. If your sweepers cost three to four mana anyway, it rarely would make a difference if the opponent were a turn ahead. If anything, this would give them more incentive to overextend, and that's exactly what you want them to do. Decks like BW Tokens will like Path to Exile as well, though the testing beyond my initial few nights with the card have shown me that it's not generally worth it in aggressive decks. The extra land in mirror matches is huge, and so I've gone back to Terror. And really, I think that's the key to using Path to Exile correctly - knowing when it's better than other removal spells and when it's not. If you can understand that, you'll never need to be concerned with whether or not it's "right" in your deck.

Banefire is next on the agenda, and it's quite the powerhouse. Entirely too reminiscent of Demonfire, Banefire continues the onslaught against Faeries. This spell is just simply very powerful, and fits well into the strategy of almost all of the decks running red mana currently. I feel that Demonfire was likely a better card when it was in Standard (which has everything to do with the format that it was played in and nothing to do with the card's power in a vacuum, where Banefire clearly trumps it), but Banefire still has its uses. RW Lark will most certainly want to play this, as that deck itself is becoming more and more like Angelfire each day. RDW may also sideboard the card to fight Five Color decks as well as provide even more reach against other aggressive decks. Five Color itself should play Banefire in order to gain an edge against not only the mirror but also Faeries. You can never be too prepared, after all!

Now, obviously there are lots of other exciting cards to talk about from Conflux, but those are the three that will impact Standard the most and are all I feel I need to dedicate special room to. From here on out, I'm going to run you through my Standard gauntlet and give some insight on each archetype as I go. With so many Standard 5Ks coming up, I think everyone could use a solid testing gauntlet, and the following decks are great places to start. First up is Five Color, as one would expect. It's probably the most popular deck, and for good reason - it can utilize any card in Standard. Here's my take on the deck in the new format:



Glancing over the list, you'll likely notice a few things right away: I'm still running the same creatures, and I've dropped Pyroclasm for Volcanic Fallout. The swap of the red sweepers is pretty obvious - not many good reasons to keep Pyroclasm over an uncounterable version of the card, after all. The creatures have remained the same because there's absolutely no reason to change them. Broodmate Dragon is as stupid as always, giving you two men for the price of one that are essentially immune to spot removal, and Plumeveil is still nuts against Faeries. There have been lots of people on the forums talking about dropping Cloudthresher from the deck entirely (and in a rather "matter-of-factly" kind of way, might I add), but I see this as plain wrong. The argument is that because you're already packing three or four copies of Volcanic Fallout, there is no need to play another card that does the same thing except it can be countered. The flaw in this logic, however, is that Cloudthresher is a creature, and a rather large one at that. Unless the Faeries player finds a Terror quickly, they will lose to a resolved Cloudthresher. Besides, even if they do find the removal, in most cases you still bought yourself enough time to get to either another copy or a Volcanic Fallout. The lifeloss is not important most of the time, as you're trading two life for a 7/7 that can clear boards and block Mistbind Clique and Broodmate Dragon all day. If you find yourself being compelled to cut Cloudthresher from the deck, I urge you to stop yourself and test against Faeries without it and see how it goes. I feel confident that your win ratio would drop significantly as a result. This deck needs Cloudthresher just as much now as it did weeks ago.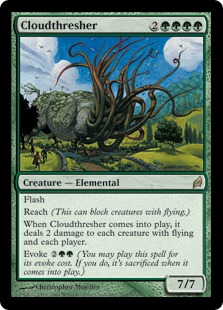 Still as good as it was.

Next up, you'll see that I'm playing Path to Exile over Condemn. I would personally not discourage anyone from playing Condemn, but my reasoning for using Path to Exile instead lies completely with Tidehollow Sculler. You just simply don't want to be stuck in a situation where your only out to your opponent's growing board position is the Wrath of God sitting under that Tidehollow Sculler he cleverly refuses to swing with. Many games have been lost that way, and I think that that situation is common enough to justify Path to Exile. The drawback is once again not really an issue since you're the control deck and you have enough sweepers to not care what that extra mana will do for your opponent. The Terrors remain in the maindeck to assist Path to Exile in dealing with all kinds of threats and just being overall very efficient removal spells.

The real meat and potatoes here, though, is the sideboard. Now you've obviously got your Infests for decks packing Burrenton Forge-Tender and Mark of Asylum (more on that card later), your Ajani Vengeants for the mirror, extra Wrath of God for aggro decks, and the third Cloudthresher for Fae, but there are also some new choices in this sideboard. Banefire is an amazing tool to be used against the mirror and Faerie decks to ensure that have inevitability over them, and Glen Elendra Archmage has fallen back into favor as a powerful threat. I'm not entirely sure if three is the right number, but so far they have proved to be invaluable in the mirror and against decks like RW Lark. The Wall of Reverence is a new addition to the sideboard, and one I only had time to test briefly. The basic idea behind the card is that it can hold off any aggro deck's men for quite a good deal of time while you slowly regenerate lost life. If you get a creature like Plumeveil or Cloudthresher into play, it really becomes nuts as it not only gives you back the life you gave you gave up from Volcanic Fallout and company but also places a "clock" on your opponent as your life total skyrockets. It is also very good against Mistbind Clique, and that always helps. One card I want to try in the sideboard is Thoughtseize. It will never come down turn one, but I still feel like it would greatly improve not only the mirror match but also the Faeries match-up. It is, however, another tool that sucks life away when it is used, so whether or not it's correct is yet to be seen. Celestial Purge also seems very strong since it can deal with Ajani Vengeant, so I'd certainly keep that in mind as well.

Next up is BW Tokens:



Look familiar? Well, that isn't all that surprising since it's identical to the list I'd been advocating pre-Conflux. When the new set was first released, I was playing Path to Exile over Terror, and I was fairly content with it. I could hit Tidehollow Sculler with it in the mirror and I felt like I had a better game against Faeries. Slowly but surely, however, I began to notice that the extra land does matter to this deck, though that's normally just against other aggressive decks. When you kill their guy and they can get to Ajani Goldmane mana a whole turn before you can, things get rough. I think Path to Exile still has its merits in this deck, but I believe Terror will likely be better 85% of the time. I'm comfortable with those odds, personally. I think that both versions of the removal suite will see play, and it may be based mostly on preference rather than right or wrong.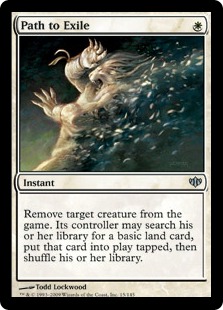 Like it or hate it, this card is the real deal.

Our new sideboard options are Celestial Purge and Mark of Asylum. Celestial Purge is often compared to Wispmare, since its main function is to deal with Bitterblossom. While that's fine and all, I just don't like it for that purpose. Wispmare does that job much more efficiently at one mana and can also be a great blocker against both Fae and the mirror at three mana. It also has the added benefit of destroying Glorious Anthem, a card that Celestial Purge does nothing about. Once again, the only thing Celestial Purge has going for it is the ability to take down Ajani Vengeant (and Figure of Destiny, though we have Terror for that), but I'm not so sure that makes it worth the inclusion. The other card, Mark of Asylum, is an odd nut to crack. On one hand, it completely neutralizes Volcanic Fallout, Cloudthresher's sweep effect, and any burn directed at our creatures. On the other, it is a two-cost enchantment that does little else for us. Burrenton Forge-Tender is, once again, a creature, and that is very important (as you saw with my Cloudthresher argument in Five Color). It can block Figure of Destiny all day (which is fairly important as that card is the biggest reason that we often lose to RW Lark), and can still save our board from a sweeper. I think the added versatility of Burrenton Forge-Tender is better than a card that doesn't swing/block and has to compete with Bitterblossom on turn two and three.

Martial Coup is also a strong choice for the sideboard, as it can blow out the mirror if held long enough. I don't know how practical it really is, though, as the deck doesn't always hit seven mana that consistently. There are also lots of people talking about Marsh Flitter in the deck, and I don't blame them. It survives sweepers and can serve as a slightly worse Spectral Procession. I haven't found room for it in my list yet, but I don't find it to be bad at all. It's definitely worth looking into.

Now, let's move on to RW Lark:



First and foremost, I want to make it clear that I dislike this deck. No matter how I build it nor the number of times I play with it, I still just can't enjoy playing it. It's obviously a very good deck, but I feel like it just isn't as powerful as some of the other options out there. On one hand, it now has access to Banefire, which is just nutty in a list like this. The deck still oozes synergy and has good game against most of the field, but it also is a tad hurt by Path to Exile. My gut told me to drop Reveillark from the deck altogether and run it as a traditional (albeit a little hyper-aggressive) RW midrange deck, but I eventually put them back in considering that the card remains to be one of the best in the format.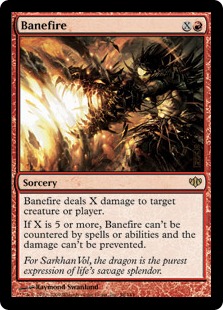 Demonfire

on steroids.

Aside from better removal (Path to Exile) and new inevitability and endgame reach (Banefire), there isn't anything new to see here. Most of the arguments I made about the sideboard for BW Tokens applies to this deck as well, so I won't waste any time going into that again. The only thing to note here is the inclusion of Stillmoon Cavalier. The rise of white decks as well as removal like Path to Exile has made the Knight good again, so I feel he fits in this deck better now than he ever did at Worlds.

Twenty-two lands is a little low, sure, but with four copies each of Mind Stone and Knight of the White Orchid, as well as three Path to Exile, it really shouldn't be too big of an issue. Playing all of these cards helps to maximize your Banefires as well as accelerating Ajani Vengeant into play. You could potentially add in another land, removing a Siege-Gang Commander.

This deck is certainly at the top of the food chain in most cases, but I would not want to play this in Kyoto or at a 5K. Its worst match-up is Faeries, and that's a terrible "worst match-up" to have right now. I also don't think this deck plays Spectral Procession as efficiently as other decks do, so it's kind of hard for me to get behind this strategy. I think in most cases it's superior to BW Tokens, but I feel that both Faeries and Five Color are better decks.

Moving swiftly on, Elves:



Considering that Elves has always had a good match-up with Faeries, it makes sense that Elves could become very good again. Normally I wouldn't place too much faith in a deck like this, but the fact that Conflux gave it Scepter of the Fugue has my interest. Scepter of the Fugue was made for Elves. It's simply ridiculous in a Rock deck like this that just wants to beat with some solid dudes and strip the opponent of resources. The artifact comes in against the mirror, Five Color, and Faeries where it can do some real damage. Taking a card each turn from your opponent's hand in addition to cards like Thoughtseize can be truly brutal, and I think that effect alone is what will push this archetype back into the format.

Scattershot Archer adds more insurance the Faeries match-up, and Necrogenesis tears Lark strategies apart. Infest can deal with all sorts of decks like BW Tokens, and Shriekmaw makes a triumphant return as Terror five through six. You should generally be looking pretty good against most of the field, though the deck can stumble against RW Lark in most cases. All in all, this is one archetype to watch.

Onward, to Bant:



Noble Hierarch is good. Very good. I feel like the card just has a lot of different uses in both Standard and Extended, and I think that this archetype in particular is one that will cause quite a splash in the new metagame. The basic idea is pretty simple: play really efficient guys early, and use Exalted triggers to your advantage to win the game, all backed by counterspells and removal. It's a fairly efficient strategy, and has tested incredibly well. There really isn't a whole lot to say about this deck that can't be observed by just looking over the list - it's just a deck playing a large number of the format's best cards. That's never a bad idea, right?

Now, onto the most important deck...



Well, here it is. When Conflux was first spoiled, the cries of despair from the Fae players and the cheers of joy from everyone else rang through the air for weeks. The dust has since settled, and most players have caught on to the fact that Faeries is very much alive and kicking. Not only has the deck remained functional, but it's likely still the best deck. No, I take that back - I'm quite sure it's still the best deck. The only card in the new set that really worries most Fae players is Volcanic Fallout, and we have plenty of tools to utilize in an effort to play around it, from Thoughtseize to Vendilion Clique. Heck, often times we wouldn't even counter a board-sweeping Pyroclasm anyway, so it's hard to be that scared of the new red instant.

Banefire can be a problem, surely, but it can be dealt with the same way Volcanic Fallout is dealt with: discard effects and proper playing. A skilled Faeries player should be able to sit on a Vendilion Clique for most of the game and wait until the ideal time (the opponent's draw step, usually) to rip the lethal spell from his opponent's hand. Considering that Faeries plays basically the way that it did before, this slight shift in playstyle should come fairly easy to most players. Scattershot Archer (which will be hardly played, as green is hardly played) can be dealt with the same way, though at least we can use removal on this guy.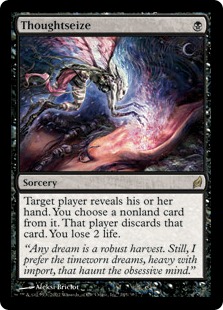 This card is now better than ever.

Let's take a look at the maindeck, shall we? I initially had a traditional list with Scion of Oona, but after discussing it with my team and getting some playtime in, it became apparent quickly that committing to the board in any fashion is quite dangerous in this meta, and so I decided to cut the cards that forced me to do that. Ponder has been called a "trap" by some (Gerry T) and a godsend by others (Bucher, Chapin). I don't really find it to be either, but all I can say for sure is that getting Bitterblossom into play is more important than ever, and Ponder slightly helps in doing that. It also becomes a great topdeck later in the game as it helps us set up draws, and can make some questionable hands keepable. The other odd choice in my deck is the greater number of Terrors over Agony Warps, though I don't think it's any mystery as to why: Figure of Destiny and Cloudthresher.

In the sideboard, Sower of Temptation, Infest, and Stillmoon Cavalier do their jobs as normal (being good against aggro decks, specifically white-based ones; Stillmoon Cavalier is also great in the mirror, though most players now use Sower of Temptation in that match-up), while Loxodon Warhammer and Razormane Masticore strive to improve the RDW/BDW match-ups. Peppersmoke is a viable option on the sideboard as well, though I felt like it may have been unneeded in my testing. It's still obviously very good in the mirror and against Tokens, but I'm not sure it if really deserves a spot or not as it can sometimes be a blank.

There has been some debate about splashing white, but I think that's quite foolish. Adding a third color makes Mutavault less powerful and harms the deck's consistency. It also tends to add very little, as Esper Charm is usually a turn too late at three mana. I'm aware that the real draw is Mark of Asylum, but I just can't get behind that idea. Mark of Asylum is a card that, again, competes with Bitterblossom for the two-drop slot. It doesn't do a thing on its own and forces us to remove vital cards when sideboarding it in. The enchantment basically just makes us eat up a turn in order to give our board a bit of immunity to an issue we already had covered. Overall I feel the card is just very weak in this deck specifically, and Path to Exile doesn't make me want to splash white any more than that did.

Now, the list I displayed just a moment ago was the list I made after Conflux was released. I toyed around with it, and decided it was pretty close to optimal. However, at a PTQ in Garden City this past weekend I sat down with Ari Lax to help him build a deck for Kyoto this coming weekend. We bounced some ideas off of each other (he doesn't play Faeries normally), and we arrived at this list, based on his own preferences as well as mine:



I think this may be a card off or so, but you get the basic idea here. I suggested Plumeveil as a possible sideboard card over Razormane Masticore, and we both loved the idea. Peppersmoke is obviously very strong, and having a full removal suite maindeck is nice. The reason I presented this list last was because it's slightly less tested than the other one, but I think this one might be better based on the testing I've done since that PTQ. I suppose time will tell!

So, is Faeries still the best deck? Yep, it is. Is it the deck to beat at the 5K events? You better believe it. Will it dominate at Kyoto? My guess is yes. For those of you who still doubt in the power that Faeries has retained, I offer but a simple warning: watch out.

Before I conclude, there is one more deck I want to talk about:



You're probably asking yourself why I saved this for last, so allow me to explain: this is the deck I think I might play for the Indy 5K. Now, before I go into more detail, I have a small story. Although I play control decks almost exclusively in tournaments big and small, I have been known to really rock people with aggressive decks as well. I love aggro as much as the next guy, and there are even cases where my deck of choice was an aggro deck (GWR Zoo in Ravnica/Kamigawa Standard, for instance). That being said, whenever I go to a large event I always end up sleeving up an control deck. Maybe it's because I don't like the odds I'm up against with an aggro deck over 7+ rounds of Swiss, or maybe I just like being able to outplay my opponent. Either way, the fact is that I never play aggressive decks at large events. With that in mind, the fact that I'm considering playing a deck like Blightning should set off some kind of alarm in your head.

So, is the deck amazing? Maybe, maybe not, but I feel like it's very well-positioned right now. It's fast, disruptive, and very resilient. It can take advantage of all of the new red tools, and it can still utilize Bitterblossom and the insane resource-depriving Blightning. Goblin Outlander provides the two-drop the deck has been dying for, as it holds off Figure of Destiny and any creature in Kithkin/BW Tokens all day. It, along with Boggart Ram-Gang, can also become Siege-Gang Commander fodder in the event that extra reach is needed.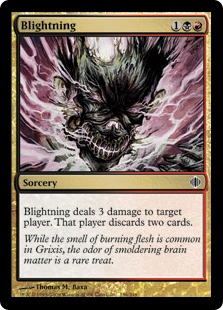 Planeswalker Slayer and Hand Killer.

The sideboard is equipped with lots of anti-Fae tools like Volcanic Fallout, Vithian Stinger, and Banefire, as well as Infest for decks with Burrenton Forge-Tender. Banefire and Spiteful Visions make the Five Color match-up pretty even-to-favorable, and better playing can easily take the mirror matches. Considering that the deck has an amazing match-up with the best deck, a good shot at toppling Five Color, a solid game against other aggressive decks, and a good chance to beat fringe and rogue decks, I feel like Blightning might actually be one of the top decks in Standard. I know I am certainly considering playing it, and that's saying an awful lot. The only real weakness that this deck has is that it struggles with RW Lark, and that's a pretty popular deck right now. The choice is still between this deck and Faeries, but the chance of seeing me at a large event with an aggro deck is still on the table.

So aside from the decks I covered, what else should you be ready for? Well, Chapin's Four Color Aggro list is sure to have some popularity (and is actually pretty good), and RDW is always a deck that sees lots of play. Kithkin might make a small comeback on the back of Lapse of Certainty, but I wouldn't necessarily hold my breath on that one. Preparing for an event like a Standard 5K is never easy, but I think this particular meta is narrow enough that only five or six decks need extensive testing. If you have a small amount of time on your hands to prepare, I'd suggest just running decks through a gauntlet of Fae, Five Color, Blightning, BW Tokens, and RW Lark. Those seem to be the best decks as of now, so I would invest as much time as you can into learning those match-ups inside and out.

Well, that does it for this week. I hope this week's article helped to give you an idea of where to start in the new metagame, and pushed you in the right direction with your testing. Next week I'll be jumping into some Legacy discussion in anticipation for the fast-approaching Grand Prix: Chicago.

Until next time,

Chris "Shinjutsei" Jobin