I remember the first time I cast Force of Will like it was yesterday. After years of having it used against me in casual play at the dining room table, I finally had a chance to know what it was like to catch my opponent with his pants down just when he thought it was safe to resolve his game-breaking spell. There is just something about playing with old, powerful spells that never fails to bring a small smile to my face. When I started playing Magic competitively, I generally gave up those nights of casual play among friends and journeyed into a world of cutthroat tournament play. The format I started with was Standard, as it is for most players. The format was exciting, and I thoroughly enjoyed it despite the inability to play all the trademark spells I had come to know and love. I later ventured into Extended, where I was able to play with a larger number of the "oldies," such as Vindicate and Pernicious Deed. As is everyone, I was aware of Vintage and Legacy, but I never really thought I'd even get into (or afford to play) either of those formats. Apparently, however, I was wrong.

Allow me to preface this entire endeavor by saying that I love Legacy. For a format that I have shunned for years, I simply cannot stress enough how exhilarating it can be. All those stories about "first turn kills" or "zero interactions with opponents" are just misconceptions. Legacy is actually a very rich and balanced format with arguably the greatest number of viable decks and surprisingly long games (on average). Not only are you allowed to play with almost all of Magic's best spells and lands, but the number of options while building decks (and even more so sideboards) is staggering. Whether you like to play control, aggro, combo, or something in between, there is simply a lot to love in this format. And now that the year's one and only Legacy Grand Prix is only days away, there has never been a better time to grab a deck and jump in.


Legacy: Part One

I won't try and sell the fact that I'm a Legacy expert, because I'm not. I only got into the format this year, but I feel like I've caught on pretty fast. The way I see it, there are two distinct paths to go down when choosing a deck in Legacy: one with Brainstorm, or one with Aether Vial. That isn't to say that the decks playing neither of those spells are bad or even "not good," but more so that those decks aren't as well-equipped to deal with the top decks in the metagame, nor are they packing the types of cards that make those top decks so dominant. Now, to better understand what I mean by all of this, I'm going to take you through a short stroll through the metagame.

First up, let's talk about the Vial decks (also known as "Legacy aggro decks"). Aether Vial is any aggro player's dream one-drop. It gives you a way around all of your opponent's counterspells, works through a Standstill, allows tricks with "comes into play" abilities, and lets you play two creatures a turn as the game goes on. If the goal of your deck is to turn dudes sideways en masse, you want four of these things in your deck. When paired with Rishadan Port, Aether Vial becomes ridiculous. You can do all of the aforementioned things and deny the opponent his own mana. I mean, I remember when Rishadan Port was in Standard and was dominating games left and right. Combine it with a means of dumping creatures into play for free and you have the most aggressive combo of cards the game has ever known. So, naturally...these decks have to be good in the format, right?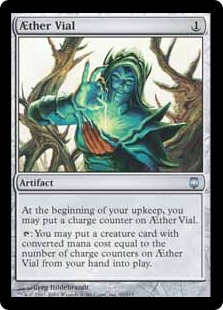 Legacy: Part Two

Goblins has been around for years, and is by far the most popular Vial deck. Ever since Onslaught was released, the little red men have never ceased to lose any of their superstar status. The deck saw a decrease in numbers in Legacy for a short time with the advent of Threshold, but the printing of Warren Wierding in Morningtide finally gave the archetype a solid answer to Nimble Mongoose. The deck's core strategy is to utilize Goblin Lackey and Aether Vial to cheat its men into play and use Goblin Ringleader to refill its hand. Goblin Warchief makes the deck even more insane, and Goblin Matron allows for a toolbox of sorts that only makes the deck's match-ups stronger across the field. Goblins is also unique in that it is the only Vial deck that does not want to drop a Vial on the first turn. Instead, it wants to play Goblin Lackey as early as possible to begin the shenanigans. Here is my take on the archetype:



So what do you get when you take a hyper-aggressive creature deck allow it to run one-of silver bullets in its main shell? You get a much bigger sideboard, and the flexibility to play additional singleton copies of tutorable creatures. I chose to only play one additional creature in my sideboard, but there are lots of cards that could fit there (from Vexing Shusher to Goblin Sharpshooter). Thoughtseize is an obscenely powerful card in Goblins because it lets you strip away the hate cards that your opponents will undoubtedly bring in against you (the most popular being Engineered Plague, naturally), as well as the countermagic that can ruin your deck. The storm and combo match-ups are shored up quite well with this sideboard, and the deck is given outs to Moat and its ilk via Krosan Grip.

Goblins has remained at the top of Legacy's aggro food chain (no pun intended on that one, I promise) by being fast, synergistic, and incredibly resilient. But why should you play it over the other Vial decks? Well, one reason is speed: the deck is nearly unmatched when it comes to reducing life totals to zero. The other factor, though, is the aforementioned toolbox that the deck inherently carries with it. When you can apply increasing amounts of pressure and dig up a game-winning threat, it's hard for your opponent to come up with enough answers to survive.

Below are two more Vial decks, though these ones take a more aggro-controlling route:




While both of these decks share the core strategy of "play Vial backed up by counterspells," each has its own unique approach. Merfolk plays Standstill along with its creature suite, mostly because its manabase can afford to play Rishadan Port and Wasteland to help counteract the opponent's plans under a Standstill. Slivers gets to use Crystalline Sliver, which gives fits to any deck hoping to use spot removal to control the board. Both decks can utilize Force of Will and Daze (though Merfolk gets eight Dazes because of the amazing Cursecatcher) which inherently gives them strong match-ups with control and combo decks.

Both decks suffer from the same problem, however: they must commit to the board a bit too much in order to win the game. Goblins is a tribal deck rife with synergies, but Merfolk and Slivers rely on their "lords" to get stronger when in numbers. Legacy isn't a format particularly saturated with sweepers, but everyone and his brother is packing Engineered Explosives or Engineered Plague to ruin all the fun, so it is important to take note of this when choosing a deck. On the other hand, the aggro-control Vial decks have the unique ability to apply lots of pressure while also stopping the opponent from doing what he wants (not having to keep mana open to counter opposing threats is huge for aggressive decks in Legacy), and that is certainly the biggest reason to play one of these decks.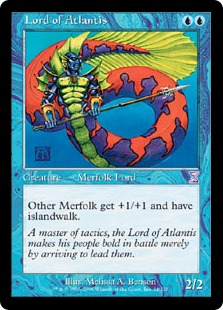 Good luck, Dreadstill.

Counterslivers is a fine deck, but it has fallen off the radar recently due to the surge in control decks that can neutralize its core strategy (a resolved Counterbalance wrecks the deck for the most part unless it got down an early Vial), but Merfolk has seen a spike in popularity. The deck itself isn't that fundamentally different from Slivers, but it does have Lord of Atlantis, and that's quite huge. Sure, he just pumps the team and whatnot, but he also grants Islandwalk: the key to beating the Legacy control decks. Merfolk's strength in the format right now might just be totally relative to the power of the Brainstorm decks, but I don't see how that's a strike against it. If you want to bring a deck to Grand Prix: Chicago that will steamroll the blue-based control decks, Merfolk is the deck for you. The deck can also be adapted to run white for Swords to Plowshares or even to run Phyrexian Dreadnought, so the options are plentiful.

The remaining Vial decks aren't as potent as the three I've already outlined, but are worthy of mention. Death & Taxes was one of the decks I originally planned on taking to the Grand Prix, but it played rather clunky for me in testing. The deck's strategy is to use a series of tricks involving Karakas to gain an advantage over the opponent while beating with small, efficient white creatures. The deck has inevitability due to Mangara of Corondor shenanigans and Cataclysm, as well as lots of maindeckable hate creatures like True Believer and Samurai of the Pale Curtain. I really liked the concept of the deck (and that I got to use my trademark card, Serra Avenger), but I felt like the deck wouldn't hold up over fifteen or more rounds of Swiss. I felt the same way about Affinity (which I suppose doesn't need to run Vial, but it's very good in the deck), but it's become common knowledge by now that Affinity is underplayed and underpowered in Legacy these days.


Now let's switch gears a bit and talk about the Brainstorm decks. Brainstorm is probably the most powerful card in Legacy, as no card has ever rivaled it in this format when it comes to deck and hand manipulation. It has been said many times, but here it is once more: in the hands of a good player, Brainstorm is simply broken. Whether its fixing a bad Top or hiding key cards from a Thoughtseize, Brainstorm just does an awful lot for you. There are lots of different ways to play this card, but I think it would be easier to split the decks into two categories. Here's the first one:



If you're going to play a storm combo deck, you're going to need Brainstorm. No card in Legacy allows you to set up a combo better than this one, and it is generally the cornerstone to any combo strategy (aside from the glaringly obvious exclusion of Ichorid, that is). While it is certainly true that referencing this deck as a "Brainstorm deck" is a tad far-fetched, it in no way takes away from my point a moment ago about Brainstorm being broken. You don't necessarily have to play a control deck to be playing Brainstorm effectively, and Ad Nauseam Tendrils (henceforth know as ANT) is proof of that.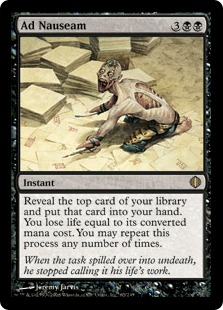 Dark Confidant

...ad nauseam.

ANT is a newcomer to Legacy, but has quickly risen through the ranks to emerge as the best combo deck in the format. It's fast, consistent, and generally quite resilient. It can play red to accommodate for a wishboard, and can also maindeck all sorts of defensive measures. It loses quite handily to countermagic (specifically that of Dreadstill with its multiple Stifle effects), but can easily outrun aggressive decks and overtake midrange decks. There have been a number of times where I'd find myself with no hand as a result of the Rock picking it apart, only to draw an Ad Nauseam one way or another and draw enough cards to win the game. ANT plays like any other storm deck, except that it has an additional engine (Ad Nauseam) to find a win condition. The deck can also use Doomsday and Sensei's Divining Top to avoid using Ill-Gotten Gains as its win, which would sometimes backfire because the opponent could get back counterspells to thwart the last Infernal Tutor in the event that an Orim's Chant did not resolve at some point in the turn.

The other Brainstorm combo decks (TES, Solidarity, Doomsday, Full English Breakfast, etc) aren't as powerful as ANT is in my opinion, and should not be considered with any priority over it. I know there will be those who will read this and think that that is too bold a statement, but I will stand by it: if you're going to play combo in Chicago, it ought to be ANT.

The next section of Brainstorm decks are the control decks of Legacy, which are just my style. If you played any Extended last season, you know that Counterbalance is very good. In fact, I dare say that duo of Counterbalance and Sensei's Divining Top is the most powerful tournament-legal combo in the entire game. The fact that this simple, elegant combo can lock up the game so quickly makes it nigh-unstoppable in this format. Below are lists for three different archetypes sporting the combo: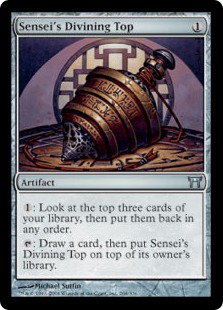 Great on its own...

Dreadstill is currently what many players consider to be the "top deck" in the format as of late, and for good reason. Dreadstill harnesses the Standstill draw engine by playing Wastelands and Mishra's Factory to gain advantage when not casting any spells. The deck's biggest strength is that it can switch roles from control to aggro rather easily by dropping a 12/12 for a single mana. Phyrexian Dreadnought+Stifle is a combo that inherently takes away card advantage (since it requires two cards to be effective), but the fact that it generates a beater than can end the game in two turns and not die to a Progenitus is more than worth it. The deck attempts to make up for this loss of card advantage by using Counterbalance, and that helps carry the deck quite a distance. I don't particularly feel that Dreadstill is the best deck, but rather that it is the most powerful deck - it can hold its own in long, controlling games and also come out of the gates against the aggressive decks. The best part, though? You can race combo just by running out an early Phyrexian Dreadnought. That in itself is simply impressive.

Threshold is undoubtedly the classic Legacy deck. It has won more tournaments than one can count, given more players headaches than is worth mentioning, and has better showcased Tarmogoyf more than arguably any deck in the history of the game. The combination of big, cheap creatures alongside the standard control suite of the format makes for a strong deck that has a stable footing. The deck can be built many different ways, and each has its merits in one way or another. There isn't a whole lot that I can say about Threshold that isn't pretty clear from the results the deck has posted or the amount of success the deck is accredited with: it is simply a very good deck, and an excellent choice for a Grand Prix. Threshold doesn't have many improved match-ups over Dreadstill, however, and instead falls into that deck's shadow due to Thresh's lack of ways to operate under a Standstill. I don't think that that should count the deck out, but I do feel as though there will be a large number of Standstill decks at Grand Prix: Chicago, and that doesn't look too good for Threshold.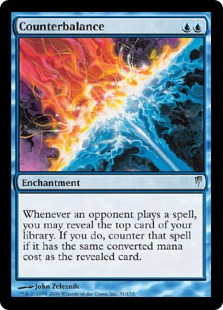 ...broken with this.

The third and final Counterbalance control deck is It's The Fear, and is the only decklist I've presented today that was not my own. The reason why? Well, I'm quite sure I will end up playing this deck this weekend at the Grand Prix, and my final list is something that I not only am not one hundred percent done with, but also not willing to share in its entirety. Still, that doesn't detract from where I am going with this - in fact, it will help me build on it. If this is the deck I'm considering playing over all others, you know that it's got to at least be very strong. It's The Fear (ITF) can be summed up pretty easily: it's basically the Five Color Control of Legacy. It can play any card it wants, and it has numerous engines to abuse each one. Gerry and LSV's latest incarnation of the deck opted to cut black in favor of red, but either way we're looking at a four-color control deck that beats with Tarmogoyf while it builds a defense with well-chosen Intuition piles. Etched Oracle is typically found in these lists, and is honestly one of the best cards in the deck. The ability to Ancestral Recall ad nauseam is simply too good to pass up, especially when it's so simple to use Intuition to fetch the necessary parts (Etched Oracle, Academy Ruins, Volrath's Stronghold). Considering that ITF can potentially steamroll Dreadstill, has a decent match-up with most of the Vial decks when given an appropriate sideboard, and can beat the combo decks with ease, I feel that this could be the best deck to play in Chicago. It has a tough time with Landstill, but the recent additions of Mishra's Factory helps the match-up a little and can actually give the deck an edge.

The other Brainstorm control decks are a little more like Team America, the aggro-control deck that uses Tombstalker and Tarmogoyf to do its dirty work while cards like Sinkhole and Wasteland make sure there is little the opponent can do about it. A counterspell suite coupled with a set of Snuff Outs ensures that the plan goes off unhindered, and the cornerstone that holds the entire deck together is Brainstorm and its wonderful way of making blue decks significantly better and more consistent. While I can't say I care too much for Team America or the other Brainstorm decks that choose not to run Counterbalance (which I still don't understand), it should be known that these decks are very much real and will undoubtedly show up at the Grand Prix. That said, come prepared.

The other deck in this category that begs to be talked about is Landstill. Here's a sample list:



Landstill is the control deck of Legacy. It just plain out-controls every other control deck. It's not inherently better against the entire field or anything (it's actually weaker against the combo decks and Rock decks), but it slaps around the other Brainstorm control decks left and right. It gets the most out of Standstill than any other deck, and has the tools to tackle aggressive decks as well as midrange decks. Ajani Goldmane and Elspeth, Knight-Errant ensure that your manlands are bigger and better than theirs, and Decree of Justice gives the deck incredible inevitability over almost every blue deck in the format. Word is that Landstill has shown an intense spike in popularity lately, and that doesn't bode well for the guy wanting to play ITF this weekend (read: me). I was originally going to play Landstill myself, but I feel like this is the format's most complex deck: it takes an incredibly long time to learn the deck well enough to feel comfortable playing it, and I simply didn't have the time to prepare with the deck. Despite the fact that this is the last deck I want to sit across from at a Legacy event, I do feel like I would be doing you all a disservice if I said that the deck wasn't very, very good - because in reality, it certainly is. If you want to prey on the Counterbalance decks, this is basically their worst nightmare.

Now that I've gotten all that out of the way, I suppose it's time I took a second to talk about the rest of the format. There are lots of decks in Legacy, obviously, and I can only talk about so many. Of the remaining "good" decks, a few stand out. I'll run through a few of them.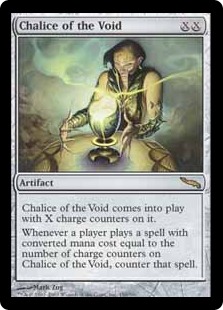 Pretty sick on turn one, I must admit.

Stax


Ah, yes - Stax. The classic mono-white control deck that exists merely to drain you of all your resources and to totally mess up any plan your deck might have had going on. While Stax shines in various control match-ups and against combo decks (thanks to Chalice of the Void on turn off of an Ancient Tomb), it falters against the Vial decks quite frequently. Unless it sticks a turn-two Ghostly Prison, Stax is likely not going to be able to keep up with Goblins or Merfolk. The deck does, however, have lots of high points. Being able to effectively lock out combo decks with Chalice of the Void and Trinisphere (which also hurts control decks, too) as well as hinder any deck's plans for development (Smokestack itself) is quite an alluring reason to play the deck, but Stax just doesn't have the parts or the match-ups to survive a Grand Prix. I think the deck can Top 8 with relative ease, but I could never see it winning the whole thing.



Stompy


Whether it be of the Faerie or Dragon variety, Stompy decks are generally niche decks that prey on the metagame. I don't think Dragon Stompy is a solid deck to play at this Grand Prix based on the fact that most decks are shying away from nonbasic lands as it is to avoid Wasteland, and thus the eight Blood Moon effects will be less powerful than they were not too long ago. Faerie Stompy never falls out of style, but it also never really breaks the format, either. It's a fast, strong deck, but just not Tier 1.



Ichorid


When you consider that every single deck in this format packs three or four cards in the sideboard that render your win conditions useless, it becomes pretty clear why Ichorid is no longer the dominant combo deck in Legacy. Granted, the deck almost always wins game one: it was designed to do so. It has the potential to just steamroll any vulnerable deck and can take advantage of weak openers, but Ichorid just can't overcome all the hate that has become mainstream by now. I know a few people that are bringing this to Chicago, and all I have to say is: "good luck with that."



Deadguy Ale / Rock / Eva Green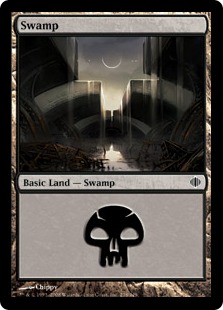 Yeah, it's actually pretty good in this format.

Alright, so here's my concession: these decks are pretty good. My first few nights of testing the Legacy format consisted of Doran Rock against Dreadstill, and I could hardly win a game. These types of decks maindeck anywhere from four to twelve (at least!) discard spells, and sideboard even more. Add to that the removal suites that these strategies pack and it makes it very hard to control decks to withstand. Dreadstill cripples under the disruption, but decks like It's The Fear and Landstill still have a fighting chance. The real issue with these decks to me is that they still have a hard time with Ad Nauseam combo decks, and they also struggle with Goblins and other aggressive decks. I don't think these decks are bad at all (in fact they are easily the best of the decks without blue mana), but I don't think that they are Tier 1. You have to have better match-ups to be Tier 1, in my opinion.



Aggro Loam


This deck is hit and miss, it seems. The right start can beat most any deck, but often you'll find yourself stuck between a rock and a hard place as your win conditions eat removal spell after removal spell. To make matters worse, a well-placed Relic of Progenitus can rain on your parade fairly easily. Aggro Loam does well against aggressive decks because it has a strong sweeper in Devastating Dreams that kills all blocker and lets your big guys stick around, but that isn't nearly enough to give it a whole lot of game against the Brainstorm decks...and especially ANT.



Belcher


I don't really know what to make of this deck. It's certainly fast, but not all that consistent. I think this small lack of consistency makes it inherently weaker (should've played Brainstorm!) than ANT, and that alone is enough for me to push this deck aside in favor of that one.



Elves


The Scourge of Extended is alive and well in Legacy, but I don't think it matters a whole lot. The deck is very good, but it folds to the same cards that it folds to in Extended - only in this format, more of those types of cards exist. I don't think this deck is that good of a choice for Chicago based mostly on that it only has a few match-ups that are favorable, and none of them are the match-ups that are all that important.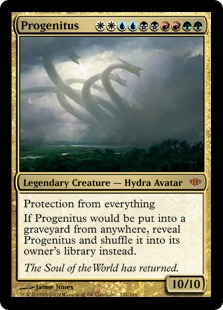 Don't you DARE play this against me.

Survival


I fully expect the Progenitus/Natural Order combo to be present in Chicago, but I also feel like those decks will be weeded out as the rounds go on. While you can get some explosive wins with Survival decks, I find it hard to believe that anyone would want to take a mono-green (or sometimes other colors, sure) deck to a Grand Prix where 80% of the players will have blue mana. It just doesn't add up to me, but maybe that's just my intuition talking...



Faeries


It's good in nearly every format, so why not Legacy? I'm actually very glad this deck does well in this format, as I have loved Fae in every format I've played it in so far (Standard, Block, Extended). In Legacy the deck can go one of two ways: a Standstill direction with Bitterblossom, or a more traditional approach with Ancestral Vision and Tarmogoyf/Spellstutter Sprite. Either way, I think the archetype is very good - but again, "very good" isn't always Tier 1. Could this Grand Prix be its breakout tournament? Part of me hopes so.

Well, there you have it: my thoughts on Legacy. Grand Prix: Chicago is in two days, and I'm sure if you're going that you already have a basic idea of what deck you're playing, but I hope that my article helped to make you think a bit more about the format. I love Legacy because the card pool is so vast that a large number of decks can be viable, but I also like that you can still pick out the few that are better than the others. If I had to offer up a small set of decks that are "Tier 1," I suppose I'd say Dreadstill, Goblins, Merfolk, Landstill, It's The Fear, Thresh, and ANT. Those seven decks have the best overall match-ups when run side-by-side, and showcase the most potential to win the Grand Prix. Most of these decks are just better-positioned than the other decks in the format, and I think that is all that really counts when choosing a deck for a large event like this.

So whatever deck you choose to be your Legacy weapon of choice, I hope you put up a good fight in Chicago. I'm looking forward to my first real foray into a new format, and I hope to hear in the forums that some of you are going to be there. I've really enjoyed writing about this format, and hope that you liked what you read here today so that I may be so inclined to write about it again. I'm not sure what next week's article will be about yet, but I promise it will be something interesting. But for now, I need to finish tweaking my list for Chicago, whether it be ANT or ITF (still undecided at this point). See you all there, and best of luck!


Until next time,

Chris "Shinjutsei" Jobin