Magic Casualty: Blightning Deck Wins

Competetive Standard is a world filled with decks jammed packed with double digit dollar value rares and more than one deck archetype that just won't die, despite any hate printed for it. The obvious choice, then, is to make a "budget" deck and add additional restrictions to it's design. Wait, what?

Let's jump back a little bit in time to the last space in Magic when I played Standard competetively. It actually wasn't too long ago, during the time of Ravinca-Time Spiral Standard, that I was tuning decks, following the metagame, and playing with some of my favorite colors (Solar Pox was a fun deck; Dralnu du Louvre was an extension of my will; Pickles was just coming into bloom) when I stopped. Money was tight, life was changing, and I needed to get real with my reality: spending that much money cracking packs had to stop.

I actually acquired playsets of the following cards from opening packs during this time:

Glimpse the Unthinkable

,

Circu, Dimir Lobotomist

,

Watery Grave

,

Temple Garden

,

Overgrown Tomb

,

Sacred Foundry

,

Steam Vents

,

Godless Shrine

,

Hallowed Fountain

,

Blood Crypt

,

Dark Confidant

,

Extirpate

, and

Flagstones of Trokair

among others.


Now that my life is back in full swing I have been enjoying the wonderful opportunity to play Magic heavily again. Instead of buying as many packs as possible I have supplemented this with buying singles: a much more cost effective approach for sure. I also have a much larger playing group (who are equally much more critical and constructive about my decks and play, also good) and can play for longer periods of time more frequently. Ultimately, I made the decision that I would want to try my had at playing competitive Standard while testing out my rogue three-of cards maximum strategy. While the local FNMs are mostly Limited events (read: an additional expense that will be too great for me to justify weekly; I still have a budget!) I do know that there will be players on the casual nights, as well as at the FNMs, with strong Standard decks. They will want to test and try their deck just as much as I will.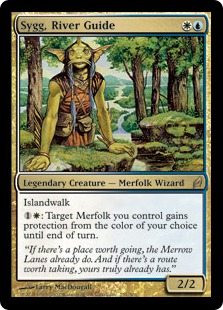 Not the dominant force in the metagame.

Where I stand is mostly lacking a deck and a little overeager. I don't have overwhelming amount of experience in Standard and I can only glean so much from tournament reports about some fish. While fish taste good (and we've been thanked for all of them), I need something more of my own design and capability. I am confident I can build something surprising but (mostly) competitive. I need the right idea and I need to build layers of synergy that make it resistant to aggro and resilient to control. A true mid-range deck that can stall out the aggro stomp but punch through control defenses would be suitable. But let's step away from what my imaginary deck should or should not do: I need the build a deck to start that I can actually use to test the local metagame (and plan to win).

Fear and loathing in Reno, Nevada

There is one deck archetype that has existed since the early days of Magic. It is an archetype I am not particularly fond of nor one that I find particularly interesting but one that I seem to have a knack at piloting and runs more towards the budget end of the cost spectrum: pure Red burn decks.

I'm not going to lie: I "cheated" a bit (by visiting the Standard section of the forums) to see what was considered "competitive" these days in Standard. There were two theories of Red decks going: Red Deck Wins and it's (mostly) mono-Red burn and rush, and the Blightning Aggro deck with quick disruption and beats often paired with the slower but highly effective card advantage engine of Bitterblossom. While parts of the decks and their play styles were superficially similar they are quite different in experience. RDW is the classic "balls-to-the-wall" Red burn deck that ekes out every last drop of damage it can at a breakneck speed. The big finisher of Demigod of Revenge and the big-little man of Figure of Destiny seem to be metagame needs for a creature that can go the distance: it turns out that lifegain is fairly common and quite good in the current Standard. Blightning decks put solid pressure on the opponent to find answers while stripping those answers away via the namesake card and Thoughtseize, all while dealing damage to keep the pressure up. Similar finisher creatures to meet the metagame need are the only true similarities between these decks. From my last article, you know that I'm looking for something where I can test my theory that a deck that is limited to three copies of cards can perform just as good (or potentially better) than standard decks. What this means is that the "four-of, auto-includes" are capped at three. Additionally, I don't own any Demigod of Revenge or Figure of Destiny, and shelling out atleast $70 just for six cards (only six due to the benefit of capping at three each!) is something that would be very hard for me to justify right now (I may be moving away to create my own deck, more on this later).

So where does this leave me? Three copies of some of the cards? Why am I talking about two superficially similar, yet very different, decks?


This is why I was bringing up two decks. This is deck is dirt cheap (compared to any R/B deck with multiple Figures and Demigods) and plays exactly like it looks: bring the burn, some fast beats, a splash of recursion with unearth, and a little spice of rogue-ish cards. This deck is really just like Red Deck Wins and Blightning Aggro thrown together. It functions like both decks and serves to run damage through to the opponent as rapidly as possible but contains some very limited hand disruption (which, incidentally, damages the opponent). The curve effectively stops at three, but there are two cards that want a lot of mana later: Hell's Thunder and the obligatory Banefires in the Sideboard.

I'm going to give you a brief overview of the cards and sideboard, then describe my testing. I'm sure you have some questions criticism to address with my choices but bear with me for a moment.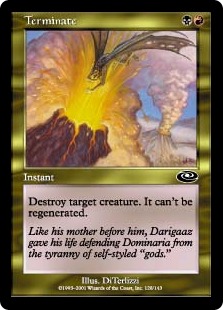 Pure, unadulterated answer.

Yoke of the Damned is one that is sure to make you scream "Awful!" and it is, generally speaking, terrible outside of Limited. However, Yoke does some things that its generally more reliable counterparts Terror and Shriekmaw can't: kill Black dudes. Subtle yet important, it not only does it's job in the mirror match but also kills Doran, the Seige Tower. Doran, and the Doran Rock and 4C Aggro decks that run him, often rely on the fact the there isn't great removal outside of white for him. This crucial difference is very important for my meta which is why I run it still (even after testing, as you'll see). It also lets me get more use out of Volcanic Fallout by tagging a Rhox War Monk with the Yoke then dropping the Fallout post-combat, and can seriously mess with combat plans for your opponent: Birds of Paradise and Noble Hierarch usually need direct removal to kill. By placing the Yoke on them I can trick an opponent into not blocking my beaters (see Volcanic Fallout) with a better dude or, alternatively, I can place the Yoke on some fatty then use my cheap burn on something fragile (Fallout is heroic; you know it is when 5CC is running it in some builds). Again, I stress that while this is awkward and slower than most removal it does give the deck a little reach that it otherwise wouldn't have (Read: kill things that usually stop me dead).

The main gist: "Will this get changed at some point later?" Most likely as the meta will change but right now it does its job and can be sided out for other match ups where it isn't important.

Spark Elemental looks like a Lightning Bolt but it's much more complicated. Generally, this guy just runs into a some fat and dies a lonely death. But in a meta filled with 1/1 (and often 2/2) tokens and board sweepers, this guys shines much brighter. The not-so-subtle interaction with Yoke of the Damned makes a suprising combo that few are expecting ("Blockers?" "I'll keep my awesomesauce creature of out this." "You take three. Second Main, Yoke on your awesomesauce." "Oh, WTF!") and can force a creature into combat to save your opponent's life total (a freshly resolved Cloudgoat Ranger who could instead be jumping for five a turn has to die a quick death to keep the life total above burn range).

Again, a reasonably terrible card that has shown potential due to the current meta.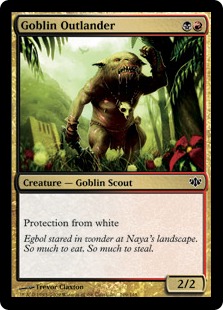 The real Goblin hero.

Goblin Outlander is a heroic card for this deck. It blocks Rhox War Monk and Doran, the Siege Tower and stops the life gain shenanigans of the aforementioned Monk and Knight of Meadowgrain. Protection from Red, as on Burrenton Forge-Tender, isn't as sexy when several of my dudes still trample for one damage. While the Outlander dies to Volcanic Fallout, if I'm playing Fallout it is likely because he wasn't doing enough anyway (or I'm getting much closer to winning on the back of two uncounterable damage).

Goblin Deathraiders is another awful card. But he does something very important that my other big power dudes don't: stick around and block. On the defensive, this guy can buy me time to draw a game changing burn spell. On the offensive, he's a problematic creature for tokens (I trample over or I take out multiple tokens in a gang-block) and the frailty feeds into Yoke of the Damned. Alternative two-drops, like Stigma Lasher aren't cards I have or are already being run (see Goblin Outlander).

Hell's Thunder is a finisher as well as a fantastic three drop. Few decks have effective answers for a 4/4 flying with haste on my third turn, especially when I'm on the play. Add in that if Thunder hits countermagic or removal, I still get it back later on. While it doesn't have the raw efficiency of a Demigod of Revenge it does hit much earlier and can put an opponent into a defensive stance earlier than normal: looking at having only 10 life going into your third turn is a precarious position to be in against a burn deck even if I don't have any creatures on the board (by using the not unheard of combination of Spark Elemental, Spark Elemental/Hellspark Elemental/Incinerate, Hell's Thunder).



Auntie's Hovel

isn't in my deck since it is a terrible topdeck: worse than a Mountain or Swamp. If I'm trying to power up

Hell's Thunder

unearth or an uncounterable

Banefire

, a basic land is better than a Hovel on an empty hand.

Magma Spray is something that I'm still testing. It gives me yet another first turn answer to a Birds of Paradise/Noble Hierarch (with Mogg Fanatic) and helps me stop unearth in the mirror, but it doesn't trigger Yoke of the Damned which can be very important when the opposing board is a Bird/Noble and Doran on my third turn. Shock is an obvious answer to replace this with, but Tarfire may give me enough Goblin goodness in the main deck to run Auntie's Hovel. There isn't an easy answer other than that I need more testing.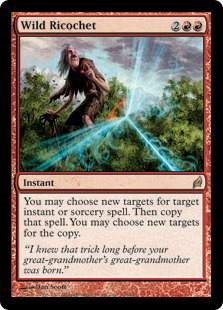 Fun for burn, removal, and 7CC sorceries!

The sideboard options look pretty standard except for the copies of Shunt and Wild Ricochet. These guys come in for both mirror matches (or other decks laced with removal/burn) as well as against any control deck. Shunt is often very effective against Cryptic Command (since most players choose it to be a cantrip which makes the Cryptic have only one target!), wonderful against Negate and various removal, and most auras. Wild Ricochet is similar but far better in the mirror as well as against Five Color Control. Why against 5CC? Cruel Ultimatum. Huh? What? While Ricochet (and Shunt for that matter) can't change the target from you (the opponent), it does copy it for you and puts it on the stack above the original. This is very important because it gives you four extra cards to work with going into discarding three and helps rip some of the advantage from the 5CC player's hand. I haven't seen a single 5CC player not tap out to play Cruel against a red deck: show them that it isn't the best thing to do. Even just slowing them down long enough for them to have countermagic up for the Ricochet, you buy yourself time to eat their life away even more. Ricochet can also be played on your own spells: against a slow deck you can basically use it as a Fork for Flame Javelin, Shard Volley, or Incinerate. 5CC isn't a match up that this deck should win consistently, but how many cards can currently mitigate the power of the most played seven mana cost sorcery from the most dominate control deck?

The Gold Standard

While that is what I'm playing with now, there are other cards that I'm seriously considering.

Eye Blight's Ending/Shriekmaw give me some answers that Yoke of the Damned isn't great with. If I need to kill something, the Ending will get the job done even if the creature is black or an artifact (though it whiffs on something like Mirror Entity). Shriekmaw can play as a slower Terror but also provides juice if I'm playing a slower deck like 5CC: a 3/2 evasive beater that kills a blocker dead just showing up to the party sounds like fun for me.

Goblin Assault looks like a potential powerhouse against a deck like 5CC or Fae. It gives me a free creature every turn and it "forces" me to do something I was probably planning to do anyway. This is a very decent answer to a turn two Bitterblossom. It won't win the game by itself but it will provide crucial pressure when my deck begins to run out of steam.

Savage Lands + Resounding Thunder. Just stop for a moment and think about it. What I mean is this: assume I can park 4 Savage Lands in my sideboard and 3 Resounding Thunders in my main deck. The "megacycling" power of 6 damage to the face (what a decent Banefire would do) or a big creature (Doran, the Siege Tower) is pretty good. The fact the cycling can't be countered by normal countermagic and cantrips makes it very appealing to me. Card draw in a burn deck is always awesome. Uncounterable burn is always awesome. The two together? The last time we saw this was in the Lightning Rift decks of the Onslaught era. A Jund-colored aggro-control deck that can have an interaction like megacycling the Thunder is pretty far fetched... but rogue and powerful enough to have a shot. When Cryptic Command can't save you, it has to be pretty powerful. However, this would be very slow to roll out and if Faeries was still the deck everyone played I could see this option coming up more seriously.

Suicidal Charge looks to be a powerhouse against token decks. Negating a Glorious Anthem and tapping out your opponents creatures sounds pretty good for my deck. While Charge has a pretty steep converted mana cost (five), the fact that I can recur a Hell's Thunder in most games leads me to believe there is potential for a sideboard option if token decks prove more problematic.


Oh how I miss you.

Very closely related, Pyroclasm can clip tokens, small fries like Birds of Paradise, and give me more reach when I'm attacking into fatties. While Infest seems pretty good for this as well (and it strikes through protection as well), Pyroclasm may be something I need to layer on: Infest + Pyro seems pretty good against a board of three and four toughness critters.

Preliminary Play Testing

Here is the meat and potatoes that you were waiting for, competetive sorts you are.

Faeries
This was your usual, straight up Faeries match. The first game didn't see any Blue mana sources for the bug men, but Bitterblossom did hit turn two and there were Mutavaults swinging too. Basically, the Fae player walked into a Volcanic Fallout with a Mutavault and three tokens: apparently this caused him to scoop.

Game two was much more interesting. While this was done on the fly before my store's FNM draft (where I nearly bottomed out but squeaked a win out in the third round of pairings) so I wasn't prepared to document well. However, the plays basically worked like this: I sat at 20 life and slowly nipped and burned out his board control. He had stabilized the board with two Mutavaults for defense and I was ready to try and push through. After two turns of my trying to get Hell's Thunder through he felt safe enough to try his hand at moving towards the win. He activated Mutavault and plays Mistbind Clique. I respond with Magma Spray on the Mutavault. He responds with Scion of Oona. I let the Scion resolve then point a Flame Javelin at the Scion. By now, he is out of mana and is dismayed to see a Mutavault get RFG'd and his chance to hold better board position disappear. You don't get two many two-for-three exchanged with Faeries.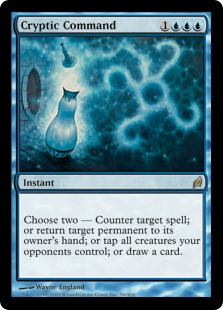 Just. Damn. Good.

However, the game was far from over. I had fought past two Cryptic Command (and it is striking me truly hard how damn good that card is) and he ripped a third as well. And three Ponder. And three Spellstutter Sprite (which countered a Spark Elemental). All told, he sat at three life for six turns before I drew the gas to finish the job; Jace Beleren even made a showing and drew four cards for him (one for me).

In both games, unearth really hit home well. Since it is an ability on a card in the graveyard it dodges counters. Hell's Thunder was able to trick out two Cryptic Command, once to counter and the other to tap it before combat. I consider that a serious victory for my deck: despite massive card "advantage" for the Faerie deck my deck had enough variability to avoid getting holed up to quick. Countering Shambling Remains just doesn't work well when I can just get it back for a turn anyway.

All said, a speedy Red-Black deck with some hand disruption will do well against Fae decks. It's just how it is.

Blue/Black Master Transmuter Combo
This deck was very strange: it pounded out artifacts and lands while playing Sphinx Summoner to fetch Master Transmuter, which then drops Inkwell Leviathan or Sphinx Sovereign into play. Gaining life while providing a fat blocker is an easy way to stall out my deck. Without any card draw, he was able to combo out both games very quickly. I wish I had more to say but my deck just didn't give me the nuts hands needed to burn him out fast enough.

Kithkin
Kithkin is definitely a tough match up. They have better creatures immediately, Glorious Anthem to get those you can kill out of burn range, and Path to Exile and Unmake to cut short any unearth creatures. I got hammered repeatedly by this match up.

Unless they falter and whiff on lands and/or creatures, you'll have a tough time even getting close to a win. Banefire would be a key card here but they have the aggro speed to negate access to that power of burn. Siding in as much burn as possible, keeping your creatures with haste, is paramount to getting at shot. If the little white men are big in your area you'll have some serious issues to content with. That said, a slight stumble and buring out a few creatures can give you a chance to steal a win: just never count on it.

The reason I don't have a lot to say is that this is an archetypical bad match up for my deck.

Four Color Aggro
This deck is a brutal, blunt beating. Whether it's dropping Doran, the Siege Tower or Rhox War Monk on turn two, or Tidehollow Sculler or Rafiq of the Many on turn three, this deck has plenty of better beats and disruption to bring. However, it rides on a shakey mana base in the early turns as well as getting a Birds of Paradise or Noble Hierarch on turn one to accelerate with. Clipping the Bird/Noble upon sight is paramount to gaining an edge (a job that Mogg Fanatic or Magma Spray does well for), as well as saving the Yoke of the damned for Doran/War Monk and dropping the Volcanic Fallout with combat damage on the stack. It's basically a race for damage as long as you keep the War Monk from gaining any life: a tough challenge but vitally important.

Five Color Control
I wasn't able to get testing in against this deck. My suppositions would have to be put to the test in the field of battle.

All Good Things...

Blightning Deck Wins is something fairly exciting for me. It does the job of Red Deck Wins with the additional reach and disruption of Blightning Aggro. The versatile selection of burn makes this more challenging to play than it might appear and the number times it comes down to ripping the beautiful topdeck makes playing this thrilling.

Do I win? Yeah, I do pretty well. Can I continue to win? You'll get to find out with me.


At the last moment I was able to borrow three Stigma Lashers to swap in for the Goblin Deathraiders. Stopping any lifegain is incredibly crucial to survival against Kithkin, Four Color Aggro, and even the Fae decks with a miser's copy of Loxodon Warhammer.

Round One: Bant Aggro (with Shorecrasher Mimic)
A funny deck with a powerful focus and curve. Imagine a turn one Forest, Noble Hierarch, turn two Plains to Path to Exile with and drop a Shorecrasher Mimic, then turn three Rhox War Monk and swinging with a 5/3 trampler. I saw this coming as soon as the mimic hit play in the first game. Despite stemming the aggro tide, back to back War Monks are really hard for my deck to deal with. With my opponent's life total jumping back up from the 8 I had him down at I just didn't draw the right outs.

Looking at my sideboard I found it quite anemic with any real options. I just shuffled up for game two (one that I remember much better). An opening hand of Mountain, Graven Cairns, Stigma Lasher, Spark Elemental, Incinerate, Goblin Outlander, and Yoke of the Damned is pretty boss. One the play, I drop the Mountain and lil' Sparky. I see an Island and get a "Go." Top decking like a champ I get Mogg Fanatic. I drop Cairns to play the Lasher. His turn he plays a Plains, then Akrasan Squire. "Go." I draw a Swamp, play and filter it to , Incinerate the Squire, and swing with the Lasher. Lifegain is gone. I drop the Fanatic. His turn he plays a Forest and Rhox War Monk. "Go." I draw Blightning. I play the Yoke on the Monk, pop the Fanatic for one tot he dome, and killing the blockers, and get there with the Lasher again. He draws, thinks for a bit, then plays Noble Hierarch and Shorecrasher Mimic. "Go." I draw another Fanatic. Drop it and pop it to kill the mimic then swing with the Lasher. I get the scoop.

Game three was a haunting reminder that 4C Aggro is going to be a great deck. I had to mulligan to five to get at least one land to show up (Mountain). It didn't matter. Two Hierarchs and War Monks later I folded. Bad match ups can be winnable, but against the nuts hand? Sorry.

0-1

Round Two: Red Deck Wins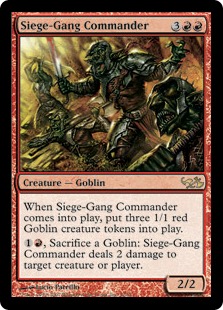 Finally, something I could jive with. Losing the roll I see a Mountain as the turn one play. Red Deck Wins? I look at my hand of Mountain, Swamp, Graven Cairns, Blightning, Spark Elemental, Magma Spray, Shambling Remains and contain a smirk. I draw a Volcanic Fallout, then play the Mountain and Elemental. Her turn came another Mountain and Dragon Fodder. I play the Swamp and pass. She swings for two with the tokens, then plays a Mountain, then plays Incinerate on me. My turn, I draw another Blightning, play the Cairns, then play a Blightning stripping away a Mountain and Shock. I pass to her, she swings for another two and plays another Dragon Fodder. I untap, Fallout before my draw, then draw Fanatic. I play Fanatic and pass. She scoops.

A little early for giving up, I thought, I but I looked to my sideboard and grabbed the three copies of Shunt to swap in for the Outlanders.

Game Two I drew the nuts. Really, I just ran damage through unimpeded with Hellspark Elementals and Shambling Remains before I dropped a Fallout against a freshly resolved Siege-Gang Commander that basically stopped the game for her cold.

Round Three: Five Color Control
This was one of the match ups that I didn't want to see. Game one plays out, with me losing the roll again, like the match up generally does. I dig a few points of damage in, until Plumeveils gum the board up and a Broodmate Dragon carves my face in.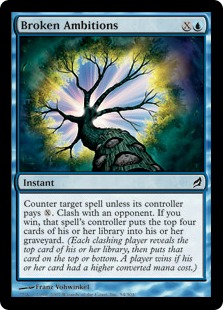 Counter target spell. Reveal opponent's tech.
Filter your draw. Seems pretty good to me.

I smile thinking that, finally, my sideboard will help me out as I bring in both Shunt and Wild Ricochet, taking out all my copies of Ashenmoor Gouger and Volcanic Fallout. However, my ideas turned out to be a failed effort. Game two I run into the board getting gummed up. However, he's playing Broken Ambitions. Apparently, clash serves only to reveal my "secret tech" in terms of what I sided. The first revealed a Shunt, which I didn't have in hand, and he makes a nice remark about how that seems pretty good for Red. Since Shunt is fairly helpless before a Cruel Ultimatum, I keep hoping for him to tap out to play it. A Shambling Remains hits another Broken Ambitions... and the clash reveals Wild Ricochet. He asks to look at the card and, with a slightly startled, wide-eyed revelation, he suddenly understands what could have happened.

The game then becomes a longer, more protracted and careful engagement for him. I get buried under card advantage to Wall of Reverence+Plumeveil combo and the inevitable Ultimatum with counter backup.

Lessons
Blightning Aggro is a great deck to pull up when the jerk who insists on playing a Faerie deck every time is your only friend to play Magic with. Taking it against a diverse field of decks that often pack life gain and you're asking to get slapped around a bit.

As for the first trial of the experiment? It's hard to say; with bad match ups it's going to be tough to gauge the response. In practice and bonus games I was able to run, Goblin Outlander drew the the most attention since it shut out serious firepower in both Rhox War Monk and Doran.

I've got a lot of work to do and I'll be glad to give this a shot again soon. Join me again next time when I look to an enemy color pair instead.