By now, the release events for Alara Reborn are over and the set has had a chance to see some tournament play. The consensus? It rocks, and pretty hard. After all, the third set of a block traditionally has a hard time living up to the prior two sets, but it seems that Alara Reborn has managed to at least match its predecessors in terms of playable cards. The all-stars of the set get plenty of coverage wherever you look, but what about the less popular cards? I tend to get a lot of instant messages on AIM asking me which cards I like in the new set, and here is an excerpt from one in particular:

Friend: "So what's your favorite card from the new set?"

Me: "Lorescale Coatl, hands-down."

Friend: "Really?"

Me: "Sure. Have you considered the possibilities?"

Friend: "Well, I guess. But what deck would want to play that card in the first place? Bant?"

Me: "Threshold?"

Friend: "...oh."

Every third set for the past couple of years have been somewhat mediocre in Standard, but brought powerhouse cards to the Legacy format. Saviors brought Pithing Needle, Dissension brought Trygon Predator, Future Sight brought Tarmogoyf, and Morningtide brought Mutavault and Vendilion Clique (we're just going to ignore Eventide). Alara Reborn is no different, naturally, as it has brought us another great blue (and green) card for Legacy: Lorescale Coatl.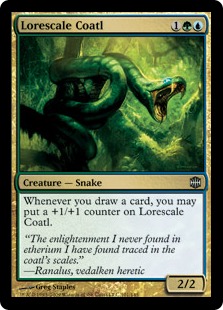 Yeah, they printed this.

Since getting into Legacy for Grand Prix: Chicago, it seems that my creative mind for that format has been continuously working. For a good deal of time, when looking over new sets I'd only pick out cards for Standard and my casual decks, and then ignore the rest. When I started into Extended, those thought processes reached a bit further. When I began playing lots of Limited, I could truly appreciate new sets. Now, however, I even pick out cards for Legacy. Lorescale Coatl stood out among the rest of the set as easily the best creature overall, though Quasali Pridemage makes a close second due to its use in four (perhaps even all five) of the Constructed formats. But why? Why this card? Let's take a look.

First of all, let's consider what we're working with here. He's a reasonably-costed beater that's going to just get bigger each turn if you don't do anything. For three mana, though, a 2/2 that grows once each turn is hardly playable in Legacy. This guy has to compete with Tarmogoyf, and he simply can't. Tarmogoyf is a mana cheaper, doesn't need any color but green, and is bigger. However, since you're casting this guy it means that you're playing blue, and I highly doubt that you're playing blue without some sort of card advantage engine. And that, friends, is where Lorescale Coatl gets pretty silly.

Let's say that you put this guy into a deck with Counterbalance and Sensei's Divining Top. Even if those two are the only sources of card advantage in the deck (still, rather unlikely), then you're already getting more out of the snake then you would just playing it by itself. I mean, on one hand, you can use the CounterTop combo to protect him (obviously), but the real trick here is that two Sensei's Divining Tops allows you to give him +1/+1 each time you pay a colorless mana (spin one of them to draw the other, then play that one and spin again, etc). So now we have a way to protect him and make him grow at a faster rate. We seem to be on the right track.

Next, let's add some card-drawing to the deck. The ridiculously obvious choice here is Brainstorm, since this is a permanent Giant Growth for Lorescale Coatl that also happens to, well, Brainstorm. I think this combo alone, obvious as it may be, is what makes this guy so powerful. Literally, this two-card "combo" (it's hardly a combo though, since you're basically just being handsomely rewarded for playing the best cards in Legacy) should be seeing lots of play in Legacy for years to come, and I for one can't wait to bring Lorescale Coatl with me to a tournament as soon as I can.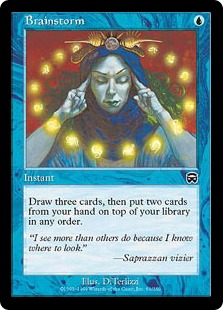 Gosh, it's almost too easy.

Of course, that still leaves one question: why play this card over Tarmogoyf? The answer, though, is rather simple: I don't think you ever would. I mean, let's be honest for a moment. Tarmogoyf is a two-mana 4/5 at the least in most cases, and that's just too good to not play in any Legacy control deck. He far outclasses every other creature in the game in terms of power-to-cost ratio, and he's simply one of the best finishers available to Legacy players. That being said, I'm merely suggesting that Lorescale Coatl join Tarmogoyf in those control decks, and not replace him. Threshold decks that used to play Nimble Mongoose can now play this guy, though more on that later.

The general issues that people have with this card in Legacy is that it does indeed cost three mana and only begins the game as a 2/2. While three mana is a little much for a creature in Legacy that isn't named Vendilion Clique, I think the fact that this thing can grow to 6/6 by the second turn (or better) with relative ease is more than enough to earn it a spot in these decks. It also pitches to Force of Will, something that Tarmogoyf and Nimble Mongoose could never do (and that was always so annoying).

So, before showing off a list, let's recap why this card is good:

1. Combos with Sensei's Divining Top, Brainstorm, Ponder, and the draw step
2. Can be pitched to Force of Will (!!!)
3. Easily grows to a size big enough to eat Tarmogoyfs for breakfast
4. Immune to Threads of Disloyalty and Spell Snare
5. Hard to off with Engineered Explosives
6. Costs three mana (good for Counterbalance)
7. Can be pitched to Force of Will (yup, it's that important)

And here's a list:



This is, at the end of the day, a pretty traditional UGW Thresh list. It has the same tools, the same creatures, and the same engines. The only difference here is that we're adding three more Tarmogoyfs to the deck. I suppose it's probably a stretch to call Lorescale Coatl "another Tarmogoyf," but they play the same role in the deck so I think the comparison is at least mildly justified. This build of Thresh has a significantly increased chance to null a Krosan Grip due to the increased number of three-drops, and a better game against the mirror matches (and Tarmogoyf decks in general) because of the ever-impressive Lorescale Coatl.

I chose to keep Nimble Mongoose in the deck for this particular build, but I wouldn't argue with cutting it. There are many players who seem afraid to cut the little guy, but in reality it's pretty doable. He is, after all, just a little guy when it comes to combat, as his only real uses are getting beats in early in the mirror match (since he dodges countermagic on the first turn) and blocking Goblin Lackey. The fact that he is immune to the gobs of removal seeing play in Legacy is obviously very nice, but generally I think that his usefulness is consistently overstated. He's no Tarmogoyf, and he's not even a Vendilion Clique. He's also a green card, which means that he can't be pitched to Force of Will, and that has always been incredibly annoying to me.

The other card that is apparently vying for the Coatl's spot is Rhox War Monk, but I honestly have no idea why. He dies to all the same removal, and is only a 3/4. Lorescale Coatl will be a 3/3 before he can even be declared as an attacker, and can be pumped to a 5/5 blocker with a single Brainstorm the turn you play him. I understand that he'll sometimes be a little slower than Rhox War Monk due to him truly only being a 2/2 until your next turn when you tap out on the third turn to play him, but I think the trade-off of having a 7/7 or larger later in the game is very worth it.

***

Now, if we wanted to try cutting Nimble Mongoose and instead focus on making the best of this guy, we arrive at something like this:



Now we're working with a more finely-tuned version of the deck. Accumulated Knowledge is an old card that I have always loved, and have been waiting to play with again. I think that that card in combination with Lorescale Coatl could really breathe new life into the Gro archetype. AK might be a little loose, but most of the time it's pure card advantage, and later in the game it gets insane (even if the earlier copies did not resolve). It also happens to make Lorescale Coatl huge, even so much to the point where it can go toe-to-toe with Phyrexian Dreadnought.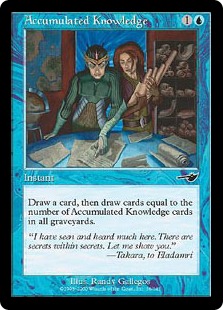 Oh, nostalgia...

Cutting Nimble Mongoose also lessens the deck's susceptibility to Engineered Explosives, as now it takes three mana in order to kill any threats not named Tarmogoyf. In addition, without the need to get to Threshold, Accumulated Knowledge becomes leagues better than cards like Predict (though that card sees far less play these days than it used to), and in some ways even Ponder. Another approach to this would be to try Ancestral Vision, which I haven't explored yet myself. Now they just need to unban Gush (I kid, I kid).

The biggest issue with Gro rehashes in the past have been that they all went out of their way to abuse Quirion Dryad (or whatever creature is being built around). The best part about Lorescale Coatl is that its condition for growth is something that you not only are forced to do each turn, but is also the central part of the game plan of an entire portion of the color wheel. I mean, you don't need to go out of your way in order to make Lorescale Coatl good. You just need to draw cards. They gave blue a cheap creature that gets bigger...whenever you draw a card. I mean, seriously?

***

The fine people over at www.mtgthesource.com have been developing a Coatl Loam deck that uses Life from the Loam and the cycling lands to beef up the Coatl, and even Sylvan Library to stimulate its growth. I like this approach, but in Loam decks it feels like Terravore is just going to be better 90% of the time. That being said, the development of that deck made me think of It's the Fear, the deck I played in Chicago. Here's the list I played:



Taking this list, I could see cutting a removal spell (whether it be Swords to Plowshares or Vedalken Shackles) and one Engineered Explosives for two Lorescale Coatls, as the deck has enough inherent synergy to make the card work pretty well. Etched Oracle makes the guy huge every other turn, and Volrath's Stronghold keeps even the biggest of creatures around (given that they were not removed from the game, obviously). Granted, this archetype may not be the best use of Lorescale Coatl, but even just throwing it into a deck such as this can give positive results. The card is pretty insane wherever blue and green mana can be produced because, again, it interacts perfectly with all the cards blue wants to play anyway.

***

Lorescale Coatl is the next big thing for Legacy. I know that a statement like that is pretty bold, especially coming from someone new to the format, but I'm pretty sure that I'm justified. The thing about being new to the format is that I have a different way of looking at a format than long-time players do: I can take an even bigger picture, because I have more new information to process. Legacy control mirrors for me have come down to whoever can deal with Tarmogoyf first, and I think that having more copies of that card that get bigger and more immune to Vedalken Shackles (and are already immune to Threads of Disloyalty) is a pretty good way to do it.

I'm not saying that he's the next Psychatog, nor that he's even close to the power level of Tarmogoyf. However, Lorescale Coatl is definitely going to shake up Legacy. In a format where you can play nearly any card-drawing engine you want, a three-cost guy that grows by two power a turn (on average, given the right deck) simply cannot be ignored. I know that the next time I land a Tarmogoyf, I won't feel nearly as secure about my board position. At any point, after all, a Lorescale Coatl could hit play and show the lowly 4/5 up.

If absolutely nothing else, this guy is definitely on the list of cards to watch out for in the format. From my point of view, though, he's the real deal.


Until next time,

Chris "Shinjutsei" Jobin