Good Game: Evolution of a Fish
by Andrew Hanson

Last time, I asked you, the readership, what you would prefer to see today, and the majority called for more Merfolk. So, here's a smörgåsbord of different fish for you to enjoy. What I mean by that is I have a series of decklists, changes my deck went through over the past few weeks, that will culminate into my current list for the deck.

Let's begin with the last list I showed you (the one I ran at the Phoenix PTQ):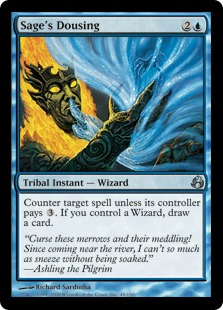 So good with a Banneret.

I made a few changes after reading the responses on the forums to that article. One response was from a player (whom I do not know) that made top eight elsewhere. He had cut his deck down to 22 lands, and said it worked well—and he didn't even run Ponder! If you followed any of my articles during Extended season, you might have an inkling that I like tight, streamlined decks that run low amounts of land, like Zoo (and Legacy Merfolk...stay tuned!), so when I heard about this guy top-eight-ing with 22 lands, I was intrigued and decided to try it out. Plus, by reducing the land count, I could do the one thing I wanted to do to my maindeck: run four Sage's Dousings.

But that would require me to cut another card from my maindeck. What should it be? Well, one of the things I've been grappling with is that, with the advent of both Merfolk Sovereigns and Harm's Ways, Sygg, River Guide's monopoly on Merfolk awesomeness is gone. Which means that I don't need to see him every game (even at the PTQ, I knew this, hence the three-quarters of a playset). I decided to cut one more Sygg, and I promise that I won't cut anymore (in fact, an extra may find it's way into a sideboard at some time or another).

That, of course, left me two open spots in my sideboard. Before I fill them, though, let me say I was disappointed with Sleep at the PTQ, so I replaced it with Pollen Lullaby. I thought about adding the fourth Lullaby to fill one of my open slots, but decided against it, as Reveillark seemed better. Stopping combat damage? Yeah, that's cool, and wins games against white and green/white decks. But, especially right after the PTQ, it seemed like 5CC decks were everywhere, so I felt like the card advantage and resource resurrection were more important. So in went a fourth Lark, leaving me one more slot.

The last card to go into the board? The fourth Sower of Temptation, of course. This is, in fact, the one card that I wish was in the maindeck, not the sideboard. But it's so hard to find room for it.

That left my list looking like this:



This deck got a few runs before I altered it at all. The first one was a Tuesday Night Magic, where I took it to a 4-0 finish (sadly, I don't have the notes on that night). The one thing I do remember is that nothing felt like a bad matchup for me, nothing felt weak in the deck or the sideboard, so it went unchanged to the next night of Magic: Friday.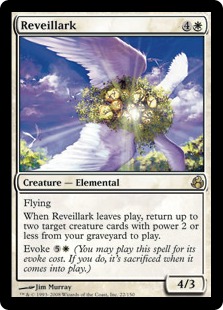 Seems pretty good against sweepers.

That night, I got some better testing in with the deck. The first round, I went up against a Four- or Five-Color-Control deck that mana-ramped into things like Broodmate Dragon and Nicol Bolas, Planeswalker. Basically, it was like a normal 5CC deck except it did less to me on the early turns...which seems bad for that deck. Game one I blew the guy out with Merfolk, fighting right past his Broodmate Dragon.

Game two, it was a bit slower as he had a pair of Kitchen Finks that I had to run into willy nilly. Why? First, I wanted his Volcanic Fallout to kill them permanently when he finally played it. Second, I was holding a Lark.

Eventually, the game to a critical point. I had out a Lark, a Merfolk Sovereign, and a Mutavault. He had two Finks, one with the counter on it, the other fresh. I activated the Vault, made it unblockable via Sovereign, and swung with the man-land and the Elemental, leaving four mana up for my Cryptic Command. He played his Fallout. Crap, I can't counter that...

But I can bounce my Lark. I did so (choosing to draw for my second option), and brought back a Silvergill Adept and a Merrow Reejerey, saving all my Merfolk and still hitting him for 4 damage. Plus, the card draw on the Command got me another Adept, while the cantrip on the Adept that the Lark brought back got me a second Reveillark. Blow out.

After that, I played against the Conley Woods' Special made famous by the U.S. Nationals. Game one, he mulled to six, and I mulled to three. But I drew better with my three than he did with his six, and I still managed to win. Game two, he got land flooded, and my hand was good.

Round three was against Faeries. He won the roll and played a Bitterblossom on turn two. Games two and three, he didn't see his tribal enchantment, though, and wasn't running Infest in the 75, so those games went to me.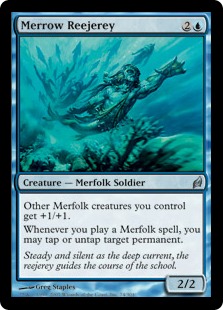 The engine of the Merfolk War Machine.

Round four was the important match for the night. It was against the mirror. He won the roll, played a Stonybrook Banneret on turn two, an Adept and a Reejerey on turn three, then a second Reejerey and his whole freaking hand on turn four. I didn't have a hand like that, and now I know what it feels like to be on the wrong side of a Merfolk bomb.

Game two, I didn't have the bomb, but neither did he. What I did have was a Sower, though.

Game three, he had the bomb again. My hand was full of Sowers, too (three of them), so if he was one turn slower, I could have won that one.

Afterwards, I had to mull that matchup over. I mean, if they don't have the bomb, the match will largely come down to who makes the better trades and who uses their Sowers better. But with the bomb, there's not much to be done. And I don't like that. I hate feeling helpless against combo decks.

And that's when I thought of Silence. A Silence on his turn-four upkeep would have bought me that extra turn. Maybe that was it? Maybe I had to treat Merfolk like a combo deck?

So the deck remain unchanged for the next Tuesday Night Magic, where I wanted to try that card out in the mirror (if that pairing happened). It didn't. Instead, my first two matches were Faeries and Conley Woods' Special. The Faeries went the same as above.

This time, against the Special, we both got decent hands, but his only real ace against the Folk are his Fallouts. Game one, it was a Cryptic that opened the way for a lethal Wake Thrasher. Game two, I had to contend with a Great Sable Stag, but I worked a Sovereign and a Wake Thrasher onto the table, and he had already used his Fallout, which I had stymied with Harm's Way. He didn't see a second Fallout, and I never had to rely on my Larks.

Hm. Maybe four of them is a little high.

Round three was against a Bant Exalted deck. Those are scary for the fish. They're just as quick, if not quicker, and they have life gain to boot. Turn one Noble Heirarch into turn two Rhox War Monk is brutal, and really makes me wish I ran some amount of Path to Exiles. Game one was close, with him beating me down with a Jhessian Infiltrator while I raced with my Folk. It's hard to race a Wake Thrasher.

Game two, I put in my Sowers, my Lullabies, and my Silences, figuring that, just like the mirror, I would probably need to buy a turn so my Sowers could have maximum effect. I never did see the Silence, but he didn't come out of the gates sprinting, either, so I Sowered his Rhox War Monk, and then I Sowered his Rafiq of the Many, who almost killed me. But after that, well, I had a War Monk and a Rafiq, as well as my Folk and two 2/2 fliers.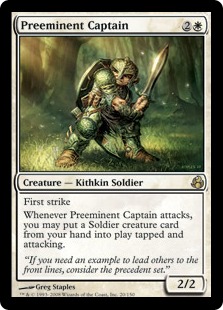 If he turns sideways, it's all over.

Round four was against Soldiers. Let me start by saying that as soon as Captain of the Watch, Elite Vanguard, and the Sword- and Armorsmithwere printed, I thought Soldiers was a stronger deck than Kithkin. Why? Preeminent Captain.

If he gets to turn sideways, it becomes very hard for the other deck to win, especially if he drops a Captain of the Watch. Plus, Soldiers has the same good cards as Kithkin (Honor the Pure, Spectral Procession, Windbrisk Heights). Really, the argument over which is better comes down to: would you rather run Knight of Meadowgrain and Cloudgoat Ranger or the Captains. Me, I'd take the combo-rific commanders, any day.

Game one, I won because I had the Merfolk bomb, dropping my whole hand by turn four. Game two, he started with an Elite Vanguard into an Honor the Pure into a Spectral Procession. I didn't have anything to fight that off (I mean, come on, he had me down to 5 life before my turn four).

Game three, I decided to try my Silences against him, too. We both ran down creatures and I decided to play the trade game, trusting in my Sowers and cantrips to come out ahead. Oops, he ran Ranger of Eos, who fetched up two Figure of Destinys. The game went downhill, fast, from there. Oh yeah, I still didn't see any of my Silences.

Evolving to Stage II

This is when the next alteration to the deck happened. I kept boarding in Silence to fight aggro decks, and even though I didn't see it, I'm not sure that was a good idea. What was I trying to do? Steal tempo from fast aggro decks (and from Elves!) with one .

What else could do that? Oh yeah, Path to Exile. Not only did it slow down those decks, but it actually removed problem cards like Merrow Reejerey, evasive Bant creatures, Preeminent Captain, or Elvish Archdruid instead of delaying them for one turn, and it wasn't the most atrocious top-deck of all time, like Silence (your thirteenth land excluded).

The deck evolved in a small way (as things are wont to), and the Silences were replaced with Path to Exile. I took that version to Friday Night Magic and in my first round, I went up against a monoblack deck. It ran good cards like Bitterblossom and Hypnotic Specter, and some not so good cards like Vampire Nocturnus.

Game one, I dropped the bomb and blew him out. Game two, I had to mull to five, and he opened with Hypnotic Specter on turns three and four. I was blown out. Game three was a bit more normal, with both of us making decent early plays. Then he dropped the Hippie. Then I dropped a Sower. Did you realize that a Sower of Temptation is a three-creature swing? I need to get that card into my maindeck...

My next round was against a Jund-colored deck that ran a silly amount of board sweepers with Hellspark Elementals and Anathamancers as finishers. So, I just ran out my Merfolk, protected them with Harm's Way or counters, and took the hits from his creatures. He didn't run much targeted, cheap, efficient burn, so I didn't have to worry about getting burned out of the game from 9 life.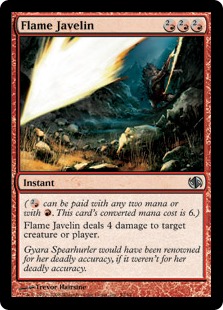 It's still good.

The same was not true in my next two rounds. I went up against a typical Red/Black Blightning deck in round three and got curb-stomped. Game one, he kicked my butt with Hellsparks and Boggart Ram-Gangs until I could stabilize the board. Then he burned me dead from 9 life. Game two, I had to mull to five, and would have been fine were it not for a turn three and a turn five Blightning.

Round four was against a Red/Green Warrior deck that used Viashino Slaughtermaster and Colossal Might to really punish people. Game one was looking like mine. He came out slow, playing only a Bramblewood Paragon on two, and an Obsidian War-Axe on turn three. Then he played the Slaughtermaster on turn four and hit me four 8.

On my turn four, I made my second Sovereign and some other Folk, which would make for a lethal swing next turn. He played Bloodbraid Elf, which meant he had to hit a Colossal Might, a Lightning Bolt, or a Ram-Gang on his cascade to win. He hit the Might. That was a big, double-striking, trampling Viashino.

Game two, I did the trade game, then dropped a Reveillark. But, in that time, my life was dropped significantly. So when he played a Sarkhan Vol, stole my Lark, hit me for four, and then Flame Javelined me, I died.

Evolving to Stage III

Sigh. So it seems that the red decks (whether they splash a black or a green) are difficult to deal with without a Burrenton Forge-Tender. Thinking back on it, though, that's the way it was. When I was blowing out red decks with the fish, it was because I had the Forge-Tender, could sac him to stop burn spells, then get him back with the Lark. That little Kithkin was my safety net, my protection from burn.

As my next tournament would be Magic Game Day the following day, and I expected to see a lot of the same decks, I decided to swap out the Paths for the Forge Tenders. But, I also wanted something to deal with Elves! (just in case) and I wanted more cards that could deal with Soldiers, Bant, Merfolk, etc., so I pulled a Lark and a Lullaby, and put a pair of Sleeps back in (Sleep is much better against Elves! than Pollen Lullaby).

My first matchup was against monowhite Soldiers. Though it had the Captains combo, it lacked streamlined construction (running cards like Rhox Pikemaster), which hurt it a lot. Game one, he had the Preeminent Captain the brought out a Captain of the Watch, but I got to beat with my Wake Thrasher on turn four, ate a token on turn five, and waited on his turn with my Cryptic mana up. He made a big mistake then—he played a pre-combat creature, and one that used all his available lands. I countered it and tapped down his board, then swung for the win on my turn. Game two, he got stuck on three land and didn't have the Preeminent Captain, so it didn't last long.

My next match was against Swans. Not Swan combo (there's no Seismic Assault in Standard, silly), but Swan Sweep. It's the Blue/Red version that runs a bunch of counters, and bunch of board sweepers, and Swans of Brynn Argol. You see, when you have a Swans in play and drop a Pyroclasm or a Volcanic Fallout, you get to draw cards. It's really good. He wrecked me.

Both games, I thought to myself, "should I risk making another three-drop, or should I save the mana for a counter, just in case he has the Swans?" Keep in mind, that if I didn't play anything, I would have nothing on the board thanks to a Lightning Bolt or two from him. Both times, I opted for the three-drop. Both times, he had the additional Bolt that he played on my turn, then dropped the Swans on his following turn. Yeowch.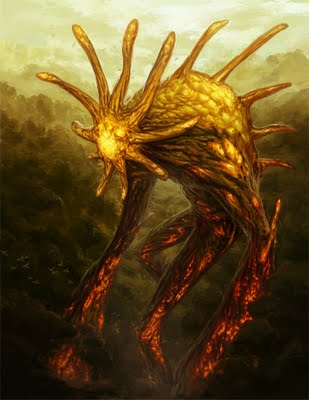 Full-art Mycoid Shepherd? Oooooooooooh.

My next match was against my buddy playing Faeries. We decided to draw so that if we both won our next match, we'd both make top eight. Of course, if we both lost, neither of us would make top eight. "Top eight?" you ask? Oh yes.

You see, Magic Game Day is a Competitive REL 24 K event, and therefore cuts to a single-elimination playoff. Ours was the same size (actually, a little smaller) than our Friday Night Magic tournaments, so it was only four rounds of Swiss, then a cut to top eight. I'm not sure what was more ridiculous: that this little tournament was a Competitive REL event, or that my friend and I drew into the top eight at an event where half the participants made top eight. I blame the total jank foils that Wizards used as prizes and incentives for the low turnout (see picture on the left).

My last round of Swiss was against Bant. I am so glad I replaced Path to Exiles with Forge-Tenders. Oh, wait.

Game one, he blew me out with a double-striking Rhox War Monk. Game two, he had to mull to four (it happens to other people?), while my hand was good. Game three, it looked like I was doomed. He had a turn two Shorecrasher Mimic, and a turn three War Monk. Then he Pathed my Wake Thrasher, and while shuffling, I prayed that he'd cut me to some Sowers. My first draw: Sower of Temptation. My third draw: the same.

I stole his Monk first, which I used to stay alive. Then I stole his Rafiq, because if he had a Rafiq, I couldn't overcome his lifegain (he drew into two more War Monks). I had him dead with an alpha strike, and had the Cryptic back just in case. So, no sweat when he played Pollen Lullaby. Not true when he played the second one. Thankfully, he couldn't kill me on his next turn, and I played conservatively until I had another Wake Thrasher and a Merfolk Sovereign down. The unblockable Thrasher closed it for me.

So both my friend and I made top eight. Yah. And as we were the only ones with draws, we were right in the middle of the rankings: fourth and fifth place. Which meant we were paired against each other in the first round of the top eight. Oh well.

You know those other Faerie matches I mentioned earlier in this article? They were all against this same guy. And the exact same thing happened again. He blew me out with a turn two Bitterblossom, and then didn't see the enchantment when he needed it the other two games. Faeries is such a scary matchup because it really comes down to the Faeries player's draws.

Round two was against a Doran, the Siege Tower deck. He came out with some quick Putrid Leech beats (as in two of the darn things), but I had Adepts into Bannerets into Reejereys, with a Mutavault as my cherry topper. His hand turned out to be pretty blah.

Boy, I'm really glad I pulled the Paths out of my sideboard. All these red decks...

Game two, he opened with a Thoughtseize, taking my Cryptic Command, but I thought he should have taken my Reejerey. He also made a turn three Doran and a turn four Stag. Scary. But I had a slew of Merfolk, a Sower for his Doran, and a Lark to battle with his Stag and resurrect everything that died (the Sower and Lark were drawn after the Thoughtsieze). Well, it couldn't resurrect everything, but an Adept and a Sower are pretty potent targets.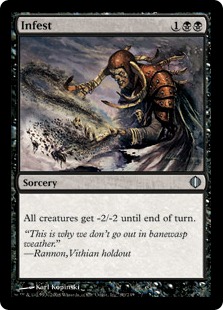 Maindeck? Really? Son of a...

My last match was against a monoblack control deck, and I was caught totally off guard. My hand was decent, with Banneret, a lord, and a pair of Harm's Ways. Really, it was amazing against a red deck. But he took both Harm's Ways away with a pair of Duresses, and he killed my creatures with maindeck Infest and removal spells like Tendrils of Corruption. Then, with no hand left, and nothing on the board, he dropped a Nyxathid. Yeesh.

Game two, I had to mull to five, which seemed really bad against his deck. I even kept a one-lander, because it had an Adept, a Banneret, and a lord in it. I figured if I went to four, I'd be just as dead as if I didn't draw a second land. First draw: Mystic Gate. Someone upstairs likes me!

From there, I drew a few more lands and even hit a Reveillark. He didn't have anything really good going for him, playing a pair of Black Knights early on and hitting my Cryptic with a Duress. Oh wait, that sounds good. But it wasn't good enough. I took over the board after he was forced to Infest by playing the Lark. He then played a Corrupt on me, dropping me to 5 life and putting me one more Corrupt away from dead, but he didn't have it, nor did he draw it. Lark plus a few more Merfolk went the distance.

Game three, he opened with a Duress and saw a hand that was two lands, a Banneret, two Sowers, and some other Merfolk. It did not go well for him. He played a Nyxathid, and I stole it, forcing him to drop an Infest. I played more Merfolk, and forced the second Infest. He even had a third Infest, but I still had Merfolk back to play, which included a Reejerey and a Sovereign. How? Sowers. You play one, and he's pretty much forced to deal with it. If Infest is his only answer, then he has to play it.

When I Sage's Dousing-ed his Corrupt aimed at a lord, it was all over, and he conceded.

Evolving to Stage IV, the Current Stage

So, it has become quite clear to me that Path to Exile is a card to be desired, as is Forge-Tender. Obviously, I can't run four of both, but three of both could probably work. Also, I really want Sowers in my maindeck. So here's a tentative list I've come up with:



Why did the Thrashers get the trimming? When I did my boarding, they were one of the most common cards to get boarded out. Not all them, but I would always trim them down to two. So, now the trimming is maindecked, which lets me run Sowers.

This list is the one I would run at a PTQ (where I would expect a large amount of 5CC). As for boarding, against 5CC, I'd board in Reveillarks while boarding out the Sowers and maybe one more Thrasher. Something else could be trimmed instead.

Against Faeries, I'd board out the Harm's Ways and put in the rest of the Sowers as well as a pair of Larks. Faeries tends to board in a lot of creature kill to fight the Folk, and the presence of your counters means they are sometimes forced to play cards on their turn, allowing you to drop a Lark.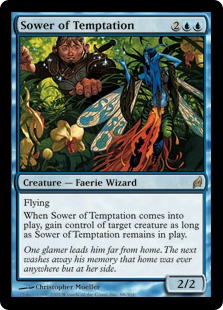 Put me in, coach!

Against Soldiers, Kithkin, Bant Exalted, or any of the Green/White builds, you put in the extra Sowers, the Lullabies, the Paths, and the Thrasher. You pull the Sage's Dousings (they play the stuff you want to counter too early), the extra Sygg (they tend not to run more than four removal spells in total), and, ready for it, the Harm's Ways. What?

Okay, that's not entirely true. If you're up against Kithkin or any of the other Green/White swarm strategies, the Harm's Ways are pretty good, probably even better than the Paths. If the opposing deck is based around a weenie horde rush, you need the two-for-one capabilities of the Way.

But against Soldiers, Bant Exalted, or any creature strategy involving single large beaters, then the Harm's Ways (at least some of them) do come out. You need to be more proactive with your removal.

Be warned: Soldiers can do the weenie horde thing, so leaving some Harm's Ways in, in addition to the Paths, is a good idea. Trimming a Merfolk or two for a like number of Ways might be the best route. This is why I think Soldiers is better than Kithkin—it can play two different strategies, and it plays both of them well.

Against red decks that try to burn you out, put in the Larks and the Forge-Tenders, and pull the Sage's Dousings and the Sowers. Again, with the Dousings, you want to play it when you can't (they play everything too early). With Sowers, well, you can't really play it if they leave a up, especially in the early game, where it's critical that Merfolk is making trades on an uneven basis (with cards like Silvergill Adept and Harm's Way).

If you have to make an even trade, you'd rather do it with a two drop than a four drop—a two drop Banneret probably being the only other card that would get pulled, except maybe Thrasher. But I wouldn't recommend running zero of those guys; a Thrasher off the top can turn the tide of a game quickly.

Now, if you want this deck for your local FNMs or some such, and your metagame isn't going to be dominated by 5CCs and Faeries, but other creature decks or burns decks, you may want to change your maindeck a little. If it's white and/or green creature decks that show their faces, I'd pull two Sage's Dousings for the third and fourth Sowers. If it's burn that's big for you, I'd again pull two Sage's Dousings for two Reveillarks, as they are more universally useful than the Forge-Tenders. But if red is really big (over half the metagame is running it), then the Kithkin Wizard might be a better choice.

Well, I hope you've enjoyed this run-through on the evolution of Merfolk so far... What's that? What about Legacy Merfolk? That's right, a number of you requested Legacy Merfolk in my last article's forum.

Well, sadly, I won't have much to say. I do, in fact, have a Legacy Merfolk deck (it's the only Legacy deck I have), but I've only ran it in one tournament (an unsanctioned Tribal Legacy tournament where players had to run twenty creatures and twenty cards of a certain creature type, and where sideboards weren't allowed) and otherwise played only a few games with it against less creature intensive Legacy decks. But I can share what I have with you.



Let me again reiterate: I haven't played much Legacy. Therefore, my sideboard is designed to hit general deck archetypes rather than specific decks. Against combo decks or one card strategy decks, I can board in my Meddling Mages. Echoing Truths have a similar use, plus they can go in to stop enchantment/artifact locks, like Crystaline Sliver with Worship, and it seems good against Reanimater decks, depending on the creatures they run. The latter also applies to Swords to Plowshares, which is also good against Goblins. Goblins is probably the only specific deck I had in mind when building this sideboard (see those Blue Elemental Blasts?).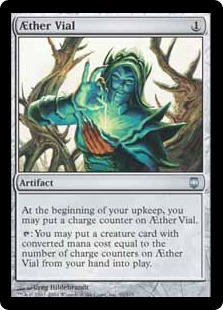 Banned in Extended for good reason.

As for the maindeck, I know I'm going against conventional wisdom here by making the deck blue/white instead of monoblue. But let me tell you: Sygg carrying an Umezawa's Jitte is a force to be reckoned with. Also, dropping a Sygg with an Aether Vial is like having two mana hard counters that save your creatures and can also attack. Just think about how good Sygg is in Standard. He's even better when you surround him with powerhouse cards like Jitte and Vial.

Which brings us to Wake Thrasher. Some say that the Sovereigns replace him, but I'm not so sure. I mean, Thrasher is a one man army, and even in the Tribal Legacy tournament, there were a few times where I Vialed a Thrasher down under a Standstill, and my opponent could do very little because I'd draw cards and counter whatever answer he had for the beefy fish.

That being said, Sovereigns do actually play well with this deck. It teams up nicely with the Thrasher, and it teams up nicely with any other Merfolk carrying the Jitte. But where do they fit? Do they replace Reejerey? At first blush, I would say hell no. Reejerey is what enables the Merfolk bomb.

Ah, but this deck doesn't really do that. Oh, sure, Reejerey can untap Aether Vial, which can be pretty strong, but remember that the Vial doesn't play creatures, so anything you drop with it won't trigger the Reejerey.

So that leaves Cursecatcher, but I like him for multiple reasons. He's my turn one creature (if I don't have a Vial), and he makes the turn four kill-curve possible (turn one Catcher, turn to Lord of Atlantis and swing for 2, turn three lord—usually Reejerey—and swing for 6, turn four a third lord and swing for the remaining 12). Even in Legacy, a turn four kill is really fast.

Plus, the Cursecatcher gives me a much better game against the other blue decks in the format, like Countertop. When they try to play the Counterbalance and you go to counter it, and they play their free counter to stop you, you use Cursecatcher to counter their counter (maybe dropping him with a Vial—surprise!). He's an extra counterspell for the counter wars and a sometimes turn one beater. He stays.

So if the Sovereigns go in, it seems most likely that it would be the Reejereys coming out. Sad, I know, especially since those two can also play well together. Tap the Sovereign to make a fish unblockable, play a Merfolk, use Reejerey to untap the Sovereign, rinse, and repeat.

As for the Wastelands not in my deck, well, I don't own any. If I did, I'm still not sure I'd play them, as I'd rather run white, have Sygg, and be more aggressive than to play a more control-oriented resource-denial game.

If you want to hear more about Legacy, let me know. I have a friend with a few Legacy decks (the ones I saw were the 43 Land deck and an Alluren-Imperial Recruiter combo deck) and I could hammer out some games with him. If you want more Standard Merfolk, that could easily be arranged (but the Standard Qualifier season is just about over). If you want something totally different, make your voice heard—go to the forum for this article!