Good Game: Deck Double-Header
by Andrew Hanson

Oh, the first month of a new Standard is always so exciting. So many new decks flying around, so many attempts at making the next hot thing (or at least, something you can warm yourself by). Of course, with every success comes failures. And that's one success to multiple failures. Thus is the curse of invention—it is a process largely determined by trial and error.

So why do I say this? Do I have more grim news for you? Well, yes and no. Sadly, I have not invented the next deck to beat, but I do have some things that can work. Today, I'm actually going to take you through two of my inventions, one of which was built from scratch, the other of which is a mutation I have talked about but have updated.

Control, Bant-Style

This is the deck I built from scratch. Of course, that seems a little misleading, as it's a control deck, and follows a typical control deck form. For instance, it runs Day of Judgment, not exactly an innovative addition to a control deck. It also ran Path to Exile as spot removal, and ran a few counters which varied over time, from Negate and Essence Scatter to Cancel and Mindbreak Trap. Again, not exactly innovative (if you're wondering, the trap is a decent counter at a 4 converted mana cost; it can counter up to two spells, which is great for answering Bloodbraid Elf, and it can counter uncounterable spells, like Great Sable Stag, since it actually exiles spells from the stack rather than countering them).

But this deck had some homebrew touches, too. The two most obvious cards were River Boa and Cudgel Troll. I included them because they could survive my Day of Judgment, which seemed really good, and they could seriously gum up a board.

Here's the first iteration of the deck: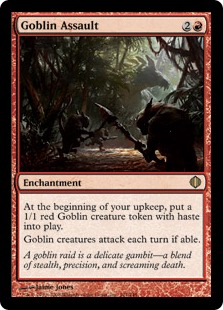 This is a pain for control decks.

The deck's maiden run was at a Tuesday Night Magic. Round one, it went up against another control deck: a White/Red build that focused on Planeswalkers, Goblin Assault, and artifacts to keep a game on lock and generate virtual card advantage. I ended up losing game one to an overwhelming assault by Goblin tokens (get it!) and an Obelisk of Alara.

But, my deck isn't that well equipped to fight another control deck maindeck. The sideboard, though, was another story all together. I boarded in the Elspeth, Knight-Errants, the Luminarch Ascensions, the Oblivion Rings, the Negate, and a pair of Celestial Purges, to deal with Ajani Vengeants, Chandra Nalaars, and perhaps even Goblin Assault. Out came the Rhox War Monks, as they died too easily, the Essence Scatters, and three of the Days. Why did I leave one in? Just in case he got too many tokens off a Goblin Assault or something. With one still in the deck, I could always hope for a lucky topdeck.

Game two was solidly mine. I never let him keep anything on the board for very long (the Oblivion Rings were key), and a Celestial Purge even killed a Chandra. I stuck a couple creatures, and a Garruk and an Elspeth, too, and the critters went the distance.

Game three, I hit a turn two Luminarch Ascension. In a matchup like this, that's nearly game by itself. He had to make terrible plays to try and keep that card from getting counters, which let me develop a board he couldn't handle (Boas and Elspeth). He eventually topdecked an Oblivion Ring for the Ascension, but by then it was too late (not for the Ascension, but for everything else I had been playing).

My second matchup was against a monowhite weenies deck. It basically ran all the most efficient creatures in white from a 1 cmc to a 5 cmc (which included both Baneslayer Angel and Conqueror's Pledge). The deck opened with Elite Vanguard into either an Honor the Pure or a good two-drop, like Kazandu Blademaster or Knight of the White Orchid, then it'd play the honor. Essentially, my Boas were dead to his first strikers, my Monks just kept getting Pathed, and I had to play Day of Judgment on turn four just to not die. After I'd play that, he'd just drop a Conqueror's Pledge and I'd still lose. That was game one and two.

It doesn't seem too good when the control deck loses to White Weenies...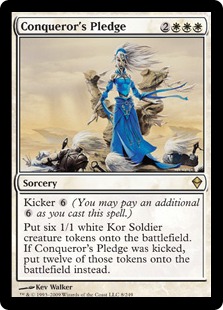 Cloudgoat Ranger's got nothing on this.

My third matchup was against a new player playing a collection of Grixis cards. I won both games quickly and tried to be nice so as not to crush his spirit.

My fourth matchup was against Jund Aggro—the deck my wife played. Game one, I had a good hand, opening on turn two with an Essence Scatter, and playing a Boa an turn three to keep her Putrid Leech back. I never lost control of the game there, landing a Jace who dug me into more control cards, which gave me counters in hand by the time she drew an answer to my Planeswalkers (I also had Garruk out by then). Eventually, Garruk made my dudes Overrun, and I swung for the win.

Game two, she had to mull to four. And she played me. She acted like the game was already decided, and I think that made me play a little loose. Instead of being careful, I was trying to win as quickly as possible, so I played out two Rhox War Monks back to back. She then drew her third land and proceeded to kill them both with a Maelstrom Pulse. It actually turned into a real game of Magic from there, but I still had the advantage of her mulligan and my Jace, and my one-for-ones with her plays were too much. Eventually, I again had a few creatures down and a Garruk to end it.

Well, after that run, I was both happy and disappointed. I mean, I was able to beat Jund (at least one of the games didn't involve a massive mulligan), but I couldn't beat White Weenies. And there was a lot of that deck floating around the shop. So I had to come up with something to even the odds. I tried all kinds of things, none of which worked, and eventually journeyed to the Internet to see what other control decks were doing. You know what I found?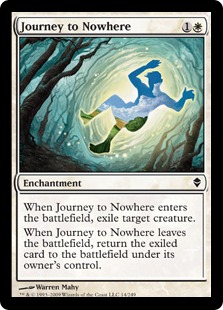 Is this what I was looking for?

They all played more than four pieces of spot removal. Dur. Of course. Thinking back to the two control decks I ever played before this one, they both ran ways to make trades in the early game, which would force an opponent to commit to the board. That's when the Wrath of God or Damnation would come down and put the control deck way ahead—both players would have no board, but one would still have cards in hand.

So I needed cheap creature kill. The problem, of course, was that I was in green, blue, and white. The first thing that came to mind was Essence Scatter. I mean, I was already running some, but I could up it to four in the maindeck, and that would increase my odds of being able to counter a turn two or three creature. Also, most of the stuff I wanted to counter were creatures, so it seemed logical. Of course, it didn't quite work that way. Many times, I simply wouldn't have the Essence Scatter for turn two, and Pathing a creature that early is dangerous.

So I went back to digging for true removal, and I found something that would work: Journey to Nowhere. It costs only 2, and it can get rid of nearly anything. The only disadvantage to it was that an opponent could get the creature back if they were packing anything that could destroy enchantments (*cough* Jund *cough* Pulse *cough*). But I tried it out, and it worked like a dream on White Weenies.

But I wasn't done tweaking the deck yet. There was something else I noticed about all control decks running Day of Judgment: they all ran four Baneslayer Angels. Sadly, I only own one, but I thought, maybe it was that big finisher with lifelink that really made the difference. Thankfully, one of the guys at the shop had three I could borrow: what a guy!

Here was the new decklist I ran at the next Friday Night Magic:



Okay, there are a lot more changes here. Let me explain. First, the Acidic Slimes were there to deal with Emeria, the Sky Ruin because that card is a nightmare to deal with once online. The Cancels were to deal with the fact that I didn't have Mindbreak Traps this time around (I was borrowing the ones I played before). I cut Garruk because he was just a source of creature beats, and I had Baneslayers now (mistake, by the way—Garruk is really good). And the Celestial Purges? Don't ask. My brain was broken that day, I think.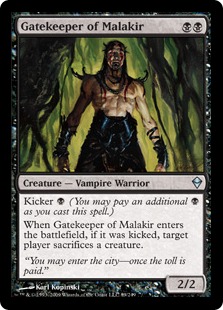 Kinda screws the Boa.

Round one, I went up against White Weenie. The same one I lost to previously. This time, the Journeys were there, and it was gravy. The Journeys took out his early plays, forcing him to commit his hand, and Day of Judgment got work done. Also, having Baneslayer was nice, because it could race him down to dead in a way that Cudgel Troll and River Boa could not. I 2-0'd the deck this time around (and, my Acidic Slime even killed an Emeria in game two).

Round two, I went up against Jund Midrange. I think it was an exact copy of Wang's Jund. Game one, we both mulled down to five, and both got land flooded. He eventually beat me with two Broodmate Dragons and a cycled Resounding Thunder. I answered the first double Dragon, but couldn't handle the second one. Game two was pretty much the same for me, but not for him. Again, I was flooded on land, but he wasn't, and even though I was able to psuedo-stabilize the board, he just cycled the Thunder again to kill me.

That was the most frustrating because I really wanted to see how that match would play out. But a lonely River Boa doesn't do much when you're holding a mitt full of land. Also, he played Terminate, which can kill the Boas and Trolls for reals, yo.

Round three, I went up against Vampires. Game one, my hand was great, and I was killing everything he had as he played it, Day'd away all his dudes when he committed, and beat face with an Angel. He even drew into his Malakir Bloodwitch, but I had the counter. Game two, he had the nuts hand, and I didn't. I only had one piece of spot removal, and didn't draw into a second one. Nor did I get my Day of Judgment. Game three, he kept a one-lander for God know's what reason, and I blew him out.

Round four was another Vampire deck. His hands were quick, and when I tried to play a critter to clutter the ground, he'd just drop Gatekeeper of Malakir. Rough. By the time I'd get a Day off, he'd have gotten me down to 10 or so, and would follow up with a Bloodwitch or a Vampire Nocturnus, and finish me that way. This happened both games.

Well, that was disheartening. It seemed, when Vampires got a normal/good hand, I would just lose unless I had the nuts hand. So I tested it some more. And that held. Ultimately, it comes down to the fact that all the deck's removal is white, so if the opponent resolves a Bloodwitch, you don't have many options. Also, the regenerators don't do jack against a Gatekeeper, which is a bit harsh.

If I were still trying to run this deck, the list would look a bit like a combination of the two given. Maybe something like this: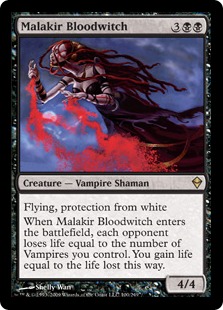 Your greatest fear.

I think the only poor matchup for this deck is going to be Vampires. Obviously, in from the board you have the Purges, which are good, and the Elspeths, which can help against the Gatekeepers. You'd have to try and keep their critters dead with spot removal, then use Planeswalkers to take over. As Bloodwitches are still a nightmare, save the counters for them. Really, if the Bloodwitches didn't have pro-white, I think the matchup would be a breeze. Similarly, if Vampires is huge in your metagame, you may want to swap the two Negates out of the board for two more Essence Scatters (though really, if Vampires are huge in your meta like they are in mine, you probably just want to skip this deck entirely).

If Jund is big in your meta, the Negates could come out for two more Mindbreak Traps. It's pretty cool being able to stop their main source of card advantage. Plus, since nearly all your removal exiles the creature, their Sprouting Thrinaxes won't be as good.

The Baneslayer still saddens me. It's such a good card, but it's so expensive. Also, it's a five-drop. If you can't play it with counter backup, then it sucks when the opponent manages to kill it with a Terminate, Pulse, or even a Deathmark. I did like the Rhox War Monks in that they fit the curve better, but the Angel is just the superior creature. If both could be fit in the deck, that'd probably be good. If you have an idea, post it in the forums. Also, if you can think of a way to solidly deal with the Bloodwitch problem, post it in the forums.

I'm Still Talking About This Bad Deck?

Like I said, that Bant Control deck isn't the best call for a meta heavy with Vampires. And the metagame at the local store is sodden with the bloodsuckers. So I gave up on the Bant Control deck for now. Besides, if you didn't figure it out from my article on Sligh, I really want to play fast aggro. So, with my wife's permission, I co-opted her Jund deck and tweaked it some more. Now, judging by the majority of comments on my last article, most of you readers feel this deck is simply a worse version of the Jund deck Wang made popular at the Philly $5k.

But I think you're discounting it too quickly, and not giving the idea enough of a chance. Here's the first list I took to an event:



Now, the first thing you might be thinking is, "Good God, you're only running tweny land? What kind of noob are you?" Well, I'm the greedy kind. I really didn't want more than four or five land in play at a time, so I cut it down. I mean, my Extended Zoo deck runs great on just twenty land. Of course, my Zoo deck also runs the vast majority of its threats at 1 and 2 cmc. And the synergy between the fetches and Ravnica duals meant I could have all the colors I needed with just two land.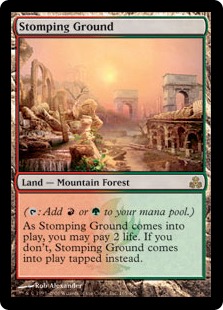 If only I could use you...

Now, the same is kinda true with this deck. If I had an M10 dual and a fetch land, I could have all three colors on just those two land. The trick, though, is that I only run four fetches (making it far less common to see them than in Zoo). Also, I can't survive off just two land. I mean, I can do it for a few turns, but I need to get the three lands desperately, and really want to be at four. All this is basically to say that just twenty land was mistake, but I'll go more into that further down.

I took this thing to a Tuesday Night Magic first. Not too many people showed for that, so we only ran three rounds. All three rounds, I went up against Vampires. See what I mean by a Vampire heavy meta? But this deck has great game against, as Blade would say, suckheads. Sprouting Thrinax completely screws up Gatekeeper. Putrid Leech is a monster against 2/2s. Burst Lightning gives the deck so much game in the first few turns its criminal. And Vampire Nighthawk is actually pretty awesome, trading with their Nighthawks or Bloodwitches or Nocturnuses.

Sadly, Lacerator isn't that great against Vampires. Most of the time, he'll just trade. So I pulled him and three Nighthawks when boarding. I brought in Great Sable Stags (which is why I pulled the Nighthawks—needing and is pretty strenuous on a twenty land deck) and the Jund Charms. Why the Charms? Well, first, they can sweep the board of all the Vampires turn one to turn three plays (except the Nighthawk). This is really good if you're playing defensively, and really really good in response to a Nocturnus (just don't let him resolve; there's no responding to flipping that top card over). Also, if necessary (it never was), it can get rid of all their Bloodghasts.

I won all three of my matches, and it was all done the same way. Start beats at about the same time they do, but have more relevant removal. And ignore Bloodghast. It's not worth trying to mess with him. Jund can outrace him, and he can't block.

It should also be noted that I never got mana screwed more than once in any given match. In fact, it only happened once all night, and that was the only game I lost. The deck was really fast and consistent.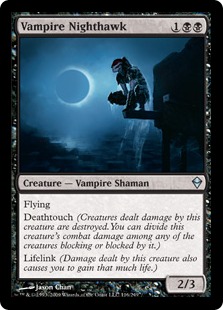 I like it so much, but...

So I took it Friday Night Magic. Prior to the start of FNM, a friend running Naya Midrange wanted to practice with his deck, so we played a bunch of games. The one thing I found was that I hated the of Nighthawk—it cluttered my hand too much. So I cut them for four Goblin Outlanders before the tournament.

Round one, I went up against...the Naya Midrange deck. If I saw my land, the games were in my favor (I'm too fast). I saw my lands against him both games. He just couldn't keep up with the constant stream of creature threats and efficient removal.

Round two, I had to go up against Boros Bushwhacker. This one was a bit of a scary matchup for me. I mean, my creatures are better than his, but his deck is just faster. And Ranger of Eos could really screw me over. Game one, I got stuck on three land. Normally, that's not a problem. But, while stuck on three lands, I kept drawing Bloodbraid Elves. I mean, anything else in the deck would have been welcome. But the four-drops just floated to the top.

Game two, I saw four land, and it was awesome. I came out fast, I had the removal to fight his guys, and Bloodbraid Elf helped me bury it. Game three, I kept a risky hand. It was all red and red/black spells with two Dragonskull Summits. I mean, if I drew a third land (especially one that could produce ), I'd be golden. If not, I could fight for a while.

He played a turn one Goblin Guide. No land on top. Sad. The Guide swung again, this time with a kicked Bushwhacker. Still no land, but a Lightning Bolt to replace the one in my hand. So turn three, when he came in, I bolted a creature. Oh, and Guide showed another Bolt. The Guide ended up revealing three Bolts in a row. Normally, getting three Bolts in a row is awesome, but if I played a creature, I couldn't play a bolt. I needed a third land.

Eventually, he petered out of cards, I bolted everything, and, at 1 life, I played a Goblin Outlander. He did nothing on his next turn, and I tapped out to play a Hellspark Elemental on my turn. I swung with just the Hellspark, leaving the Goblin back to block a haste creature. He drew a Hellspark, played it, and played his Teetering Peeks. Damn. Really, I should have swung with the guide and waited, holding that Bolt for the haste creature. I mean, I knew he was running Hellsparks. That was a misplay on my part.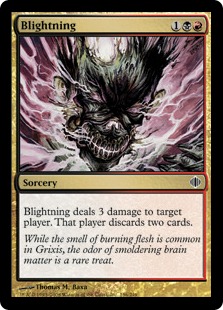 On a mull to four? Come on.
Two of them?! Give me a break!

Round three, I went up against Grixis Control. Game one, I saw my land and came out flying. He simply could not keep up with me. Game two, I had to mull to four because I couldn't find land. I might have even been able to turn it into a game, but he had double Blightning. How is that fair? I have to mull to four, and he gets two Blightnings? No justice in this world.

Game three, I again mull to five because of a lack of land, and am beginning to think twenty land is too greedy. I stop at five cards with a one-lander, though, because I'm sick of mulling, have a good suite of non-land cards, and am ready to lose anyways. My only land was a Dragonskull Summit. Off the top, I drew Rootbound Crag. Nice. After that, I drew a Forest. Sweet! Third draw on turn four? Another Forest. Hello, Bloodbraid Elf. It's better to be lucky than good. He couldn't handle me hitting my curve, and it was a fast game.

Round four, I was up against Jund Midrange. This was it, right? The moment of truth, where I test Lacerators agaist the "better" deck. Game one, I had my curve, but I was a little short on lands. It was a brutal opening, with me getting some damage in, and him eventually clearing the board. I was stuck on three lands, and had two Lightning Bolts and three Bloodbraid Elves in my hand. He topdecked a Blightning and sent it at me. I ditched a Bolt and an Elf. He swore, because in order for me to throw those away, my hand has to full of...those exact cards! I drew my fourth land on my next turn, and he didn't have answers.

Game two, he dropped a third turn Thrinax to slow me down. Ug. I dropped my own Thrinax and was then unsure what to do. Then I drew my Stag. Yah, he can't be blocked by Thrinax. My opponent matched my Stag play with his own. Ug.

We eventually traded Stags, then both played second Stags. Those traded, and he drew a third Stags first. Damn. I was helpless against it, as I saw no more Lightning Bolts. My mistake? I didn't kill the Thrinax. Especially if I have one in play. If all he has are tokens, my Thrinax can run into them. It's worth it. If they gang-block to kill, whatever, I have three Saprolings and he has none. If they don't, well, I just hit for 3 damage.

Game three, my hand was again all red and red/black, with just two Summits. Isn't the definition of insanity repeating the same task over and over and expecting different results each time? I kept. I even drew into my third and fourth land—a Mountain and a third Summit. So those two Bloodbraid Elfs stuck in my hand did little good. Shoot.

Okay, so my record against Wang Jund seems to be one of mana issues. But this time, it was really my fault. Twenty land with a deck centered around three-drops is too few. Also, lacking the Savage Lands meant a more finicky color-base. I cut them originally because, well, I was only running twenty freaking lands, and I couldn't afford 20% of them to come into play tapped.

But, I'm adding two more lands to the deck, which will include the Savage Lands. Also, I'm cutting the Outlanders. They were cute, but far too often, they were just Grizzly Bears.

Here's the list I'm currently on:



I'm hoping it loses none of its speed, but picks up some consistency with its land. Those Sarkhan Vol are kind of an open slot, a bit experimental, but I have high hopes. He should be able to give me an edge against other Jund decks by making all my creatures one bigger. Also, he'll put them under considerable pressure if he can just build to those Dragons. Oh, sure, they have Maestrom Pulse, which could kill the tokens, but if they're actually holding that card, why aren't the killing the Planeswalker already? I'm pretty sure, barring amazing top decks by the opponent, Vol's ultimate will shortly be game.

As for the Lacerators, they haven't been disappointing yet. When I am the aggro deck in the matchup (which is most of the time), they are great. Even if I can't hit them turn one, they can fill in random spots in the curve. No Bloodbraid Elf on turn four? I could hit the opponent with a Blightning and drop the Vampire. But, I'm not one to ignore the advice of others, so I'm keeping a close eye on them. I recognize them as the worst card to Cascade into, but right now, I think the aggression they add to the deck is worth it.

I've really been enjoying Jund Fast Aggro so far. We'll see where it goes from here.