Good Game: A Limited Experience
by Andrew Hanson

Hello hello and welcome back to Good Game. This week, I'm going to take a break from talking about constructed Magic and delve into my recent Limited experience. This past weekend, there was a PTQ in Albuquerque that I attended. It was supposed to be four of us heading up from Tucson, but one of our gang had some school responsibilities come up that kept him from going, and a second decided that sleep was for the weak Thursday night—a sentiment that caught up to him Friday afternoon.

So just two of us made the six-and-a-half hour sojourn up the great state of New Mexico (does New Mexico like to laud itself as a great state?). We got into the hotel around 10:30 PM, and this awesome older Mexican woman working the counter gave us the senior citizen discount on our room while she told us a story about her granddaughters. We whittled away the rest of the night playing Planechase. The next morning, after availing ourselves of the continental breakfast, we walked down the hall to the convention rooms, where the event was being held.

I always enjoy the Albuquerque PTQs that Sunmesa Events holds. They hold the events at the same fairly cheap hotel every time so that there's never a rush in the morning for those who traveled the night before. Also, the organizer for the event is exceptionally friendly, and the judging staff is a cool bunch.

Enough blowing smoke, though. Let's talk about the event. There were 71 competitors. We sat down, ripped open six packs of Zendikar, filled out the Deck Registration form, and then shipped it all back to the staff so that they could mix it up and hand it back out to us (if you don't know what this is, this is called the Deck Swap).

The pool I got looked like this:



The first thing I do with a sealed pool is look for the auto-playables in the colors. Whichever color (or colors) have the most, those are the colors I am (typically) in. This may seem obvious, even elementary, but a lot of players will overlook this just so they can go into some color they want to play, or because they have some big rare in a color that they think they need to play, but really they don't have the cards to be in it. So here's the auto-playables, as I saw them (I would like to note that, other than a Two-Headed Giant event I played in on Release weekend, I haven't played any Zendikar Limited):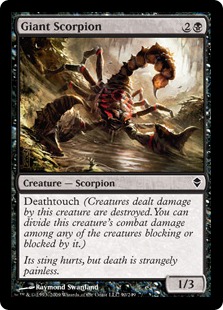 Not so easy to squish.

Now, I want to be clear, there are cards missing off this list because I either didn't understand the format well enough, or I simply didn't read the card and I thought it did something else. In the former category are Bold Defense and Giant Scorpion.

Giant Scorpion is a monster. Why? Because he's got a 3 toughness. In this format, that means everything. Most playable creatures have 2 power, and either 1 or 2 toughness, which means an X/3 creature is hard to kill. Give that creature deathtouch, and it becomes a serious obstacle for your opponent's ground forces.

Bold Defense just screws up combat math like a champ. It can easily turn into a two- or three-for-one, and in the late game, it's a finisher. I don't know about running two of them, but one is certainly a good call.

In the latter category, there's Ruinous Minotaur. I'm an idiot. I didn't read the card, and for whatever reason, my brain was saying that when he deals combat damage to a player, you sacrifice the Minotaur. Nope. That's not how he works. Instead, he's a 5/2 for 3 that only eats your land when he connects. When he starts connecting, you're not that concerned about him eating a land or two. This guy is a force on the board, a real threat that your opponent has to deal with.

So, using my list, I have six white playables, five blue, six black, eight red, and five green. So, using my logic above, I should be in black/red or white/red. How do I decide? It's always important to look at removal. Typically, when a color is deep on auto-playables, it has a good number of removal spells in it. In this case, my deepest color, red, had three removal spells, so I know I'm playing that for sure.

As I was tied for my next deepest color, I was going to let the quality of my removal decide which I'd be in. I'll start with black. It had two spells: Marsh Casualties and Heartstabber Mosquito. Heartstabber Mosquito is a beating when he comes down kicked. But, kicking him takes seven mana. He's a late-game-only spell, which makes it hard to really rely on him as removal.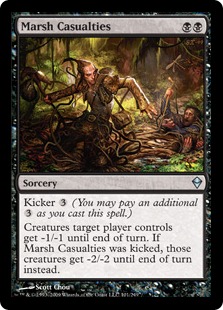 Like Chen Zhen, from Jing Wu.

If you've talked to anyone who's played a lot of Zendikar Limited, or if you play a lot yourself (especially draft), you probably know that Marsh Casualties is the bomb. Drafters have even called it the number one pick in the set, including all the rares, saying its only competitor might be Ob Nixilis, the Fallen. I'm not going to comment on that either way (I certainly don't have the experience with this set to do so), but the power of this card is obvious. Remember what I said above about most creatures being in the 2/1 or 2/2 range? That makes this card nearly a one-sided Wrath of God. Even in situations where it doesn't clear your opponent's board outright, it certainly makes blocking a tricky proposition.

So, in black, we have one amazing piece of removal, and one good late-game piece of removal.

The other color, white, also had two removal spells: Journey to Nowhere times two. Unlike the Heartstabber, these bad boys can be played early, and they can easily fit into the mid-turns, where you might make multiple plays. Their only drawback is that they're not always permanent removal. They're not nearly as good as Marsh Casualties, but I felt they were a lot better than the Mosquito.

This left me in an awkward place. I knew I was going red, but was I going white or black? Black had the best removal spell and an okay one, while white had two awesome removal spells. Almost seems tied. So I went to the creatures. In black, I had fatter creatures centered around the four-drop. In white, I had more utility creatures around the three-drop, as well as a pair of evasive 2 power two-drops. So I could go for a bigger, more stable board, or a faster, more aggressive one. Neither choice is clearly better than the other.

In the end, I let my artifacts decide for me. I mean, I had two Adventuring Gears, which are obviously nutty in this set, and a Trusty Machete, which is even nuttier. Both of these equipments love fast creatures, especially ones with evasion. And as long as I was running all three of these, I had two more white cards that could be considered auto-playables: Kor Duelist and Kor Outfitter.

Neither card is impressive by itself. The Duelist is a 1/1 for 1 with no abilities, and the Outfitter is bear that has two colored mana symbols in its cost. But how good are they with the equipment? Well, with my equipment, the Duelist turns into a 3/X double striker, which can be active on turn three. That, I promise, is a beating. And the Outfitter? Well, considering that all three pieces of equipment in the deck cost 1, he makes for some very efficient turn two plays. Turn one Machete, turn two Outfitter? Please and thank you.

With those two cards, I felt like white was the color I should be in. It'd make me a faster and more aggressive deck, which I liked. Consistently fast aggressive decks are scary in Limited, especially in a Limited environment that is a little low on efficient removal.

After putting in all the playables (which included Arid Mesa, since it would be on-color), I filled in the rest of the deck with what I thought were the best, most efficient cards. Here's what it looked like: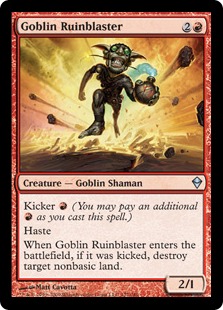 Do you think he gets hazard pay?

I put in the Goblin Ruinblaster because I figure, at worst, he's a 2/1 haste creature for 3. At best, he hits their color-fixing uncommon duals. Not bad either way.

The Highland Berserker made it in because he's, first, an efficient 2-power creature and, second, he works well with the Tuktuk Grunts, which are awesome. After I knew I was putting in the Berserker, the Murasa Pyromancer seemed an obvious addition. Really, I could never rely on him to hit for 4 damage, but asking for 2 wasn't greedy.

The Explorer's Scope made it in because I knew from watching people play at the Prerelease that the card could be really good. And since I was running two pieces of equipment that had landfall, I figured this could complement them nicely. The fact that it also played well with the two "iffy" white creatures didn't hurt, either.

As for that Minotaur, after deck construction was all done and I convened with my friend and another guy from Tucson who made the trip, I was informed of the Minotaur's worth (basically, he pointed out what it actually did). That card is, in fact, an auto-playable. Since the Ruinblaster was the last card I added to my deck, I figured it'd probably be the best card to board out for the Minotaur—as long as the Ruinblaster didn't need to stay in (which only happened in one match).

As for my matches, I'm going to run through them in an abridged format. I mean, my deck was a consistent, fast aggro deck. Most of these matches played out the same. Also, I wasn't even thinking and I threw away my notes as I played, so I can't go into full detail about the games.

Here we go!

Round One, vs. White/Black

This deck was a lot like mine, I think, only he didn't play much removal, and was a bit slower. Game one, his Cliff Threader seemed better than mine, but then mine picked up some Adventuring Gear, and it turned around from there. Game two, I don't know what he had in hand, but he didn't play much, and I came out just as fast as in game one.

Win: 2-0

Match Results: 1-0-0

Round Two, vs. Green/Red/White


With her Chosen, she's kinda good.

Game one, I came out great, but he had two Journey to Nowheres (plural) to slow me down and a Day of Judgment. Still, it looked like I was going to win, until he dropped Nissa Revane and started bringing back both of the Nissa's Chosens that I had dealt with earlier.

Game two, I had him with only one creature on his board to my three (which included the Minotaur), and he had no cards in hand to my two (which were both land; ugh). He did something (maybe Kahlni Hearth Expedition) to fetch some land out of his library before his turn started, and as I cut, I was just thinking, "Please don't cut him to Nissa or Day. Anything but those two." He drew, thought for a minute, swung for 2 with his Kor Skyfisher, and then played the Day of Judgment. I cut him right to it.

After that, I drew another land, then an Adventuring Gear, then a Trusty Machete, all while he drew into a Journey to Nowhere (I know this because he used it on the first creature I played), a Nissa's Chosen, and an Oracle of Mul Daya. No bien for me.

Loss: 0-2

Match Results: 1-1-0

Round Three, vs. Green/Red

Game one, I came flying out, hitting him hard and using my Journeys on his big nasties, which included a Terra Stomper. Game two, it was looking to be the same, but he slowed me down with a Burst Lightning and got a Terra Stomper down. I sent it on a Journey, but he had the Mold Shambler a few turns later to get it back. Game three, he had Burst Lightning to slow me down and got aggressive with a Shatterskull Giant, but I didn't draw into a huge land pocket, so I was able to push through. It was really close, though. Apparently, he had three Burst Lightnings in his deck, and he would have won if he would've drawn a second one.

Win: 2-1

Match Results: 2-1-0

Round Four, vs. Black/Red

Game one, he came out slow, with only removal and no threats to back it up. I did see a Valakut, the Molten Pinnacle almost go online, though, so I left in my Goblin Ruinblaster. Game two, he got stuck on two lands for a few turns, and could never catch back up.

Win: 2-0

Match Results: 3-1-0

Round Five, vs. ???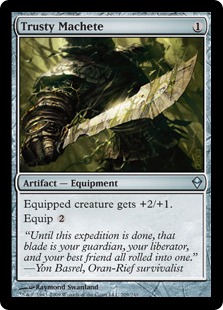 Did you know it's Friday the 13th?

For the life of me, I can't remember what I was up against this round. Whatever it was, it was slow, I know that. Game one, I had a fast start and that game (including shuffling time) only lasted around ten minutes.

Game two, I opened with a turn one Machete and a turn two Outfitter. I hit for 4 on turn three, then dropped a Kor Duelist and equipped him. The opponent had no removal for the Duelist, who cut his way through creatures and life. That game (with shuffling) lasted seven minutes. I've never finished a match that fast.

Win: 2-0

Match Results: 4-1-0

Round Six, vs. Blue/Black

My opponent's list was sick. It was fast, with flyers and equipment, and it had removal to boot. Game one was freaking close, with me down to 3 life when I pulled the third Mountain to make Spire Barrage lethal after an alpha strike. Game two, he got me down to three life again (this time with a 5/5 Giant Zombie), and I had him down to 6 life with two 2/X creatures on the board. I had a third 2/X creature in my hand, too. The play?

I swung with only one creature, putting him at 4 life. That way, if he had the removal, he'd only get rid of one potential chump blocker and I'd live. If he didn't have the removal and kept the Zombie back to block, I'd still have the win because two of my three attackers would still get in for 4 damage. Turns out, he had the removal and played Into the Roil kicked at the end of my turn, but didn't draw into the second piece of removal in his draw for the Roil or his draw for the turn.

He swung anyway to kill off my last blocker, which seemed to prevent me from being able to swing for lethal. But I drew Tuktuk Grunts (which I knew I would thanks to an Explorer's Scope), and swung for the win.

Win: 2-0

Match Results: 5-1-0

Round Seven, vs. ID

With a 5-1-0 record, that put me in the top eight before the last round. And, as eighth place had fifteen points while ninth place only had twelve, if all eight of us ID'd, we'd all be in the top eight. So guess what we did?

Sadly, my friend that I went with didn't make top eight. He was 4-1-0 with me in Round Six, but he got paired up against someone with an amazing pool, and couldn't pull it off. According to my friend, his opponent made a lot of misplays but still won thanks to the power of his multiple bombs. He's still bitter about it.

Draw: 0-0-1

Match Results: 5-1-1

That put me at fifth place overall. In case you didn't know, in the top eight of a Limited PTQ, players draft new decks and then play a single elimination tournament. So onto the draft!

The Draft

As I had never drafted Zendikar, first I asked my friend and the other Arizonians there what were good strategies. One said draft red, while one said draft white. I was told that drafting a limited version of Boros Bushwhacker was a good idea, and that Goblin Bushwhacker was a house in limited. Basically, they all said that red, black, and white were probably the best colors to try and be in, but no matter what, draft the good cards that came to me.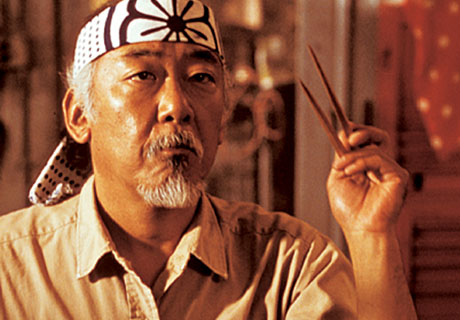 Wax on. Wax off. No, Wax off, Daniel-san!

That was something I could get behind since it is, in fact, my drafting philosophy to not have a plan but to just draft the best cards (starting with removal) that come my way. I don't believe in committing to a color early, but to be like water, to conform to the shape of the container, rather than to be like a rock and force your way into it. Okay, enough Mr. Miyagi. I like to wait to commit (and by wait, I mean to get my primary color sometime in pack two, and nailing down secondary or tertiary colors in pack three).

Pack one, pick one, I saw Disfigure, which is gravy, so I took it. Pick two, an Inferno Trap came my way, which I knew was good removal from the sealed portion of the event, so I took that. After pack one was all said and done (hey, that rhymed), I had four auto-playables in red (two Goblin Bushwhackers, assuming they were in fact nuts, an Inferno Trap, and a Goblin Shortcutter, who did awesome in the sealed portion of the event), two in white (a Kor Skyfisher and a Kor Sanctifier), and two in black (the Disfigure and a Bog Tatters). I also had two auto-playables in artifact: Kahlni Gem, and Trusty Machete.

Pack two, pick one, there was no removal, and I had to choose between a Steppe Lynx, which is brutally fast; and Emeria Angel, which will just win games if it survives. Even though I wasn't committed to white, I went with the Angel as she is hard to kill in this format, and is great on turn five before I make my land drop.

Apparently, people to my left were in red, because I didn't see a single good red card this pack. Now, white and black were different stories altogether. Pick two, I grabbed a Kor Hookmaster, which I took over a Marsh Flats despite the possibility of the land being in-color, and I got a Steppe Lynx pick three or four. My original Steppe Lynx managed to table as well, so I got a second one. I also managed to pick up a second Kor Sanctifiers as well as a Kor Cartographer and a Cliff Threader.

The black cards I grabbed were a Nimana Sell-Sword, a Giant Scorpion, and a Hideous End, so I was fairly sure I was going to be in white/black.

Then pack three happened. Opening pick: Journey to Nowhere. Thank God. I was beginning to worry about the low levels of removal I had. After that, I saw no more white auto-playables. Only one black auto-playable came my way, too, and that was around pick seven (I grabbed a second Sell-Sword). But what I did see were a Teetering Peaks, a Torch Slinger, a Zektar Shrine Expedition, and two Ruinous Minotaurs.

After all was said and done, here was my draft pool:



This time, I was for sure in white, but had to decide between black or red. All of my black cards were auto-playables (which were six in total). In red, the auto-playables were: two Goblin Bushwhackers, one Goblin Shortcutter, one Inferno Trap, two Ruinous Minotaurs, one Torch Slinger, and one Zektar Shrine Expedition. That was eight playables in red, vs. the six in black. Now, black had the better removal spells, but it was a smaller color, and it had no depth. Red would at least be eight cards, and a ninth, if need be. I went with red.

So I had ten auto-playables for white, eight for red, and two artifacts. That put me at twenty cards. I needed three more to round out my deck. Well, in red, I had the Slaughter Cry, which could be an alright combat trick or work like a reach spell. In white, I had the Nimbus Wings, which I was not thrilled about, but it could be potentially devastating on a Steppe Lynx. And I had the Bold Defense, which I decided would be another decent combat trick, or even a finisher (the latter of which came into play a couple times).

My finished decklist looked like this:



I thought my other deck was fast. This deck didn't even feel like a limited deck. It felt like a bad constructed deck. It was even more consistent than the previous build. Again, because most games will sound the same, I'm giving the abridged versions.

Quarterfinals, vs. Blue/Red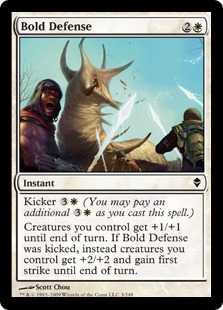 Got me win, through no fault of my own.

Game one, I came out pretty fast (no turn one Steppe Lynx), and he never recovered. Zektar Shrine's Elemental took a good chunk out of his life. Game two, I played like an idiot and while I had the advantage, I wasted my Slaughter Cry. Right after, he dropped a fatty blocker that the Cry would have taken care of. As it were, I drew no answer for it. Game three, I came out fast again, and had done all my math right to make sure I would win. On my second to last swing, I had this strange brain-fart.

He was at 5 life, and I was swinging with two 1/1 Goblin Bushwhackers. He had no blockers. He said "I'm at 3 life." Then I said, "Wait. Okay, I play Bold Defense for the win." This would be the non-kicked version, as I was still on six lands. He said, "Okay," and started to scoop. And then I realized I didn't actually kill him. Now, at this point, I could have let it slide. We were both confused (for whatever reason, when he said 3 life, we both got it into our heads that he was at 3 life before I connected), and he thought he lost. But was he conceding or dying to lethal damage? I didn't even want to mess with that and I took the sportsmanlike route. I told him to wait, and we realized he wasn't dead, but at 1 life. I was supposed to let him go to 3 so that I could play the kicked version on my next turn (I had the seventh land) for the win.

Thankfully, he didn't draw into anything amazing (he actually kept a hand without a blue source, and it bit him), so my Goblins were still lethal.

After the match, I went out to my car to get a bottle of water and talk to my friend about how much of a freaking idiot I am. But I was done making stupid plays. I got those out of the way, and now I could be smart for the rest of the top eight. Right?

Semifinals, vs. Blue/Red again

Game one, I had a hand with two Mountains, a Plains, a Kor Skyfisher, and a Goblin Bushwhacker in it. I was on the draw, and my first draw was Steppe Lynx. I played him on turn one, and swung for 2 on turn two after I played a Mountain. Then I played the Skyfisher and bounced my Plains. His first two turns were just land drops. Turn three, he played a 2/2 creature, I think. Maybe it was 2/1. I don't remember exactly. On my turn three, I laid the second Mountain, played a kicked Bushwhacker, and swung. He traded with the Goblin and still took 6, putting him down to 12 life. That's 12 life on turn three. The game didn't last long after that start.

He commented on the speed and I told him that that was probably the best hand I could have asked for, and that it wasn't going to happen again. Then I drew my opening hand. It had the Steppe Lynx, the Skyfisher, the Bushwhacker, the Plains, and the two Mountains. Some girls get all the boys.

I did the exact same three plays, and the game ended just as quickly. Onto the finals!

Finals, vs. Black/Blue (then Black/Green)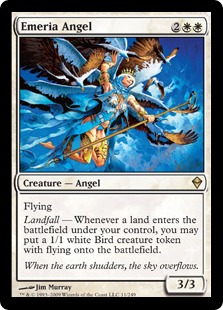 She only got one win, but she got it when it
counted.

I had the same start again! Oh my lordy! But, he had the Disfigure on turn one to nix the Lynx. Still, I swung for 5 on turn three, and kept up pressure from there. Eventually, I landed Emeria Angel (the first and only time), got two birds out of her, and dropped a Bushwhacker for the win.

Game two, he did a transformative sideboard in that he pulled out his blue for green. Probably a good choice. I came out fast, had him on the ropes and almost dead. He had a few good plays in there, though. A well-timed Hideous End and an Oran-Rief Recluse kept him in the game. But I had him dead on my next turn. He knocked on his deck before he drew...and ripped the Heartstabber Mosquito. It killed my lethal flier, and then a few turns later killed me.

Game three, I got to be on the play. I came out fast. I had the Lynx on one and a Cliff Threader on two. On three, I played my Zektar Shrine Expedition and then a land. On four, I played another threat. And on five, when I played my third land, I activated the shrine, dropped a Hookmaster, and then played a kicked Goblin Bushwhacker. He had to play his Hideous End on my Elemental, and I put him at a low life. Then he did a good job of recovering and slowing me down.

I didn't quite have the resources to get through his defenders, and he eventually had three 2/X creatures out. Then I drew a Slaughter Cry and swung with my 2/3. He must have thought I missed the fact that two 2/2s gang-block and make a one-for-one trade with a 2/3, and he put two guys in front of my dude. The Slaughter Cry was a two-for-one in my favor. Then he dropped a 4/4 to once again gum up the board.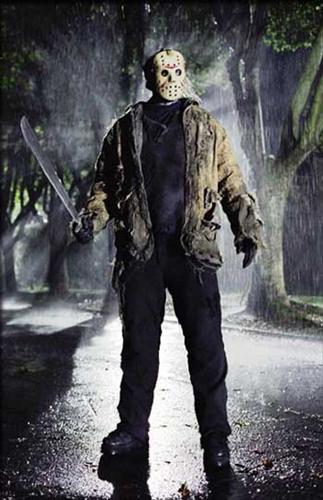 hu hu hu hu...he he he he...ha ha ha ha...hu hu hu hu...

I drew into my Trusted Machete and put it on a 2/2 then swung. He took it. He hit an Oran-Rief Recluse and dropped it unkicked (I had no fliers). I drew a Kor Skyfisher then (some girls do, in fact, get all the boys), played it, bounced my Teetering Peaks, and then replayed the Peaks, targeting my 2/3. I swung with both 4/3s, and he blocked one with his 4/4, and the other with his last 2/1 and 1/3. That left him with nothing on the board and me with a 1/1 and a 2/3 flier, who turned into a 4/4 flier with a Machete.

He needed another Mosquito to win this, so he knocked on his deck and drew... not a land? He actually had the Mosquito in hand, and needed to draw the seventh land. But since my swing would be lethal, he dropped the Mosquito anyways to chump block. On his turn, he knocked on his deck again and drew... not something to save him. He scooped.

I commenced with the fist pumping and hand slapping, the getting out of my seat all excited, and the calling of the wife. Of course, I did that after I shook hands with him and we commented on how good the game was.

I was so excited, though. Hell, I still am. I'm back on the Pro Tour! I guess this means I need to start taking Standard truly serious, as that's San Diego's constructed format. Maybe I'll try out Boros Bushwhacker, as I had so much fun playing it in limited. Or maybe I'll test this terrible Grixis Aggro deck I had an idea for...wait, I said seriously. Do I need to pick up a few more Broodmate Dragons and start playing Wang Jund? Oh man... it's so exciting!

Behind you!

Just kidding.