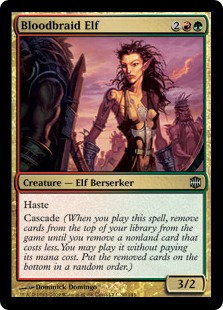 The king, er, queen of the hill.

This past weekend, the 2009 State Champs rocked across North America as deck-slingers came out to do battle. So, I'm sure some of you are wondering how I did at the Standard event, what I played, what bad beats (or luck sacs) I'll be going into detail about. Well, I didn't get to play. Don't worry, I didn't get sandbagged by road construction or anything. It's just that we had 140+ players at our event, and I had already offered my services to the Tournament Organizer to judge if he needed me. They needed me.

But that doesn't mean I don't have anything relevant to say. Quite the opposite, in fact. I have something to say: I was wrong. In my last article, I made the comment that we have a diverse metagame. I was basing that off the Worlds Top 8, in which only three Jund decks managed to make Top 8 despite its overwhelming numbers. This notion didn't take a couple of things into deep enough consideration.

First, that Worlds is a multi-format event. I mean, sure, now all Pro Tours are multiformat, but they are still dominated (ten out of sixteen rounds, I believe) by their constructed format. Worlds is similar, but of all those constructed rounds, only half of them are Standard. The other half is Extended. That means that Standard only made up one-third of the Swiss rounds. That meant that the number of Jund decks in the Top 8 did not really match up with its performance—if a player's Draft and Extended game was good enough, he could make Top 8 with a weaker Standard performance.

Second thing I didn't consider was the Day One finishes for Jund. Now, this part is hear-say, as I haven't found where these statistics are displayed, but the percentage of Jund decks that went 6-0 and 5-1 Day One was higher than that of Faeries the year before, and even higher than that of Ravager Affinity back in those dark, dark days. If that's true, well, then perhaps Jund is more a monster than I thought.

Even with those things, though, I may not have conceded that Jund was super-dominating—I can be pretty stubborn. But then States happened. So, could you please pass the salsa and allow me a minute to eat my words. *munch munch munch* Jund is a monster. It's everywhere. And it's not losing.

Now, the results for States haven't yet been posted as of this writing, but if your States was anything like mine, then your Top 8 looked something like this: Jund, Jund, Jund, Jund, Jund, Jund, and two decks that lost in the quarterfinals to Jund. Even after Round One of the Swiss, if you took a cruise by the top tables, or got called over because you were judging, you would have seen a sea of red, green, and black cards.

Now, there were other decks that were at the top tables up until the last and second-to-last rounds that weren't Jund. I saw a Boros deck or two, a Naya Lightsaber here or there, and even saw this weird Naya Lightsaber/Boros hybrid that a Channelfireball.com writer talked about when Zendikar first came out, something he called Nayamorphic. And, I guess, there was also at least one Grixis Control and one monoblack Vampires (that at least maindecked Mind Sludge), as those were the two non-Jund decks to make Top 8 in Arizona.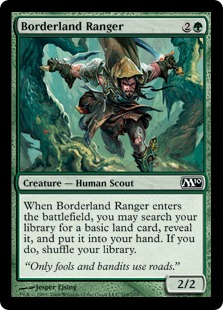 Put me in, coach!

But it was Jund that took the day. Of course, not all Jund decks are the same. At Worlds, we heard about decks cutting their Putrid Leeches for Rampant Growths or Master of the Wild Hunts, and even Borderland Rangers came out to play. So what kind of Jund decks came out at States? As the only lists I have are the Top 8 lists, I'll be delving into those Jund decks.

There were some universals. All six Jund decks ran quad Bloodbraid Elf, Lightning Bolt, and Blightning. Five out of the six decks played four Sprouting Thrinax, and the sixth deck ran three of them. Five ran a trio of Maelstrom Pulse, while one ran the full four. As for Terminate, four out of six played just a pair of them, while the other two ran three. Four out of six ran a trio of Bituminous Blast, while one ran the full playset, and another ran just a pair. Only one deck didn't run Garruk Wildspeaker, while three played three, and two played two. As for Broodmate Dragon, two decks ran two, two ran three, and one ran four. Wait, that means...yup. One deck didn't run any Broodmate Dragons in the main—he had them in his sideboard, opting for hating Baneslayer Angel in the main via Malakir Bloodwitch. The pilot said it wasn't how the deck was normally configured, but he wanted to try and get tricky for States.

For land, we have a number of universals again. Four Savage Lands and Verdant Catacombs were the order of the day (except one deck ran a singleton Savage Lands; what's up with that?). It was either three or four Dragonskull Summit, split 4-2, respectively. Rootbound Crag was the same, but with a 3-3 split. As for Mountains, four decks went with three, while the other two upped the count by one or two. There was a 4-2 split on three vs. four Forests, and four decks went with a trio of Swamps, while one cut one and the other upped it by one. Oddly, only one deck ran Oran-Rief, the Vastwood, and only one copy at that. I thought that card was considered staple tech.

As for counts, four decks ran a total of sixteen creatures, while two ran fifteen. Three decks ran nineteen other spells, one ran eighteen, one ran twenty, and one ran 22 (that deck was a 62-card deck). All of them ran 25 lands total, except one of the finalists, which ran 26.

If we take just the universal card selections, we end up with a standard core of any Jund list. This is kind of like Frank Karsten's aggregate decklist, only I'm using a much smaller sample size and just eyeballing the math—in short, much my aggregate is much less accurate on the grand scheme of things. But, I think it's actually quite useful, nonetheless. Especially for a player that may be looking to start running Jund for the first time. Here's the list: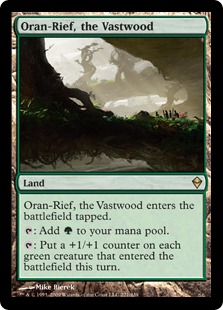 Kill a Thrinax, I dare you!

This is the core, so season to taste. What might that seasoning be? Well, keep in mind that all lists ran at least 25 land, and I've only got 23 listed. So you get a pair of lands to round out the base however you choose (and really, that land base above is pretty solid, so you've got some choices here). Common choices are some amount of Oran-Rief, the Vastwoods and additional of any of the three-ofs above.

For spells, this list already has eighteen listed, which means a typical build will only have one or two card slots to customize. The most common choice was just running the third Terminate.

But creatures is where the deck really has the most customization. That list above only has ten creatures, and the average seems to be sixteen. So what are common choices? Well, Putrid Leech is pretty common. Four of the Top 8 decks ran some amount of them (two at four Leeches, one at three, and one at two). Personally, I love the Leech.

I've heard some people complain about him being just a 2/2 for 2, but that's not really fair. Sure, if you're careless with the pumping, you can lose him to some kind of Lightning (either a Bolt or a Burst thereof), and if you are careful, he's only connecting for 2 damage. But, there's plenty of matchups where you, even as a Jund player, want to start swinging as fast as you can. Nothing beats the Putrid Leech for that. For example, against Jacerator, you're going to need to be online and aggressive as quick as you can. A 4/4 on turn two? Seems good for that (you're not afraid of the Leech getting burned out around the pump against them).

Another creature that saw a fair amount of play was Siege-Gang Commander. He made it into four of the six decks; three ran a two-of, while one did the full four. See, this is where my recent focus on Boros gets me into trouble—I don't know what the Commander is great against. I mean, I guess it could be the mirror, as it gives you a big board which is insane if Garruk is charged up for an Overrun.

I suppose the entire focus of the Jund deck is that all, or most, of your cards are worth two of your opponent's cards. In that way, Siege-Gang Commander seems like an obvious fit. He's a bunch of creatures for one card, and he can give you reach by throwing your Goblins at the opponent's face.

The other creature that saw quite of bit of play at our States was Borderland Ranger. Personally, I think this guy is amazing. I mean, Jund is a deck that has to get up to five and six lands. It has to. Only with the triple Bloodbraid draw can this deck stay at four. The Ranger makes sure that you have the lands to play your big spells—and they're lands that come into play untapped. I've seen enough Jund players throw down a Savage Lands after being stuck on five for a turn or two to know that getting your late lands into play untapped is a good thing. The other thing the Ranger does is make you resilient to a Goblin Ruinblaster, which is huge in the mirror (more on that below).

Of course, one of the all-stars from Worlds was Master of the Wild Hunt, though he didn't make any kind of appearance at the Arizona States Top 8. Is that an aberrant occurrence, or is it a metagame shift? I know the Master is sick against decks with smaller creatures, like Boros, but how good is he against Jund? The Jund player is craving a target for Bituminous Blast, and the Master is as good as one can get, right? Maybe that's why the Siege-Gangs were popular? Maybe they replaced the Master of the Wild Hunts?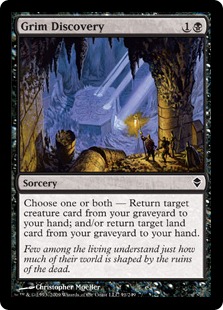 Jund with more card advantage? That is grim.

Before I get into sideboards, I wanted to mention one card that I saw in one of the Top 8 decklists: Grim Discovery. I was pleasantly surprised to see this, as one of my friends was talking about this very card going into Jund two days before States. What does it do for Jund? Well, again, it's good for the mirror as it makes you more resilient to Ruinblaster. But more importantly, like Borderland Ranger, it can help you get to a higher land count. How? Verdant Catacombs. Of course, you need to see the fetch land, first.

But it can also put a creature back in your hand. Look at Jund's creatures. They all give you an extra card or resource (with the exception of Putrid Leech). If Thrinax is in the bin, that means he gave you Saprolings. Broodmate's mate might still be around. And Bloodbraid Elf? Heh. Who knows what kind of cheats you're pulling off with him. When you think about what kind of plays you can make with Grim Discovery, it seems like really good card advantage.

But onto the sideboards. First card: Goblin Ruinblaster, four of them. This guy is nuts in the mirror. Now, I'll be the first to admit, I was a skeptic of this guy. Maybe still am, depending on what deck you're trying to throw him into. But watching him in action during the Top 8, I say with all confidence that this guy is nuts against Jund. He knocks a player off a color, giving them a hand full of blanks until they get a lucky land-draw. And, probably more importantly, he stalls a Jund player from making their big plays. In the mirror, that seemed huge. Unlike against other decks, Jund can't steal tempo back from itself that easily (my impression, at least). Sure, he's kind of wimpy the turn you play him, but he doesn't have to swing then. Save him for the winning alpha strike.

Another card that seemed really popular was Malakir Bloodwitch. I can get behind this one, too. I mean, good luck killing her unless you play Maelstrom Pulse (in which case, I'm not boarding her in). And she holds off Baneslayer Angel all day long, not to mention a giant Knight of the Reliquary if necessary. Just seems like a solid play against a number of decks (which seems like almost anything but Jund, Grixis, and Fog, and even then Fog can board in the Angels).

Just as popular, if not more popular, than the Bloodwitch was the Jund Charm. This card is so good—it does so much. It can hose a sloppy or unlucky Boros Bushwhacker player, as well as anyone trying to run a token strategy. And it's good against the Standard Dredge deck as well, as it can hit their graveyards. Say, before they get a chance to use Crypt of Agadeem, or in response to an unearth activation?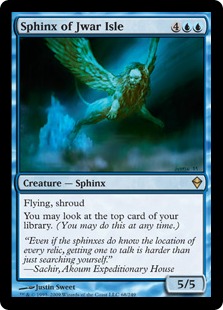 Control finisher of choice? See below.

Another card that was pretty popular in Jund boards was Thought Hemorrhage. This makes perfect sense if you consider the rising popularity of the Jacerator/Fog decks. Hemorrhage away their damage prevention spells for the win. In the Top 8, it was also getting boarded in for the mirror. They'd go after one another's Broodmate Dragons with it, or even Bloodbraid Elf. Against control decks, if they let it resolve (which they will have to do if you can get a creature rush going fast enough, because they'll be spending their mana on your dudes), call Sphinx of Jwar Isle and watch the light of hope fade from their eyes.

Burst Lightning also made into half of the sideboards. Probably to deal with Boros and Magic Christmas Land. If that didn't make it in, extra Terminates in the board were common. Probably for the same reason. There were a few Great Sable Stags as well, but he's nowhere near the Great Staple Stag level he used to be at. I have seen some Jund players get tricky, though, and board out Thrinaxes for him when up against Boros. Why would they do this? Simple: a lot of Boros builds (nearly all Boros builds?) bring in Celestial Purges, specifically for the Thrinaxes. Switching them around can mean that Boros has a nearly dead card in hand (nearly dead because they want to save it for the Thrinax that isn't coming) and you have a 3/3 that gets to wrangle some kitties.

The last card I'm going to mention for the board is Mind Rot. It's like Blightning five and six. In fact, that's exactly what it's doing in there. Against any deck that's as slow or slower than Jund, it really wrecks your opponent's hand, and with it any chance of stopping you. Turn three, Blightning, turn four Bloodbraid into Mind Rot? You mise.

If you were thinking about running Jund, but wanted to do something uniquely yours, or somewhat yours, I hope that I gave you a shell to start with. The cards in that decklist above are just some of the most common cards to see in the maindeck. Fill it in to match your playstyle and you'll have a Jund deck that you can sort of call your own. If you want a shell for the sideboard, here you go: four Goblin Ruinblaster, three Jund Charm. Season to satisfy your own metagame.

So what would I do to a Jund deck if I built one? Well, I will build one, that's for sure. I think it'll be really important to know how it plays, even if it's just to play against it. But after watching the deck slam through all the competition, I'm not sure it isn't the best deck to run. But here's what I think I'd do: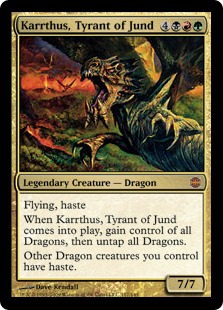 You won't be calling me a scrub when I
steal all your dragons and swing for the win.

For lands, I simply upped the number of Mountains, as I really want my lands to come into play untapped. I added the Leeches because I feel that they are the only creature that can fill the two-drop hole in this deck, and that this deck really needs that two-drop hole to be filled. The Borderland Rangers are something I really wanted to put in my maindeck, so I did. Plus, they help me get my secret tech online: Karrthus, Tyrant of Jund! This guy could be the deal breaker in preboard, stealing the crap out of their Broodmates for the win. Post board, he's going to get bad fast, as my opponent and I are probably bashing the crap out of each others' lands. But if I'm boarding in extra Rangers...

A Brief Update on Boros Bushwhacker

I've been messing with Boros Bushwhacker still, and I'd like to share my latest decklist with you.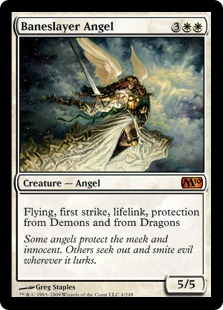 The true finisher of choice.

So, the fourth Kor Hookmaster went in a while ago, but it bumped an Elite Vanguard out of the main. After playing some more, I've realized something about opening hands: an opener with two Path to Exiles in it almost always gets shuffled away. Path is great to draw a little ways into the game, but this deck wants action in its opening grip. Plus, playing a Path on turn three is a bit rough—I'd rather play the Hookmaster. So I put the Vanguard back in, because this deck really really really needs to play a creature on turn one, and I pulled a Path, because I really don't want to see two of them early.

I yanked the Ajani Vengeants out of the board entirely. He really hadn't been playing well in the deck. Part of the trick, I'm sure, is that the deck wants to be fast, and cards like Ajani Vengeant are slow. They can really start to make the deck clunky. As for the Burst Lightnings, well, the Burst is important against Magic Christmas Land and other decks running early turn mana dorks—when you can't hit the creature with Path to Exile.

That leaves me with two slots that I'm actually working on filling. Now, I know conventional wisdom says that Baneslayer Angel is really good there. But she's actually slow for this deck. I think putting her in is conceding that the other deck is going to slow Boros down. Which makes me think that instead of a midrange creature, those two slots should be something that can stop another deck from messing with tempo. Of course, the trick there becomes that in the early turns, the Boros deck is playing creatures. Will it even have mana open for some kind of defensive trick (like an extra Harm's Way, or even something crazy like Brave the Elements)?

Maybe the Angel is the right call. It's just, I...I...

…

…

I hate her so much.