Hi there! I'm Ben Topping, and welcome to my first article, well, ever! I'm very excited today to discuss what is probably my favorite deck archetype in Legacy and one that recently got a breath of fresh life: UGx Tempo.

What exactly is Tempo? Most of us are familiar with the term from Limited play, which refers to how well developed a line of play has become. "Getting ahead" or "falling behind" are common terms that refer to them tempo of a game. Generally, the point of a "tempo deck" is to disrupt your opponent's mana and board development while applying a steady clock to them in the form of efficient creatures, leaving them stranded with their powerful spells. In essence, you're an aggro-control deck that attacks opposing manabases as well as their threats via counterspells.

The mainstay of UGx Tempo is known as Canadian Threshold, a UGr variant. This deck is what Ben Wienburg Top 4'd with at the recent SCG $5k in Nashville:



The mainboard list is really, really tight. You have maybe a couple slots to work with if you opt for less than four Spell Snares and Dazes.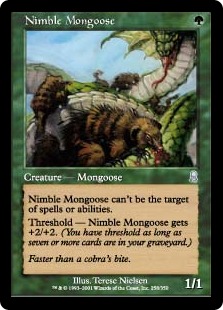 Where is your removal now?

Nimble Mongoose is a stone-cold beating to all control decks and even decks like Zoo, which can't remove him very well. Tarmogoyf is, well, Tarmogoyf. A single or pair of Vendilion Cliques gives both a surprise evasive threat and some proactive hand disruption in what is generally a reactive deck (just beware of Karakas). With this much counter backup, you can (and often have to) ride one or two of your threats to victory.

Your first goal, of course, is to take advantage of Legacy players' love of fetchlands and nonbasics and try to mana-screw them with Stifle and Wasteland. While you make them stumble to cast spells, you're digging for your threats with your Preordains or Ponder or Brainstorms, or just casting them and starting the beatdown. Ideally, by the time they stop stumbling, they're either dead or close enough that you can alpha strike or burn them out.

There have been entire articles written on playing Daze and Brainstorm, so I won't dwell on that; suffice it to say that you want maximum value out of the cards (which I guess is obvious, but hard to execute in practice).

Because the deck runs so many cards that dig through the deck, it isn't an awful idea to run a one- or two-of bounce spell in the maindeck, whether it's Rushing River or Echoing Truth. This is the list I've used and made Top 8 with at my recent Legacy Blue Duels event in Ann Arbor (about 40 people, so not too big but still relevant.)



The meta is great for Pithing Needle right now, which just stops all the Survival of the Fittest decks cold and rarely lacks a use otherwise. I honestly wish I'd been playing three of them. But this article is more about how to play Tempo than it is about sideboarding for metagames, so I'll leave that for another time.

Another popular tempo deck, UGB Team America, favors the fat, evasive Tombstalker over the fast, shroudy Nimble Mongoose. A sample decklist from the March 2010 SCG Legacy Open by William Nichols is as follows (don't worry, it hasn't changed much), though it has a few unusual choices, I'll go over the basics.



Again we see efficient Tarmogoyf, Stifle, and Wasteland preying on inefficient opponents. The addition of Tombstalker makes you favored against other tempo decks like Canadian Threshold, whose red-based removal can't deal with such a fatty. However, you're also less explosive because you have to wait for the graveyard to fill before you can even cast your creatures. Thankfully, you get another free spell in Snuff Out to make life easier. Thoughtseize also gives you some proactive disruption, which other tempo decks lack; in addition, it lets gives you a glimpse of what's coming and what to react against. Don't forget that against fast aggro like Zoo and Merfolk, Seize and Snuff Out, despite losing you life, can "gain" you virtual life in that you won't be getting clobbered by a Lord of Atlantis or one of Zoo's various cats.

Finally, the "new kid on the block", UGw New Horizons, which favors massive creatures such as Knight of the Reliquary and Terravore to dominate a board state. New Horizons' creature size is offset by its higher curve than most other Legacy decks, with the following T16 SCG Legacy Open list from Landon Doty sporting a whopping seven three-drop threats. For this reason, New Horizons runs more land than other tempo decks - in this case, 23 compared to 20 in the Team America list and only 18 in the Canadian Threshold lists.



In addition to some of the biggest castable threats in Legacy, we see Swords to Plowshares as a kill-darn-near-anything card - by far the most versatile removal spell printed. Sometimes it makes racing difficult, however, so beware of that. The deck also suffers from being more susceptible fast aggro such as Zoo and Merfolk. It probably has the least downside to running Engineered Explosives, as it has no one-drop threats and only four two-drop threats, the most common settings for Engineered Explosives.

Now that we've covered the most common UGx tempo decks, we should now get to the fun part: How to play these suckers.

First things first: Mulliganing. Mulligans really hurt in these decks, as you need to make each card you have count (even if it's just to shuffle away to Brainstorm). At the same time, it's no fun keeping a 5-land hand either. Choosing proper mulligans is an art, but you really should be cautious of using them too aggressively. I also probably don't have to tell you that you want to play first whenever possible.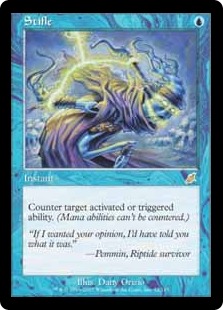 Blue, now with more land destruction!

Ideally, your sequence of plays is as follows:

Turn 1: Play blue dual, either Ponder or leave up Stifle (or Spell Snare if you're on the draw). Stifle if you get the chance. Please, I'm begging you, don't Brainstorm on the first turn unless you're about to get Wastelanded and you have to dig for another land. I know I said I wasn't going to talk about how to play Brainstorm correctly, but it's important. I learned a lot about casting Brainstorm from this article by AJ Sacher, and it is especially important in a tempo deck where every card you see is important.

Turn 2: People often try to run out a Goyf on turn two. This is usually a major error; you only leave Daze and Force of Will as your counter suite on turn two, as well as opening yourself up to an opposing Daze. It's also hard to protect it from the likes of Spell Snare or even just a removal spell like Path to Exile or Swords to Plowshares. Instead, I suggest Wastelanding them if possible, playing a one-drop (Ponder or Nimble Mongoose if you're playing the Canadian Threshold variant), or just passing the turn. If your opponent hasn't cracked the fetch they played on turn one for fear of Stifle, then don't tap out unless it's absolutely vital! The longer you can keep them virtually off mana, the better, whether or not you do actually have Stifle.

Turn 3: Now you can cast your Tarmogoyf if you have three land up or you need some board presence. Try to leave a blue open to represent a counterspell.

From here on, I can't really say what to do because a lot of it will depend on the deck you're facing; such is the fate of playing a mostly-reactive deck. Generally, you don't have to worry too much about creatures that your removal can clear; counterspells tend to be more valuable than removal in most matchups. There are plenty of exceptions, of course (Merfolk comes to mind).

Now for some tips:

Beware of losing card advantage. Beyond a rare Fire/Ice play in Canadian Threshold against a deck like Goblins, you have very few ways of gaining card advantage; your priority should be not to lose it. You absolutely cannot let cards such as Hymn to Tourach or Wrath of God resolve against you for more than one card. For this same reason, you have to be very careful with when you cast and what you pitch to Force of Will; one of your card-filters (Preordain, Ponder, or Brainstorm) is almost always the wrong choice unless absolutely necessary.

Speaking of Wrath of God, remember that though the deck can feel like and play like an aggro deck at times, you only have so many threats. Play conservative combat math when possible, as unlike Zoo or Merfolk, you can't just spew out another creature whenever you feel like it. Be wary of having more than two creatures out against a control deck, as then you're just asking to get blown out by Wrath or Pernicious Deed - though it should be noted that Tombstalker laughs at Deed.

Generally save your fetchlands until you want to use a Brainstorm with them, though if you must play one on your first turn and you're on the play, do not wait until your opponent's turn to crack it. Ideally, you want to play or at least threaten Stifle on their own Fetch or Wasteland. I've seen this mistake happen too many times when a tempo player will pass with a fetch up, only for their opponent to pass with their own fetch. Suddenly, you don't have a mana-producing land, and until you get another one you can't crack or you won't get a chance to Stifle them.

If you're wondering when to Wasteland your opponent, the answer is almost always immediately. You don't want the game to drag on too long, so have your opponent falter as much as possible - quick Wastelands are a good way of ensuring that, even if it mean you don't get to play a Goyf that turn. Once again, playing Goyf on turn two is usually poor.

Now, time for some matchups!

Merfolk: Merfolk can be tough because, depending on the version they are playing, they may not be running fetchlands, which makes your Stifles only useful to protect your own duals from their Wastelands. Clearly you want to try to counter a turn one Aether Vial, though you surprisingly don't need to care about a turn one Cursecatcher until Lord of Atlantis hits the scene. Save removal for the lords, especially Coralhelm Commander and Lord of Atlantis, and try to play around Daze if possible. Remember that the deck has a very difficult time beating a resolved Tarmogoyf (or anything as big as Goyf), so that should be your top priority. Be careful not to be ironically out-tempoed by them Submerging a Tombstalker or a three-drop (assuming you're not playing Canadian Threshold). Wastelands are imperative to deal with Mutavaults.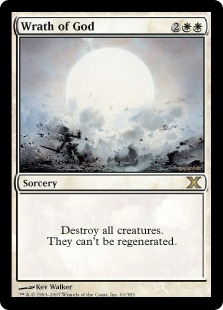 Limited creatures? This could be a problem...


Zoo: Attacking their manabase is a huge priority in this matchup, as their threats' sizes often depend on their land types in play. If you can Stifle-Wasteland them and keep a Spell Snare for Tarmogoyf, you're usually golden. Remember that Path to Exile is usually a blowout against us, as we run few basics to begin with, and in the board they'll be packing more removal. Don't be afraid to Force of Will a removal spell - see above about how limited the threats are in these types of decks. Oh, and kill/counter Grim Lavamancer ASAP.

Landstill: This is quite a frustrating matchup - Landstill players think they have a terrible matchup against tempo, and tempo players think they have a terrible matchup against Landstill from what I've seen and experienced. Here, you have to play as a cautious aggro deck, making sure you don't get blown out by a sweeper while still applying enough pressure on them to try and get them to cast said sweeper without protection. In general you have to just let them have their cards from Standstill because you must be casting spells most every turn (unless you've somehow established an early unshakeable board presence, which is difficult to do against decks that run both Swords to Plowshares and Engineered Explosives). Be absolutely sure not to let their nerf-spells resolve, be that Moat, Crucible of Worlds (which they will use to recur Mishra's Factory as well as Waste-lock you), and the biggest offender, Humility. Between this matchup and Enchantress, I highly suggest packing some Krosan Grips or Nature's Claims in the sideboard. Speaking of which...

Enchantress: It's basically a giant race. Stifles do little here, though Wastelands are invaluable for getting rid of Serra's Sanctum. Remember how I said playing Goyf on turn two was bad? Not in this matchup. Daze when you're able to without losing too much of your own tempo, as once Enchantress starts going you likely won't get another chance to. Don't let Solitary Confinement resolve or you'll be quite hard-pressed to win. Spell Pierce and Trygon Predator are naturally wonderful additions to your board if this deck is popular in your metagame. Beware: They board in City of Solitude and Choke against you, both of which are nearly impossible to beat unless you're already clocking them, so clock them quickly and often!

TES: If any non-Countertop deck is equipped to beat TES, it's Tempo. Your Stifles work double-duty, both stopping Fetchlands and neutering an unprotected Tendrils of Agony (You Stifle the Storm trigger and they only drain you for 2). In addition, you're packing counters for their rituals, Ad Nauseum, and Ill-Gotten Gains. Finally, you're trying to play some quick, large beaters, putting them on a definitive clock and making their Ad Nauseums much more dangerous. Be sure to protect important cards from Duress and Thoughtseize with Brainstorm, and you only need one threat to win the game, so try to keep a hand high in mana disruption and counters. Obviously, removal does nothing here, so you'll want to board that out for more counterspells.

Survival: Survival is always a tough matchup, no matter how you slice it, but especially against non-blue versions you have a great fighting chance. Playing Goyf on turn two is a terrible call here, as you need to be ready for a turn two Survival of the Fittest or Fauna Shaman - if these resolve, it's usually over. Mana disruption can help, but countering their main game plan and turning them into an awkward aggro deck is your goal. Treat them more as a combo deck than an aggro deck - except their combo is one card. Don't forget that you can Stifle a Survival activation after seeing what they discard and make them burn a card and a mana for nothing. Like I said earlier, Pithing Needle in the board is complete value against them.

Goblins: Here's what's generally a pretty good matchup. They don't use too many fetches, but the Stifles are still great for neutering their Goblin Lackey Goblin Matrons, Goblin Ringleaders, or even turning Goblin Piledriver into a Squire. Once again, try not to let Aether Vial resolve, though it's not as devastating here as it is with Merfolk. Be sure to keep a hand that has removal or a blocker for a turn one Goblin Lackey or you're asking for trouble. And by trouble I mean six Goblins attacking on turn three.

Of course I can't break every matchup down - that's part of the fun of Legacy. Experiment online, with your friends, and at your local Legacy events and see whether tempo fits what you're looking for in a Legacy deck!

I hope this has opened your eyes to a fun, skill-testing, and immersive deck type, and there are always new innovations to be made! I'll be back next time to discuss some Standard issues, including the problem of aggro in the current environment! I look forward to seeing what you think in the forums.

Thanks for reading,

Ben Topping