One of the great things about Magic is the ability of its fans to identify with the color pie. I absolutely love that aspect. It is not uncommon to find players posting signatures to highlight their colors. Magic players wear their banners with pride in the forums. In the spirit of my last article, I am going to shine the light on the red piece of the color pie. Why? Half of my persona embodies the spirit of red and it is pissed. I'm tired of slinging nothing but burn year after year. Don't get me wrong. I love being a pyromaniac. However, the color is much richer than its cliché assortment of burn spells.

Burning Bridges

As many pointed out in my last article, red suffers more than any other color. The red fan base has survived by pulling out wins in constructed tournaments. This doesn't mean it is a win on the creativity spectrum. Cranking up the power level doesn't equate into quality. Creating a burn spell that does six to the face for one red mana is not an improvement. A big problem is the color is very shallow. The evidence can be seen in the word list created in Mark Rosewater's article Seeing Red. Again, I'll concede I am quoting a seven year old. A lot has changed since then with a few additional mechanics such as wither, but the philosophy of the color has stayed mostly the same.


Emotion (particularly the highly fueled ones such as Aggression, Rage, Passion, Fury, etc.)
Impulse
Violence
Brutality
Might (Solving Problems Through Brawn)
Destruction
Chaos
The Elements of Fire & Earth (and the related destructive natural elements - Lighting, Fire, Earthquakes, Mudslides, Sandstorms, etc.)
Fighting
Military
Randomness
Spontaneity
Gambling
Hedonism
Barbarism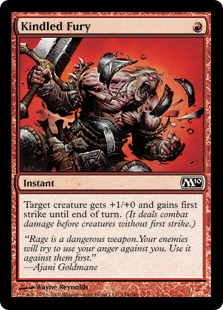 The list is extensive, but many of the words can be grouped into the same categories. Not entirely synonymous, violence, brutality, might, destruction, fighting and the destructive elements earth and fire fall into the same category. I get it. I get it. Red is violent in one form or another. I have half a mind to toss barbarism in as well. Chaos, randomness, gambling, and spontaneity are ridiculously redundant. The same can be said for fighting, barbarism and the military. If we changed impulse to impulsive, the characteristic could be tossed into the emotional pile. Hedonism is about the only word that stands here on its own.

The military characteristic on this list has very little justification for being there. As mentioned in the article, red does what it wants. Umm…people in the military don't get to do what they feel like. Military personnel do what they are told. Red doesn't like getting told what to do. Besides, barbarism completely contradicts military even being on the list. A search reveals forty-five soldiers in Magic existence for red with quite a few of them being red and white hybrids. If we ignore the white-laced ones, the red soldiers are very sad examples of a good soldier card. Keldon Arsonist and Firebrand Ranger are the worst offenders to represent the soldier subtype. It is embarrassing. The military characteristic should be taken off the list. Maybe, we just need a better word or more appropriate word. I don't know if rogues or rebels are a good choice, but I believe there are better descriptors.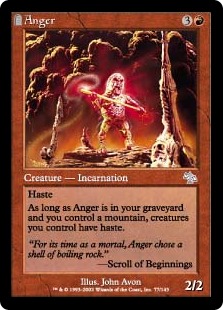 Admittedly, I may be splitting hairs, but I don't like emotions as a characteristic. For one, emotions should be available to all colors. Saying red is the emotional color feels wrong. White is joyful and compassionate. Black is spiteful and full of sorrow. I want all the colors to share a piece of the emotional pie. Granted, I don't think it is necessarily a bad thing to say red is more emotional than the other colors. My preference would be to swap emotion for passion or passionate. The change would allow the other colors to still exhibit emotions on a technicality. This makes sense against red's enemy colors white and blue that tend to have more flattened emotions. They are still emotional, just not to extremes. Another problem is the word emotion or emotional comes with a lot of bad baggage. The words are strapped with more than a few unwanted connotations. Besides, passion is a much more inspiring word for the color. It even sounds like a red word. On a side note, the word passion aligns itself more closely to hedonism than using a characteristic like emotion.

Constructive Criticism

As I look above, I feel like I've only made matters worse. I have essentially broken the colors into four overly simplistic characteristics. Going back over Maro's article again and again, I don't feel too bad. Everything described in those two thousand or so words is very generalized. Red does stuff and represents stuff. Yes, I said the same thing in my last article. The reason I gripe about generalization is it tends to imply a lack of understanding. A good professor can spot this easily on a student's paper. Vague equates into lack of comprehension or effort. Anyway, there isn't a whole lot of inspiration for creating cards. This results in the inevitable redundancy of red spells. It has always been red's problem: lack of inspiration. Since the problem has been identified, how do we expand the resources available to the red part of the color pie?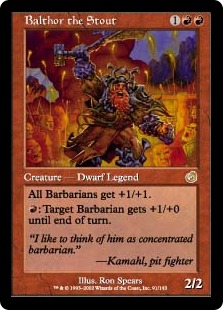 Inspiration can be found in the Lord of the Rings character Grimli. One of the most beautiful scenes in the trilogy is when the fellowship is running for their lives through the Halls of Moria. Grimli represents everything red should aspire to have in a tribe. Not that I don't appreciate the wacky shenanigans of the goblin tribe, but I fail to comprehend the lack of love from R&D for dwarves. These stocky hedonists love beer, food, and a good old-fashioned brawl. The dilemma is how will dwarves compete against the goblin spot? Without an actual difference in mechanics or functionality, replacing goblin with dwarf would be merely cosmetic. There needs to be an actual purpose for their inclusion. At a loss, I began to look at real life to solve this puzzle.

After I graduated from college, I ended up working on the factory floor. Job prospects in my field of study had evaporated after the market crashed in 2011. I grew up on a dairy farm and didn't mind getting my hands dirty. It was a job and my student loans had to be paid. Despite my college education, I had no problem fitting in with the blue-collar workers due to my background. I was sweating for my paycheck. Dwarves like Grimli are representative of the blue-collar workers of Magic. They share many things in common. Factory workers and other laborers can be heard commonly saying: work hard, play hard. After a hard days work, these workers go home, drink beer, watch NASCAR, insert other various stereotypes, and spend time with their family. For better or worse, many of them have accepted their lot in life. This doesn't let them stop from enjoying life.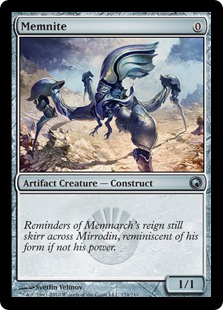 Yes, I am stereotyping, but it is part of my point. One of the words for the color blue under its characteristics is construction. I believe this is partly wrong. There are two levels of factory work. There is highly technical work like computers and other sophisticated products. On the other side of the spectrum, there is grunt level work like coal mining, steel work, and basic products. Detroit springs to mind. There always has and always will a divide in the labor force. Construction should be split between the two colors. Blue still gets its Triskelions and other sophisticated war machines. Red gets to create contraptions like basic equipment, crude bombs, and Juggernauts.

If we pretend to be in Magic society, where would we get the raw product for our artifice or swords? Blue mages wouldn't provide the material. Are you kidding? Blue mages are too uppity to ever get their hands dirty. Green mages are too busy sitting in the woods drinking herbal tea. White is too busy playing soldier boy on the battlefield. Black will only go underground for the profit for precious metals, but they don't need to such lengths when black can just use extortion. No, it is the dwarves who are in the mines doing the manual labor. They dig deep into mountains for raw and precious metals. Let's just hope they don't unearth a balrog.

I love how easily this translates into Magic cards. It isn't difficult for players to grasp mountains equal mining opportunities. My vision for dwarves is to have them be blacksmiths for lack of a better word. Maybe, forgemasters would be a good descriptor. Abilities would range from creating mana stones, simple myrs, and equipment. I'm not talking Stoneforge Mystic abilities. White has to actually purchase a library of weaponry before it can search its arsenal for a specific piece of weaponry. Red for once would get to create something in its lava forges instead of going around destroying permanents. My initial thoughts are tokens. Yes, this would be new territory for tokens that have primarily, well, only been creatures. Why can't tokens be equipment or signets? I don't see a problem with it as long as the created tokens are simple enough. Signets are simple enough. Also, we have token cards nowadays. Place them in packs, give a few special ones out at prereleases or launch parties, problem solved. A proposal such as this may have fallen flat ten years ago, but Magic today is a much different place.

I want to stop for a moment and talk about the impact of this development. It would be huge. Red would finally have access to card or resource advantage. Whatever you want to call it, I don't care. The point is the same. Also, the prospects of such a proposal would open up huge amounts of design space for red. It isn't necessarily because I am proposing mechanic or something. It is because it opens reds access to creation. The word itself opens up a new world of imagination. I'm sure many of you can already imagine a dwarven ability or two. Plus, such a distinction helps separate goblins from dwarves. One last thing, forging could change the way a red decks play in a constructed environment. A red deck could actually play control if developers pushed red in such a direction. Drop a dwarf, start churning out equipment or myrs, control the board with a few burn spells, and then take over the game with the newly minted army or other contraptions.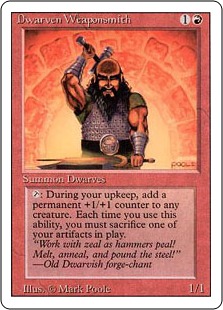 An important aspect some may not consider is the aesthetics of the idea. A big, big part of Magic is the art. It doesn't do the game or an artist any good if the image is impossible to create. As I have proposed, the imagery almost paints itself. Scenes of a forge-master infusing lighting into a golem to power its fuel cells, a dwarf in a cave discovering a rare mineral to create a bomb, or a blacksmith in his forge creating new equipment are easy to concept. I don't think every concept needs to be capable of a visual translation. Undying or persist are examples of mechanic that doesn't translate well. However, I think it is a big, big positive when it can be represented visually. When a player can just look at a card and understand what it does, nothing could be better. Before I go, I have one last thing to say.

Welcome to the Industrial Age.

Off Topic: Dragon Stew


I have a pet peeve with the usage of dragons so ubiquitously in Magic and in general. A search reveals ninety-eight dragons. Only forty-six of them are mono red. That is half for those bad at math. I don't appreciate reds most iconic creature getting used in all the other colors. I get it. Everybody loves dragons, but I think lending out a creature type so carelessly is the same as ignoring the color pie. There is a reason we don't have green angels. Angels are white. Well, mostly with an exception or two. Anyway, I wouldn't mind it so much if it weren't so egregious. To top it off, we only get three Legendary Dragons. Three. Tarox Bladewing is useless as a commander. Rorix Bladewing is pretty bland. Ryusei, the Falling Star isn't too shabby. It is even more offensive with the fact the biggest, bad dragon on the block is Akroma, Angel of Wrath. Oh, it gets worse. The best dragons are either multi-colored or in the other colors. What happened? Did a family member of R&D at one time eaten by a red dragon? Where's the dragon love for red?